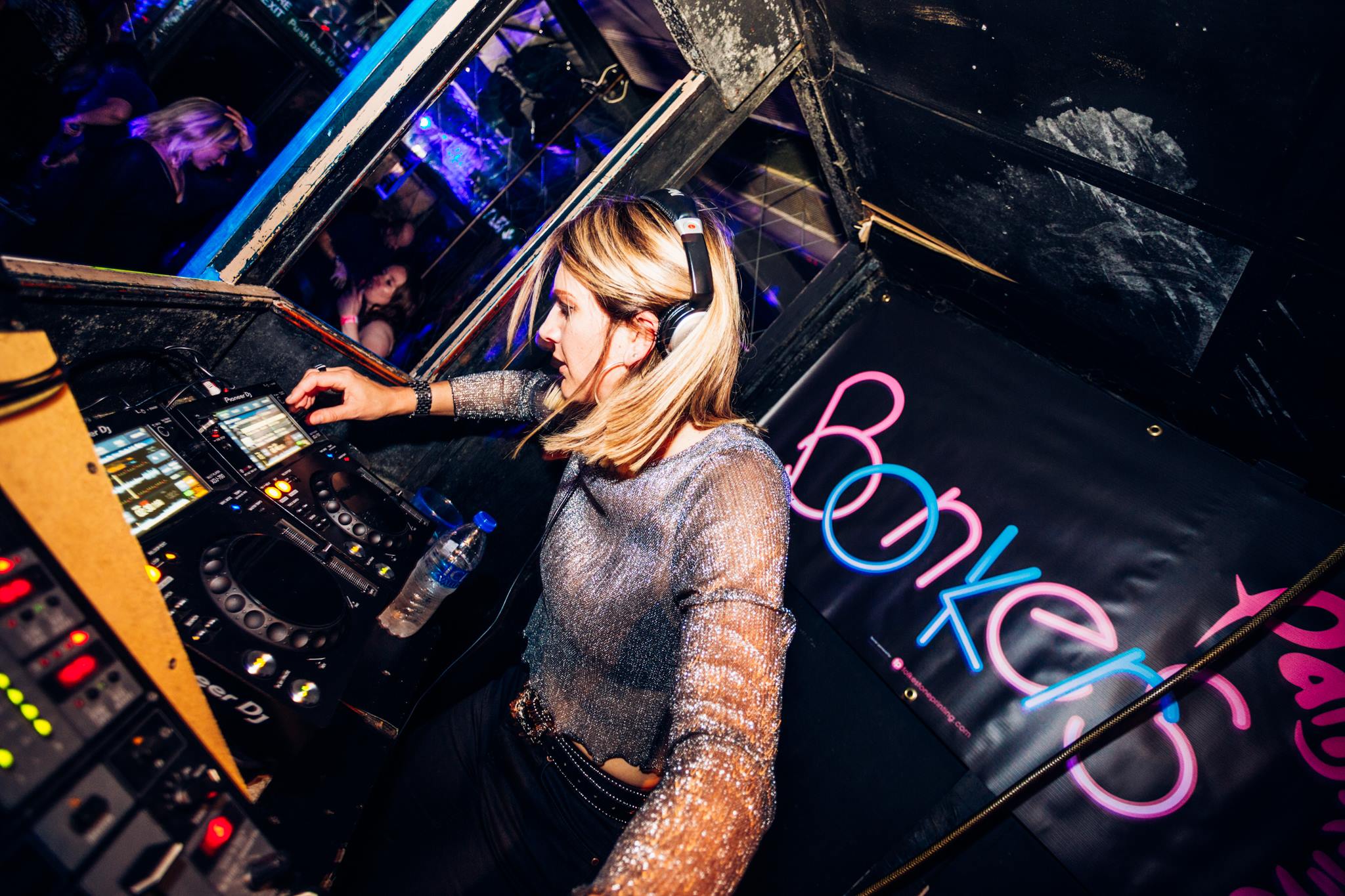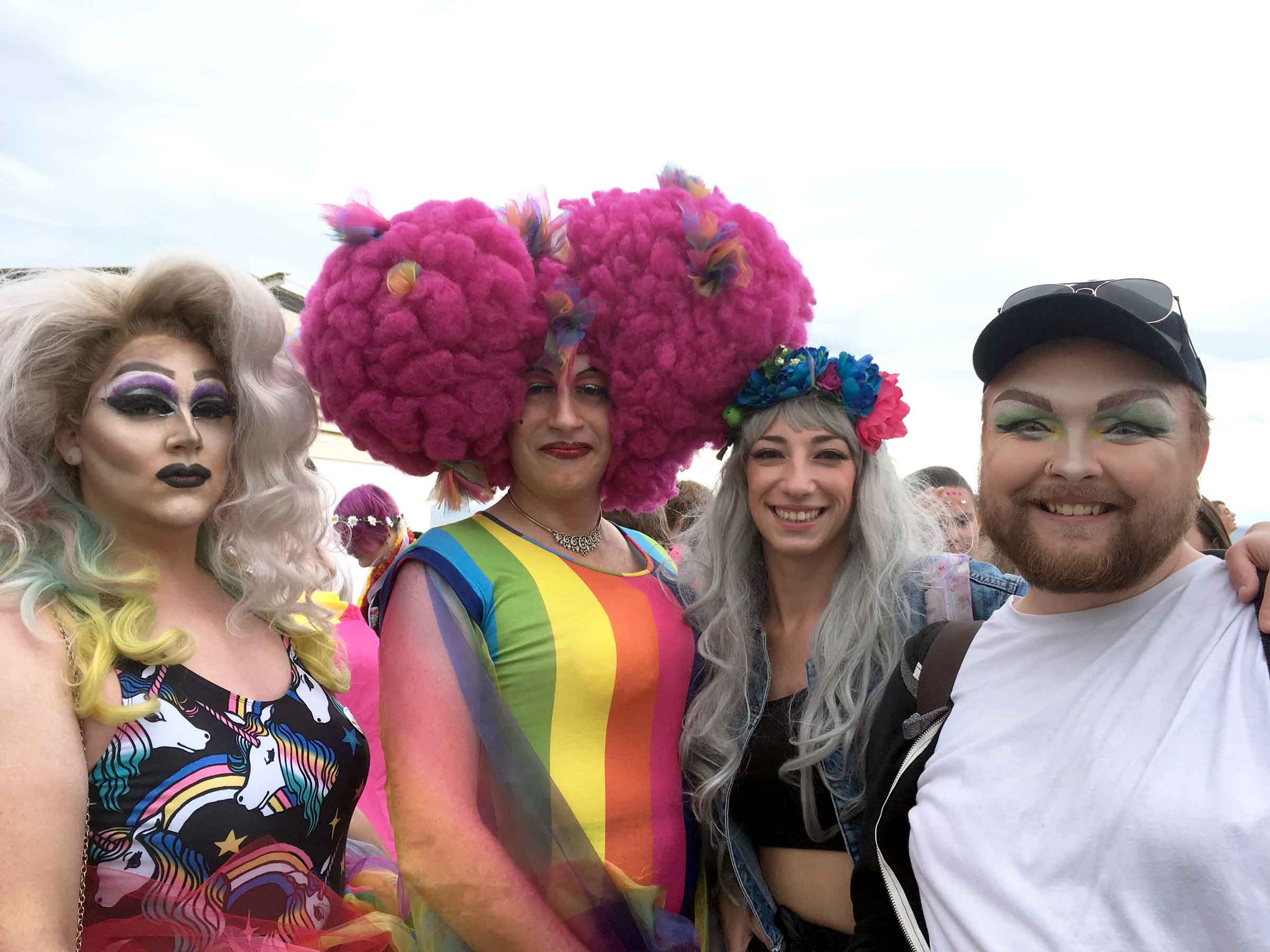 Love Is Love – Folkestone Pride
Folkestone has had a Pride event for the past 3 years.  Each year it grows and grows and grows.  The fantastic team managing Folkestone Pride took a few minutes before one of their community meetings to talk to Folkelife about their plans for the day.
Hannah, Bean, Joe, Dan, Didier, Ian and Anil have a wealth of diverse skills and bags of enthusiasm for this year's event.  So much so, they've been organising so many different events leading up to the March on 18th July 2020.
Hannah: "We're a community group and a lot of planning goes in to the March in July.  There are regular meetings at The Chambers throughout the year, come along and join us so you can be involved too.  Last year the march started at 12 noon at the Memorial Arch and headed up to The Leas Cliff Hall.  We had a party on the rooftop with DJs, singalongs, live entertainment, lots of family events and two drag story-time sessions."
Ian: "We want there to be something for everyone, Skuba Bar will be open, and the Blue Martini creating a triangle of Pride on The Leas.  They'll all have DJs and music and be offering special Pride cocktails, food and drinks for everyone taking part.  If you have a fantastic Pride costume, you could be in for a discount!"
Bean: "We've got opening speeches at 12.30 and singing and more; the first Drag Storytime will be at 1pm and then again at 3pm for the kids.  Our hosts, Miss Dolly Poppers and Miss Di Vour will look after everyone!  We've got DJ Fat Joy Slim, DJ Rev, Dr Tiger; we've got some local LGBTQIA+ writers doing some readings so there's something for everyone.  Bring along a picnic and sit up on The Leas and just enjoy the atmosphere!"
Joe: "The Leas Cliff Hall have been really supportive so we'd like to thank them for all they're doing."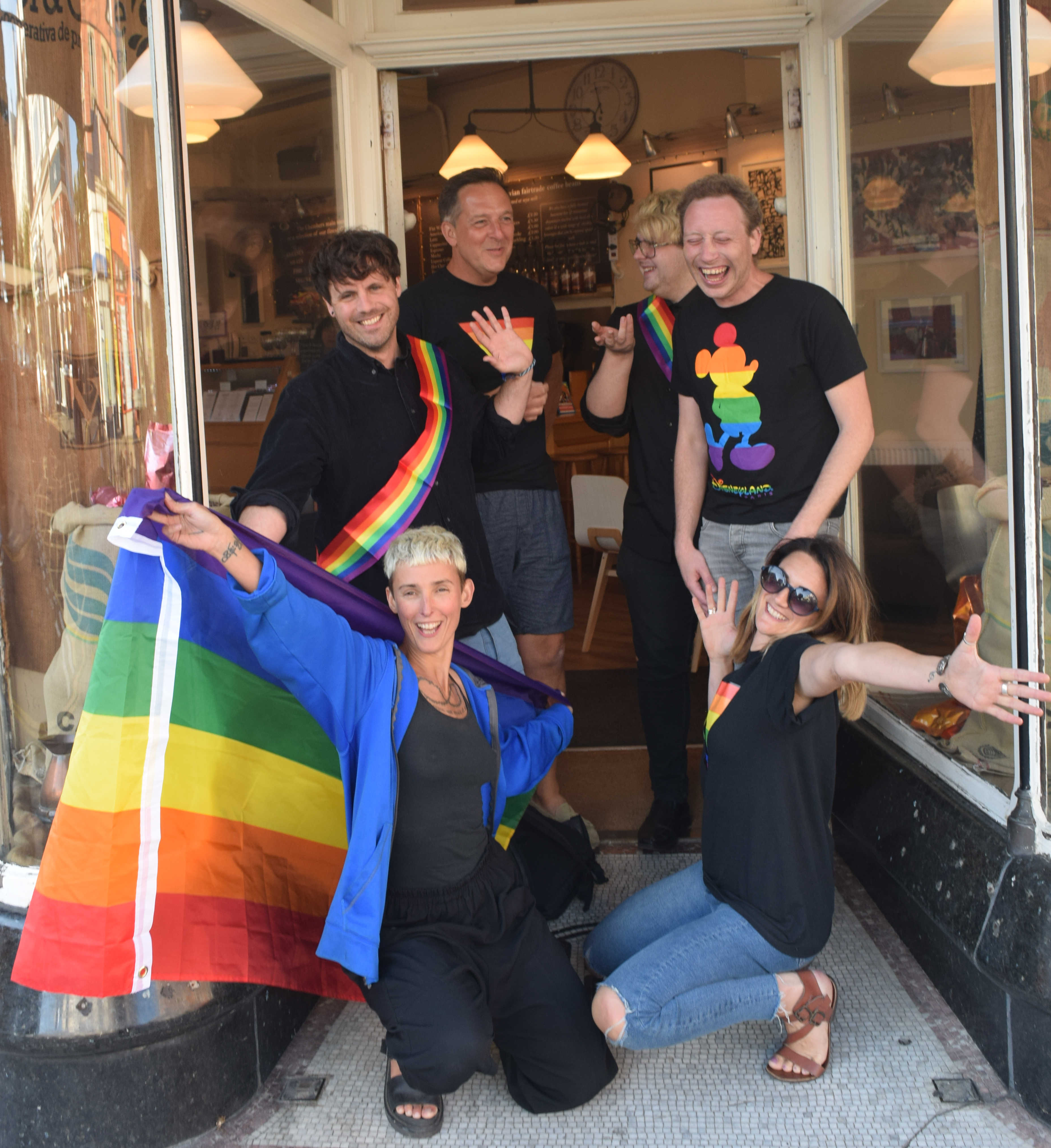 ---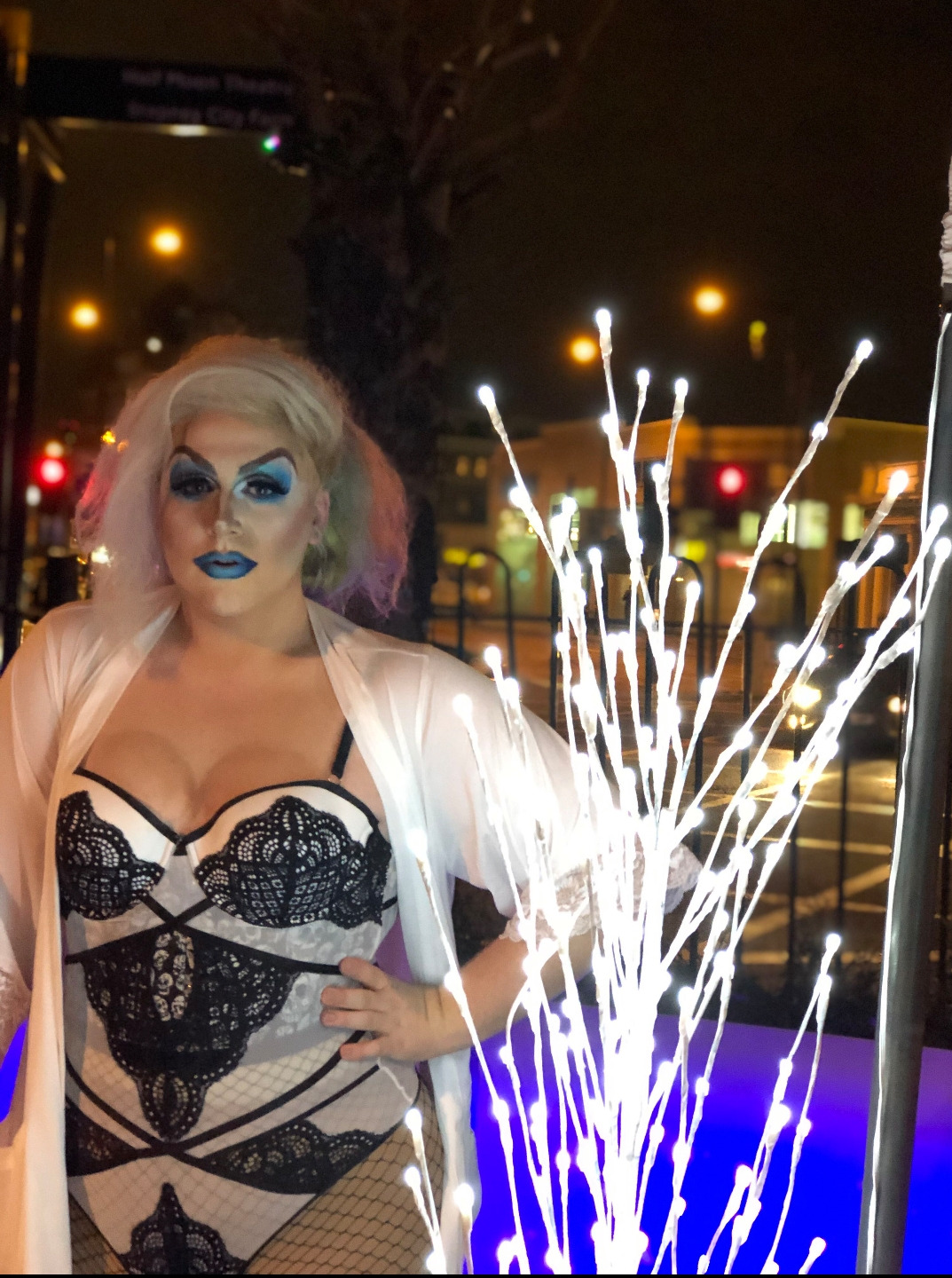 pride day and night
There's a Day Zone and a Night Zone and the party atmosphere is really spread across the town.
Bean: "We've got partnerships all over town; Kipp's are doing a live music thing again supporting LGBTQIA + artists singers and songwriters and that's from 3.30 to 6.30pm."
Joe: "We've got a cabaret show going on at Jam Jar from 5.30 to 6.30pm with me Miss Di Vour, and Miss Dolly Poppers.  We've also got a singer and a poet too.  That's going to be really good fun."
Bean: "The Quarterhouse have Tom Marshman at 7pm, which is just before our Pride Party happens at Eleto at 8pm…"
Folkestone is buzzing with pride
Is anyone feeling exhausted yet?  This is just the plan of the day, and there are two after parties.  Eleto's theme is 'Under The Sea' so come dressed up.  You'll be competing with Didier who's creating a massive octopus and currently tackling some tentacles.  Hot Chip's Joe Goddard, who's also from The 2 Bears,  is headlining this party and the team are very excited to be bringing such a name to Folkestone.
The Space Bar are doing their Pink Flamingo Disco Pride Special so people can go there too.  The party is really all over town.  If you don't fancy partying, then join the Silver Screen for a showing of The Matrix at 8pm.
Ian: "We've been really lucky in getting support from all the local venues, The Chambers has been brilliant in being the place where we hold our community meetings.  This is a real community event, and if people hadn't got behind it, we wouldn't have got this far already…"
volunteers with community support
All of these guys are volunteers, giving their time and expertise for free.  I venture to ask how much an event like this costs to put on…
Dan: "It's about £8,000.  And this is a small event!  We've been running so many fundraisers up to this point with Fight For Pride!"  Bean gets a big cheer at this point, being the winner of this charity event that was hosted by Jessica Hynes.  "We have to do that next year…"  "No!" Says Bean, hoping that her fighting days were over!
Dan: "We've had the Backyard Auction, Pride's Got Talent, Dance with Pride and Pride in Football where teams can join us to play a 5-a-side tournament."
Ian: "We've also had donations and support from so many local businesses, Creative Folkestone, South Eastern Trains, Folkestone and Hythe District Council has been really great, and they want to be even more involved next year which is just brilliant.  So many food and drink venues are offering specials and deals.  We have to thank Planet Earth Kitchen, Carte D'Or and Yo Yo Street Food on The Old High Street.   All you have to do is dress up with Pride and you'll get discounts!"
Hannah: "If you want to come and stay then the Grand Burstin Hotel is doing a special deal on a room based on two people sharing.  Quote RMFO2007 when you book and you'll get the deal for Pride weekend."
Bean: "We had a small grant to put on some visual art too, which is an exhibition which is going to open the Thursday before Pride and we've been working with local people to make decorations and stuff like that so it's going to look amazing!"
everywhere needs pride
The team really is buzzing, and the whole day is going to be really amazing, with this energy it must be!  I ask though, why does Folkestone need Pride?Bean: "Everyone needs Pride!"
Dan rises up in his chair, and the group goes quiet "When I think that homophobic attacks have doubled in the last 5 years to the point where one in 5 LGBTQIA+ people will be subject to a homophobic attack, that's why we need Pride.  The Trans community at the moment is really suffering; 81% of Trans people are suffering abuse and attacks.  That's NOT ok.  It doesn't matter where you are. 
"I've experienced it myself, I've had dodgy looks, slurs yelled at me, for me being unapologetically me, and that's why we need Pride.  We are not going anywhere.  People have fought and died for us to be here and does it really matter who you're attracted to, when we're all people?"   Hannah quietly says "Love is Love."  Bean: "That's such a good closing statement!"  But actually, it's the headline.
The team laugh, and relax, and know that in Folkestone there is so much community support for a good show of Pride that it will be a great day.  Come and join in!