Moo Like A Monkey – Bespoke Boutique Shopping
Moo Like A Monkey is a beautiful children's clothes and toy shop on The Old High Street in Folkestone's Creative Quarter.  It's run by Kent Women in Business Awards Mumpreneur of the Year 2019, Charlotte Khan.  The shop is full of wonderful children's clothes and toys, and was runner up in the final of The Independent Awards 2021 in the High Street category. Folkelife popped in and find out more about Charlotte and her exquisite products.
"I love my shop, I love everything about it, I love shopping for it, I love selling the products, I love meeting the customers, I love being here!"  Charlotte is an incredibly positive, enthusiastic person.  She and her husband used to live in London where she worked in the corporate side of the film industry, and he was (and still is) an actor.  They discovered Folkestone a couple of years ago "I realised we'd hit on an absolute gold mine!  I could still commute into London, yet live by the sea, and enjoy it. But after having my first child, the job – which I also loved! – wasn't so much fun.
"People look at you differently once you've had kids.  They think your brain has shrunk and they talk to you differently.  Yes, your priorities have changed, and I couldn't get so enthusiastic about my work as before.  So, on my second maternity leave I dreamt up this business plan!  I was going to open a shop, that catered for parents over 30 who had children under 5.  They would have a certain amount of disposable income to spend on beautiful clothes and toys for their children.  I worked it out perfectly, and then, we opened Moo Like A Monkey three years ago."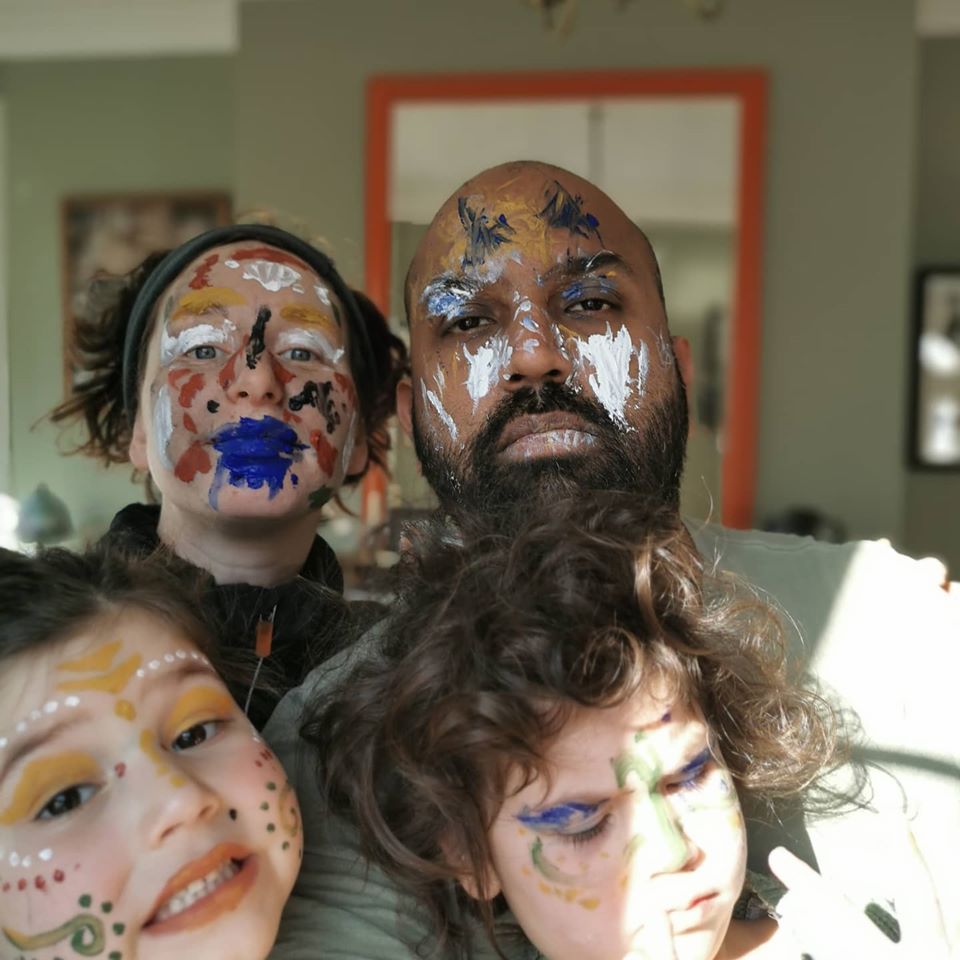 ---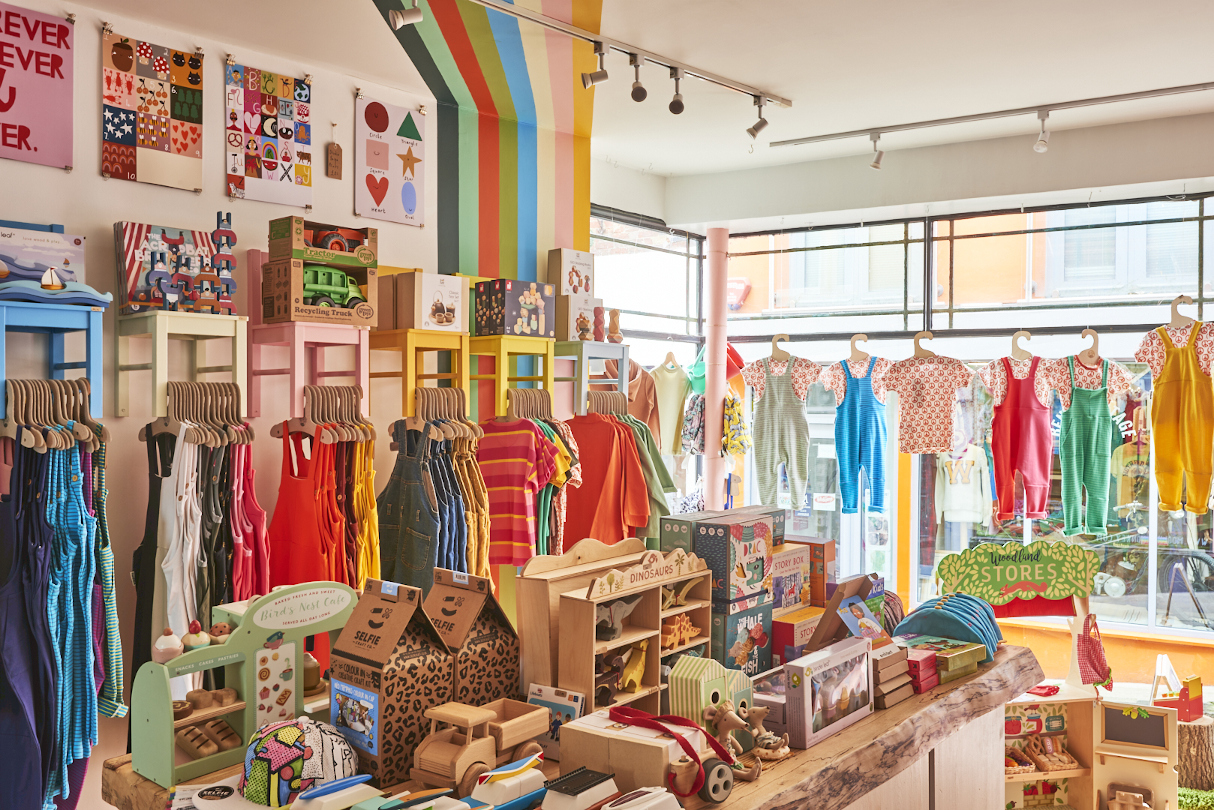 A shopping experience for all the family
Charlotte sells hand-selected clothes and toys.  Some are made in Folkestone, many are from the UK and some other pieces are from Scandinavia.  "I'm offering a shopping experience.  I love to go in to places and browse and touch things in order to decide what to buy.  I want to offer that, but I also want to offer a place where you can bring young children.  Normally, if you were to walk into a boutique shop you'd have to grab hold of your child for fear of them touching anything!  Here, everything's at their level for them to touch.  They can play with toys, read books and there's a DVD area too.  Everything they can play with is for sale if they want it.  It's about children being welcome too."
It's true, she admits, that her customers are not all parents over 30 with children under 5, "No!  My Instagram tells me my core audience is between 25 and 45 and I also have a really good group of grandparents who come in regularly!"
A business focused around parenthood
Charlotte's husband Naveed is an actor, and her business enables him to tour around the country.  When in Folkestone, he's made all the shop fittings; the clothes rails – or small chairs – are fixed high on the walls, there's a table sculpture in the window.  "People always comment on the fittings!  He's also my emotional support, but if we didn't have the shop, he wouldn't be able to go away on tours, so we are supporting each other."
After winning Mumpreneur of the Year (2019), Charlotte was amazed at the local support.  "I was so proud to win the award.  But then people keep coming into the shop and congratulating me, so they're taking on this award too!  I got it because the business is designed around me being a working parent, and to support other working mums too.  Claire worked at the shop whilst her baby was only a few weeks old.  Babies don't do much then, just sleep and eat and that!  Claire has always been welcome to bring her children to work to allow her to earn money.  It's simple really. 
"A lot of the brands I stock are from working- parent centred business.  This shop allows me to be a full-time mum, and I want to support other women doing the same thing, so that's who I stock.  I've been bowled over by the support of everyone who's come in and said 'congratulations!' but then, this place is so supportive – so Folkestone!"
Don't stereotype toys or colour
The shop reflects Charlotte's vibrant personality, there are so many colours on show, and a beautiful range of very tactile toys.  "I have an agenda!   We limit kids at a very early age, we put them into boxes and say 'you should like pink, and you should like blue.  You should like building things and you should like nurturing things.'  We split them by gender and we don't even realise we're doing it.  So with my shop, I'm trying not to do that, I don't want to do what the mainstream shops are doing.  I want to treat everyone as individuals.  So you will find pink and blue, but that's because they're colours.  There's no boys section, and girls section.  It's all together, so you can browse through the collection and see what takes your fancy.
"You will also find Dad Dolls – with slings and holding babies, and puzzle and connectivity toys that are suited for girls and boys.  I'm trying to make a dent in gender stereotyping!  You'll find, in children's books, the protagonist is always a white, male little boy – you'd be surprised!  So I really try to have heroic female protagonists!  I think this is really important!"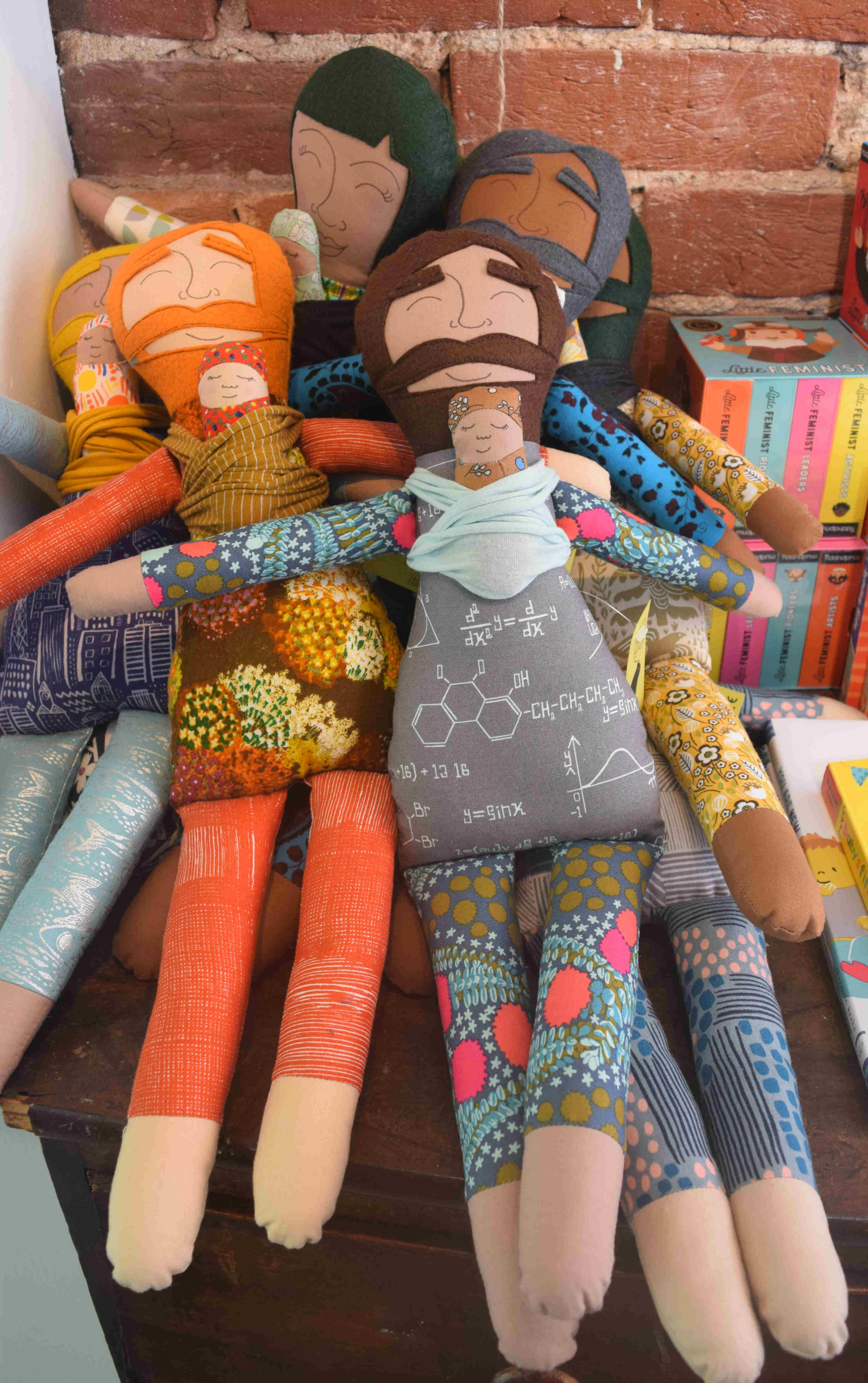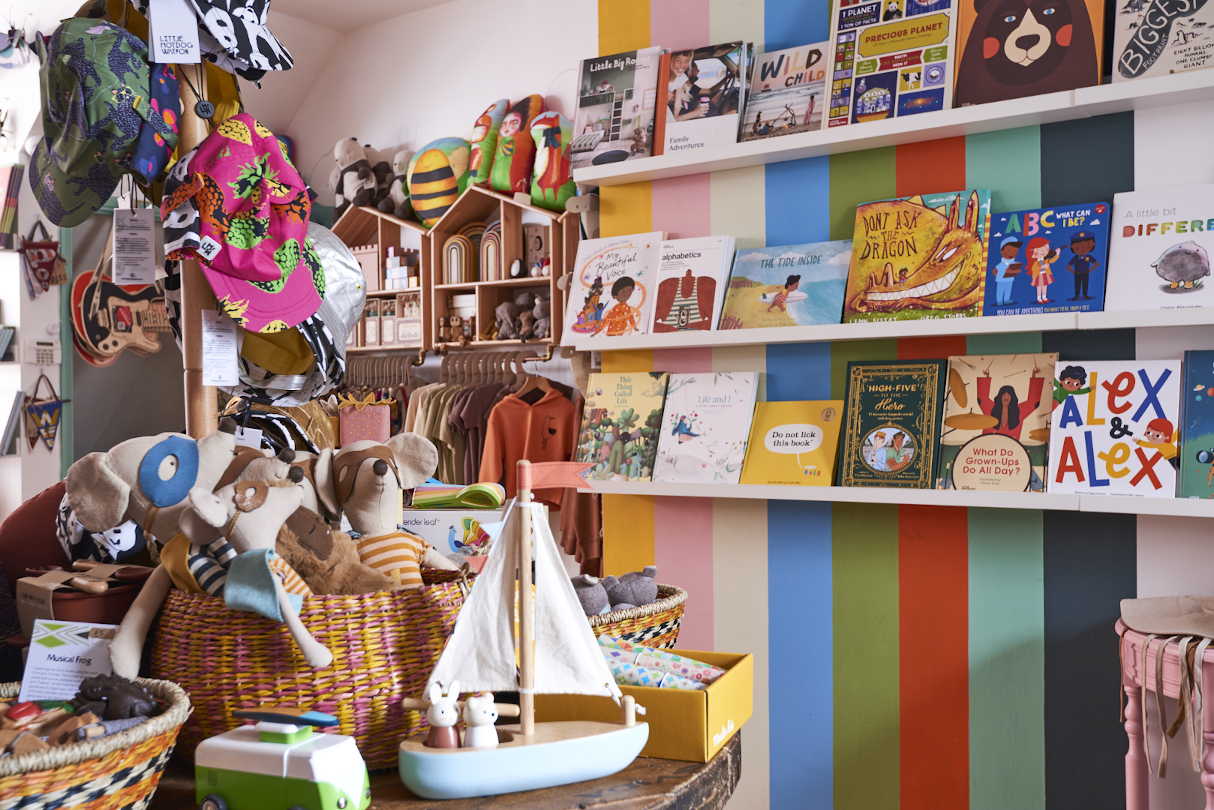 The Moo Like A Monkey Brand
Not only is Charlotte tackling gender stereotyping, she's also bent on building a little empire of production here in Folkestone – the Moo Like A Monkey brand!  "The products I sell are beautiful, and some can be a little pricy!  I'm learning what people are prepared to spend.  But if I can make my own, design them here and make them in Folkestone, then I can start selling the beautiful items at a more affordable price. 
"Miss Ginger's – Verity – up the road, she's going to teach me how to sew!  And I'll be able to buy fabric from her too.  Janet at The Robing Room in The Glassworks is going to show me how to design patterns.  So we can, just within a few square metres, create our own network of creatives and my own brand of products!"
"My first collaboration has been with Fat Hen and Flo, and it's been so successful it's still ongoing.  We created a line of 6 garments with Chip, our seagul, on. We wanted to make some garments for adults too, as many come into the shop and say 'Oh, I wish this was in my size!' so now we're able to do that!"
Moo Like A Monkey is a beautiful shop, full of creativity for any child.  The infectious enthusiasm Charlotte exudes is irresistible!  "It's a lifestyle.  I want my business to work, to be able to pay off my mortgage and to tick along nicely!  My day off is once every two weeks and I never feel like a need it!  And when I'm not here, I find myself walking past and waving at Marin and popping in to see if everything is ok!  I absolutely love it; I love the customers, I love the products, I love buying the products and I love selling them.  I'm just lit up in my little happy place!"
Photo credits: Lou Johnson and Matt Rowe
discover more about folkestone below