Sew and Save the Environment with Miss Ginger's
Miss Ginger's Sewing Shop is so called because Verity is ginger, has style and is situated slap bang in the middle of The Old High Street to catch everyone's attention.  She is a Creative Folkestone tenant and part of the Creative Quarter. 
Miss Ginger's is Folkestone's fabric shop and, as Verity says, when children go shopping they get excited over a sweet shop, or a toy shop, whereas she can hear the adults saying "Oooh, a fabric shop!" on their way down or up the cobbles.
Verity moved to Folkestone in February 2018 from Greenwich, London. She wanted to move south, towards the sea, and visited various places; Whitstable was too twee, Margate not quite right, didn't feel the love for Hastings and then someone suggested Folkestone. "It just felt right, actually, more trendy and cool than London!" Says Verity from her shop counter. "Folkestone is such a creative place; there are always people making and creating things that it seemed so sensible to bring my shop to the centre of it all."
Frida Kahlo 'Garden' by Alexander Henry
Sewing is becoming more and more fashionable now. Verity says that people want to create garments that say more about themselves than items bought off the rails. There are so many amazing materials to choose from, even in this tiny space. The one that caught my eye first was the Frida Kahlo 'Garden' print by Alexander Henry. Verity ordered three batches and they arrived 9 months later, and not exactly as she'd requested. However, this is so sought after that she's very nearly sold out, and it will be at least 6 months before she can get any more. Even if she was still based in London there would be a wait.  There is such a demand for this material that you need to get in with your order and be patient.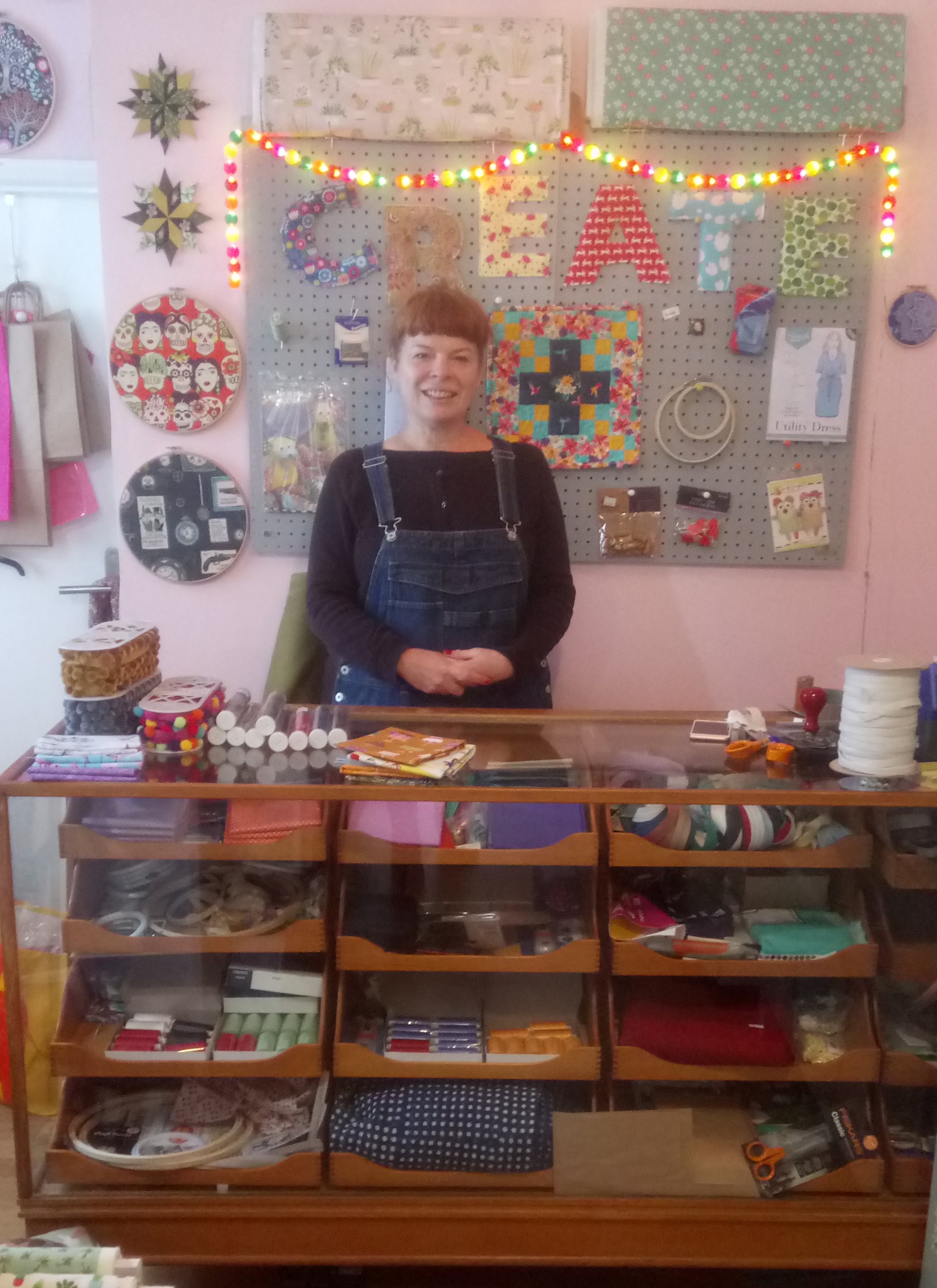 ---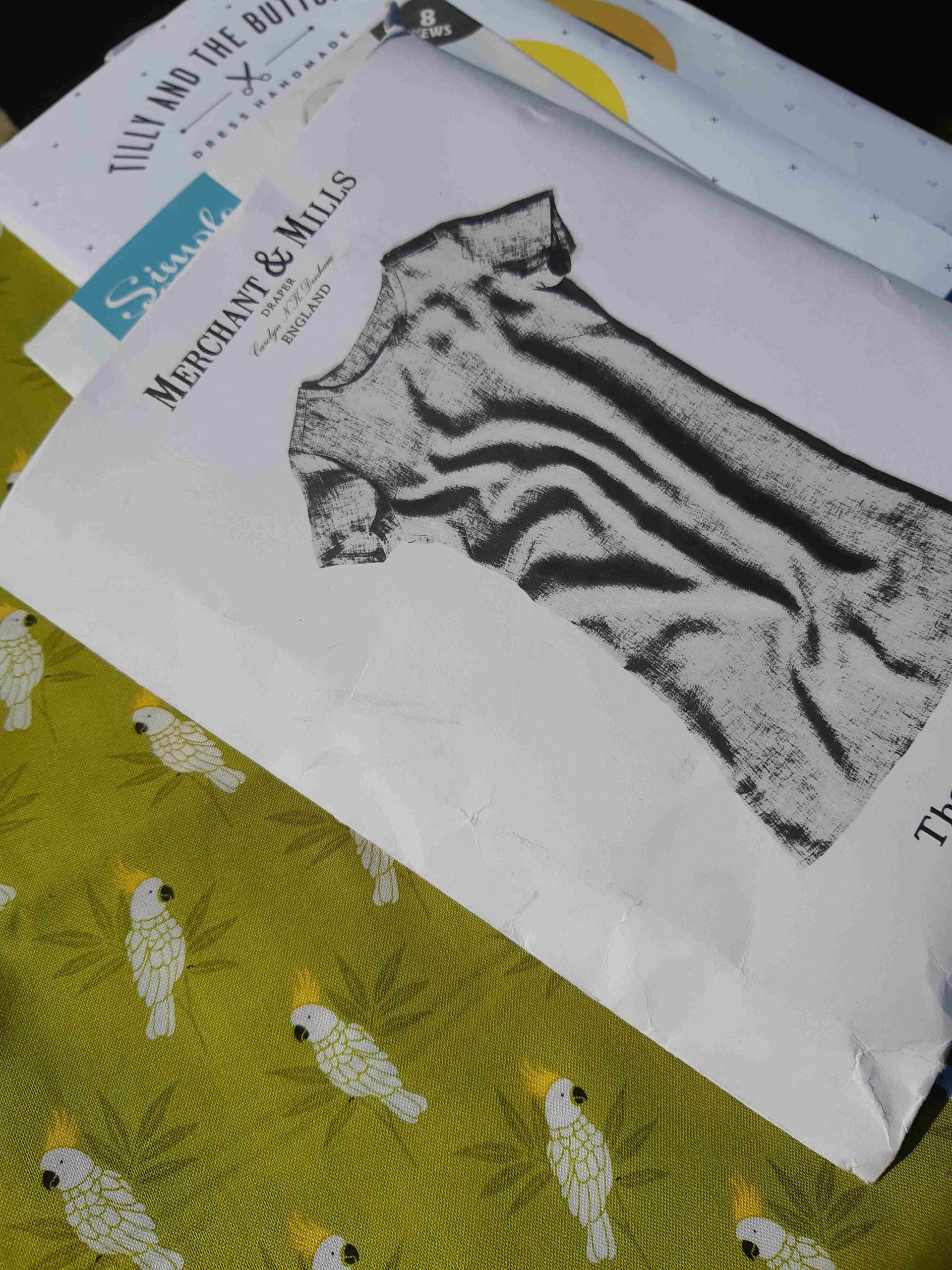 Cloth gift wrapping
Miss Ginger's holds a wonderful treasure trove of vintage and modern prints.  Verity admits that they are mostly what she loves, and that usually sells! She loves flowers, and vintage, animals and colour, so there is plenty to choose from. Customers come in and very quickly a conversation starts up, either with others in the shop, or with Verity, who's on hand for advice. 
Sewing is a craft that's always been sociable.  "I think people enjoy that, getting off their phones and actually doing something with their time that can bring them closer to others" she says. "Many sewing groups have come in to the shop since it's been open and this is the sort of place where all customers can strike up a conversation about what plans people have for the material in their hands."
"It's not all dresses though. My customers send me pictures of what they've created…"  Verity whisks me into the back room where there are three work benches with sewing machines on and pictures stuck all over the walls. "Look, here's a pooch wigwam!  And look at this wonderful wall hanging; we've got cushions, curtains and wonderful creations from my fantastic customers!"
furoshiki – japanese art of wrapping in cloth
Verity has an eye on alternative uses for the cloth in her shop.  It's not all about sewing garments.  The Japanese art of Furoshiki – the wrapping of gifts in cloth overcomes the difficulties of recycling shiny, glittery wrapping paper. Verity's customers have used the cloth in other ways too. "You can cover the cloth in beeswax, and then use it just like cling-film. When the cloth is warm you can fold it over a bowl or container, and then it hardens when you put it in the fridge. Cloth will last around 4 months, and when you feel like a new piece, the cotton and beeswax are both biodegradable, and your fridge looks so pretty in the mean time!"
So walk into this sweet shop of goodies and do your bit for the environment too, make your own clothes, wrap your presents and cover your food in wonderfully inspired vintage prints.
Discover more about folkestone below