Take A Tour of F51 – Folkestone's Skate Park
The Sports Trust, the charity behind Folkestone 51 – F51 – has opened the world's first multi-storey skate park on Tontine Street in Folkestone.  The building is home to three floors dedicated to skateboarding and the tallest climbing wall in the South East of England.
The opening of this building has been much anticipated, as mentioned in The Times.  Alex Frost is the Marketing and Events Manager for F51 and grew up in Folkestone.  After returning home from University, he joined the Sports Trust.
Folkelife met up with Alex for a tour around the skate areas which cover 3 floors of the building.
Thanks to Maverick Skateparks for the drone footage of the interior of F51.
street vs ramp skating
"Let's start at the top floor which is our street floor.  This is the best place to learn to skate as a beginner.  This floor has a really creative design with a range of inclines, banks, rails and ledges. We've even got a Jersey Barrier/Wallie inspired feature too.  This floor has very small quarter pipes over there where you can learn to drop in, and have a lot of fun on the transitions and ramps too.  You can spend hours in here and not put too much effort in!
"Some people prefer skating either street or ramp (but there are lots of people who love skating everything too).  Street skaters use obstacles inspired by street furniture to skate – so will utilise ledges, steps… rails."
maverick skateparks and cambian action sports
"Maverick Skateparks are the specialists and have designed and made the whole first floor.  The two upper floors are made of timber and have been engineered by Cambian Action Sports.  Maverick has been involved in the design process for each floor and have ideas of what could be possible here, but skating is an organic sport, everything is possible!"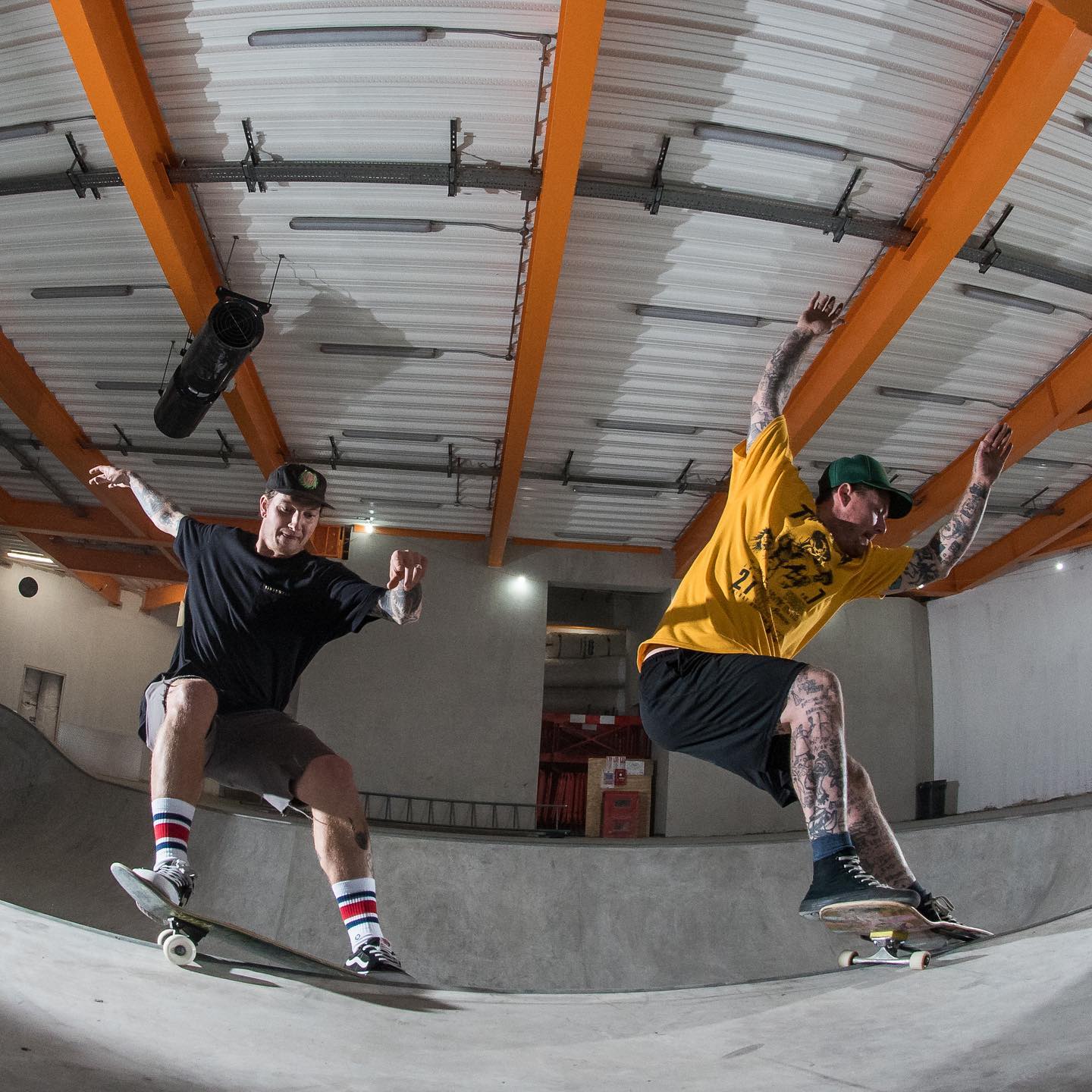 training sessions
There are training sessions at F51, and open sessions where marshals are in attendance to give tips and hints if needed.
"Dan here is working with Richa who's not skated before.  He's a really great teacher and will get anyone skating within a few minutes.  We have boards you can hire.  People are either left or right-footed, so you need to work out which is most comfortable for you – do you want your right foot facing forward or left? (This is known as a goofy or regular stance!)  Then, the idea is to get on and off the board, which is a bit disconcerting as the board moves, thanks to those wheels!  But it's about getting used to that.  You practice getting on and then off the front, then stepping backwards on to the board and off backwards to where you started.  It makes sense, and builds confidence too. 
"After that it's a case of stepping on to the board and starting to roll forwards.  Once you start rolling you get the idea that moving your body can make you go faster or slower and also change direction."
steering
"Changing direction is all about shifting your weight.  If you lean into the way you want to go, that helps too.  As you get more confident, we have a long stretch of the floor here where you can roll for longer.  It's a great place to learn as the wooden floor is quite forgiving, there's a bit of a bounce to it.  It means that if you do fall off, it doesn't hurt half as much as the concrete floors or the gravelly street would! 
"Usually, after your first session, you'll be rolling along this long stretch and understanding how you can stop safely and maybe even speed up."
concrete vs wood
"The concrete is a lot more grippy than wood. You can certainly try things out on all the floors here and then take that practice outside to the street.  People might find it easier to practice here though as the floors are softer and more forgiving. 
"The thing that people have been most excited about recently is the bowl floor. There are a series of suspended concrete bowls on the first floor.  The pool has been designed in tribute to 1970s Californian backyard pools.  People used to hop fences to use empty swimming pools to skate.  This has been replicated in our pool through both tiles and concrete pool coping.  They've been lacquered now to protect them and keep them grindable/slideable."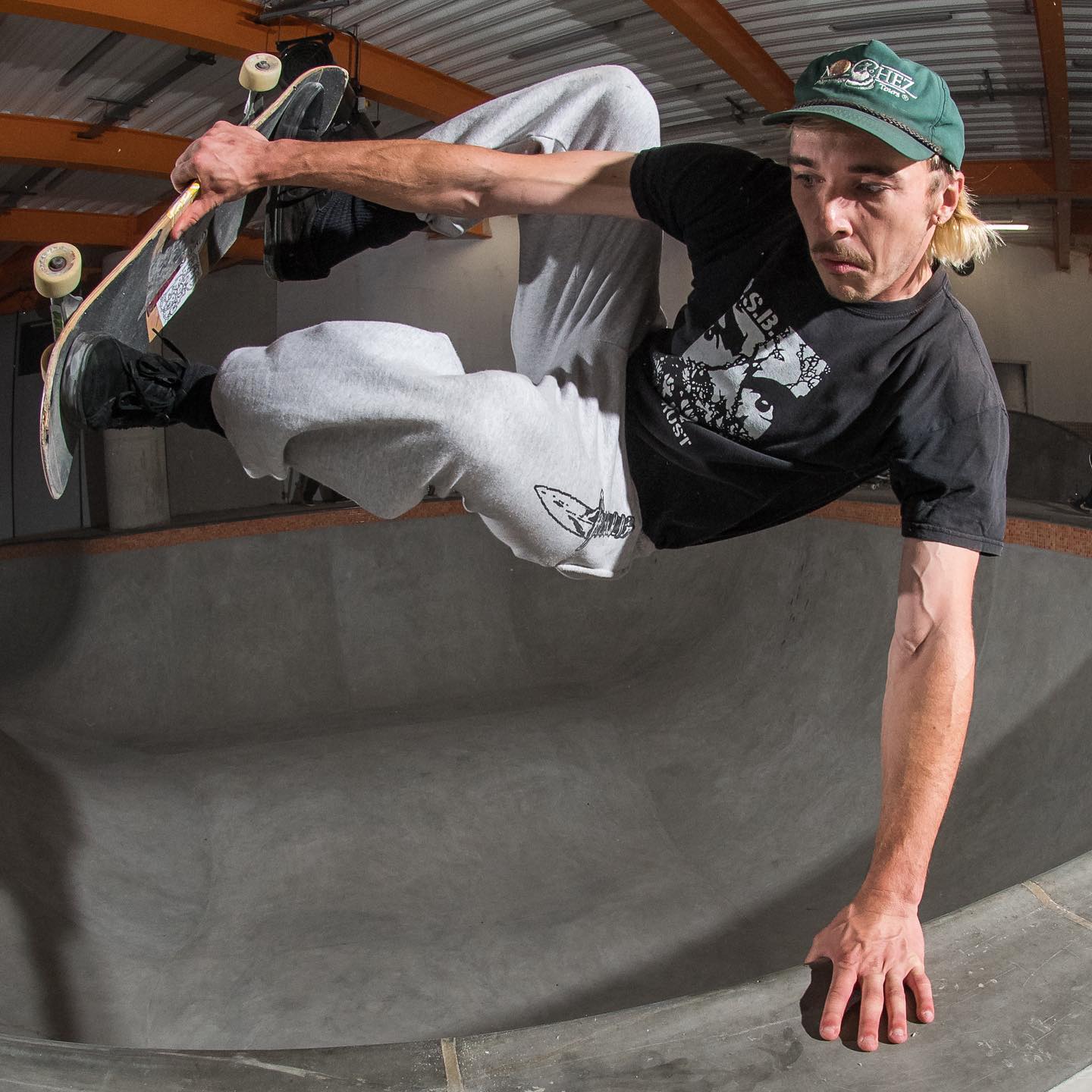 tricks, quarter pipes and a jersey barrier
"On the Street Floor, once you've learnt how to go forwards and backwards, you might want to learn some tricks. You'll find a lot of skaters up here practicing and playing.  We have quarter pipes – so think of a pipe and cut it into quarters and you'll have a curve.   
"There's a wooden Jersey Barrier inspired obstacle over here which is a really fun obstacle.  Typically, they're large concrete barriers that you would see in car parks and on the streets. You can ride up and over it." 
handrails
"We've got a really nice low set of handrails here too.  If you've never skated on them before they can seem a bit daunting, especially as ones outside will be higher than these.  So again, these are great to test out and learn how to approach them.  We've got a bank to wall over here, which is quite an advanced feature for here, but very fun none-the-less.  You can see these marks on the wall which are evidence of previous wall rides.  These marks tell various stories.  They're about who's managed to do what, but also to show others that reaching this height is possible. 
"There are two different sized stair sets which mean you can practice on both heights. The beauty of it being timber means that in a few years' time we can have a play around and rebuild elements of the floor.  It makes it easier to freshen up and give new challenges to everyone who skates here.  Skating trends change over time too, so if you look at a park that was built 15/20 years ago, you'll find a far different layout and focus.  Being timber means we can adapt to new trends."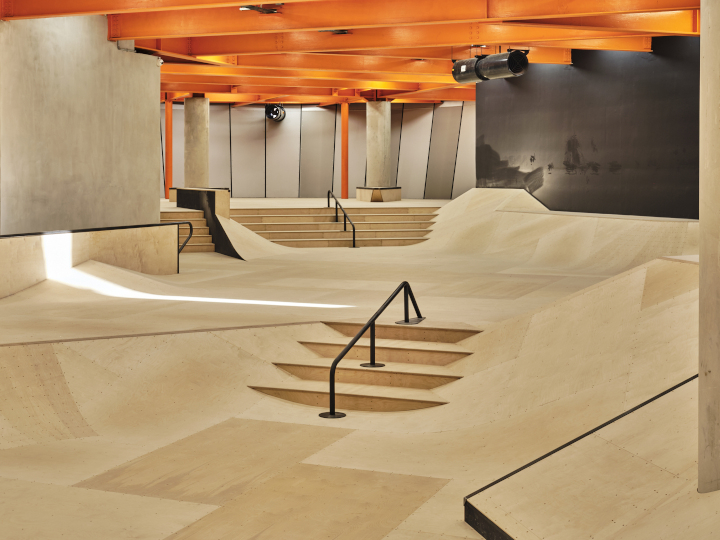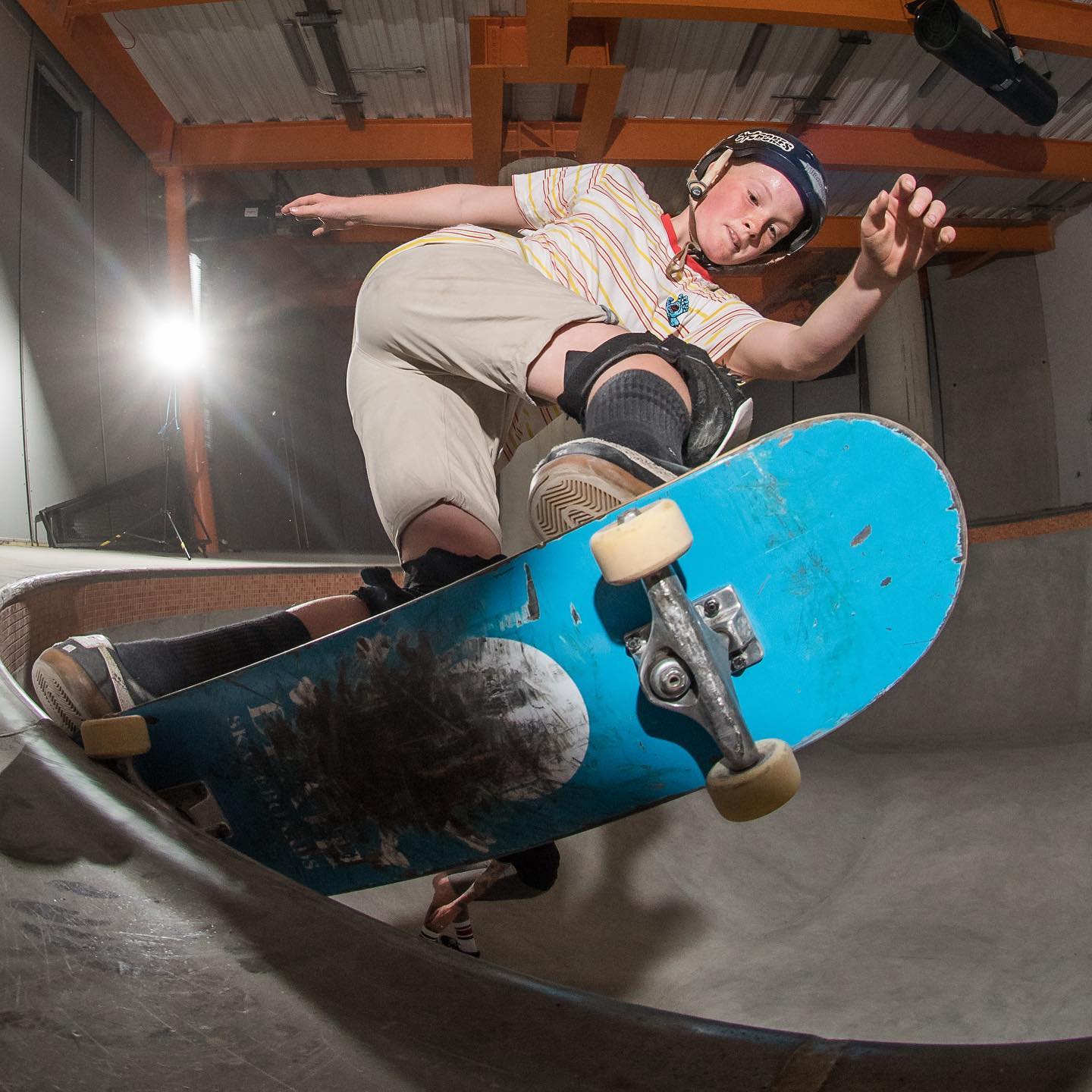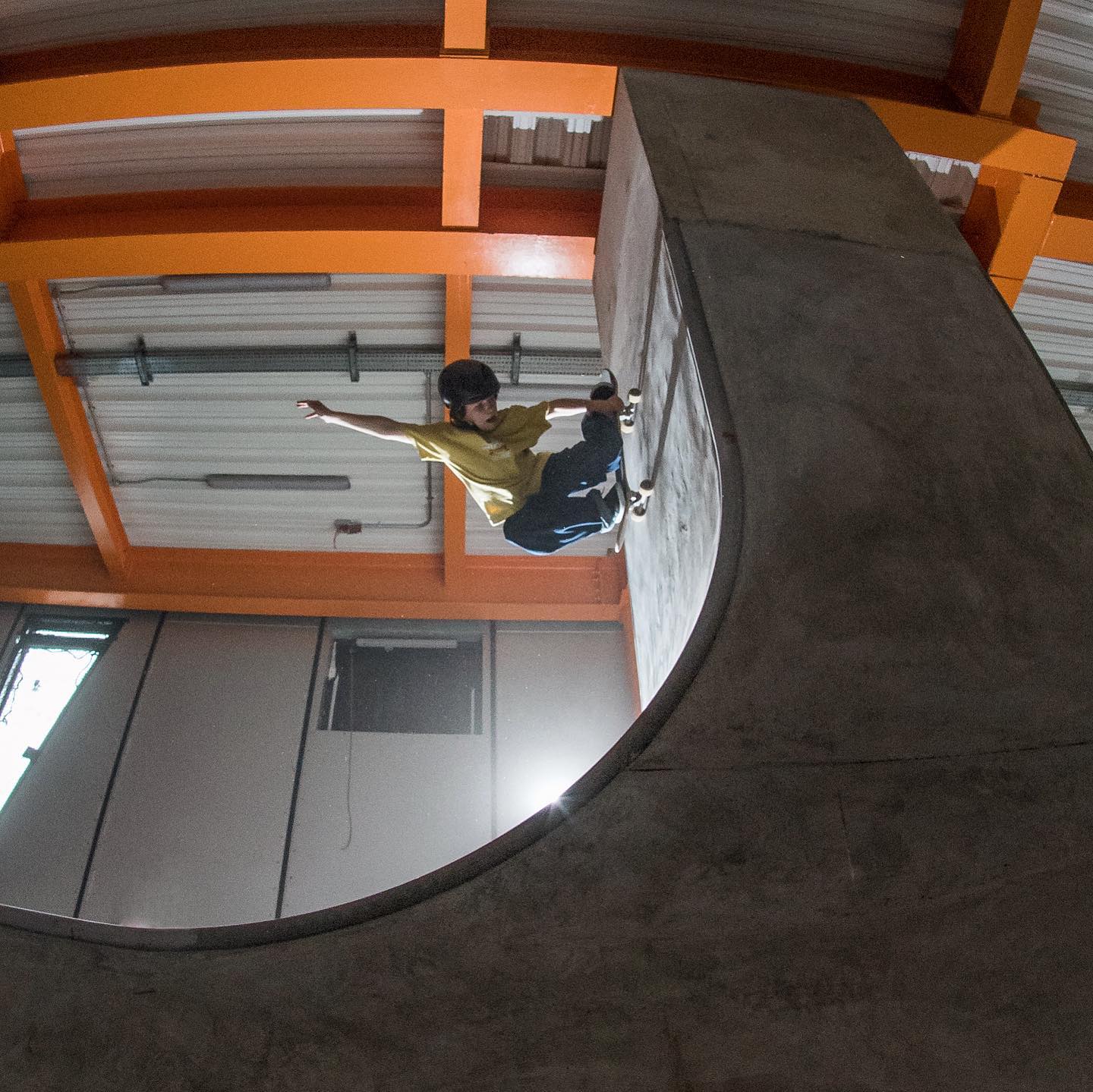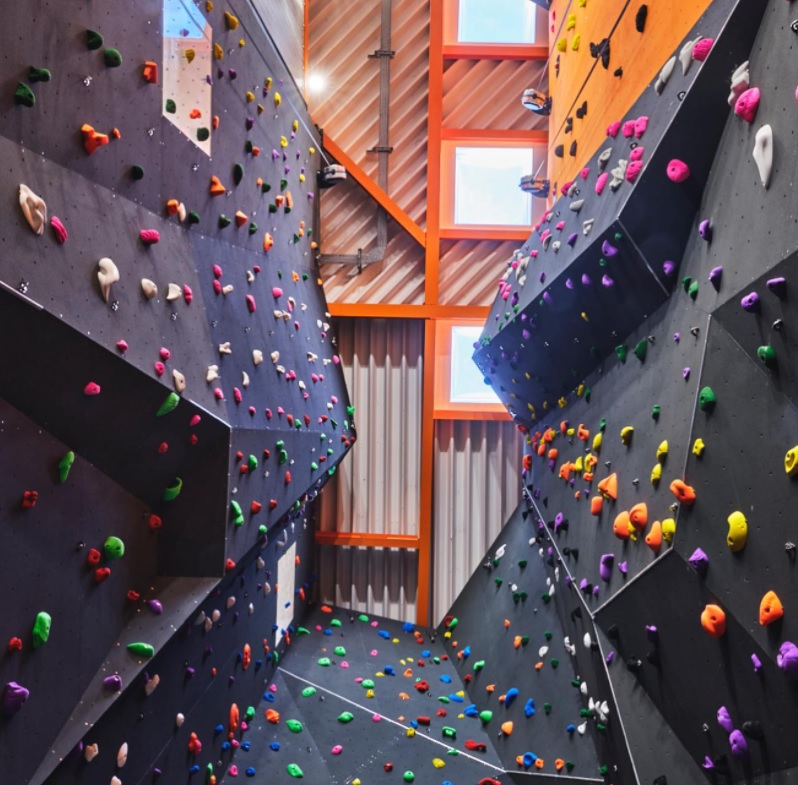 bmxing
F51 isn't just about skateboarding. You can come here with scooters, roller blades and skates and also BMXs.  Liam, one of the F51 managers, has been working to link schools with the Skate Park through using BMXs.  "We've received funding from the KCC Reconnect grant stream and aim to get young people from the age of 5 to 16 out doing sports and socialising again since the pandemic.  We have 14 bikes here at F51 where we can train people to ride and learn to do tricks on the bikes. 
"Thanks to the funding it means this is completely free to anyone who wants to get involved. It's again part of our ethos to be universally accessible to everyone.  This has been really popular over the school holidays and we're connecting with schools and youth groups too."
The upper flow floor is where a lot of BMXing happens: "It's more open up there and it's more about riding the ramps than jumping down the stairs and railings. You'll be able to learn the fundamentals there and then take that to the lower floors when you're ready. 
"If you've got a Reconnect Leisure card you can come along here and experience what we've got on offer for free." 
climbing wall
Jade and Gabby run the Climbing Wall which is over 15m high and has over 3000 holds.  There are auto-belay routes to practice speed climbing with built in timers.  There's a bouldering area up to 4m in height which is a good place to test your dynamic jumps to compressive, awkward body positions and condition finger strength on the hang boards.  It's one of the first female run climbing walls in the UK and gets booked up very quickly.  Plan ahead.
Olympic training
Alex Frost continues: "Speed climbing and skateboarding both featured in the postponed Tokyo 2020 Olympics. The training facilities we've built at F51 will hopefully have an impact on Olympic enthusiasts."
affordable access
As well as the climbing and skating facilities, the ground floor features a world-class boxing gym which is home to the Folkestone Amateur Boxing Club. There is also a cafe open to the public and a multi-use creative space.  The building is operated by The Sports Trust, whose purpose
is to create safe and inclusive environments for people to love sport and exercise. The charity, previously known as The Shepway Sports Trust, aims to ensure that skateboarding, BMXing, climbing, bouldering and boxing are accessible to all – regardless of gender, ability or background.
One of their initiatives aimed at improving accessibility for all includes a low-cost membership for under 16s registered to any of the charity's partner schools in the Folkestone & Hythe district. This membership grants them after-school access to the skatepark floors once a week, from Monday to Thursday term-time, for just £1 a month.
with thanks
Dan Hulme, Chief Executive of The Sports Trust, is indebted to The Roger De Haan Charitable Trust and said: "We are incredibly honoured that The Roger De Haan Charitable Trust has gifted this world-class building to The Sports Trust.  We are excited to bring this extraordinary venue to life. As a charity that has been working in Folkestone for over eight years to create inclusive and inspiring environments for people to love sport, we are confident that Folkestone 51 will bring enviable opportunities and experiences to local people for generations to come.
"F51 is open to everyone and the team at The Sports Trust will be working hard to ensure that the sports hosted at the park are accessible to all, regardless of age, gender, ability or background. It is an exciting and pivotal moment for sport in Folkestone and we look forward to welcoming you to this incredible venue"
Photo credit: Action Skate shots by Ted Cunningham, Building shots by Matt Rowe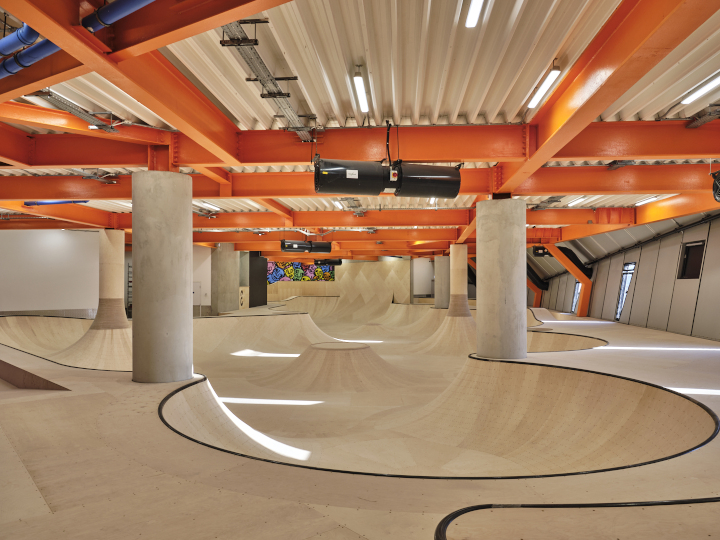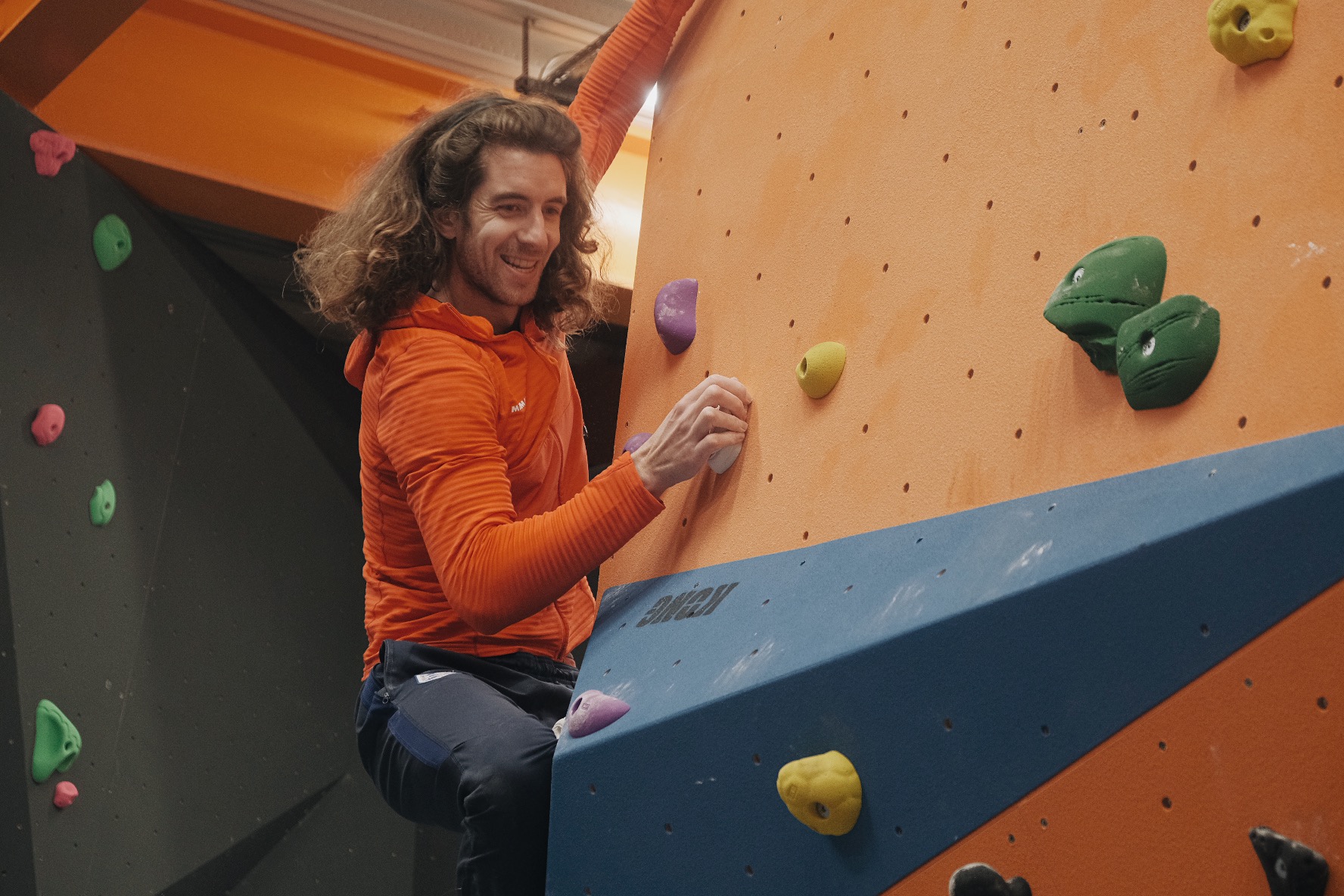 Discover more about Folkestone below