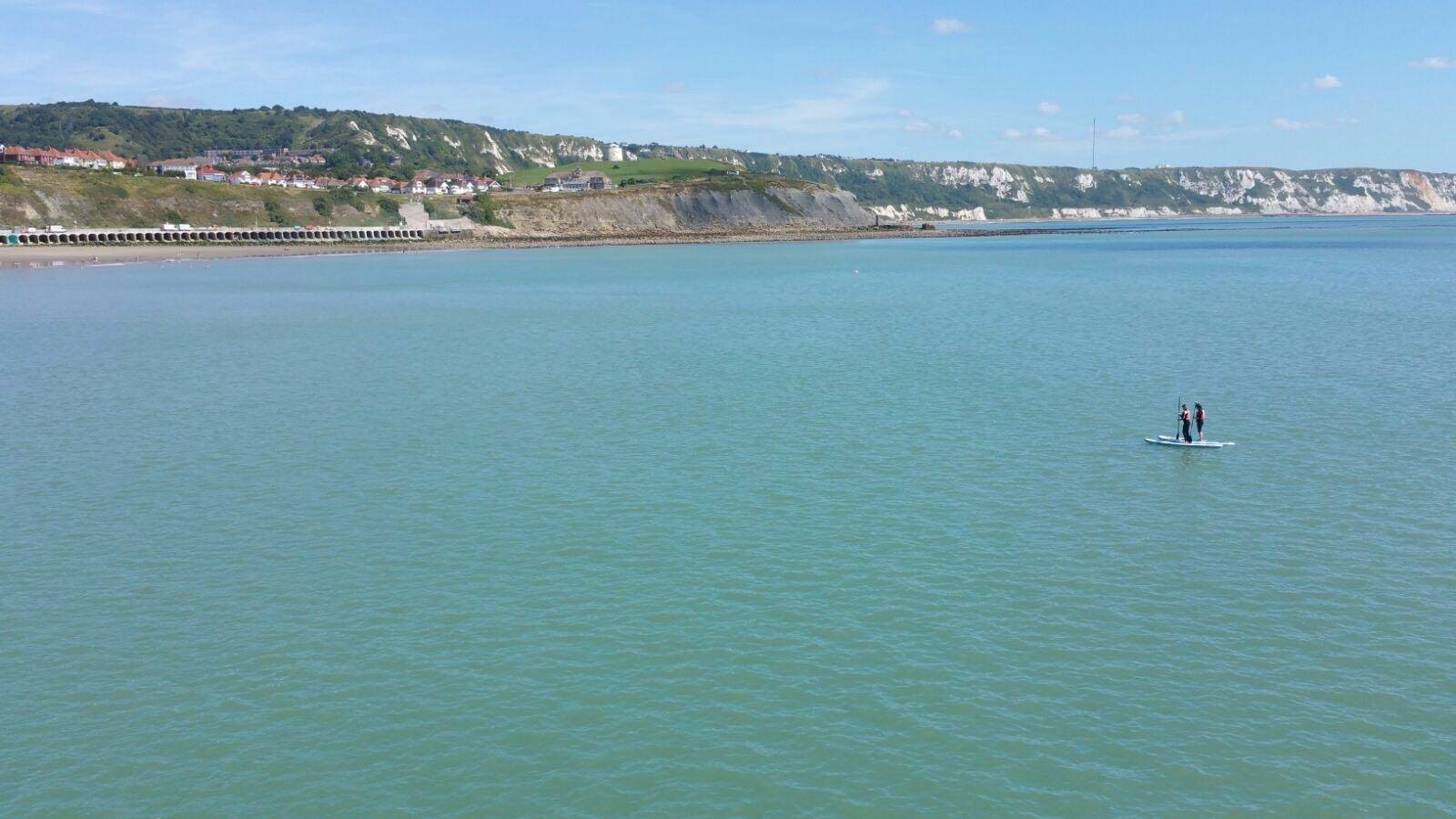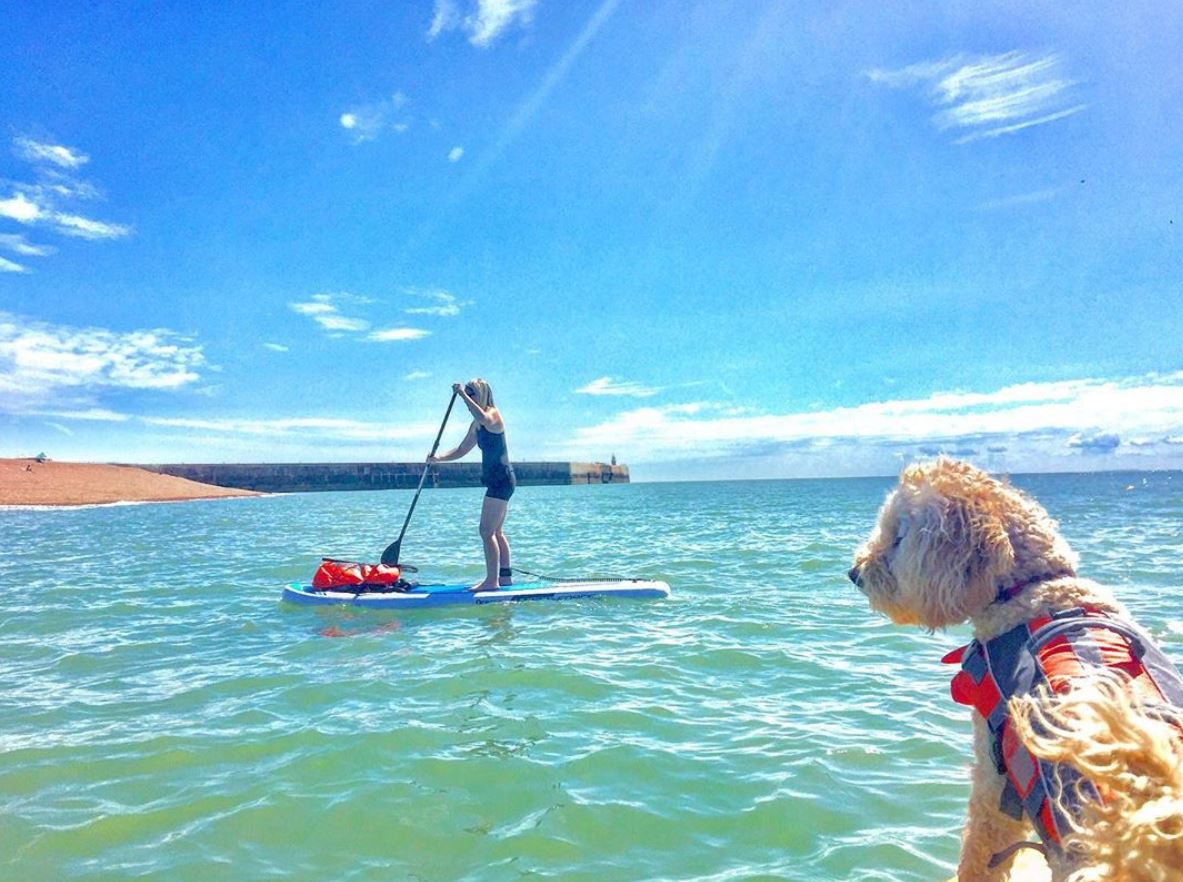 Stand up paddle boarding – a different view of folkestone
Stand Up Paddle Boarding is an ideal sport for a fine day in Folkestone.  If you are looking out over the harbour you will see rafts of stand up paddle boarders enjoying the sea.  The harbour area is an ideal place to learn the basics and get used to how the board feels.  Folkestone Sea Sports run training sessions and rent out boards, wet suits and buoyancy aids.  It's a wonderful way to spend a couple of hours and you get to see the town from a different perspective.  Folkelife went along to see how easy it is to stand up on a paddle board. 
Instructor Liz will take your particulars and get you kitted out with a wet suit and buoyancy aid. "Everyone needs to wear a buoyancy aid as that's what keeps your head out of the water should you fall in.  Believe me, it's good to fall in!  However, you need to be able to be rescued if you get into danger."  Liz has been paddle boarding since 2016 and trained as an instructor in 2019.  She's full of laughter and is really calm which is great for this activity.  
stand up or kneel down
No one looks graceful trying to clamber back on to the board when you've spectacularly landed in the sea, but it is a lot of fun.  Most people fall in when they are trying to get their balance standing up.  It is perfectly respectable to kneel on the board and get used to steering.  Save the standing up for later! 
The first stage, after getting into your wet suit – give yourselves an extra 10 minutes for this task – is to run through the paddle and board on land.  Each paddle can be adjusted to your height, and looks long on the land.  However, when you're in the water the paddle end should be immersed and so makes it more manageable. 
sea sense
The boards are really glorified lilos.  They're inflatable and have a carrying handle on in the middle.  This is your central spot.  Make sure your feet are either side of this handle for standing up, and your knees are here for kneeling down.  When you get on your board, this is your area to work with.  There are elastic straps at the top of the board to hold your shoes or waterproof bag.  Bring a strap to hold on your glasses if you wear them.  They don't tend to stay on when you fall off!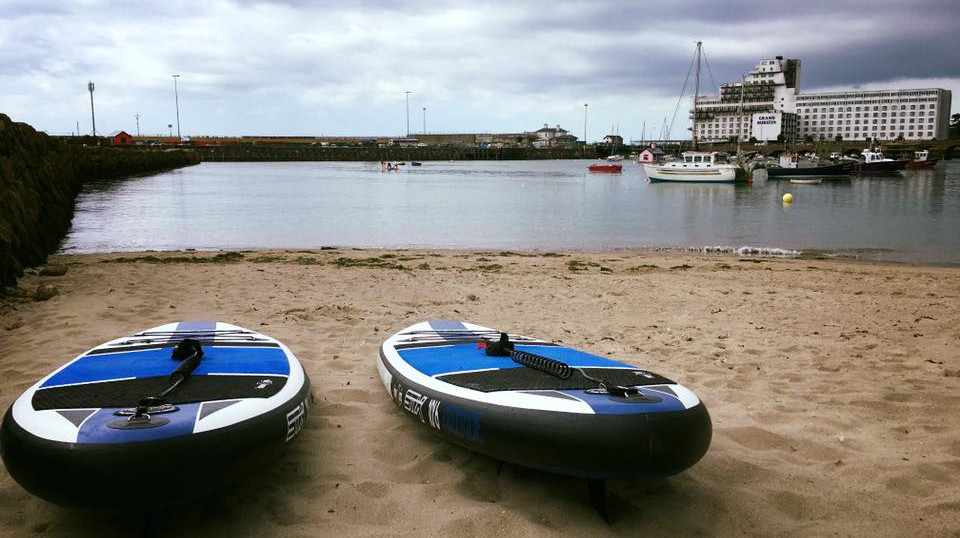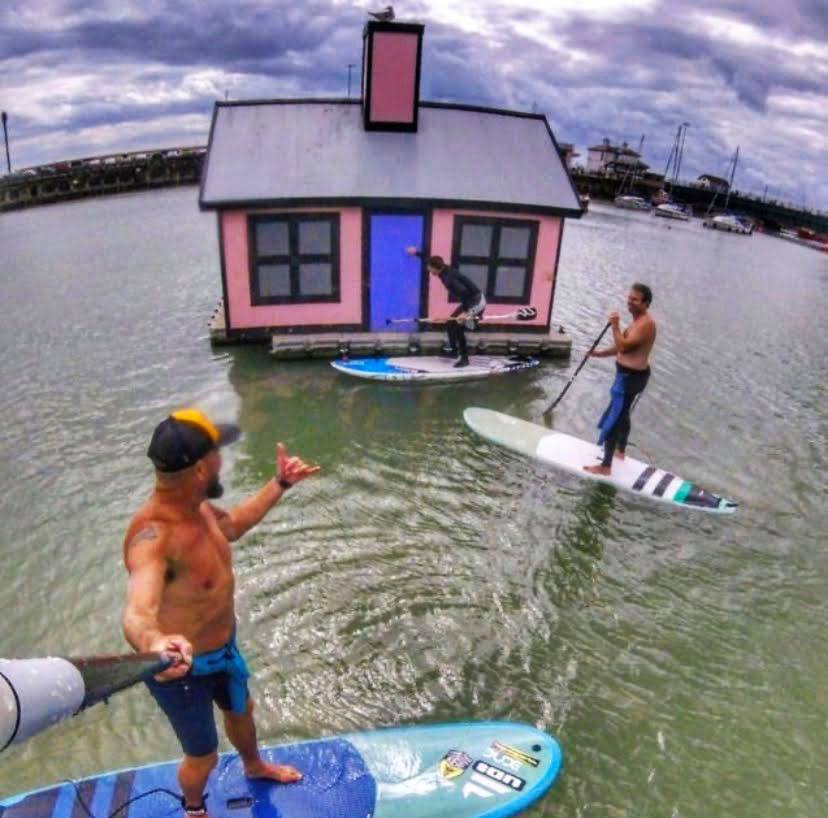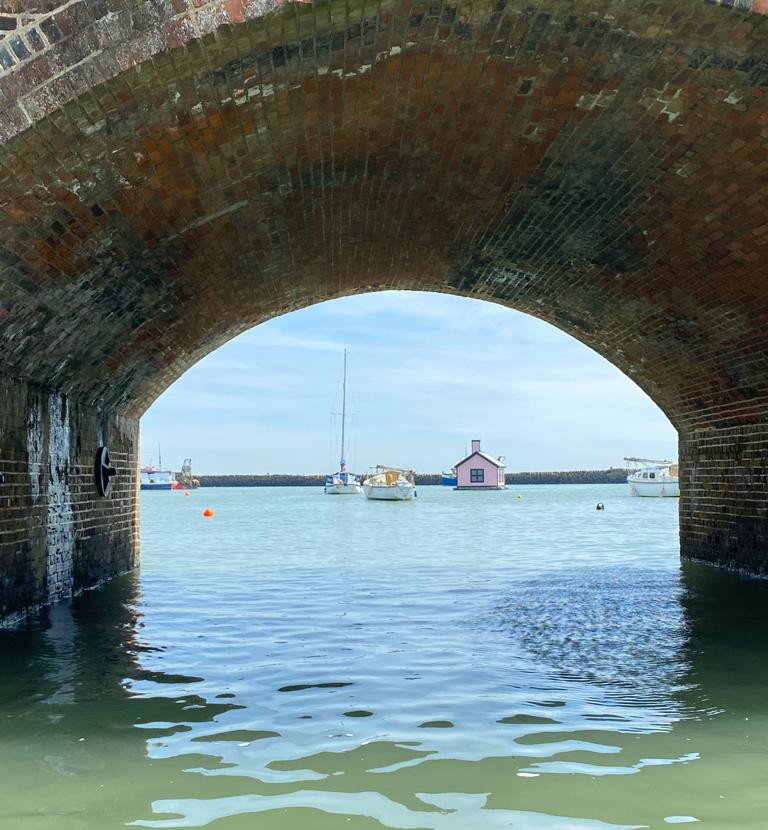 heading into the water
Lifting your paddle board, you can carry it a few metres to the water's edge in the harbour.  Wading out until the board floats, you then lean across it and lie on it to get afloat. Kneeling up when you are ready and getting your barrings is the next stage.  The board is quite responsive to your paddles, so if you give two paddles one side, and then swap to the other, you should go in a straight line.  More paddles on one side will help you turn corners or go in circles if that's what you want to do!
When the time comes and you are happy with your steering, you need to try standing up.  After all, this is called Stand Up paddle boarding!  Keeping your feet near the central handle, raise yourself up slowly to gain your balance.  It's good to keep your knees bent a little, that helps you be more stable.  This is probably the time you will fall in, but once you've fallen in once, it takes the edge off the fear of doing that again.  
the inner harbour
Liz will take you through, under the arches, into the inner harbour.  It's a fantastic view of Folkestone that you won't get from anywhere else.  Paddling under the arches of the viaduct is rather beautiful and atmospheric.  Once you get used to handling your board, and have done a tour or two of the harbour, then it's time to venture out to the Harbour Arm.  Liz will know if there's time and if the weather and tide is suitable.  It's true that the sea is a bit more moveable once you get out of the security of the harbour.  Seeing the Harbour Arm from this perspective is fantastic!  You get a different view of the Anthony Gormley statue from the 2017 Folkestone Triennial too. 
wrestling the wet suit
Wet suits are a great idea for paddle boarding in the colder months of the year.  The sea temperature on a warm May day can still only just be reaching double figures.  Sun cream is a must on any sunny day, no matter what time of year.  The sun reflects off the water and getting sun burnt is easily done. Getting out of your wet suit is harder if it's wet, but that's part of the fun isn't it?  
Once you've done your first safety session then future sessions can be spent mastering the art of standing up and going further on your journey should the conditions allow.  When the sea sports team know your capabilities, they can suggest different routes to discover. 
a local past time
Before you know it, you'll be paddling around before stopping for a bite to eat on the Harbour Arm.  You'll look out to sea with a new perspective on life.  Stand up paddle boarding is deceptively relaxing.  Only when you walk on dry land will you realise the core muscle and leg muscle work out you've given your body.  But it feels good, so give it a try!
Photo Credits: Sunset: Simon Haggar, Dog's View: therealpauleldridge, The Pink House: jsup_jmanning_fanatic_uk, Boarding with Clovis: Tegan Springate.