Jenna Gibson – World-class Windsurfing
Jenna Gibson is Folkestone's home-grown world-class windsurfer.  She competes right at the top of the World Championships, and has got to this level thanks to a lot of hard graft.  Her local club – Hythe and Saltwood Sailing Club – has helped her along the way, as well as many training opportunities in the UK's olympic centres and abroad.  Jenna spoke to Folkelife about how she got started.
sailing to surfing
"I lived in Belgium from the age of 8 to twelve, and that's quite a landlocked country.  I started sailing on lakes there, but when we returned to Folkestone, I took up windsurfing.  Both my parents had been windsurfing instructors so it made sense really. 
"The Hythe Hotshots is the junior training team at the sailing club and from there you get to compete all around the South East of England with other windsurfers.  It's really good experience. 
"From the Hotshots, I went on to do regional competitions, then national ones, and in the past 2 years, I've been doing international competitions as well.  I've competed as far as Japan and Korea, which was amazing."
fin and foil surfing
"I do both types of surfing, fin and foil.  Fin is what you'd call 'normal' windsurfing, where the board is on the water, and you're moving around the sail in the wind.  Foil windsurfing is where your board is elevated above the water, and a fin is the only thing guiding you in the water.  That can be a bit tippy at first, you have to get used to a new centre of gravity on the board. 
"It's like stepping into a new dimension.  With fin surfing you have left and right to deal with, when you introduce the foil, you have up and down added in there!  It's a big learning curve, and I'm still learning!"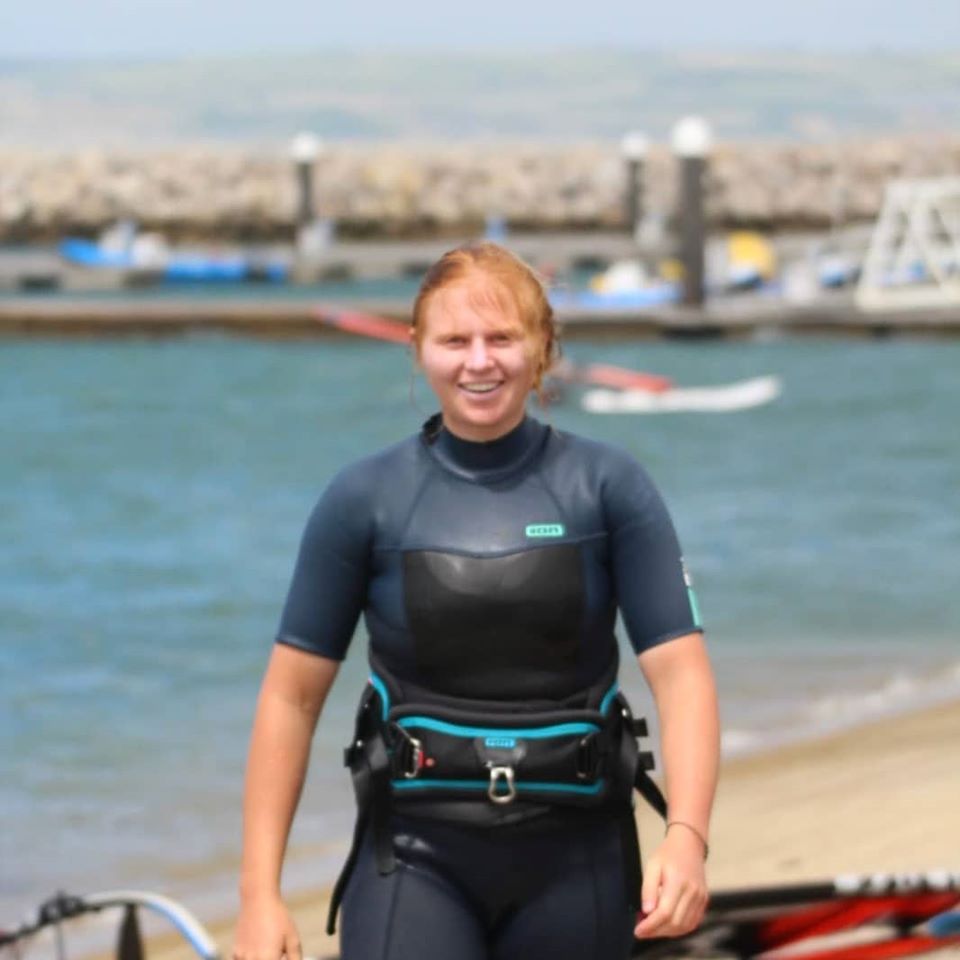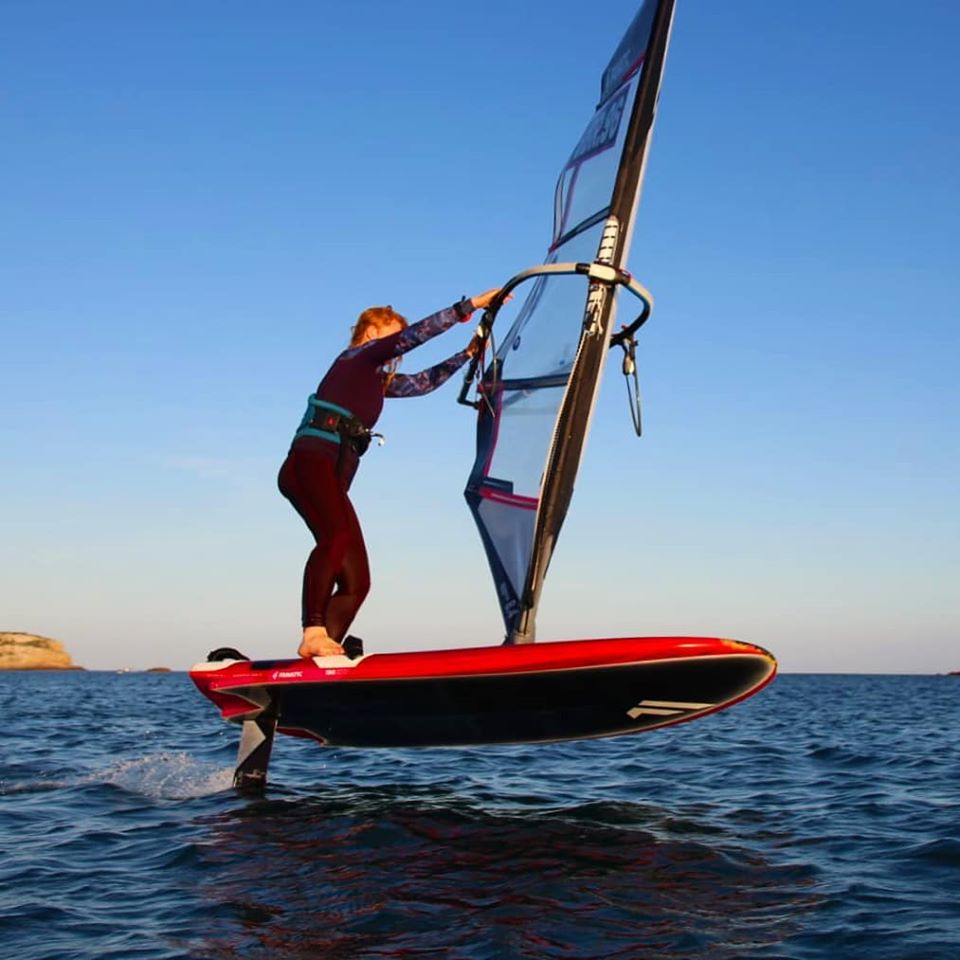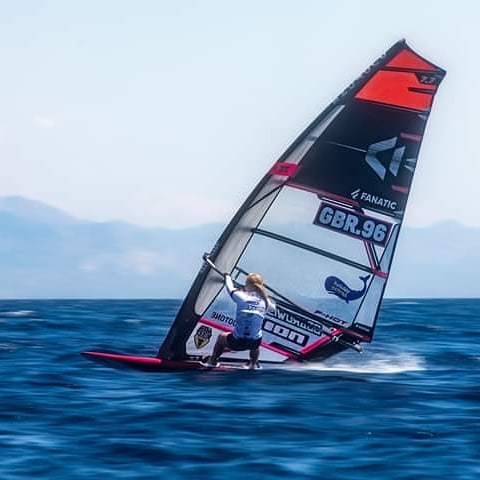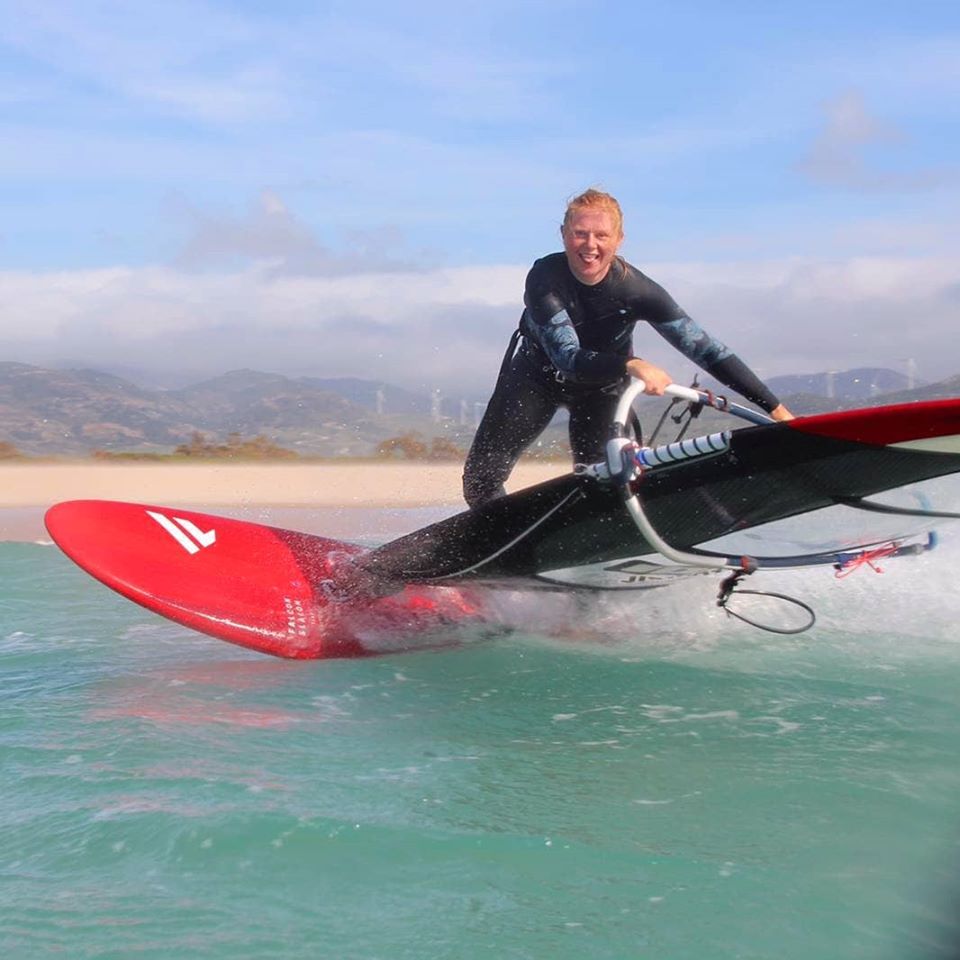 PWA World Championships and tours
Having said that, Jenna's on a training week at WPNSA – the Olympic sailing academy in Weymouth – recovering from competing in Croatia at the PWA Slalom World Tour.   Despite coronavirus disturbing the 2020 competitions, Jenna came 1st in both the Foil and Fin categories in the PWA Slalom World Tour.  In 'normal times' there would be a series of events across the year that would accumulate points for the World Championship.  Jenna, sponsored by local travel busines Holiday Extras, continues training to be in the top bunch of the pack.
"I was out in the South of Spain at the beginning of 2020 doing lots of training.  I was actually there when they went into lockdown.  That was a mad rush to get home!  I've been doing a lot of cycling training since as we've not be out on the water.  I've also had my skateboard out as you use similar muscles as being on the board.  Now things are opening up, I can get back out on the water and train again."
Windsurfing in Folkestone
"I get to train in lots of different places.  I'm currently in Weymouth at the Olympic centre, and it's great as you can go in any direction.  Windsurfing in Folkestone is actually more challenging.  The water is choppy and that makes things harder.  There are some really good foiling guys at the club, which is good for a bit of competition.  If you're fine tuning your game, you need to be competing against people."
discover more about folkestone below