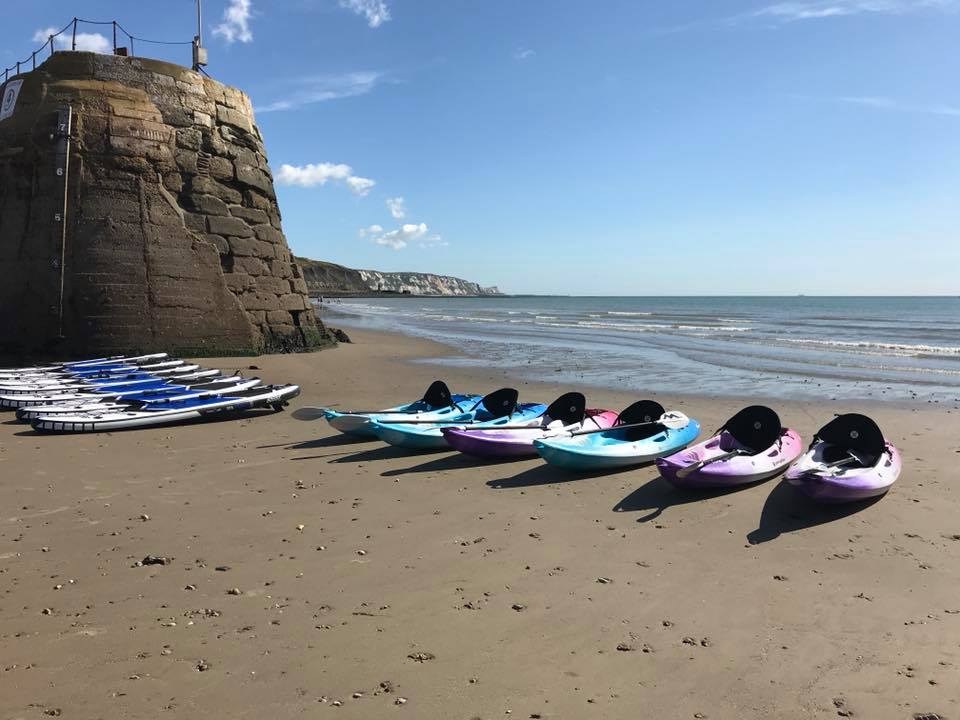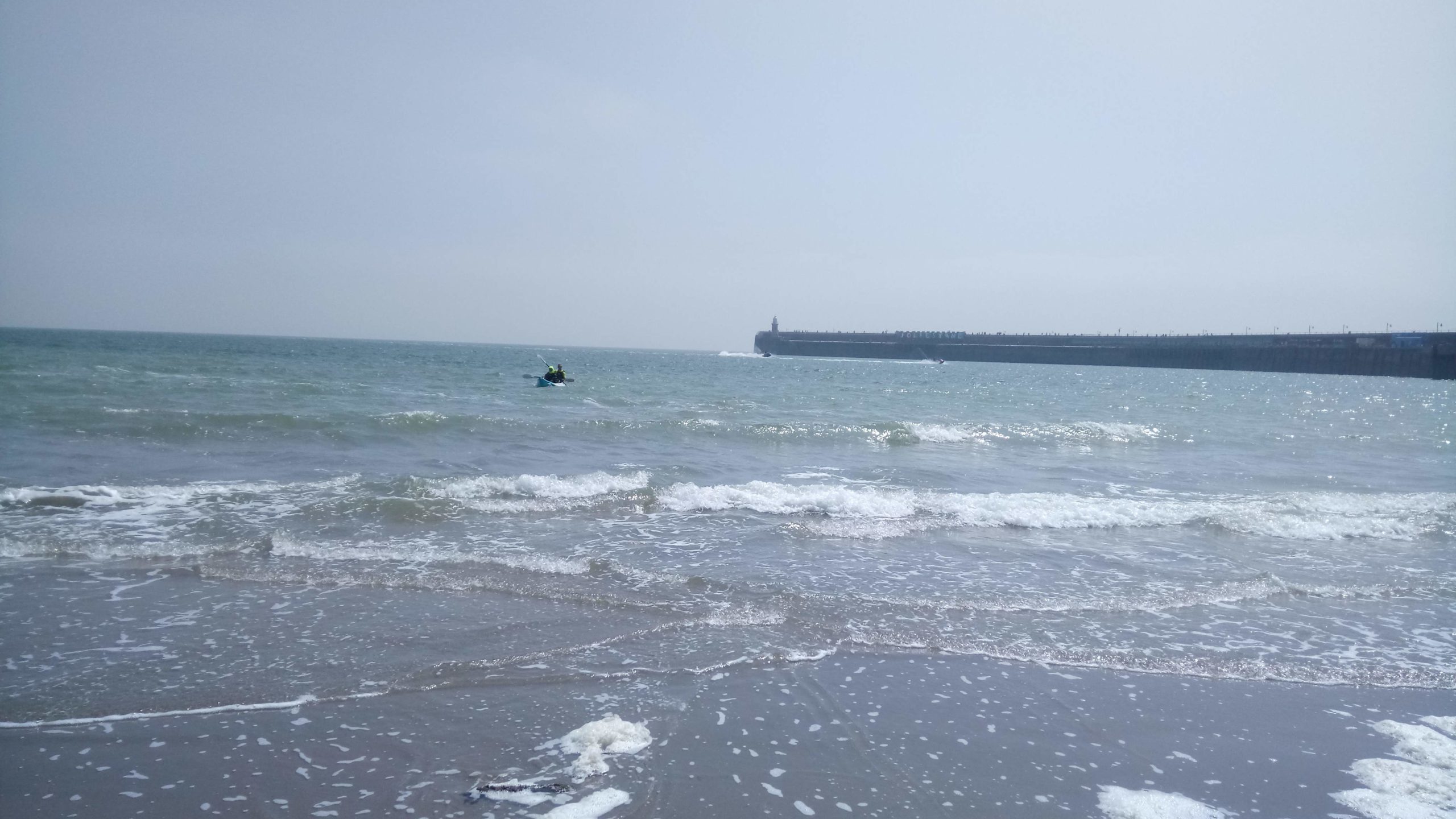 kaykaking around Folkestone – Essential sea-living activity
Kayaking around Folkestone is an essential sport you must try if you live near the sea. Imagine the days when the sea looks like glass and is really inviting.  To get out in a kayak not only gives you a fantastic upper-body workout but also gives you a great perspective on the town from the water.  Folkelife went to the water's edge to find out more.
Folkestone Sea Sports
The Folkestone Sea Sports hut is located on The Stade, near the Sunny Sands end of the Harbour. Here you can hire kayaks for hour-long sessions for a single-manned craft, and buoyancy aids which are essential. Practice your skills in the inner harbour, and when the team is confident of your proficiency, you can then venture out of the Harbour and paddle in the sea.  Folkestone Rescue are on hand at weekends from April to September and work with the RNLI and HM Coastguard.
As with any sea activity, it's always wise to go with someone or notify a friend if you're heading into the water.  If you have your own kayak, Folkestone is surrounded by the sea so you can launch anywhere.
Hannah Revill, the local musician and DJ, has lived by the sea her whole life.  "I'm not a professional kayaker, but have done lots of sea sports on my travels, and of course, growing up here in Sandgate, Folkestone.  I live about 10 minutes from the water – by which I mean, if I fancy going in, I can be in my kayak on the water within 10 minutes from leaving my house.  This is really useful because the weather can change quite quickly.  You can be out on the water, and from that vantage point, the winds can be different to what you see from the land.  I love it though.  It's something you can do all year round if you have the right gear.  Obviously, in the winter, it's worth having a decent wet suit and layers to keep you warm."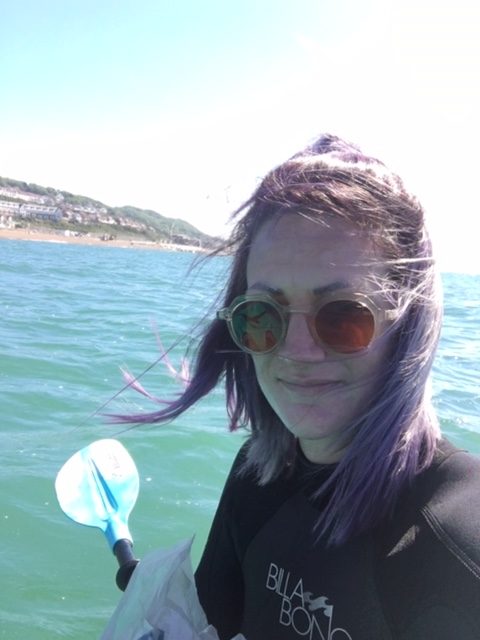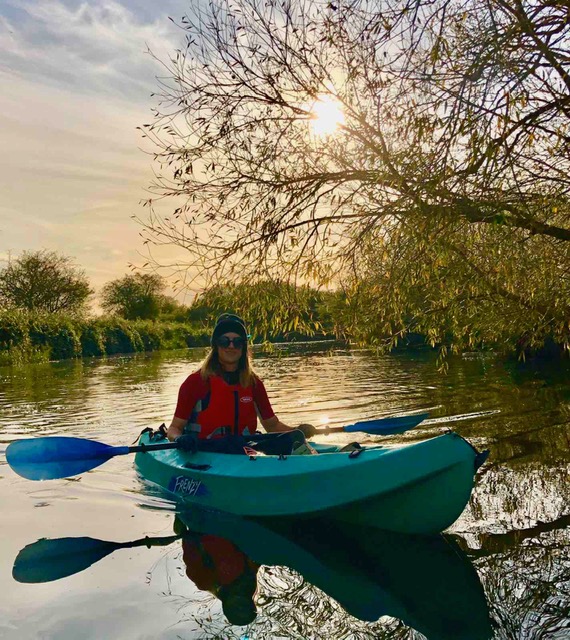 sea and inshore kayaking
Hannah continues "When you're going out on the sea you do have tides and wind to contend with. On a stunning sunny day, the sea can look so flat and it's a really amazing feeling being out there.  But,  as I've said, things can change quickly.  You don't have to go out on the sea though if that is a bit daunting.  There's a stretch of canal going from Hythe to Rye in Sussex, and, apart from a small bit between Seabrook and West Hythe where you need a license to use, you can go all the way to Sussex.  There are some areas where you will need to take your kayak out to bypass a lock or two, but it's an epic trip!
"You can go for long stretches without seeing anyone.  It's just such a lovely solitary thing to do.  I like my own space, so going out on the water is just a perfect feeling.  Do make sure you've told someone where you're going though, safety first and all that!  On the canal though, you don't need to worry about tides." 
launching into the sea
"You don't need any special equipment like ramps or anything to launch.  As long as you can get your gear to the shore without causing too much trouble for others, then you can launch anywhere along the beach.  I usually go off Battery Point, between Sandgate and Hythe.  If the water is a bit choppy it can be difficult to launch – if you're going into the waves.  I like it when it's flat!   As the winds can change so easily, you can have a challenge getting in, which is entertaining if you have an audience on the beach!
"It's a great way to deal with stress and to chill.  It's also a good social distancing sport.  I'm thinking of getting a paddle board next, I like the look of a bit of SUP!"
discover more about folkestone below