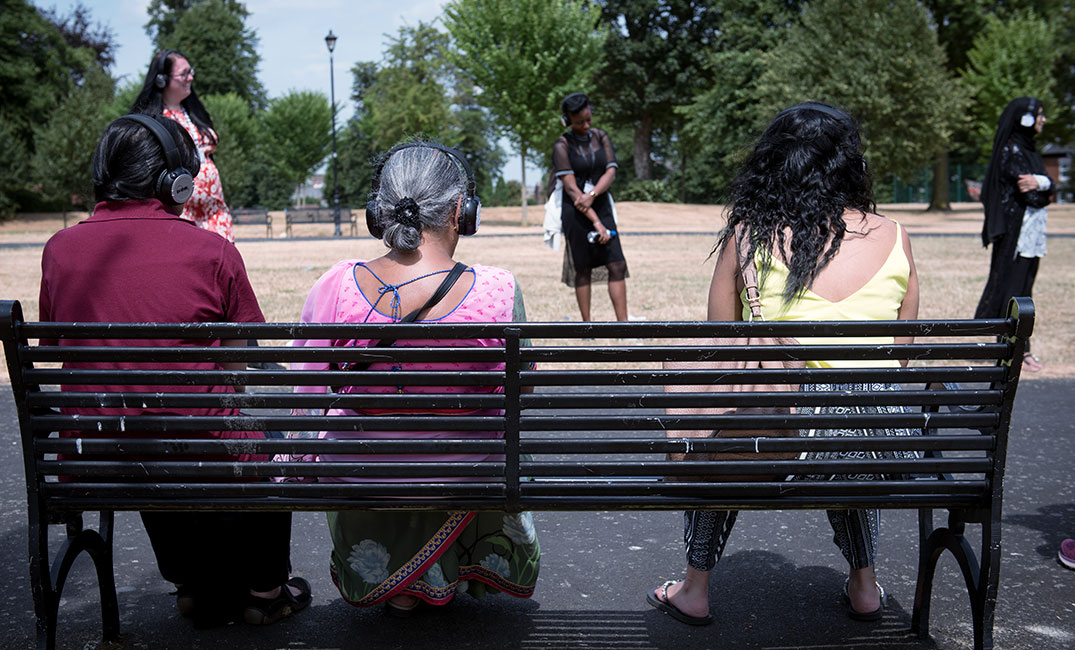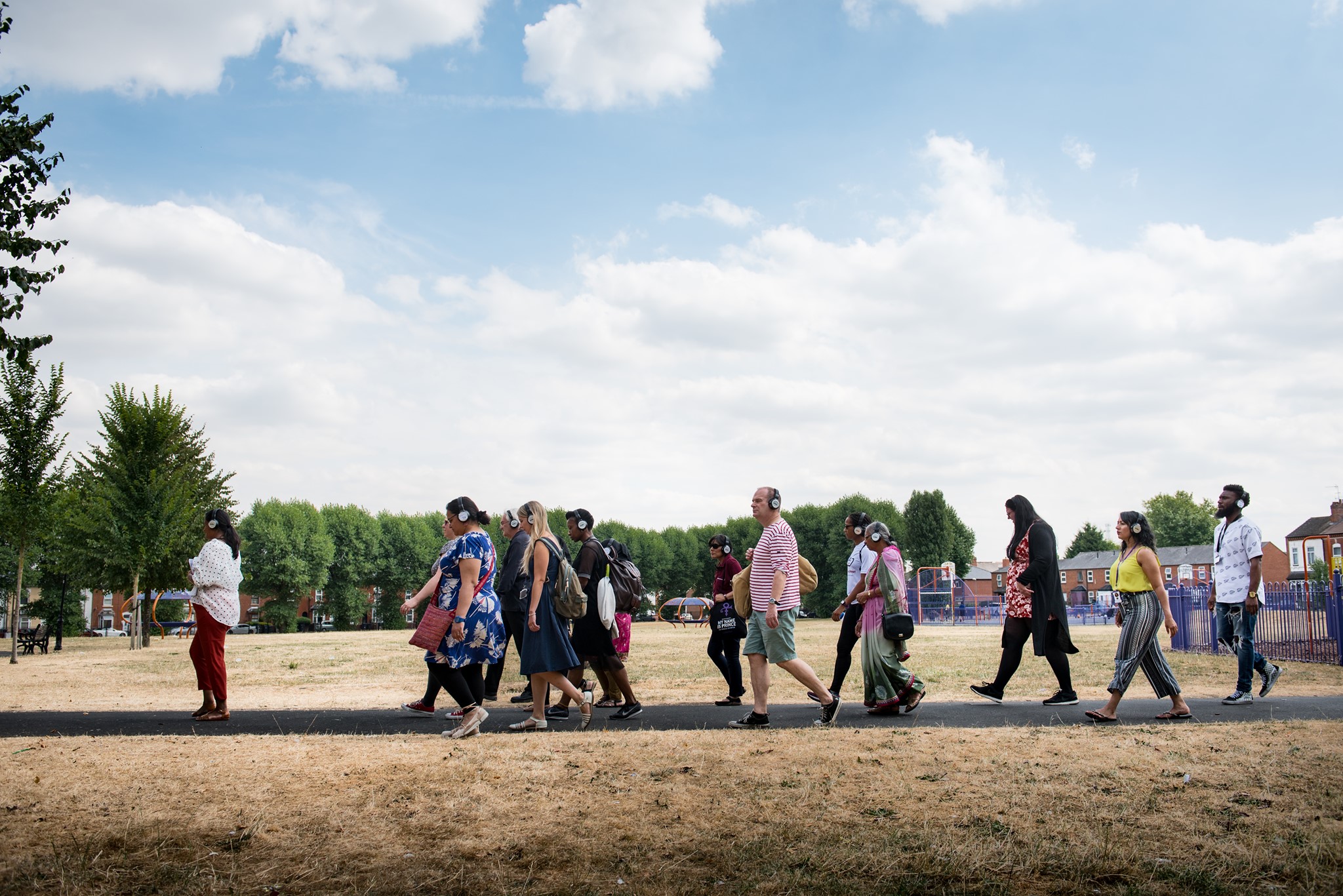 Run The World – Where Sport and Creativity Blend into One
Run The World is the brain-child of Manjeet Mann, writer, actor and personal trainer.  She has developed a programme that empowers women through sport and creativity and it has moved mountains in its first year.  This initiative is now running in Folkestone, and has been shortlisted for a National StreetGames award, in the 'Engaging Woman and Girls' category. Manjeet spoke to Folkelife about what Run The World can achieve.
"Run The World is a programme that empowers women and girls from marginalised communities through sports and theatre.  I've been a personal trainer for 15 years, and also an actor and writer for that time too.  There are a lot of initiatives out there that empower through sports, and others that empower through creativity.  I thought 'I've got both of those skills, let's see what we can do!'
"The programme started in 2018 in Birmingham with a specific group of women.  I had the idea one night that if I took a group of women on a run, the running helps break down barriers and really brings people together.  If I put creativity on top of that then it means that people become more open to being creative themselves.  So I started off with a run, and then a writing workshop afterwards with the idea of making a piece of theatre by the end of the year that I was working with these women.  We gave it a go, and it worked really well!"
Empowering through creativity
"It was really important that whatever we created was led by the women and girls in the group.  To start with I had just one woman, for quite a number of weeks, but then more joined in and things started to happen.   I had a great core of 20 women which was fantastic.  These women had one thing in common; they were all survivors of domestic violence.  It was really powerful working with this group. 
"My first woman, the one who came along by herself for a number of weeks, was, at that time, still living in her situation.  Her husband would block her from leaving the house, but she stood up to him and said 'No, I'm leaving and you can't stop me.'  She'd come along to my group saying 'He doesn't stop me now.  He can't.' That was so powerful to hear.  Now, she's out of her situation, and having spent some time in sheltered accommodation, she's back in her own home and her husband isn't on the scene anymore.  That's not all down to Run The World, she had amazing support from the local community, but we were a little part of that.  She says that Run The World was the start of turning her life around."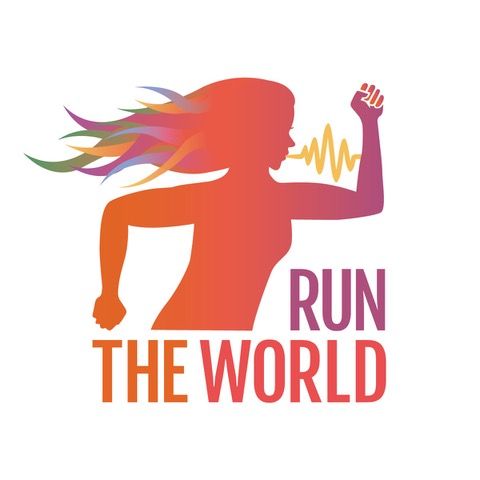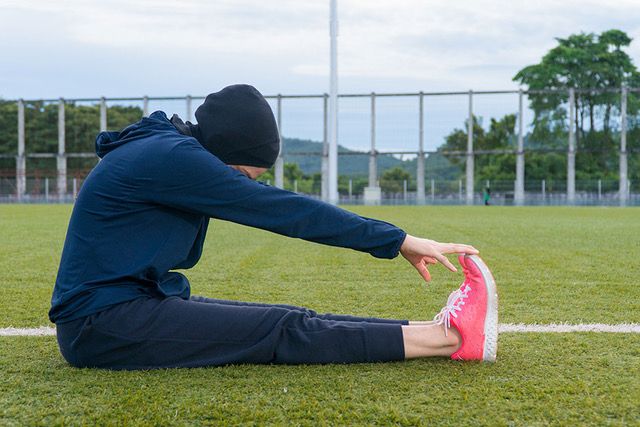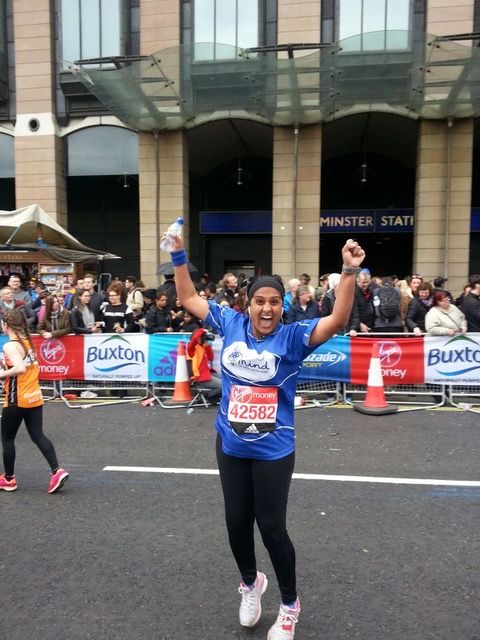 Women together
Run The World, as well as running, aims to create something – be it a piece of theatre or writing as part of the group.  Manjeet had no idea what that creative thing would be:
"It went through loads of variations; at one point it was going to be a cookery book.  We would meet and everyone would bring some food from home.  There would be a banquet on the table – the running obviously wasn't about losing weight! – we'd be eating these wonderful samosas and bhajis!  There's always a story behind a recipe, it maybe someone's grandmother's way of cooking a familiar dish, and I thought they were going to create something around that.  But about a month before the end of the project, the Birmingham Rep said 'We've got this space, and a day where you can do something, what would you like to use it for?'"
Run with our stories
"The women thought about it and decided that they wanted their personal stories told.  Because of their situations though, they wanted their stories voiced by actors.  They were all still living in the community, even if some of them were not living in their situation of domestic violence any more.  They were a very vulnerable group of women but adamant they wanted to share their stories because they felt that could help other women in similar situations.
"We made a piece of audio theatre, people came and listened; it was very powerful stuff.  It was a specific outcome even bigger than I thought was possible.
"Every woman in that group was new to running and new to writing.  It was a big change for them, to be involved in this sort of activity.  You can't underestimate the power of groups, and for that first woman, where being a part of Run The World was such a massive thing for her, and helped her start to turn her life around, well, that's exactly what I want this to be."
Run the world in Folkestone
"I wanted to try this activity in Folkestone.  I live here and I thought it would be nice not to have to commute to Birmingham every week!  But I also wanted to try this project where it isn't a specific group of women.  In Folkestone, there are many different women, from all walks of life so I could make this Run The World group a real open group. 
"It doesn't matter who we are – maybe we are viewed as privileged from the outside, or from a certain group within our community – we all have moments of isolation or poor mental health.  This group is open to every woman, and what's great about a mixed group is it shows up just how similar we all are.  It shows that everyone has similar issues and we are stronger when we come together.
"My new group here in Folkestone meets at the Three Hills Sports Park on Mondays and Saturdays.  It's not a group where I'm going to say 'you will run 5k in 30 minutes!' No!  It's something for anyone to run, for beginners upwards.  At the minute, the women who are coming are doing speed walking alternating with slow walking, but working to wherever you are at."
a creative surprise!
"There's no way of knowing what the final creative element will be.  The women I worked with in Birmingham had never been to the theatre before, so the Birmingham Rep kindly gave a lot of free tickets and that encouraged the women to come and see what was going on and what we could achieve.  The Quarterhouse in Folkestone has a lot of events coming up that are 'pay what you feel', and that takes the pressure off spending a fortune, and also gives us access to all sorts of different performance ideas, which will spark something!  The ball is in their court!
"I work with women because there's something about a group of women working together and discovering and learning; we're going a journey together.  There have been great waves made in terms of women becoming more empowered, especially over the last few years, but I still think there's a really long way to go.   But when women come together, they empower each other.  There's a quote which says that when one woman empowers herself, she has the ability to empower a hundred more.  And I like to go by that!
"Run The World is for women of any age.  If you're under 18 then bring a female guardian to come with you.  I've invited mums to bring along the buggy, or their children during the holidays.  It's about making life work.
Running from Folkestone to Bangladesh
"I've recently returned from Bangladesh where I was looking for a partner to launch Run The World there.  We found one in Save The Children, and that trip was supported by the British Council.  Now I need to find funding to help the project get off the ground there.  Fingers crossed we'll be working with the Rohingya refugees next year through an intergenerational project with mothers and daughters in Bangladesh.
"These projects take a long time; I worked for 6 months in Birmingham and that wasn't enough time!  We've got funding for a year here in Folkestone and that doesn't seem enough either!  It's a leadership programme as well though as someone is trained to become a Run The World leader, to continue the project.  I need time to train the new leaders as well as working with the group.  It must have legacy."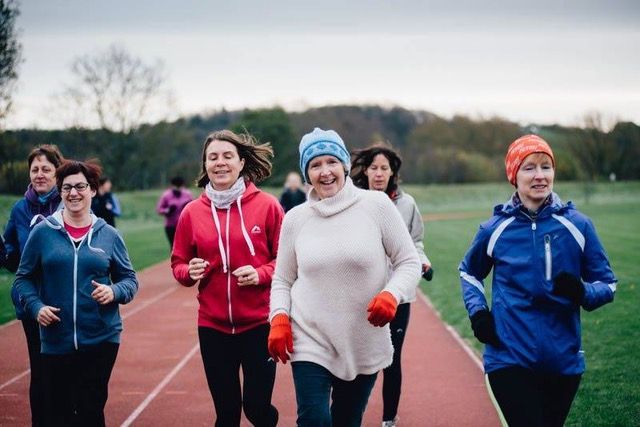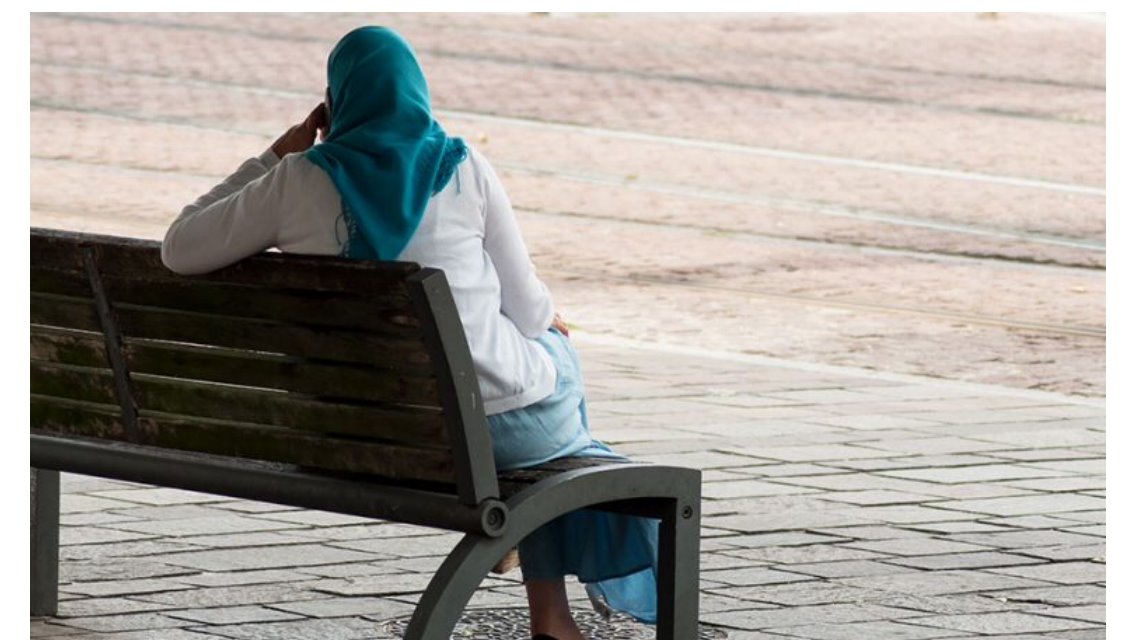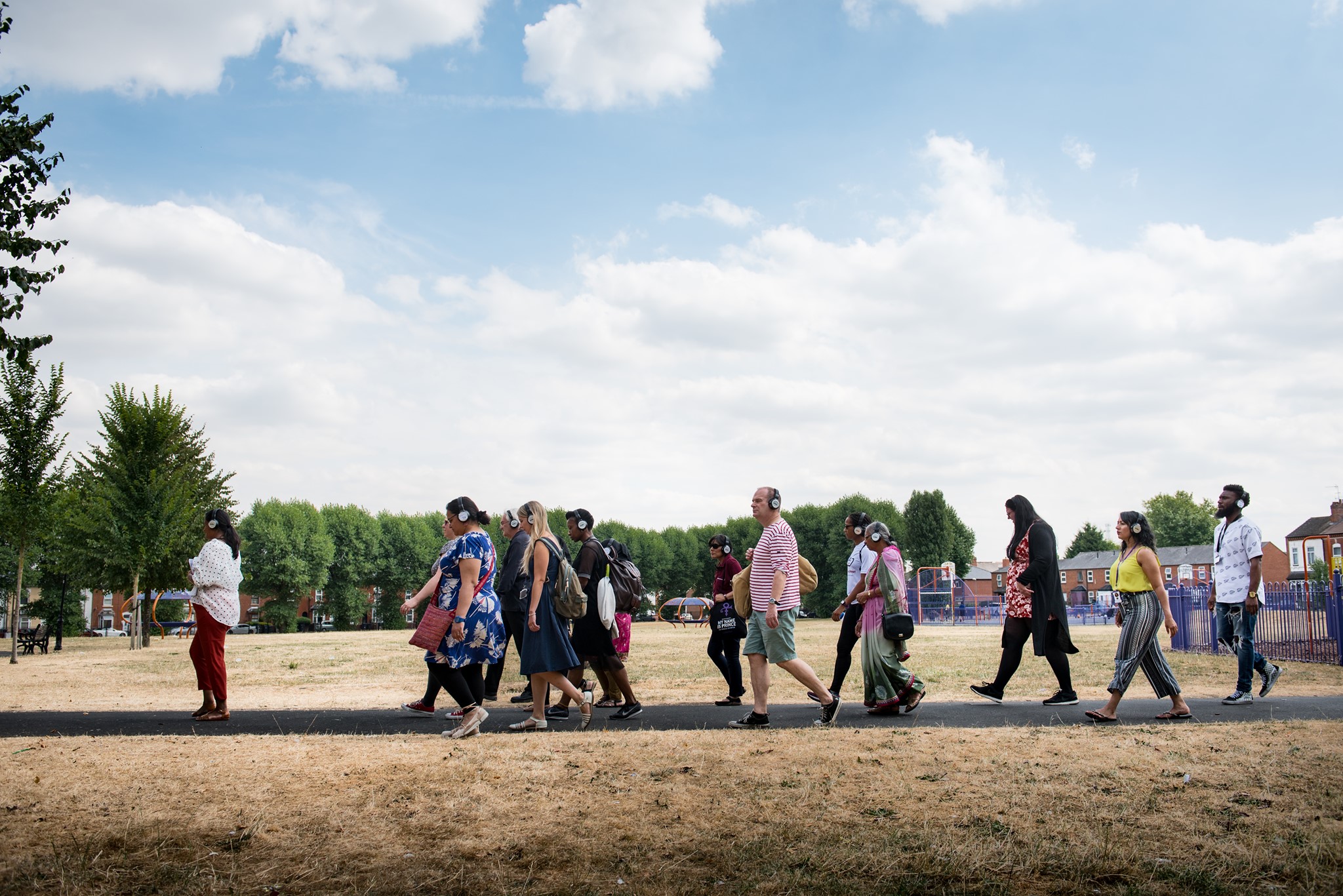 discover more about folkestone below