Vintage & Vinyl – Folkestone's Record Shop
Steve Probets runs Vintage & Vinyl on The Old High Street in Folkestone.  He took over the reigns in September 2022 and is in the process of going through over 3000 records in the basement. There are old, second hand and new releases to buy as well as memorabilia, vintage record players and hard-to-come-by artists.  If he hasn't got what you're looking for, he'll try hard to get it for you.  Originally from Woolwich but with family connections to Folkestone, Folkelife wanted to find out why Steve chose a record shop to be his first business venture.
"Since the age of 4 or 5 I can remember playing records on my mum's Fidelity player.  I've got one just like it in the shop now.  It is for sale but I'm not sure I can part with it just yet.  The sound it creates is so warm and, well, vintage, that it's a real nostalgia thing for me.  My mum was a huge Billy Fury fan and I can remember playing him on that.  We'd go round junk shops and I'd rummage through the 78s and come home, stack 4 or 5 of them up on the Fidelity and spend hours playing and listening.  Records have always been a huge part of my life."
labour of love
"I took redundancy during Lockdown and volunteered for Vince, who owns The Record Store in Ashford.  I ended up managing his shop in Canterbury until early in 2022.  Without that opportunity I doubt I'd be standing here now.  As a customer of Alison, Vintage & Vinyl's previous owner, we were having a conversation about business opportunities and quite randomly she suggested V&V.  Six months later I'd taken over!  I've never owned a business before so there's stuff to work out and learn but I can't think of a better business to have.  As for being in Folkestone – it's such a lively place.  Other High Streets I've worked on haven't had such a vibe as this.  I get loads of visitors to the shop saying they're moving into the town and it's great to be a part of that something."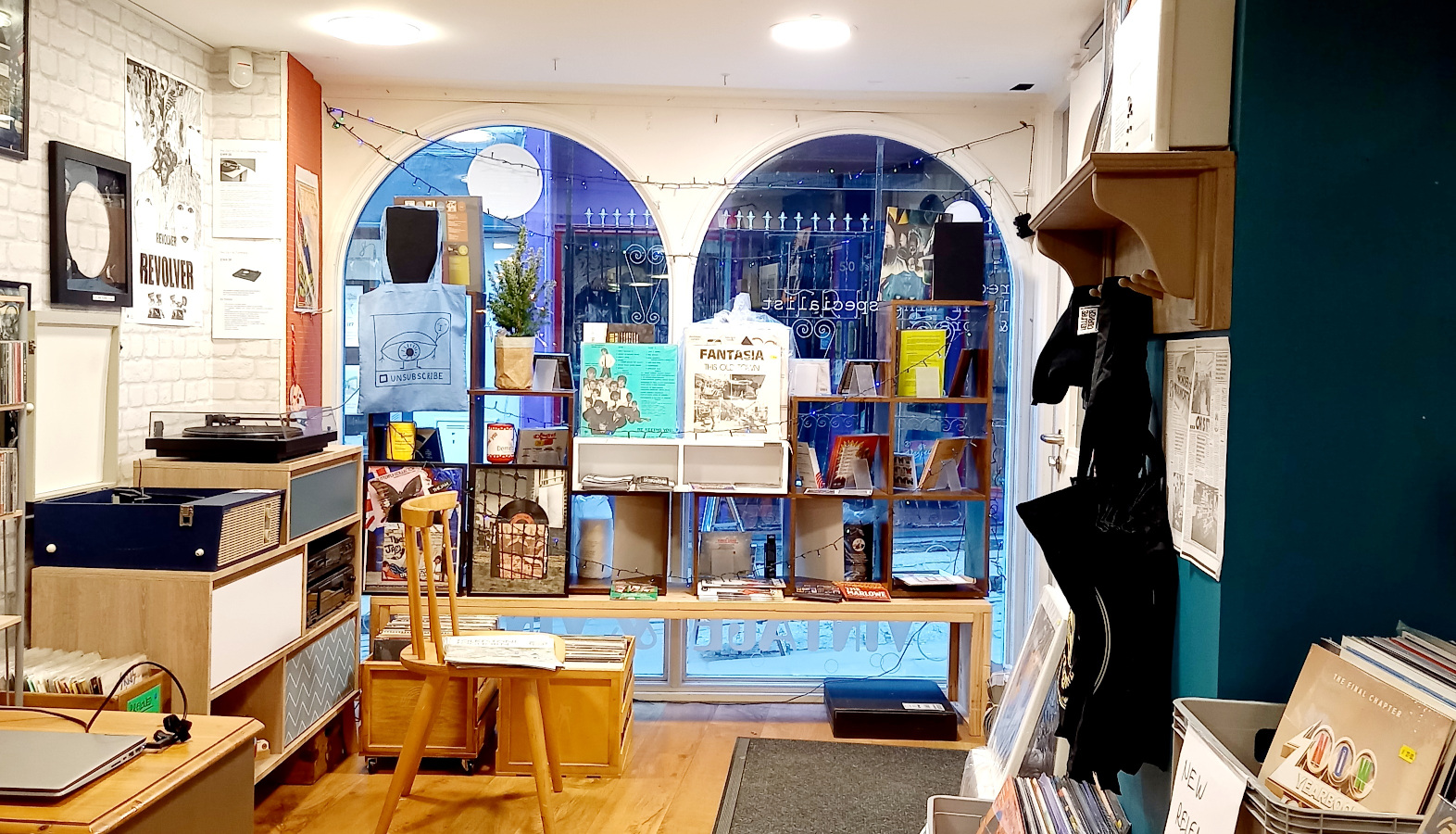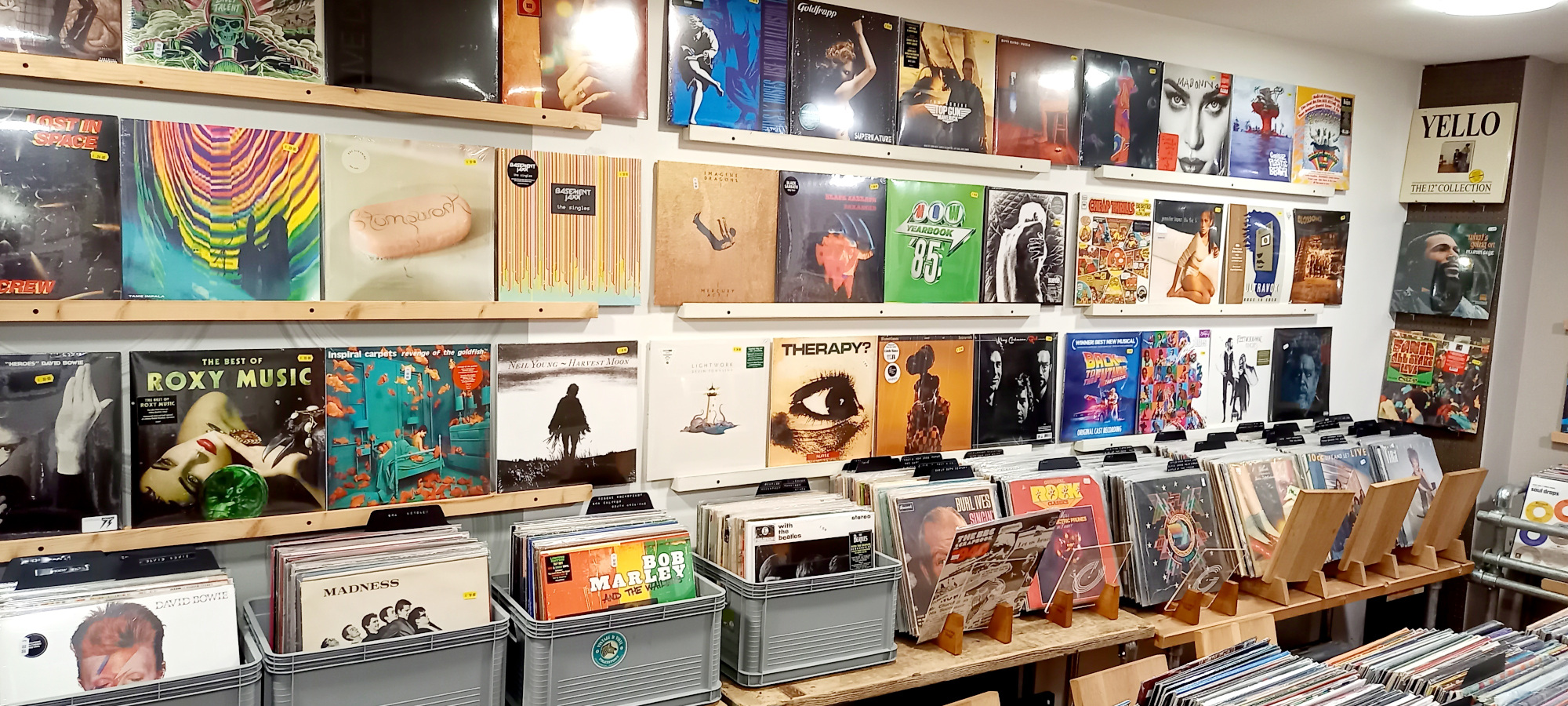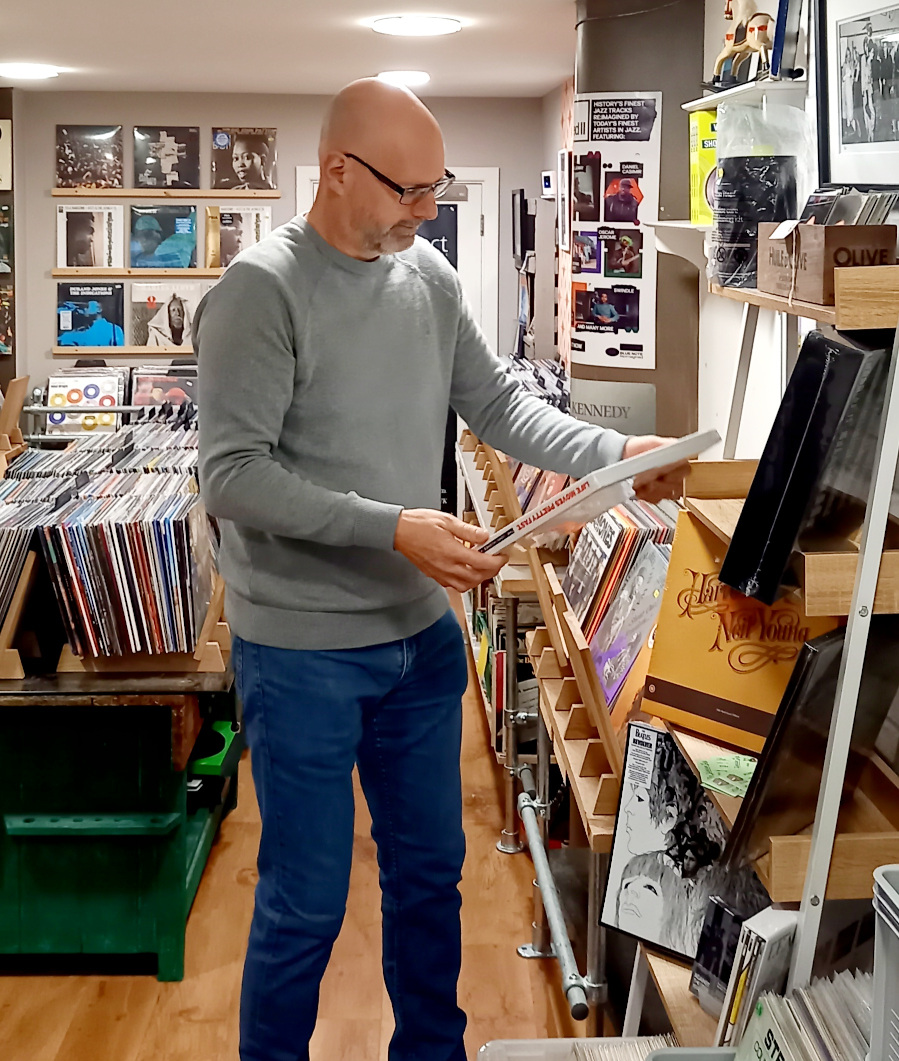 hold the real thing
"Our customers range from age 10 to 70 or so and I think the audience for vinyl has grown over lockdowns.  Certainly my collection trebled in size because I had the time to invest in it.  We've got bands that have been around for sometime; the Arctic Monkeys always sell well, as do Oasis, and then there are newer bands that people are interested in too.  Taylor Swift always goes down well.  But basically, if I haven't got what you want, then I'll try and source it for you.  If possible I'll buy more than one copy because if one person is asking for, say Seasick Steve, then you know someone else will come in asking too. 
"It's been said before but holding onto the sleeve of a record, reading the lyrics and examining the artwork give a different experience to listening to music than just downloading.  If Spotify or something goes down, then how do you get your music, it's only on loan.  When you buy a record it's yours to keep."
vintage
"The name of the shop is Vintage & Vinyl and my idea of vintage is sticking to the music and what you play it on.  I have some old record players which are for sale, as well as over 3000 albums to choose from.  Organising the shop so you can see them all is one of my projects! 
"As well as getting my head around the shop I do have plans to join in with the rest of the town.  I'm hoping conversations will result in collaboration events with other businesses in the new year.  I already feel part of the community around here – The Old High Street is fantastic.  There's a WhatsApp group for the traders and there's a lot of support around for wanting things to be a success.   There's such a lot happening in Folkestone and it's only going to get better.  I'm really excited to be a part of it."
discover more about folkestone below