Speedway – Community Connecting Through Creativity
Speedway is the event space from Debbie Young and Mark Stevens.  Located on St Eanswythe Way, this two storey building hosts clubs and social events for all ages to immerse themselves in music, poetry and art and various creative workshops.  The team has worked in TV and production for over 30 years and bring their expertise to Speedway.  It was named after a fairground sign Debbie found online.  They needed somewhere to store the sign and the 14 banisters, two side steps, art panels and rounding boards that went with it.  Now Folkelife spoke to them about their plans for connecting the community creatively.
folkestone born
Debbie: "Although we met in London, Mark is from Folkestone.  We've been together for 32 years and have a long history of visiting Folkestone.  I went to University in Canterbury, and we used to love coming to the Sunday Market and the Rotunda.  We moved down here in 2007 with our one year old and continued to commute up to London.  Since 2015 I've been doing a lot of work in LA.  I got a call from the winner of America's Got Talent who was a magician, and I have a track record of working with magicians such as Derren Brown.  Got the call on the Sunday and the following Saturday I'd moved over there to work.  Mark was here with our three girls and I ended up living there for 6 months.  But, in this job, you go where the money takes you. 
"After the success of that job I got a contract with NBC Universal, but being based over here.  I would go over to the US once or twice a year, but was able to live back here with the family.  Fast-forward to March 2020 and I'd just got a contract with Disney; I'd got my visa and the flat ready to move into in the US and the borders closed due to Covid.  That changed everything!"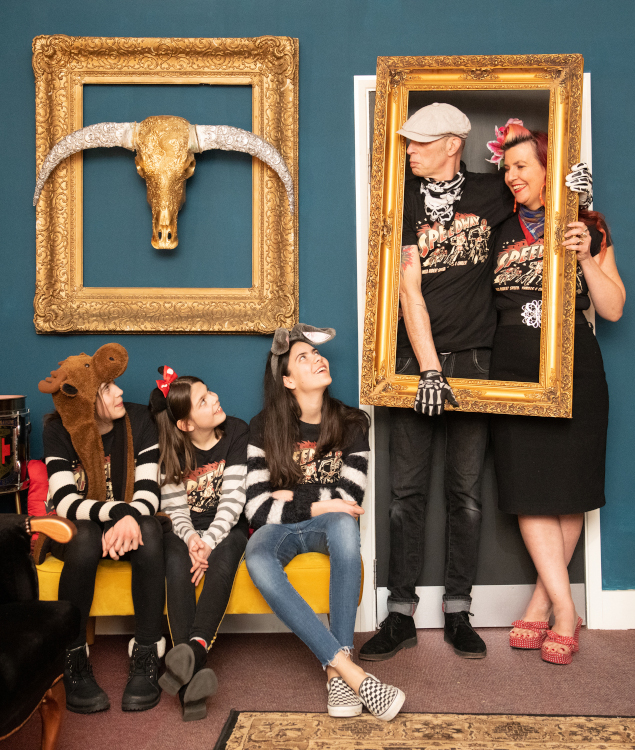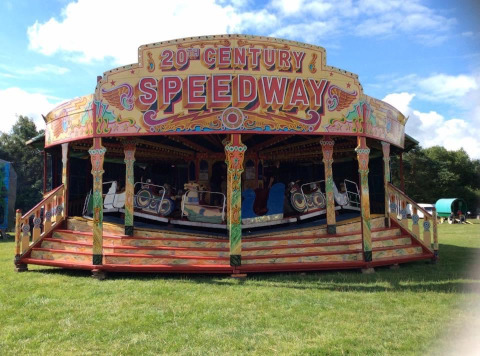 re-evaluating life
Debbie: "So it was a huge blow to lose that job.  I would have been producing a great magic show for Disney, but… Actually, even though we had no money coming in, and things were all really uncertain on the work front, we had the best time during Lock Down.  We were here together as a family and we had time to completely reassess everything. Do I actually want to be jetting off to LA at a moment's notice?  Do I want to spend all my time travelling on the fast train up and down from London?  No."
silent discos
"During the open moments of the summer of 2020 we were doing little hospitality gigs at our house – socially distanced silent discos and other little events.  We realised we really loved doing hospitality things and have a great community network here.  We kept ourselves busy by helping out in different places.  Mark spent time at The Chambers helping repaint their signage in return for playing on his decks in the basement!  Then I found the massive Speedway fairground sign on the internet…"
20th Century Speedway
Debbie: "I don't actually remember how I found it, but I just fell in love with it.  It's absolutely massive and comes with 14 banisters so it wasn't going to be snapped up really quickly.  We got into conversation with the seller and needed to find somewhere to put it; it won't fit at home!  Our idea for the business was growing organically from this sign, we knew we needed a big space for people to come and enjoy themselves, but had to find somewhere. 
"Business space in Folkestone is being snapped up really quickly, and we'd been looking at different venues to see what would work.  We heard that this building was on offer but we had to be quick.  We came round, looked, and although it needed so much work, we made a decision there and then to take it on.  If we'd have waited, we'd have lost it, things are moving that quickly."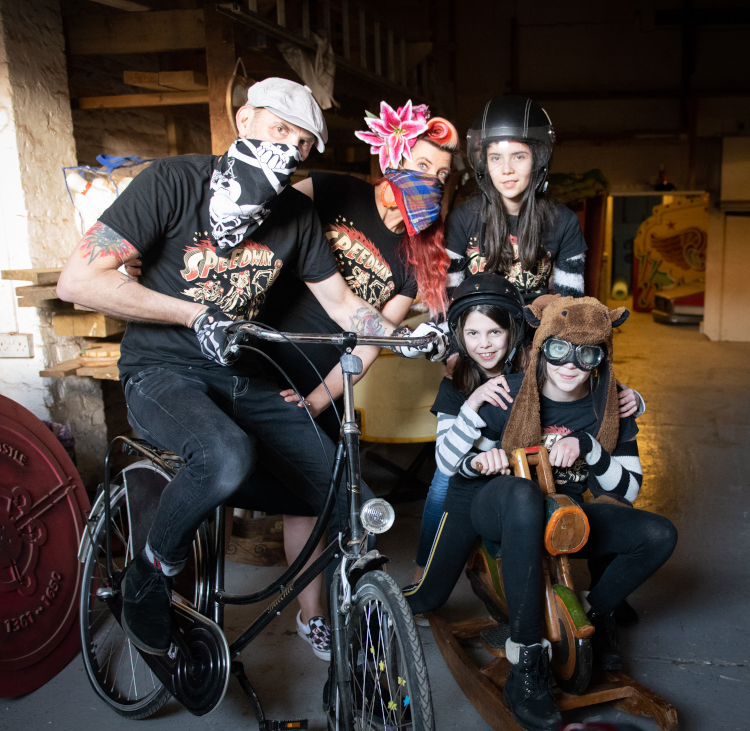 creative business space
Debbie: "What we want to offer here is a space for people to be able to work.  So upstairs we have some small rooms and desk space.  Made By England – our friend Lynne is a seamstress and she's got a space with us.  We've got John Ashman whose business Makesound is setting up a DJ school with us too.  It's so exciting to be working with such great people!
Mark: "All we have to do is get the downstairs sorted.  It needs a lot of work, and rewiring, but once that's set up with the stage, lighting and sound possibilities mean we can host bands, music sessions, youth clubs, clubs for older people… We can do anything down there with the space we have.  What's important is that it works for the community.  We're not into competition, well, actually, I say that… We have an air hockey machine downstairs and are going to set up a tournament.  So that's the only competition we're interested in.  Come along and play, and let's see who's best at that.  But for the rest, it's about providing a space, with creative people, musicians and artists from the town, sharing what they do with the community."
Photo Credit: Albane Brand Photography
discover more about folkestone below