walking with ghosts – folkestone's history remembered
Walking With Ghosts is a project from the University Of Kent that focuses on the legacy of World War 1.  Using Folkestone Harbour Station, for 84 hours from 11am on 11th November to 14th November 2022  live footage of soldiers from the Great War will be shown walking along the station platform. This will be accompanied by a powerful original soundscape.  The 84 hours is significant.  It is the time it would take for all the war dead of the Empire from WW1 to march past the Cenotaph in London, 4 abreast.  The footage is from the Imperial War Museums collection and on the opposite wall there will be more images and poetry to listen to and watch.  Professor Helen Brooks from the University Of Kent spoke to Folkelife about the project.
"I am Professor of Cultural and Creative History and along with my colleague Mark Connelly, who's Professor of British History, we've created Walking With Ghosts.  It's part of the Imperial War Museums 14-18 Now legacy from WW1.   Mark and I have been working on a project called Gateways to the First World War since 2014.   The thing that really excited us was this idea of creative engagement with heritage.  How do we tell stories from history that are grounded in rigorous academic research but expressed and told in a way that's interesting, exciting and captures the imagination?
"Engaging different ages, different backgrounds and interests is incredibly hard but I'm a theatre person by background and I have always loved discovering history through performance.  When we saw the funding for this it seemed the perfect idea to create this performative installation.  Our work brings alive the place, the Folkestone Harbour Station, where so many soldiers in WW1 left Britain to go to war."
ghosts on the platform
"Using Imperial War Museums footage 84 hours of soldiers marching will be projected onto the wall of the Station platform.  This is the very place that over 100 years ago, these men would have walked through on their way to France and beyond to fight.  Not only did people leave from here, but this is also where people arrived, the influx of refugees from Belgium and beyond, fleeing from war.
"The project is called Walking With Ghosts as you'll be able to walk alongside this army of ghosts while listening to extracts from letters, diaries and poems.  Depending on the light on the platform you'll be able to see men, the outlines and shadows or not.  Amongst our many images are photos of the station from 100 years ago and all this is accompanied by a very powerful soundtrack from Tom Robson.  It's going to be incredibly atmospheric."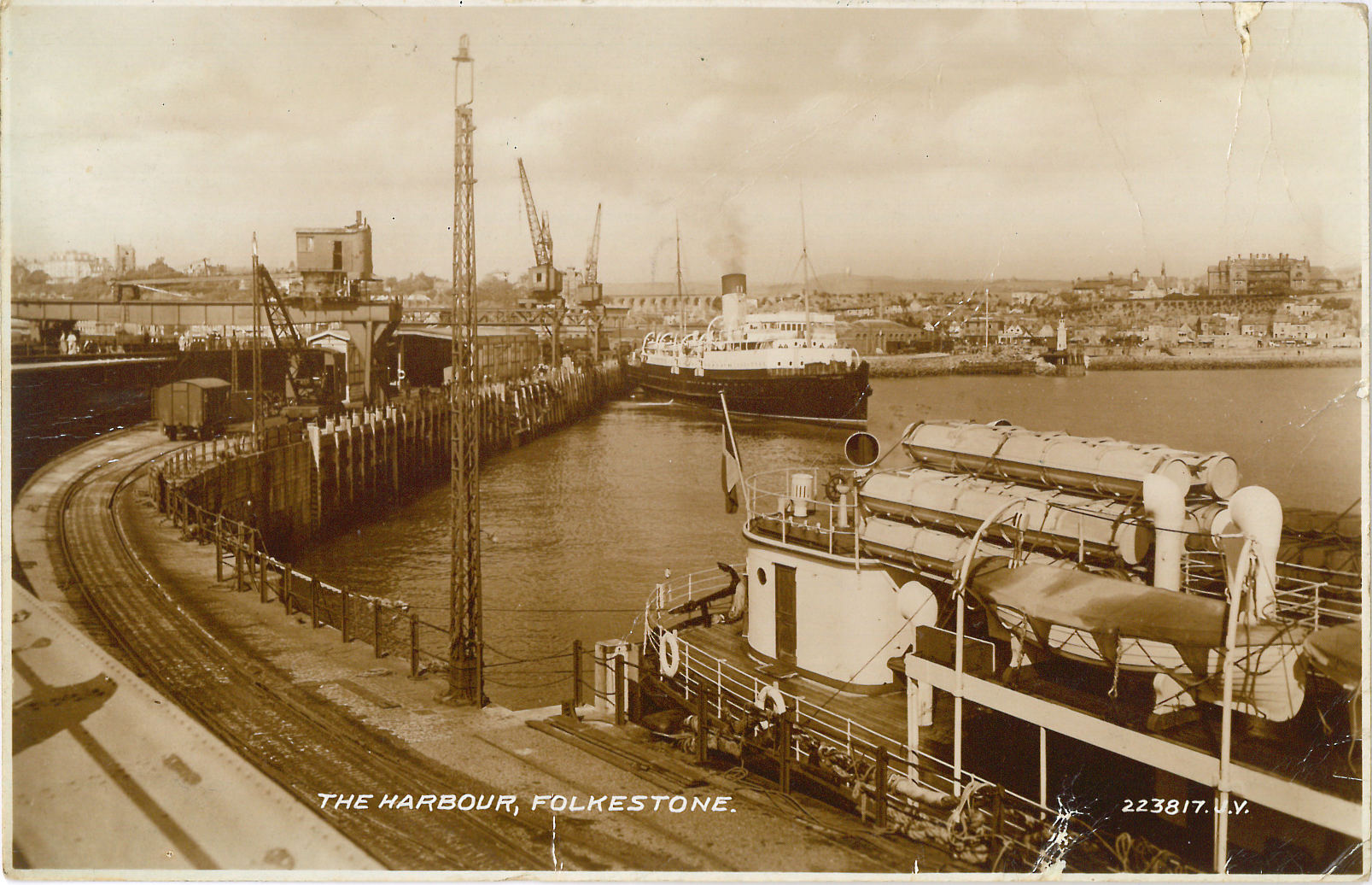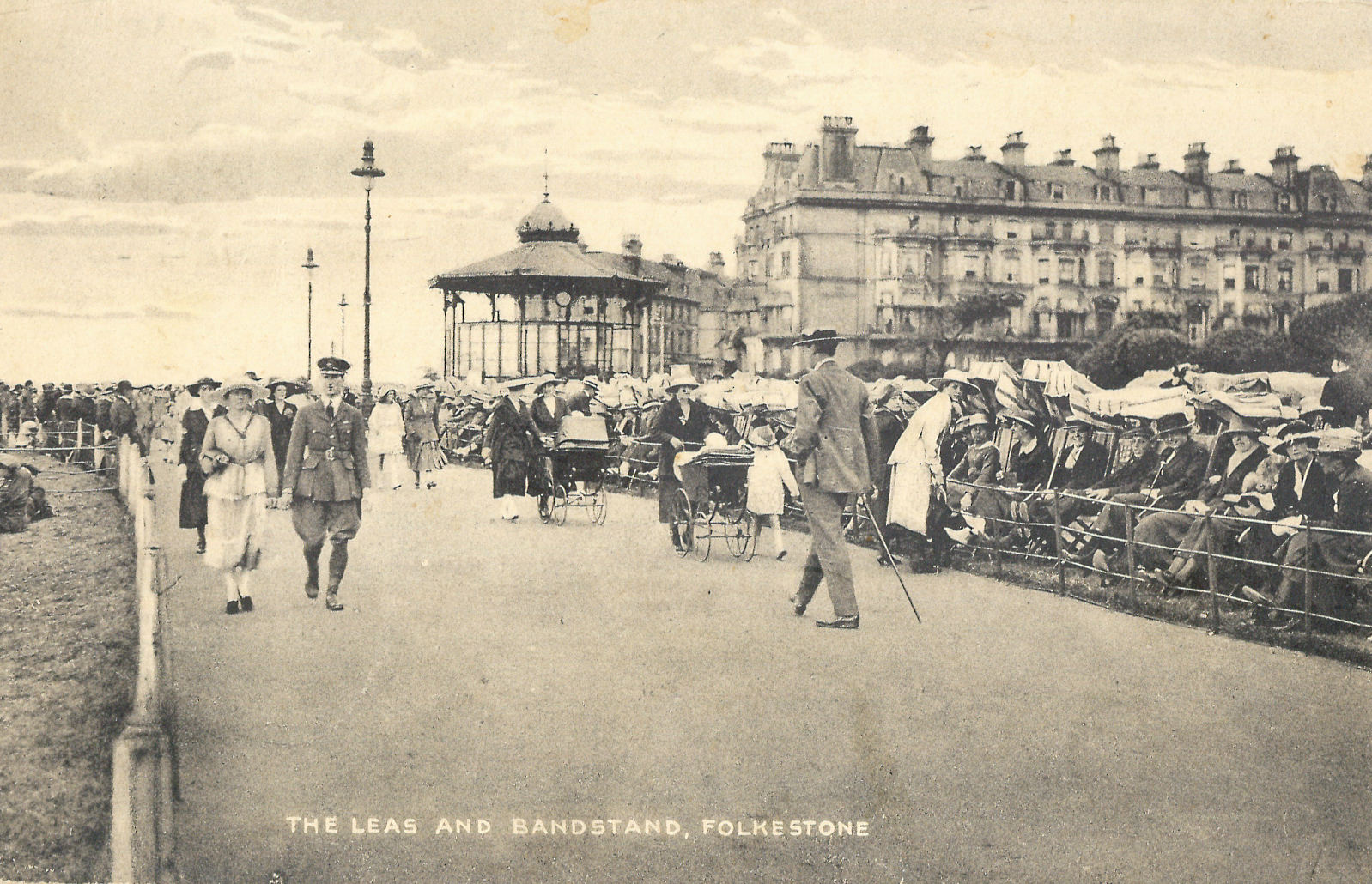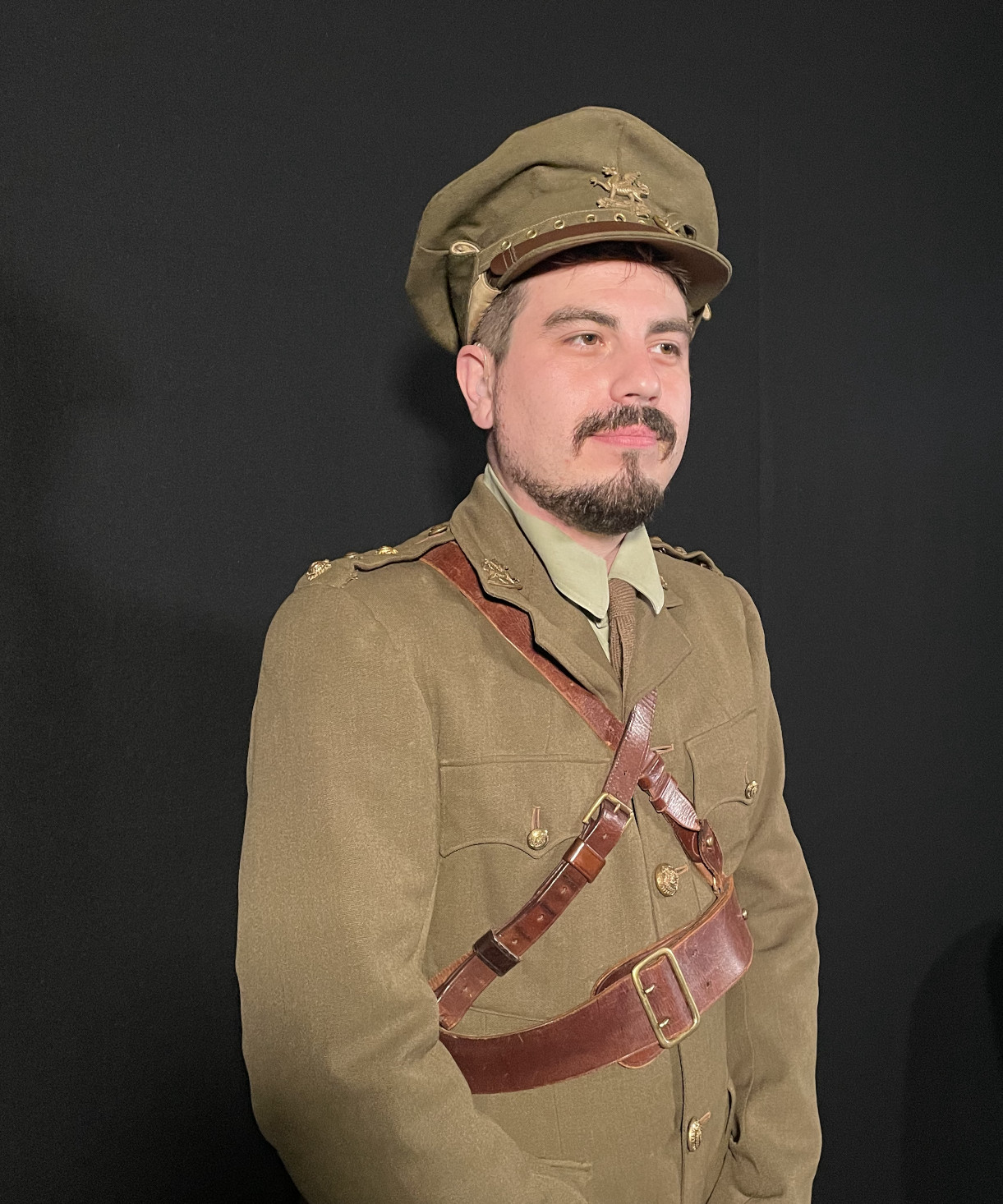 british newspaper archives
"We've worked with Folkestone Academy and the Folkestone School For Girls with students aged 11 to 16.  We showed them how to research the British Newspaper Library Archives and let them find pieces of interest to them from Folkestone at the time.  Some looked up the streets they live on, and others looked up other topics that interested them.  It was a great feeling having these students working together and helping each other to discover more about this period in history."
walking through time
"During lockdowns Mark and I did quite a bit of walking, which gave us the idea of walking alongside these men.  What does it mean to walk with ghosts?  You have that feeling that a ghost is very much stuck in the past but it's not.  It moves across time to be with us in the present too.  That time element becomes really important.  Very early on, Mark suggested this quote from Fabian Ware who was the Vice Chairman of the Imperial War Graves Commission in 1928.  In a radio broadcast Fabian Ware said it would take 84 hours for the Imperial war dead to march past the Cenotaph in line, 4 abreast. 
"That sense of the number is incomprehensible when it's just a number.  Yet that image of the dead walking past the Cenotaph gave us our starting point.  And then we thought about how we could bring that image to life. We'll start our 84 hours at 11am on 11th November 2022, and it continues through the night and day to 11pm on Monday 14th November."
picture frames
"Opposite to the projection of the soldiers there are three indented windows that we're calling Picture Frames.  In these you will be able to see a still photo of the Cenotaph with a counter.  This starts at zero at 11am on the 11th November, and goes up, and continues. It will stop at the total number of British and Imperial war dead at 11pm on 14th November.  As you watch the men marching and see that figure continue to increase it brings home the enormity of the loss. 
"Alongside this frame there is a picture book of curated photographs.  These are not just from WW1, and historic Folkestone, but from other conflicts right up to the war in Afghanistan.  The photos largely come from the Imperial War Museums collection and our Gateways collection, with thanks also to Step Short collection in Folkestone."
six movements
"There are six defined movements which shape the soundscape and images you see.  Each movement is accompanied by a British Sign Language interpreter Jason Tenant, with the words provided as subtitles.  He's dressed as an East Kent Buffs WW1 soldier.  The wonderful Jessica Hynes reads a Siegfried Sassoon poem in its entirety called Picture Show.  He wrote it referring to the silent black and white films that he saw of the war.  It speaks to the idea of the ghost being captured in film. 
"There are letters and diary entries to hear, including from Wilfred Owen, from the men arriving at Folkestone Harbour.  The music you'll hear mirrors that sense of anticipation, and even excitement, and there are incredibly poignant bits too of mothers saying goodbye and so on. 
"Of the six movements there's one called Displacement where we focus on those arriving in Folkestone from war-torn areas, and that couldn't be more apt today.  You'll hear from Belgium refugees in 1914 and from a Ukranian, one of the first to arrive here in March 2022, read by a Ukranian actress who has also fled from the war there.   There's also a gorgeous poem by American/Iraqi poet Dunya Mikhail who is the first female Iraqi poet to have her work translated into English.   She writes a lot about the refugee experience and war."
fourth wall folkestone
"We've also been working with walking artist Elspeth Penfold and Fourth Wall Folkestone.  When Mark and I were thinking about the importance of walking to the project we began thinking of it as a rather standard history tour.  In conversation with Elspeth it's really come alive and she's doing a really exciting walk where you engage with the movement and emotion of walking.  These walks are accessible to all different communities and members of East Kent Mencap are leading one with her.   She's using poetry as well to create place sharing.  Those will be really great events."
folkestone
"One of our movements in the picture frame windows is called Folkestone, but this whole event is about the town.  There's a poem by local writer Tony Quarrington, an extract from Our Lady Of The Harbour which is perfect.  It's about looking out to sea and the connection with France.  We have local voices, local artists and local contributors.   The Folkestone movement ends with voices from the Nepalese community living here in Cheriton and what Folkestone means to them.
"There is also an entire movement, 'Loss', inspired by the stories they shared in our oral history workshops in the summer.
"This has been such an experience and I'm really looking forward to sharing it with more people.  The full movements last 30 minutes and we'll have blankets and benches for people to sit and listen, or you can just capture the feeling as you walk past."
Photo credits: Postcards of the Harbour and Leas, BSL soldier, Nepalese community and Fourth Wall all copyright Gateways.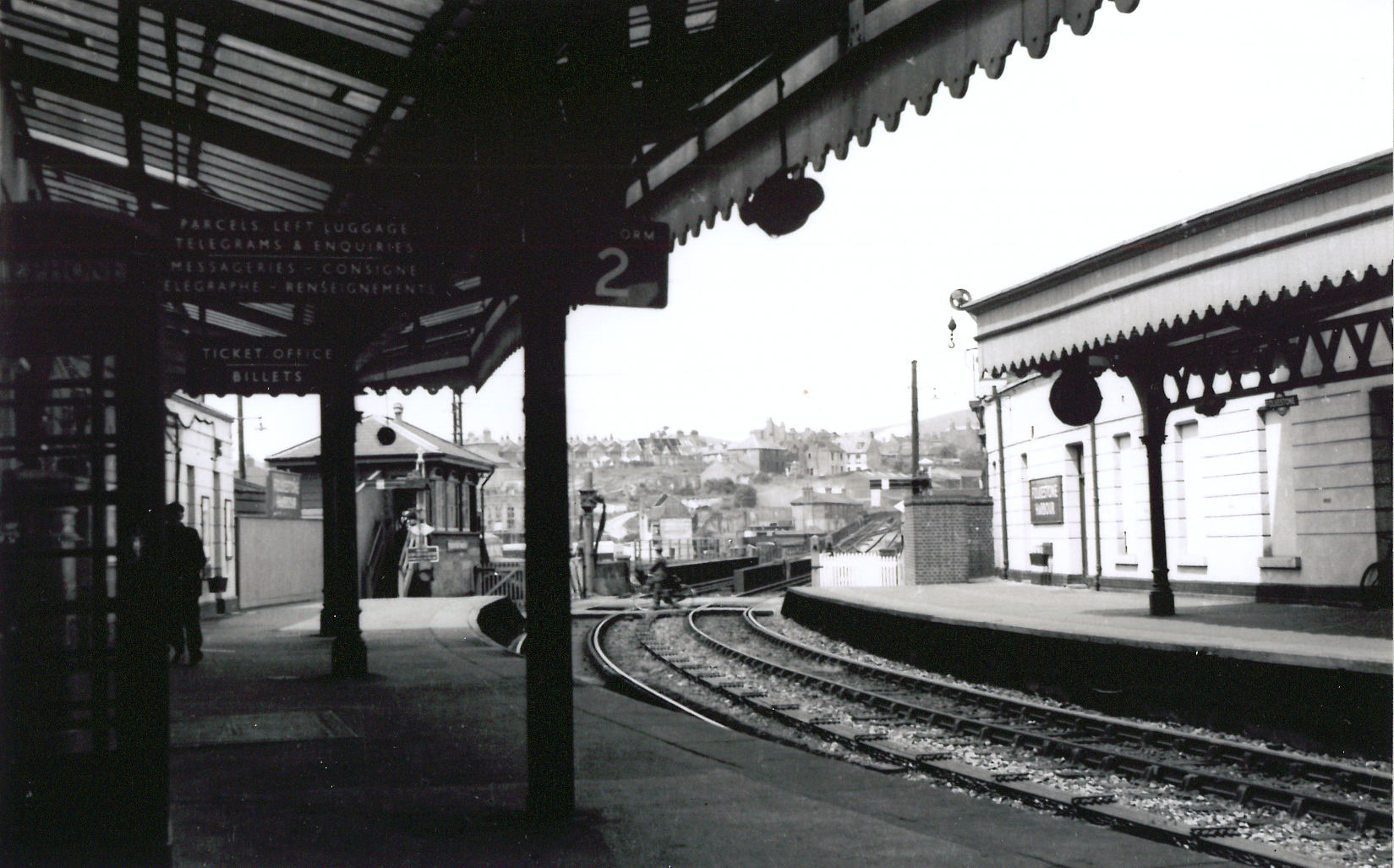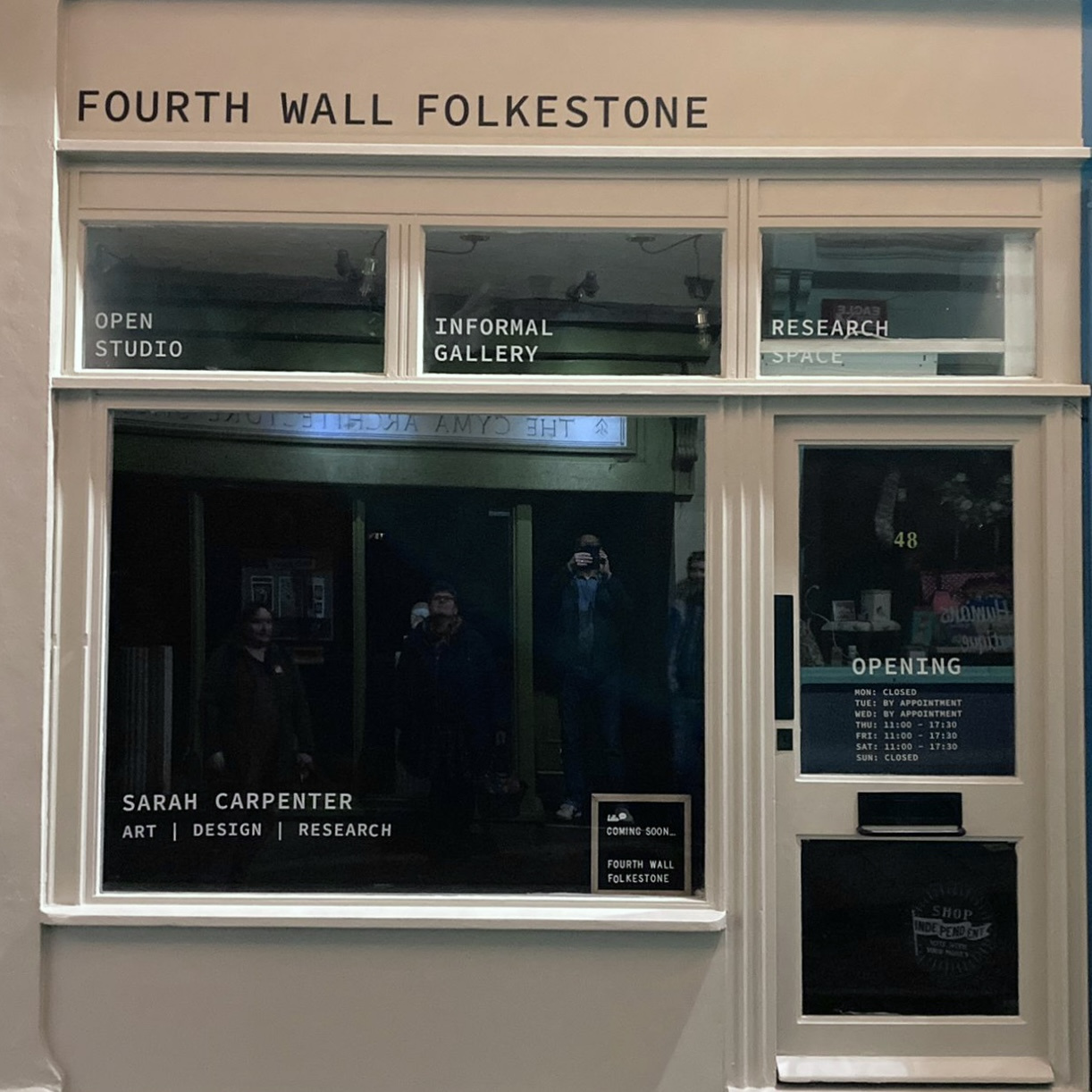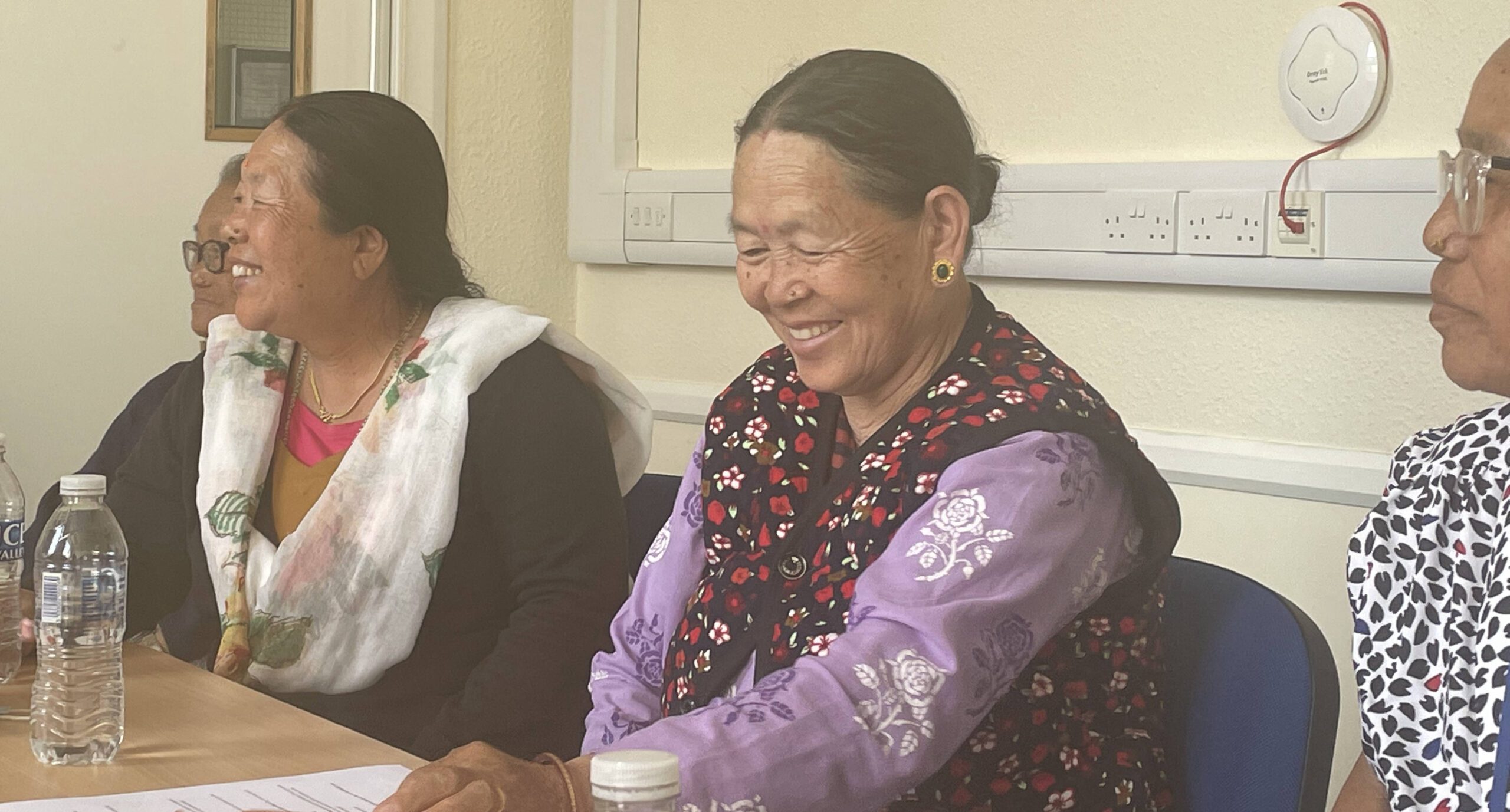 discover more about folkestone below