The Real, Live Folkestone Mermaid – Georgina Baker
It takes something to pose nude, but to be the model for a bronze mermaid in your home town is something else. Georgina Baker, the human form of the Folkestone Mermaid, is reminded of her body image circa 2010 every time she wanders down to Sunny Sands to take in the sea view.
She responded to a card posted through her door from artist Cornelia Parker. Cornelia was asking for volunteers to pose for an exhibit for the 2011 public arts festival, the Folkestone Triennial. In reality, the card sat on Georgina's kitchen side for a while before she seriously considered applying.
Coming from quite a creative background, Georgina was used to being around art. Her mother was an artist and studied the female form. She grew up in a house where her mother's paintings were on the walls and common-place.
The human form
"The card niggled at the back of my thoughts and in the end I thought 'yes'. All I had to do was to send in a picture of me and I decided to do it as the pose of the Copenhagen Mermaid sitting in my back garden. I sent it off and I wasn't expecting to hear anything further. Then I got a call from Cornelia Parker, the artist. Cornelia was looking for a normal woman, she wanted a figure that was realistic, a real person. Getting the call to say 'I'd like to meet you' was incredibly flattering, yes, really flattering to be chosen."
Cornelia and Georgina met first for a chat. One of those chats where the artist who's going to recreate you is studying you for those human characteristics. If you look at the Mermaid in situ on Sunny Sands it is exactly that; it's human.
"It's a realistic body!" Georgina endorses, "I've had two children, that's what it looks like! The droopy bits though were the weight of the cast, but that's me…that's exactly what I look like!"
my body was painted with rubber solution
The casting was done in Ramsgate and it took hours. Cornelia had bronze-casting experts to help create the mould of Georgina's body. They painted segments of her body with a rubber solution, and then a Plaster of Paris coating over the top to create the 'jelly' mould.
"It was a very private occasion. The plaster set quite quickly but did get very heavy. They did my back first, but soon understood it got really uncomfortable sitting still with all that weight! In fact, it was agony! So, they did speed up for the other segments!"
"They left my head until last. This was really claustrophobic. It was horrible actually! I couldn't see and could barely hear what was going on around me! They made little holes for me to breathe through but none of it was very nice."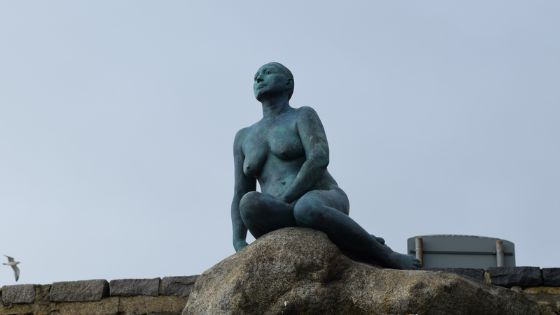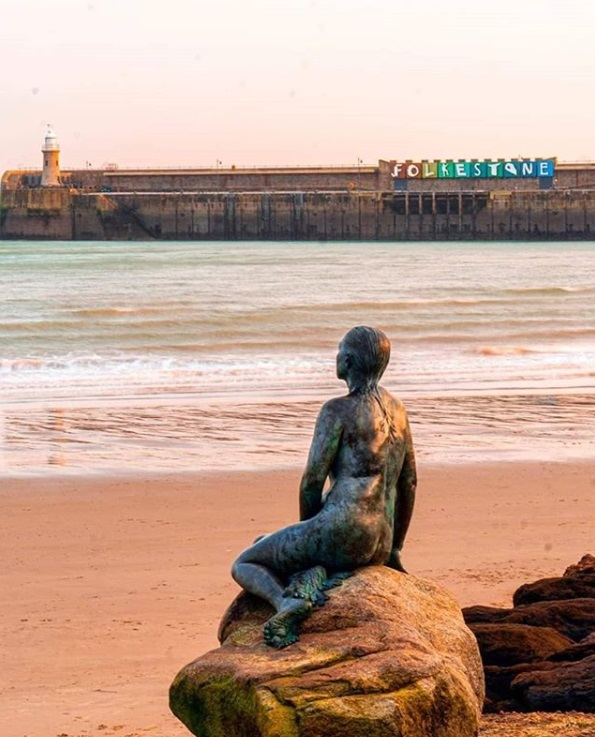 ---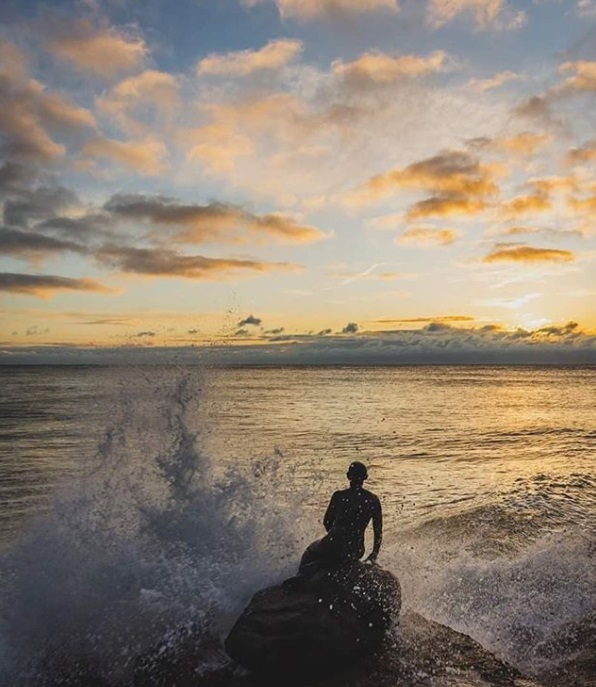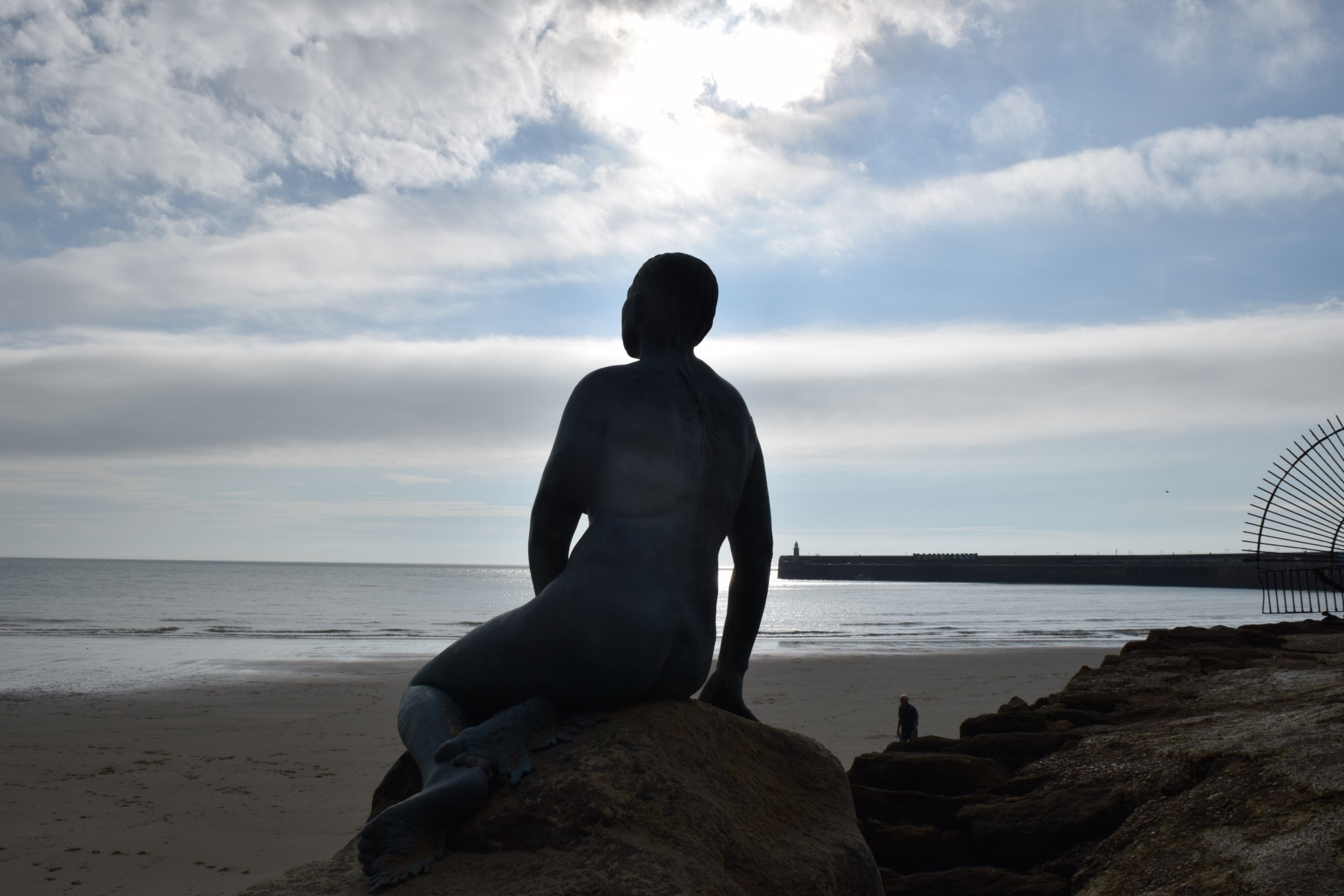 Artist and Model working together
When the statue was put in place overlooking Sunny Sands, it caused quite a controversy. It was Cornelia's idea for it not to have a tail. She wanted it to be a Mermaid that was coming out of the sea and learning to live on the land.  This is why the Mermaid has legs, with some seaweed over the feet, but not a fishtail.
"In the beginning, we were told to keep the news quite quiet, that I was the Mermaid. It then got very surreal when newspapers like The Times printed a huge article about me. I was amazed a national Newspaper wanted an article about me in their paper! When the news went national, it was quite exciting, if a little overwhelming!"
Important for my children to be involved
Georgina was conscious of not wanting others to be nasty to her children because of her decision to be involved in such a public art project. She needn't have worried, people were very positive. Her children were the first to be able to sit on the statue and Georgina cherishes the photo she has of them. Now they are somewhat bigger but none-the-less proud of their mum.
"My son is 14 now, and he occasionally still rings me up to say 'Here, mum, tell my friend that you're the Mermaid, he doesn't believe me!' It's wonderful that he's so proud of what I've done. Although it was a shock when I went into Burger King with him to buy him a burger – there's a massive picture of me all across the wall!  No one knows it's me, I do though and that can be a bit weird!"
Proud to be the FOlkestone Mermaid
"I am very proud of it. It really is a piece of art, and that's how I look at it. Yes, I know it's me, but I also appreciate it's the female form, it's not sensational, it's art.  Cornelia Parker isn't traditional; she likes to make an impact and get people to think about what's going on. Her art is about making things real and believable for people, she puts it in people's way so that her creations interact in people's lives. People now take it as part of Folkestone, sometimes it's as basic as a sign-post, yet it is art."
"It was so exciting though, it was something different, something that will always be there, a great thing to be a part of."
Cornelia Parker talks about her inspiration for the Mermaid: https://www.youtube.com/watch?v=Z-zDGIEPxUo
Photo credits to: FolkArtWorks, Ragammos.dji, ijclarkphoto
Discover more about folkestone below