Folkestone's EnVironmental Conscience
Folkestone is a hot-bed of creative thinking, and none-so-more than considering our impact on our environment.  Folkelife would like to introduce to you those at the fore-front of developing sustainable foods, packaging and living in Folkestone.
Locally sourced seasonal produce
The Folkestone Food Hub is doing a sterling job of providing fresh fruit and vegetable boxes, delivering to the neighbourhood.  Book online with them and collect from Quarterhouse on Tuesday evenings from 5pm.  If you are unable to collect, there is a small delivery service.
If you are looking for locally sourced, seasonal produce, then Tuesday night is for you!  Maggie Boyle from the Folkestone Wholefoods runs Kent Food Hubs Folkestone providing a wide variety of Kent produce.
"The Food Hub is an ongoing idea to connect local farmers and people.  We offer organic veg, spray-free veg and focus on independent producers. We have a good platform to encourage new producers to sell and advertise here. The way it works is you order online and then come and collect your goodies on Tuesday between 5 and 7pm.  We want to bring people in from our community and help get out of that reliance in supermarkets."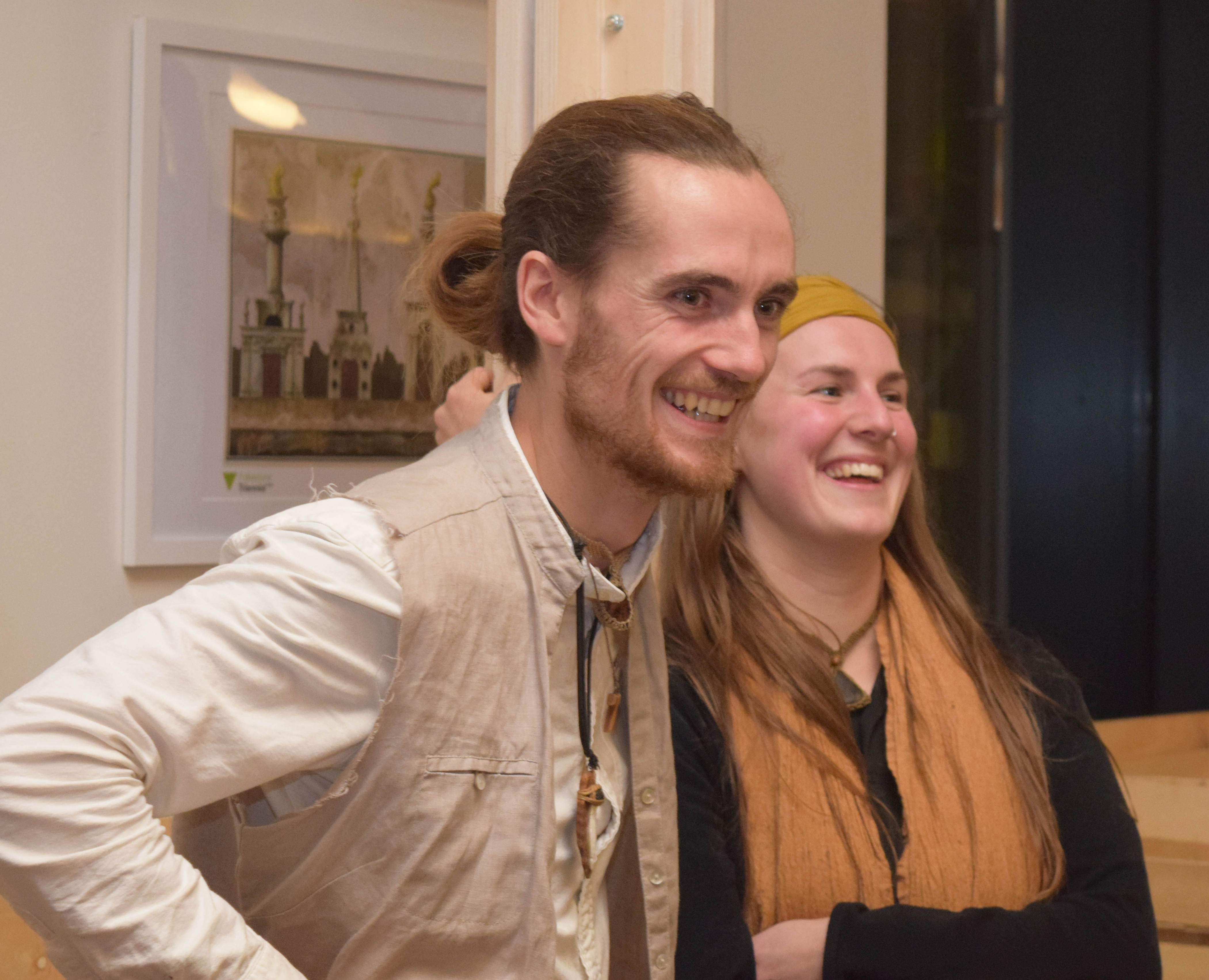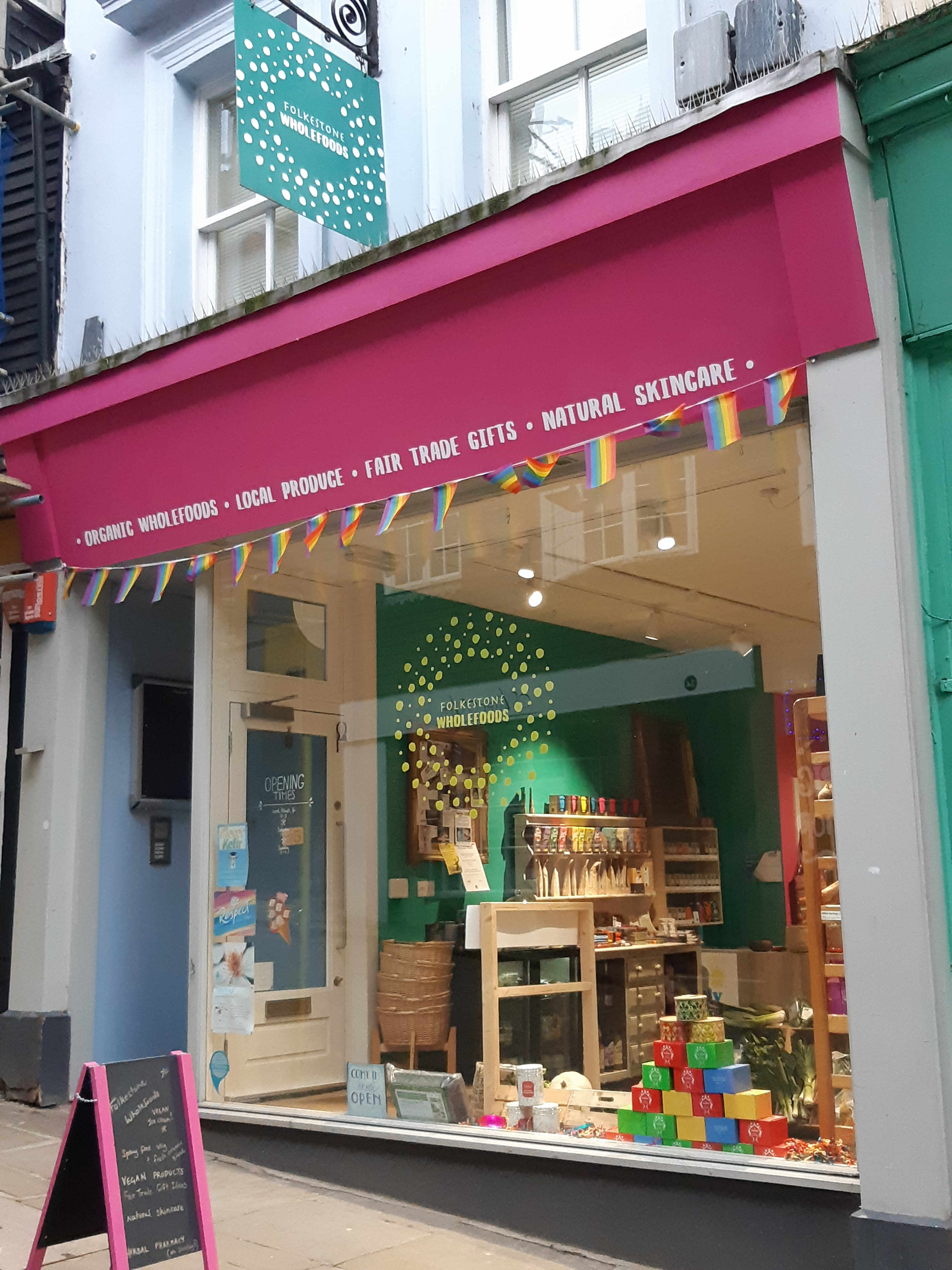 Folkestone wholefoods
The team at Folkestone Wholefoods, including Maggie from the food market, help supply Folkestone with staple cupboard items as well as domestic cleaning products.  Tessa Houghton-Budd was on duty when we called in.
"Beth Alexander and I are business partners and we have a group of friends who help us run Folkestone Wholefoods.  There's Linda Jones, a medical herbalist, who's here every Sunday and can give free herbal advice. Maggie Boyle, Sally-Ann Cranage, Maryanne Traylen and Klara Darkly also work here."
Shop locally
"Everyone working here has another job too, so we all share the shifts to open every day of the week.  We have lots of different things on offer.  We're the only outlet for Docker bread at this end of Folkestone, so that's exciting!  We have local vegetables, toiletries, Troo Granola – that's a Folkestone-based company, we like to support local producers. 
"We also have a refill station here too.  BioD is a small British company which produces low allergy products, in already recycled plastic packaging.  You can refill laundry liquid, fabric conditioner, loo cleaner and washing up liquid here. Bring back your shampoo and conditioner, and body wash products and refill them here too. 
"I've been in Folkestone for three years now and I think the town is doing really well.  You can buy ethical clothing, there's local food on offer, and people are supporting it too, which is what you need."
refill and re-stock
Folkestone Wholefoods and Re-stock Kent on Guildhall Street both offer refill services.  Just bring your bottles along, or adopt an orphan bottle at the shop and refill with many toiletries and dried food products.  Re-stock Kent also supplies local businesses with office snacks and cleaning products as part of their refill service.  Any empty bottles are refilled and replaced as part of the service.
Too good to be Troo
Troo Granola is a selection of granola products on sale at Folkestone Wholefoods and is a Folkestone-born company.  Helenor Rogers is the power behind the oats and took us through a bag or two.
"We launched Troo Granola in November 2017 and shortly afterwards my children were watching The Blue Planet on the TV.  They turned to me and said 'it's not going to be in plastic bags is it mum?'  Coincidentally, I'd been talking to our supplier about how we could package the product without using plastic and there weren't many option open to us.  The thing is, plastic prolongs shelf-life.  If you look at any of those granolas on the supermarket shelves right now, they could have been sitting there for up to 18 months!  Really!  Plastic packaging helps things last that long from manufacture to consumption. 
"We were adamant we were not going to compromise, especially on shelf-life.  The first generation paper bags had a cellulose lining which is compostable.  If you drop water on it, it will disintegrate.  So we're not going to be contributing to any plastic in the oceans.  The most reliable way to dispose of our bags is to put it in your paper recycling.  This made our shelf-live 6 months."
Fresh breakfast
"We talked to Waitrose and Harvey Nichols and both got on board really quickly.  They weren't worried about the 6 month shelf life.  It's the big suppliers that are concerned, because they don't want to be having to make a new batch very often.  They're happy with it sitting around for a year and making a load in one go.  We don't want to work like that.  We want to be making our granola in small batches because it's then fresh!  I can guarantee, if you walk into a supermarket with our banana Troo Granola on the shelves, it will have been made on the Thursday, distributed on the Friday and on the shelves by the following Tuesday."
"We're onto our second-generation packaging now.  One thing about keeping granola fresh is you don't want too much oxygen to get to it.  Our granola isn't as crunchy as others because we have a very low sugar content.  But it is important for our granola to taste as fresh after 6 months, as it would the day it's produced. 
"This second-generation packaging will actually increase our shelf-life to 9 months but we don't want to do that.  We've got a good pattern now, we make as much as we can sell, and we don't have stock hanging around.  It really is as fresh as you can get it."
Proven track record
"What's interesting is we've been running for over 5 years now, and proven that we can supply this product without using plastic, and without compromising on quality.  Why other producers haven't done it is, well, lazy I think.  There's no excuse, the technology is there, you just have to adjust your ways of working a little."
Helenor's business grew by accident.  Her husband gave her a book called 'The Seven Day Start Up'.  "I didn't actually read it." Helenor confides, "I just thought I could do it!  I was between contracts, and had small children at home so wanted something that I could do around them.  My son suggested I sell my granola because he thinks it's the best thing I make!  So it's gone from there really.
"I look at the food market and can see some real issues.  It's important to me as a parent too.  There's so much sugar around, and not enough fibre.  Troo Granola is an antidote to that, very low in sugar, and very high in fibre.  One in 5 deaths in Britain is due to malnutrition.  We do not eat by far enough fibre, and that's a tragedy because it's such a simple thing to add to our diets.  If we work on the rule of 80% good stuff, and 20% of the other, then we would have a much better diet.  Unfortunately, people eat far too much refined products that it's more the other way around."
Troo Granola products are available from Folkestone Wholefoods, and any decent supermarket near you!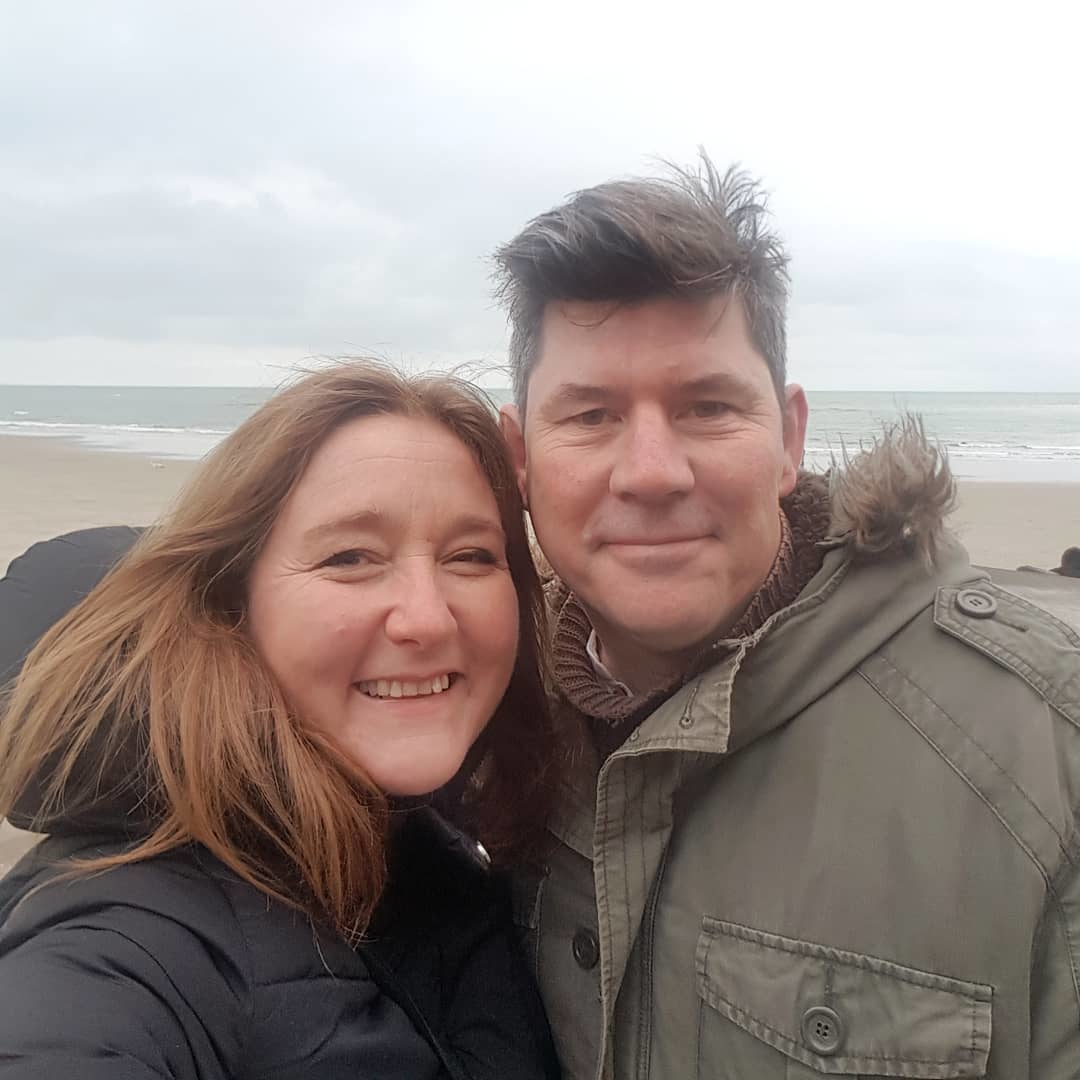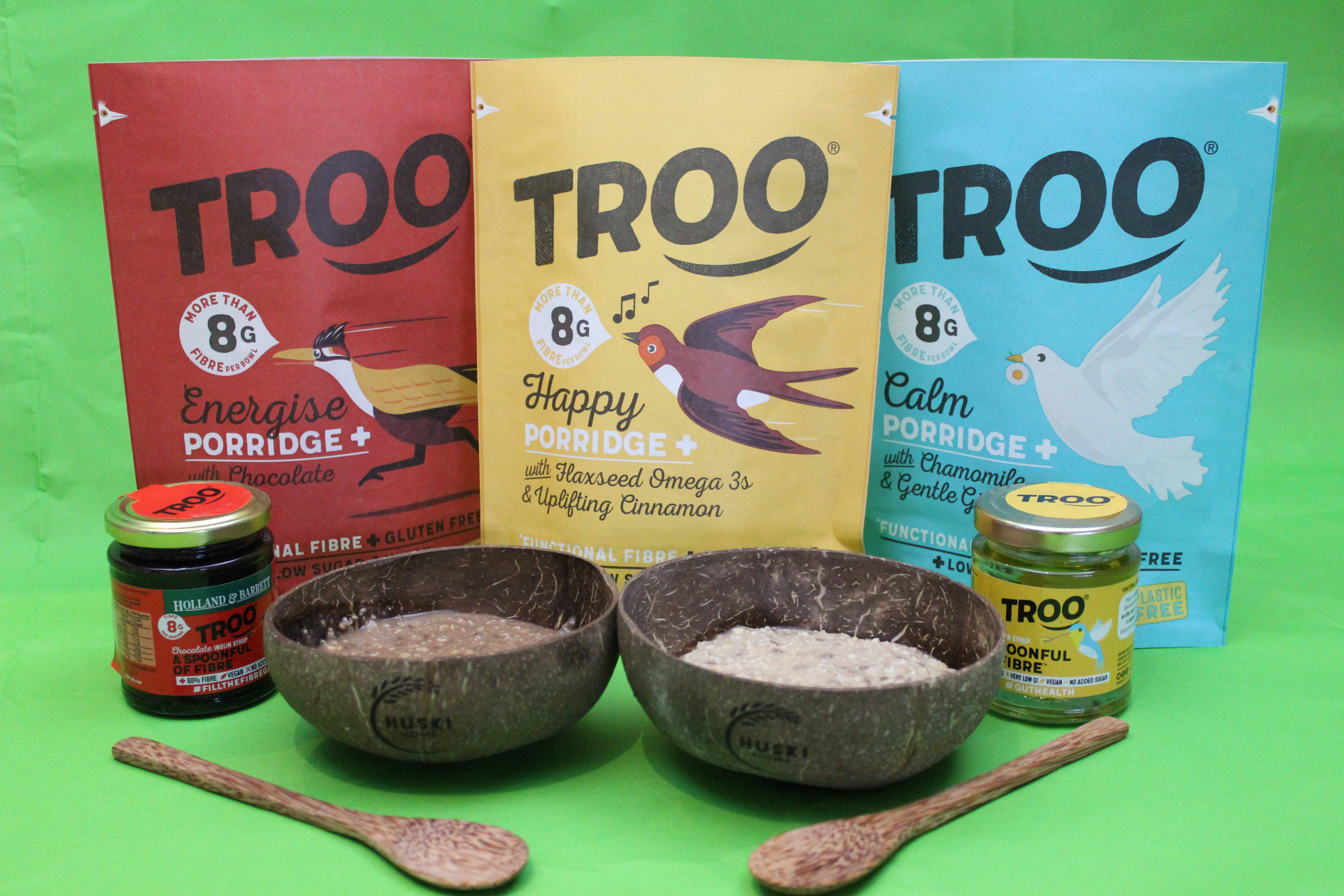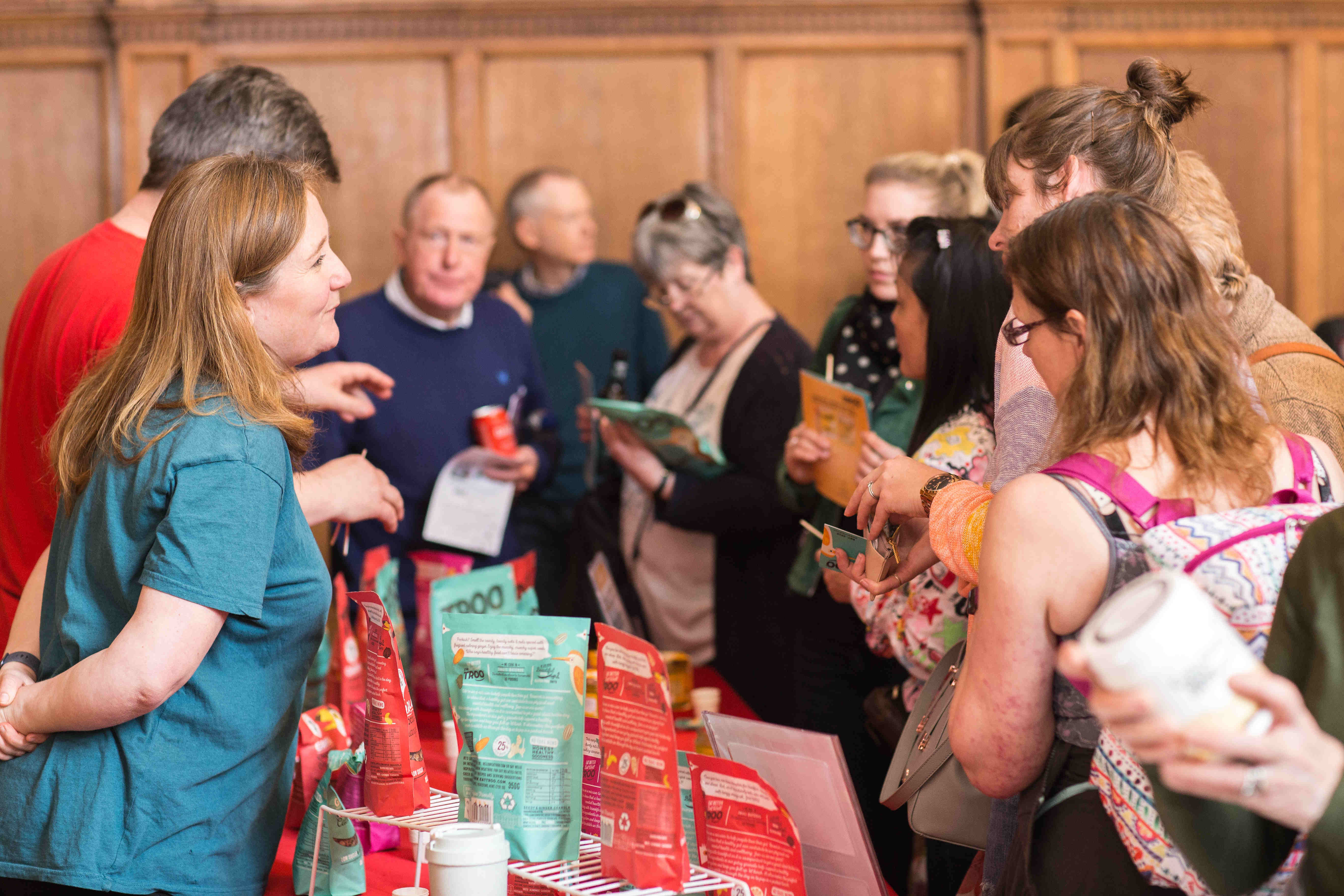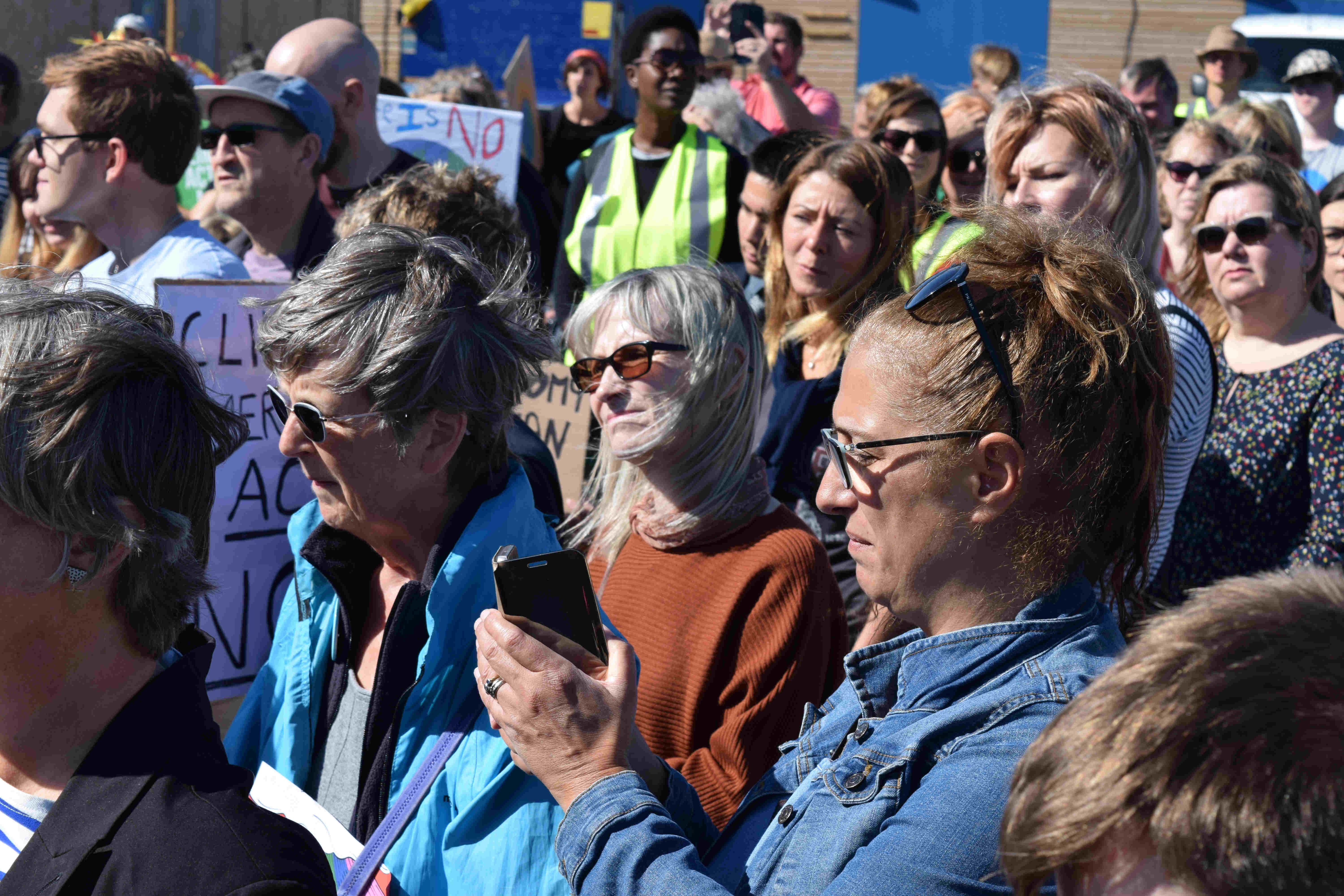 creative, environmentally conscious companies
Folkestone is home to a lot of creative thinking.  There are other businesses working with a sustainable ethos.  Plamil, our very own chocolate factory, has been at the fore-front of vegan food production since the 1950s.  There are many places to eat that are also community-based businesses such as Dr Legumes  on Rendezvous Street.
Environmental protest and action
The Climate and Ecological Emergency Working Group are looking at how the district can respond to environmental needs.  There is public support for action as shown by marches that have been held in the town to coincide with the national Campaign Against Climate Change movement.
Discover more about folkestone below