Get Into the spirit – Folkestone's living Advent calendar
Folkestone's Living Advent Calendar has graced our town 4 times it's almost a tradition. There are 24 doors selected around the town, and a chocolate Advent calendar on sale to help you remember where each door is.  At 6pm, the crowds gather, and with the help of Lady Christmas, they count down to the opening.  Behind each door is a wonderful surprise; a proposal of marriage, a play recounting the town's history, or singing and dancing for all to enjoy! This is the brain-child of Sadie Hurley and Sue Blakesley who run Jim Jam Arts.  Folkelife, not one to hide the tinsel, wanted to get in on the acts.
Christmas starts in january
Sadie: "Our Christmas planning starts in January, getting funding for the Living Advent Calendar.  We have to make sure we've got that in place before we can confirm the dates and the performers.  What's hard, especially now we've done this for 3 years, is we need to make sure that we're not predictable.  For example, we have the Shanty Men each year, and they're really popular, but we have to make sure that people don't come to a door in the Harbour because that's where they think the Shanty Men are going to be.  So we still need to have that wonderful moment of surprise when the door opens!"
it's all a big secret!
Sue: "We don't want to give anything away either, so this is hard to talk about!  But I think that if people knew what was coming, they might decide not to come along to the opera evening, or the dancing night.  Above all else, the beauty of the Living Advent Calendar is that people experience live performance that they would never have thought to buy a ticket to.  Incidentally, it's free!"
Sadie: "We try hard to think of new ideas to make each year different.  It's built up from people not knowing what to expect, to now people being really disappointed if we don't put it on!"
Part of Folkestone's Christmas
Sue: "The Folkestone Townscape Heritage Initiative group sponsored us the first year, in 2015, and we wouldn't have been able to do it otherwise.  They liked the fact we used different places around the town.  So then they wrote a little history plaque on each door that we used.  This helped highlight Folkestone's heritage to the audience."
Sadie: "What's really lovely, 4 years on, as well as still surprising everyone, is that we're working with new people each time.  This year we've started workshops too.  From October through November, there are different community workshops to help create new performances.   We've got an animation project happening with the Rainbow Centre.  Randolph Matthews is working at the Kent Refugee Action Network (KRAN) along with a visual artist who's creating some art that's going to be in the door space."
growing community links
Sue: "Some charities and organisations haven't felt they've been in a position to perform their own door in previous years, and now we're getting to the point where they want to host! These progressions are really nice for us because we get new things happening, but also our relationships with these organisations are growing too."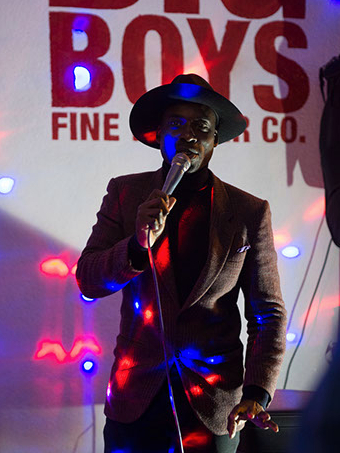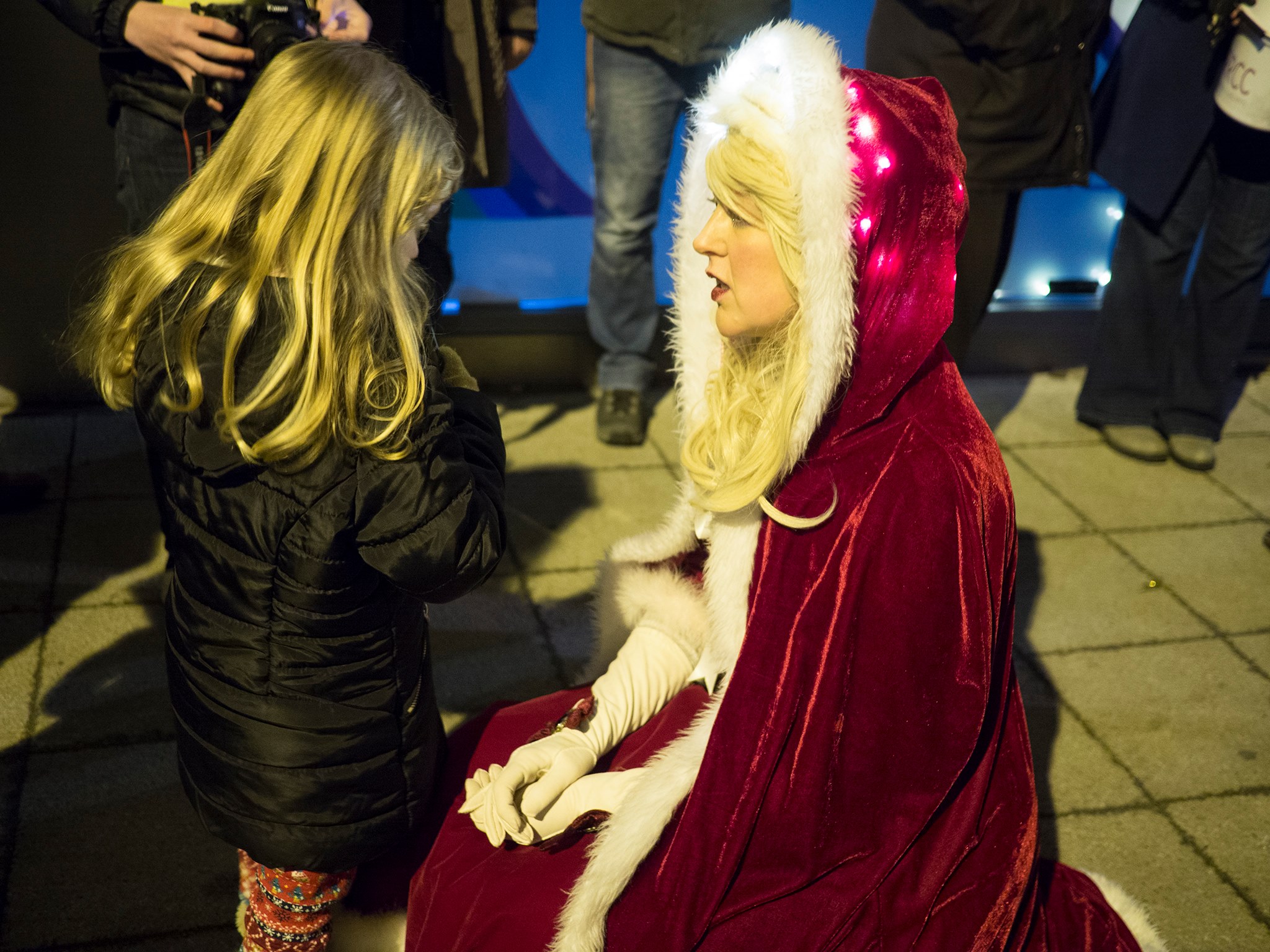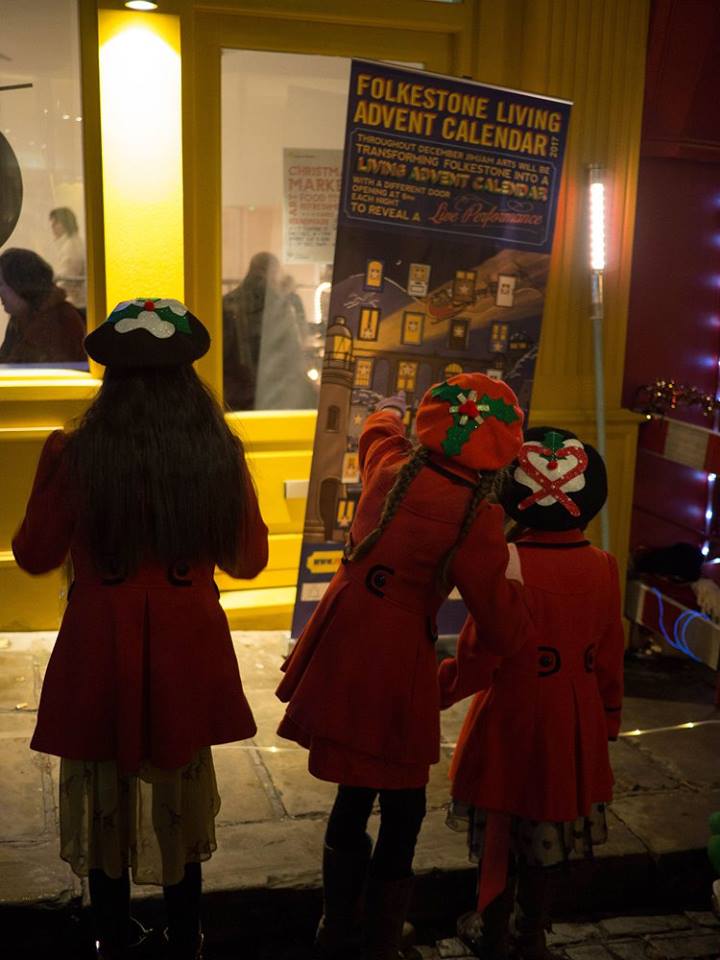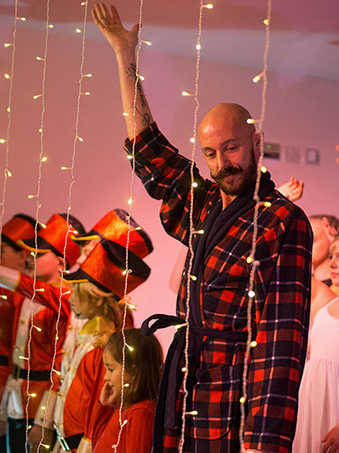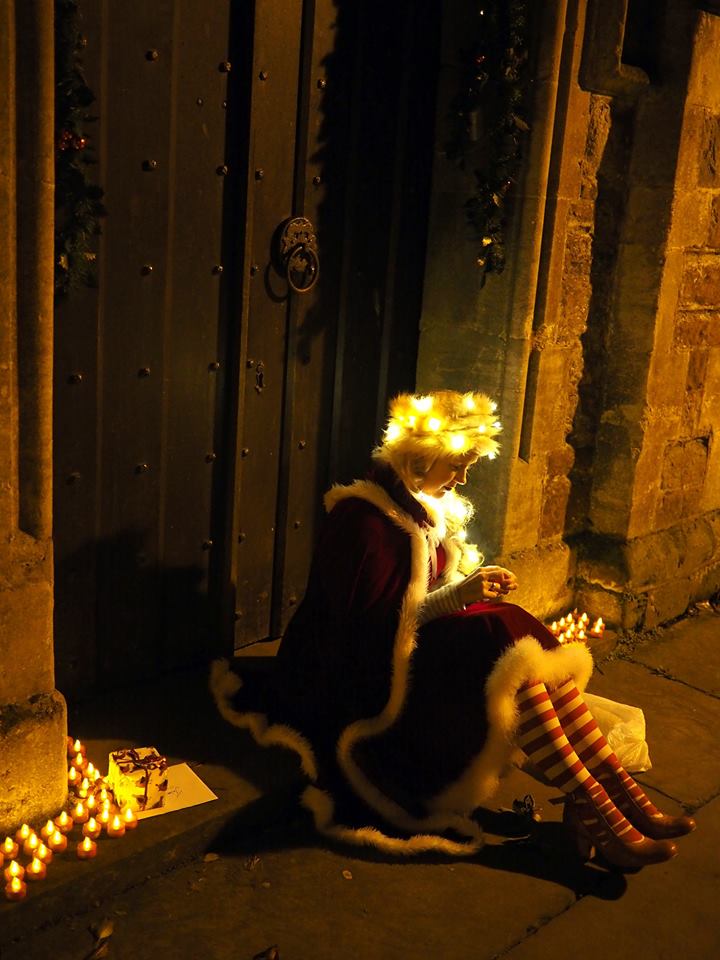 once in a lifetime experiences
There must be stand out evenings over the past few years.  Lady Christmas – Lucy Freeman – told Folkelife about the evening a few years ago at Follies.  This is also the favourite of Sue and Sadie too.
Lucy: "It was wonderful!  The place was packed!  And apologies to all those who were eating their pizzas at the time!"
Sue: "The waitress got in on the entertainment too though, weaving through the audience to deliver the pizzas!"
Diverse audiences
Sadie: "Everyone was there, it showed how diverse our audience can be.  There was someone with a learning disability who was ticking through the performance.  It was the opera night, and to be so close to these wonderfully powerful voices was such a privilege.  At one point, the tenor put his hand on the shoulder of this member of the audience and sang a note which resonated through him and the whole audience.  This man was so enthralled by the singer and followed him around with his eyes for the rest of the evening."
Sue: "Well, there wasn't any space to move!  The children could touch the singers' feet, sitting around them in a circle.  The soprano was singing and stretched out her hand, and one of the children reached out to touch her too.  It gives me goosebumps just remembering the evening!"
Folkestone's magical christmas
Lucy: "It's wonderful being a part of this, it's really magical!  Does it mean that Christmas Day is a let-down?  Well, as long as my family know to count down with me when we open each door in the house, I'm sure we'll have just as much fun!  I wear my dress all Christmas just to keep the feeling going!" 
Sadie: "I think this is what's so special about the Living Advent Calendar.  Where else can you go where you can touch the performers, and have such a magical experience.  It's important to be so close too, because it means the audience do get involved, and feel that they are part of this experience." 
performance art includes everyone
Sadie: "We are not passive observers; and that's particularly important in a town that is regenerating itself through art and the creative industries.  We have to be involved, together, all of us do, and it doesn't matter if you don't understand it.  To have a connection with a voice coming out of someone's mouth right there… It's like there's some connection with the universe, you don't need to understand anything!"
Lucy: "That night at Follies, during the interval, the children erupted into singing. I remember Sue and I standing at the foot of the stairs weeping with joy at how beautiful it all was!"
future calendars
The Living Advent Calendar is branching out into new venues in the town.  To get continued funding, the team are doing evaluation of the event.  If you've been involved and want to give feedback, then please fill in the form. this year.  Come and be a part of Christmas in Folkestone!