Tyler Kennett – Home Grown Art from Folkestone 
Tyler Kennett is a new artist from Folkestone.  His first exhibition was held at The Stables on Tontine Street in November 2020.  Finishing his school studies, Tyler is aiming to study Fine Art at University and take on the world!  Folkelife wanted to find out about Tyler's inspiration and how the town supports young local artists.
"I started drawing when I was very young and have always loved doing it.  But it's really taken off since I started my A Levels.  I took up Fine Art instead of the sciences – which I've also loved too – and have started to build up a portfolio.  Over Lockdown I've got completely immersed in it and have started to produce a particular style of work which has really taken off.
"Studying A Levels during Covid-19 has been a challenge.  Everything is a bit up-in-the-air at the moment.  Building a portfolio, and of course, having this opportunity for an exhibition, means that hopefully my University application will be strong."
Romero Britto inspiration
"I've always been a fan of Romero Britto's work.  He's a Brazilian artist who brings together lots of different styles and uses really vibrant colours.  I love his funky colours and shapes and stuff like that.  I then started researching an artist called Andrew Salgado, and his work has definitely influenced mine.  He paints portraits, and I like doing that.  He's a really nice guy; I got in touch with him on Instagram and he's given me little tricks and stuff on how to paint like that. 
"It started with a portrait that my teacher got me to do during Lockdown.  I have no idea who it was of, but it was 'Hey, you go do this!'  I started documenting its progress on social media and a family friend got in touch.  Leah Gaynor runs Hiraeth Creative on The Old High Street and she suggested I get in touch with Robin who runs The Stables on Tontine Street, and see about an exhibition."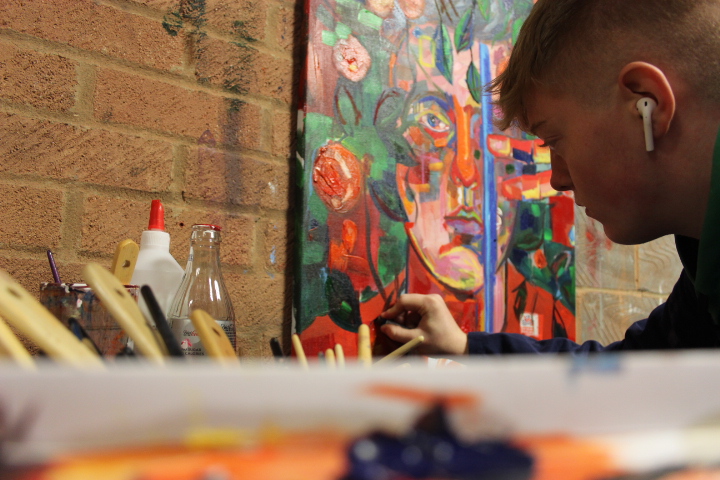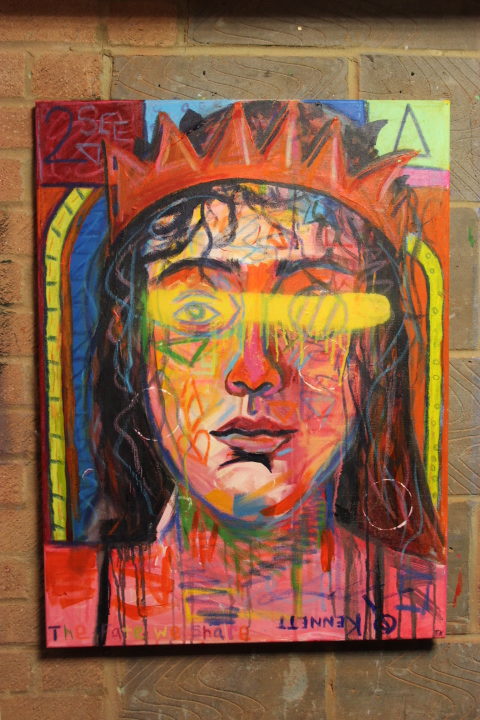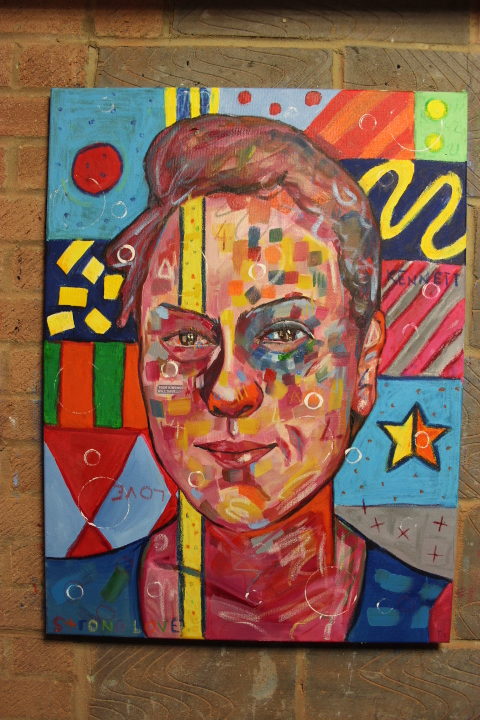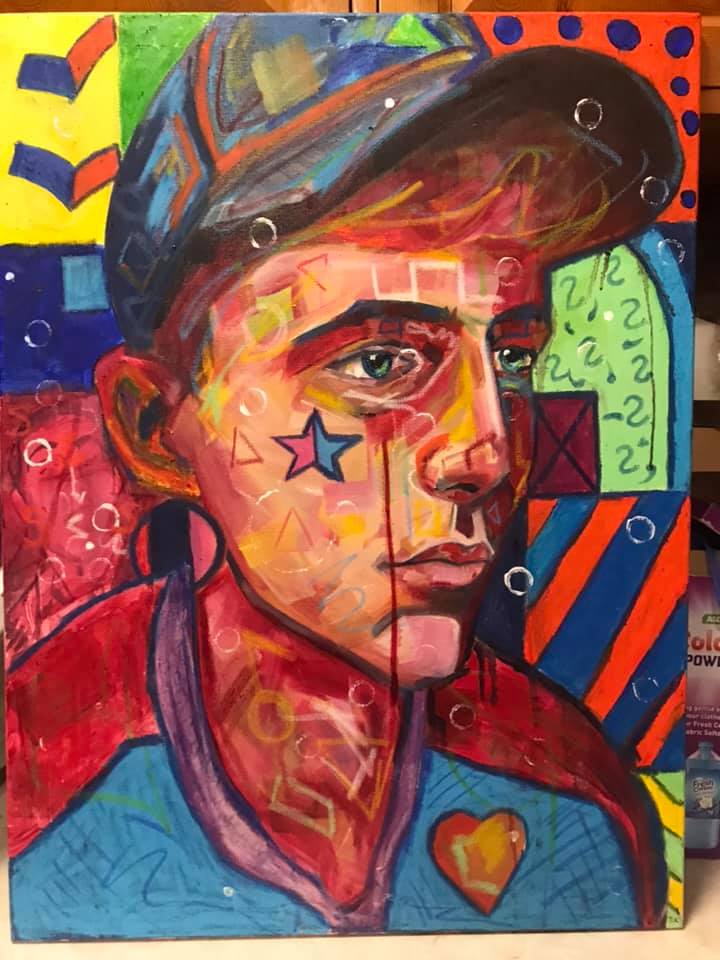 painting friends on massive canvases
"Having some dates for an exhibition means I needed to get some paintings to show!  I got some massive canvases – well, massive for me – and started to paint my friends.  In doing more than one painting I've developed a style which I'm really happy with.  Now, I have 5 paintings to show, 3 of my friends, one of my mum and one of me.  Painting the girls, my friends, were probably the most difficult ones to do.  I've struggled with painting women, I don't know why!  Having done those it's certainly helped me with that.  
"One other painting of one of my friends was really moving.  My friend's brother had passed away earlier this year and they were always really close.  I thought I'd see if I could incorporate their two faces in the one painting.  It was a difficult decision as I didn't want to screw it up.  But, he really loves it, so I'm pleased with how it turned out."
Acrylics plus oils
"I start off making a sketch, a plan of what I'm going to do.  Then, I spray paint the background and use acrylics.  Once that's dried, I go over with oil paint, and once that's dried I use oil pastels. So, there are quite a lot of mediums there.
"My teachers and friends are really excited about the exhibition.  Folkestone is a really inspiring place; the art scene is really good at supporting young people coming up.  Leah in particular has been great.  To be given this opportunity is really the best help I could ever have asked for.   What I really love is that I was born in Folkestone, have grown up here, and the Creative Quarter has really encouraged me in my art and creativity.  I'd love to go to University in London or Brighton and then who knows where I'll go next..!"
discover more about folkestone below