Banksy's Art Buff – The Folkestone Plinth 
In 2014, during Folkestone's Triennial Festival, Folkestone's Banksy appeared.  'Art Buff' depicted a woman gazing at an empty plinth.  The artist stated it was 'part of the Folkestone Triennial.  Kind of.'  It was barely on show for a month before it was cut out of the wall, shipped to America to be sold.  After a legal battle, Creative Folkestone have secured the artwork for the town.  The Folkestone Banksy inspired a new creative venture for Autumn 2020 – The Plinth.
exhibit your lockdown creations
From mid-September to the end of 2020, 10 plinths were located around Folkestone.  The public were encouraged to exhibit their lockdown creations on the plinths for all to see. Creative Folkestone wanted residents and visitors to find a plinth and to use them to display their artistic talents and special objects in celebration of Folkestone, community and creativity.
Earlier in the year, due to the Covid19 pandemic, Creative Folkestone were forced to postpone the 2020 Folkestone Triennial.  Quarterhouse, the charity's theatre, was also closed.  However, Creative Folkestone is always coming up with ways to be creative, communicate and celebrate art in the town.
Chief Executive Alastair Upton said "Folkestone is creative. The people of this town never cease to inspire me and the work that we do here at Creative Folkestone. By returning the Banksy to the Creative Quarter and presenting The Plinth and after everything that has happened this year we are proud to be offering space for people to get creative once again. Folkestone loved the Banksy, with the woman pondering the empty plinth. I can't wait to see what people place there for her and everyone else to see."
upload your art online
Creators displayed their work on a plinth in Folkestone and shared photos via social media, becoming part of a big online exhibition.  As well as these empty plinths, there were also three specially commissioned plinths with works by local artists Malcolm Allen, Maureen Jordan and Tomas Poblete. In addition, there was also a performance plinth painted on the floor of Payers Park by street artist Toze One. The performance plinth hosted a curated programme of music, dance, spoken word and more.
plinth kits
Creative Folkestone worked with schools and community partners across the town to ensure that as many people as possible could be a part of this venture.  16 local schools received a plinth for a week during the project to use as an educational and creative tool. Plus, Young Carers, Age UK, Mind, Homestart and The Shed youth centre also received art packs and resources as a starting point for making.
Banksy's 'Art Buff' history
This is a short film about the history of Banksy's 'Art Buff' appearing in Folkestone, and its subsequent disappearance. The film is made by Sam Supple, Audrey Green Oaks for BBC Inside Out.
Photo credits: Matt Crossick/PA Wire
Banksy Floating Balloon Girl available at Hiraeth Creative, 59 The Old High Street, Folkestone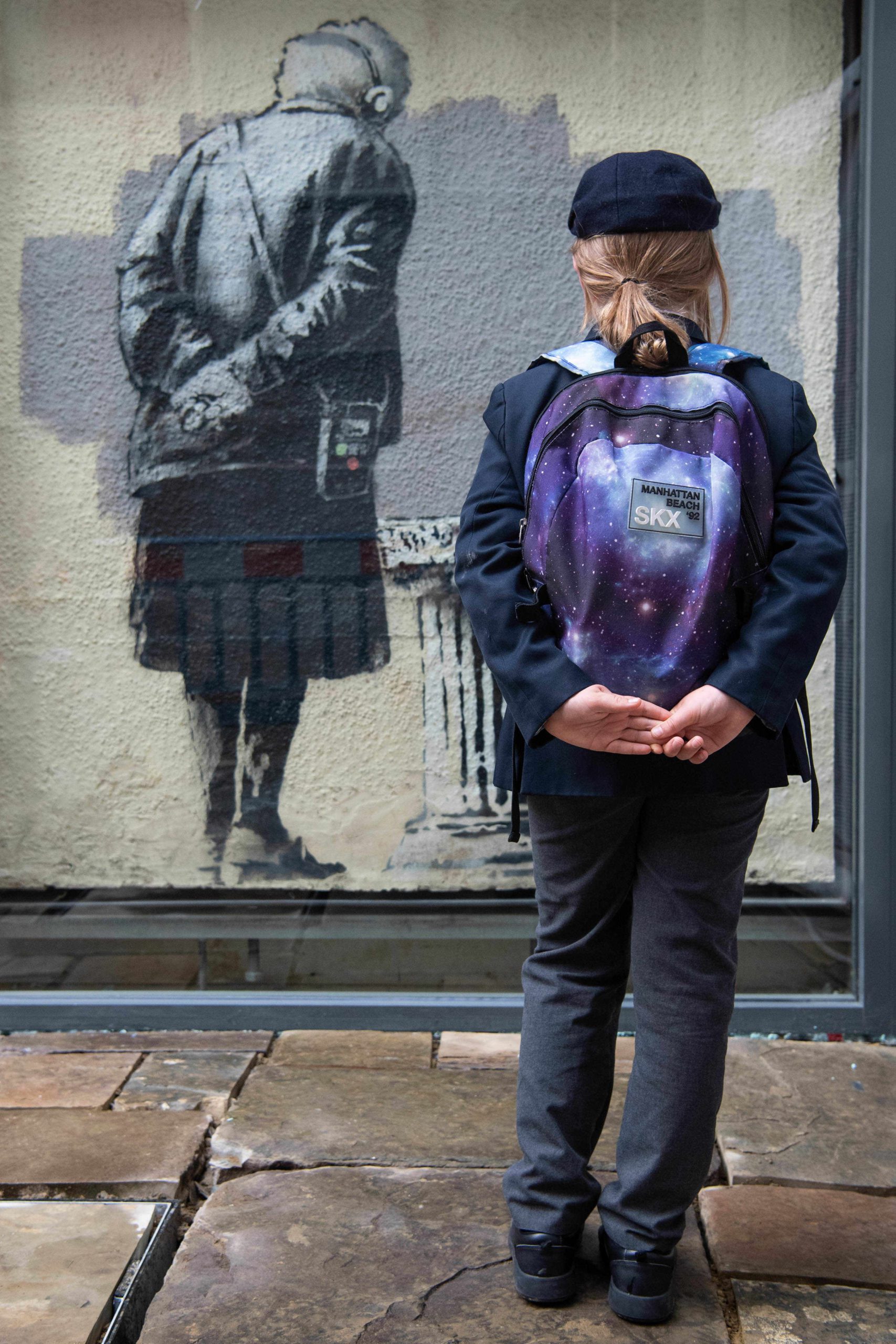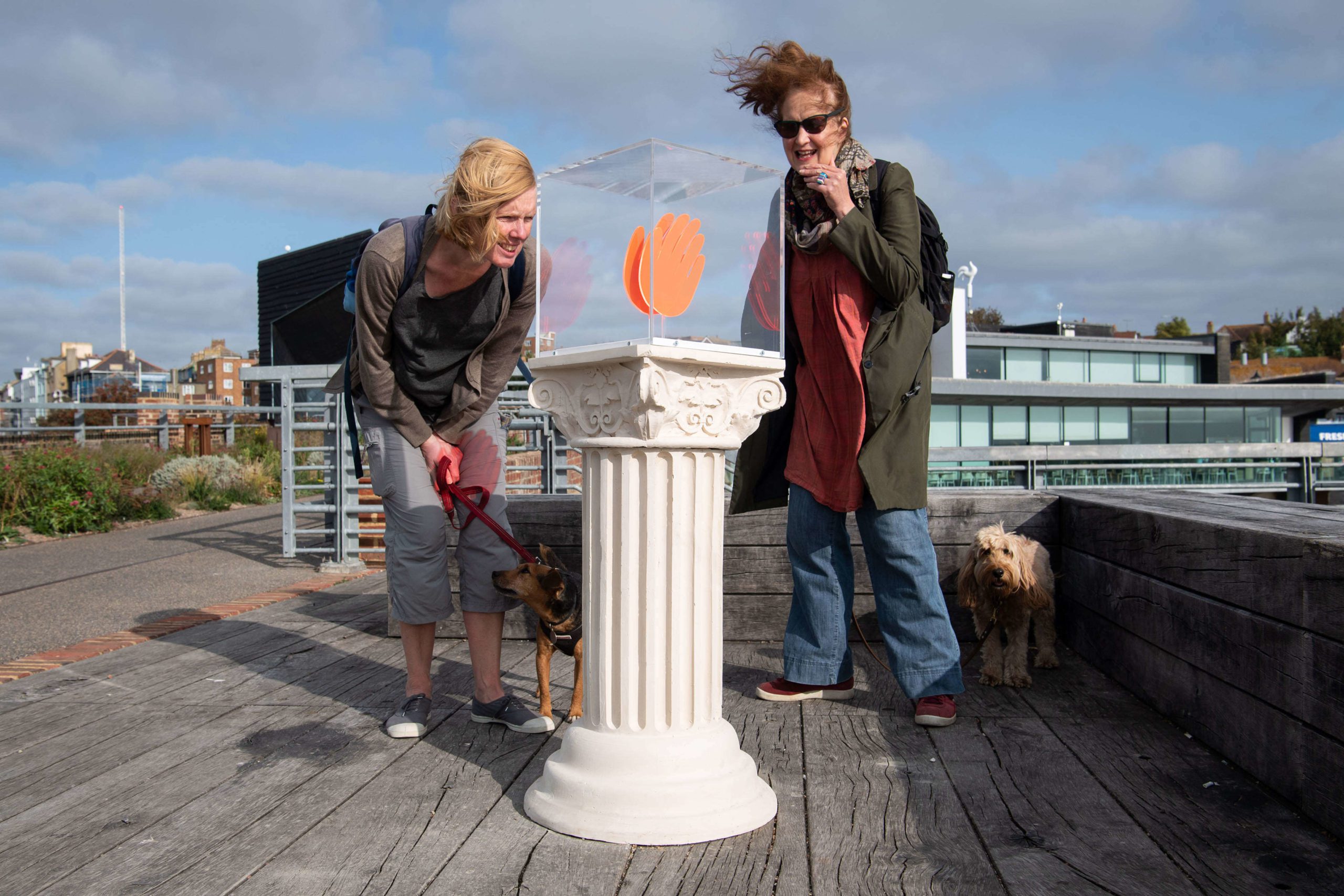 Discover more about folkestone below