The Seafront Development – Plot C1
The Folkestone Harbour and Seafront Development Company is setting out its plans for the next stage in developing the harbour area.  Alongside the beautifully renovated Harbour Arm, the company has been responsible for restoring the harbour and seafront area since 2015.  Work is ongoing on the first new building which will contain 84 homes and apartments.  This next stage – Plot C1 – will provide 120 new homes along with commercial space, play space for children and beach terraces for residents.
historic lines
The scalloped curves of the buildings planned for the seafront take inspiration from historical Regency buildings such as the Royal Crescent and Landsdown Crescent in Bath, Regency Square in Brighton and Regent's Park Crescent in London.  Between each plot there is structured public access to the beach.  There will be gardens and play areas for the residents using planting that will thrive in this seaside environment.
folkestone harbour and seafront development company
The Company has been behind the renovation of the harbour area, Harbour Arm, station and viaduct.  Since the Harbour Arm opened for business in 2015 it has gone from strength to strength with new, exciting traders being a part of the entertainment space.  This area is one of the most popular visitor attractions in Kent.  The Arm has live music, the Big Screen showing a summer of sport and films for families and friends and fantastic food venues.  Plot C1 will have space for commercial as well as residential properties.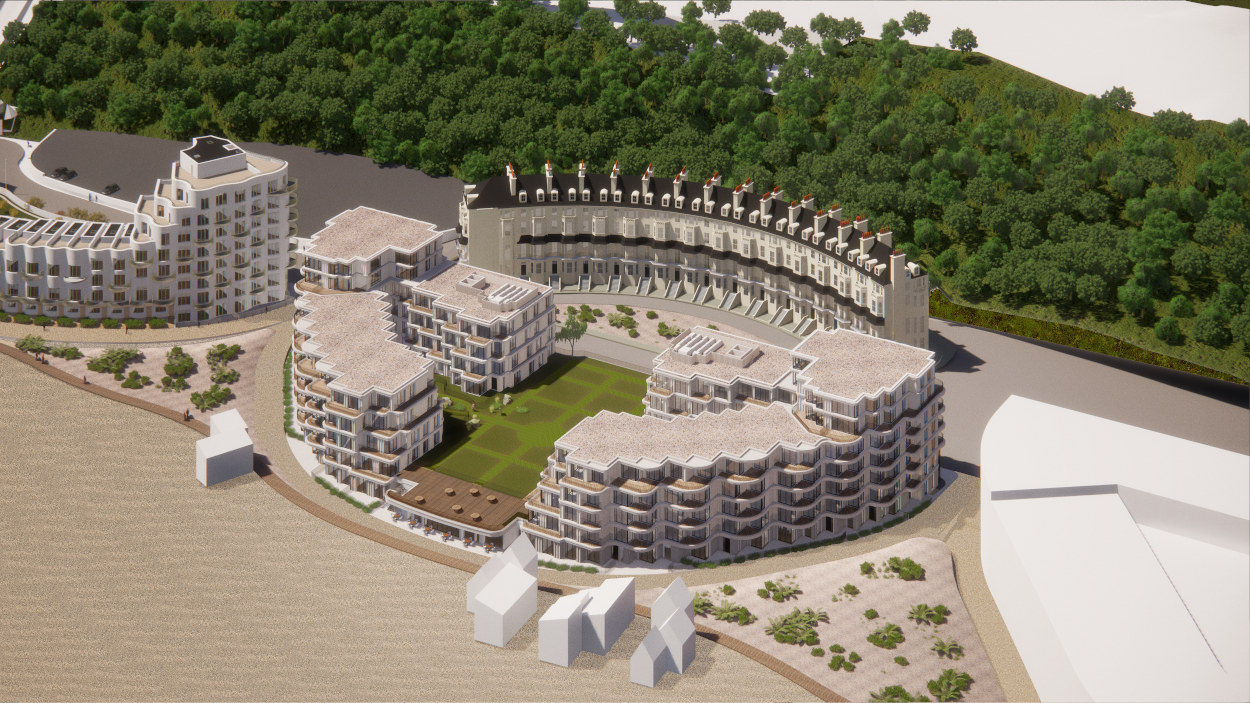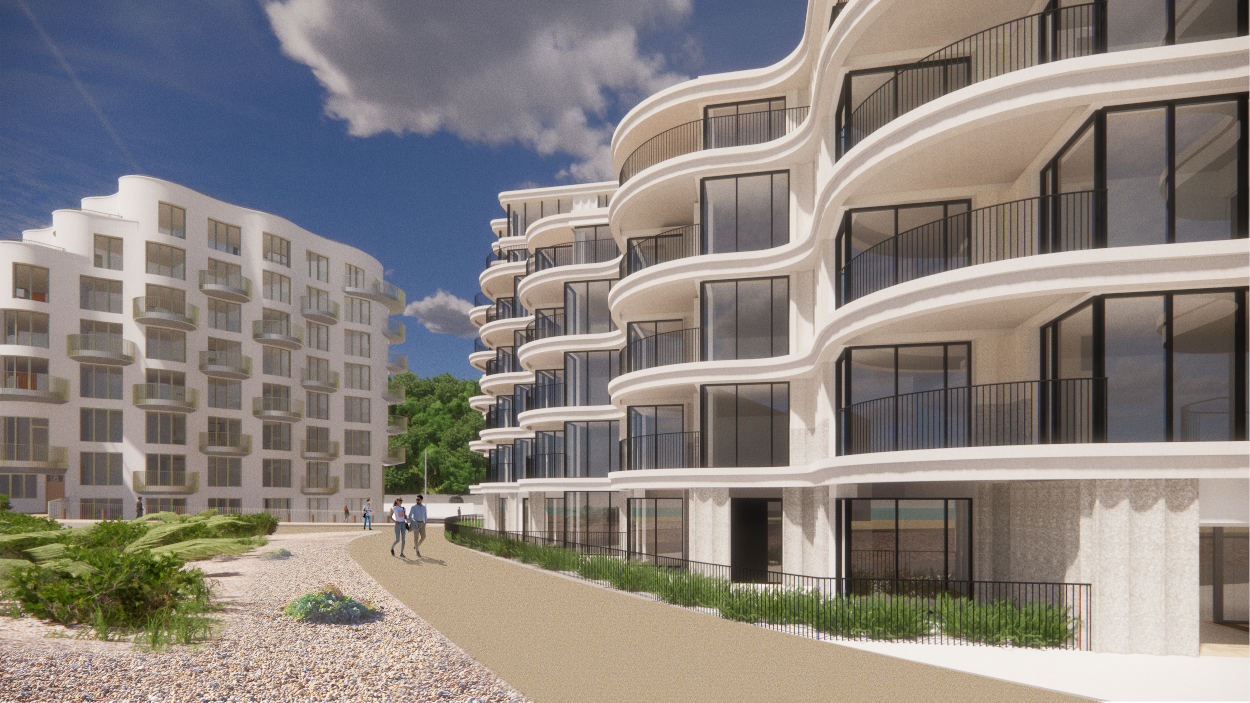 ---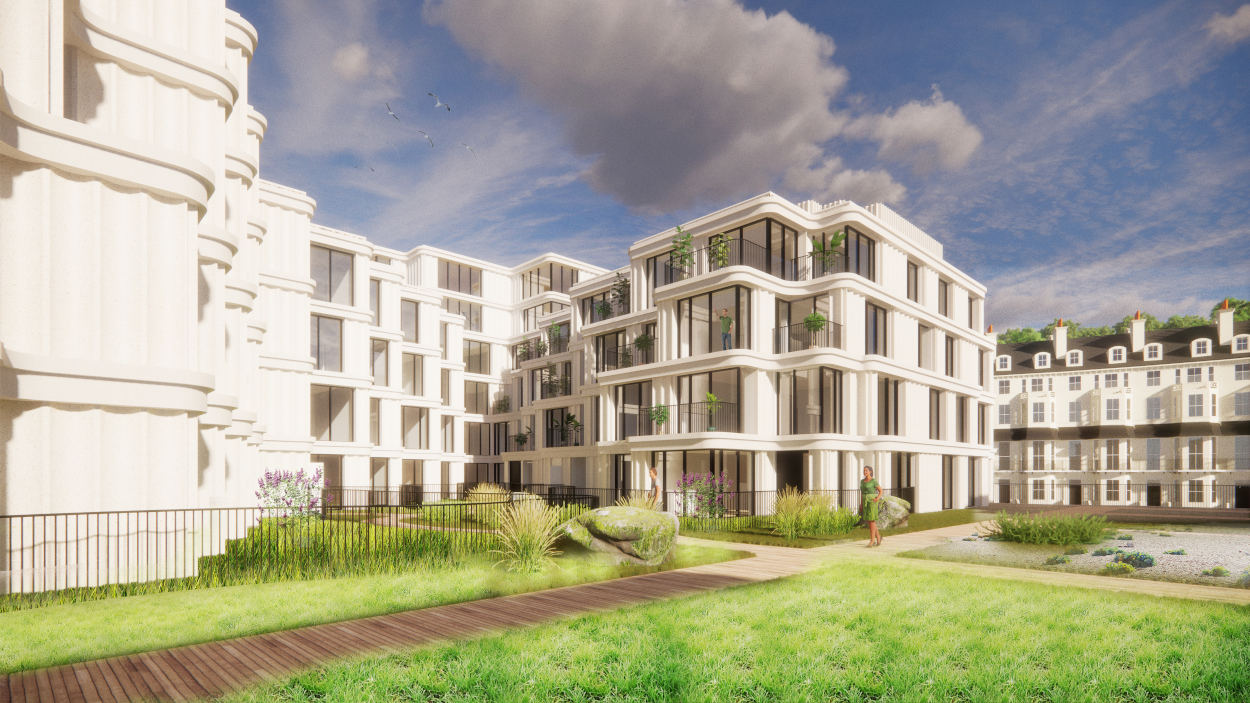 podium gardens
Running through the heart of Plot C is the podium level.  This will contain residents gardens, and importantly, maintains a line of sight from the beach through to Marine Parade.  The building will have bookends at either side, which will curve down into the podium level.
There will also be a publicly accessible beach terrace with steps from the boardwalk to the podium level.  This will provide another superb venue to meet with friends and share the sea views.
community benefits
The Masterplan of the seafront development provides many benefits to the local community.  There is investment in restoring and reopening the historic Leas Lift.  The planned 10,000 sqm of commercial space on the site will create hundreds of new jobs for the residents of Folkestone.  There are many opportunities now for work in construction, hospitality and creative sector jobs.  Young people in the town are already benefiting from apprenticeship opportunities as part of the development.
As well as this, up to £3 million has been set aside to support primary schools and educational settings in the town.  The Masterplan also includes up to £1.2 million to invest in new local GP and health and social care provision in the area.  In addition, more than £500,000 has been allocated to supporting the local transport network.
To read more about the plans for Plot C1 and to register your interest in the new properties, visit the Folkestone Harbour and Seafront Development website.
Discover more about folkestone below