Landscape Institute Award – Harbour Viaduct and StatioN
Come and visit Folkestone's award-winning Harbour Viaduct and Station! This area has been transformed with reference to its heritage throughout the landscape by Macfarlane and Associates. They've won the Heritage Conservation award from the Landscape Institute.  This prestigious award is recognised throughout the industry and celebrates quality and expertise. Folkelife spoke to Glen Macfarlane to congratulate his team on the award.
"An opportunity to work for a client like the Folkestone Harbour and Seafront Development Company led by Sir Roger De Haan doesn't come around very often.  To have a project changing a disused railway into a walkway is pretty unusual," Glen enthuses. "There's the High Line in New York, and a couple in France, but other than that, this isn't your average project. And who wouldn't want to work in a town that has attracted work by architects such as Lord Foster, designer of the Folkestone Academy?"
Labour of love
The project was to create a new landscaped linear walkway that connects the Harbour Arm to the town. Prior to opening, people had to walk from town, around the Harbour to get to the Harbour Arm.  The viaduct incorporates the Swing Bridge over the Inner Harbour and allows residents and visitors to promenade over the sea.  "We were starting from scratch with our designs but we knew it needed to have a railway feel to it.  If you look at the furniture along the viaduct you'll see that the railings, bollards and light poles are made to look intentionally rusty.  We used a material called Cor-ten, a steel product often used in industrial and heritage regeneration schemes to give an instant distressed feel."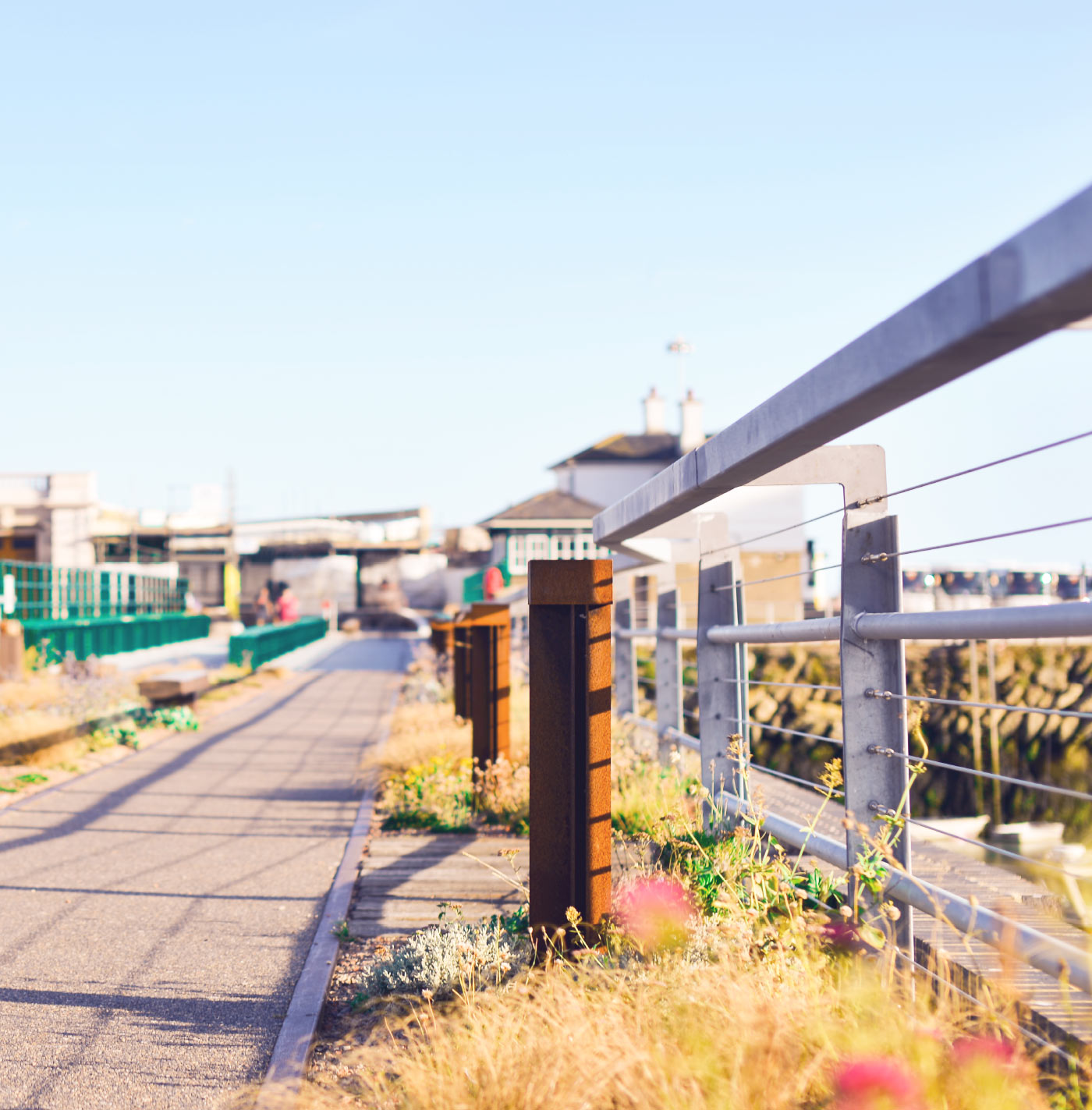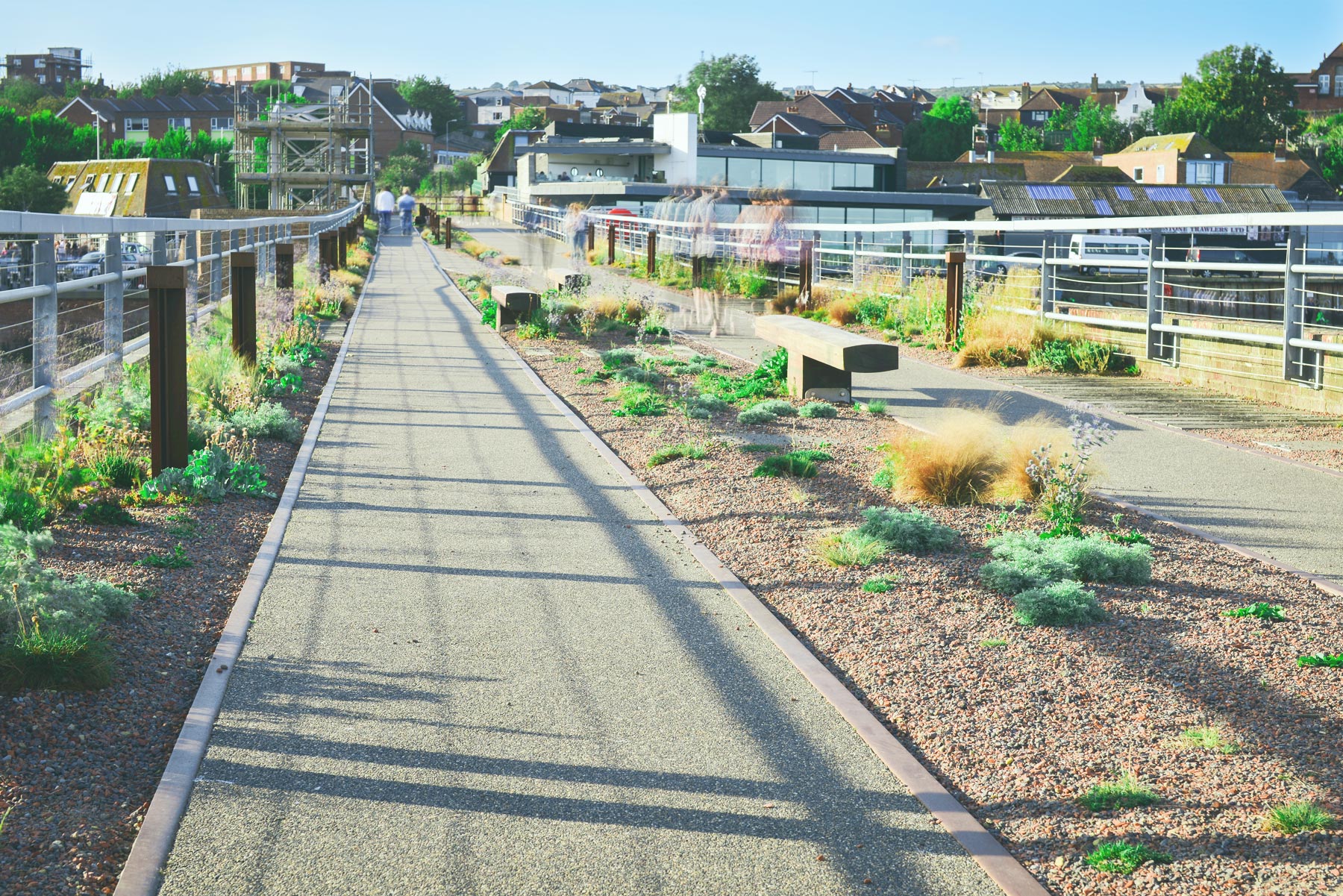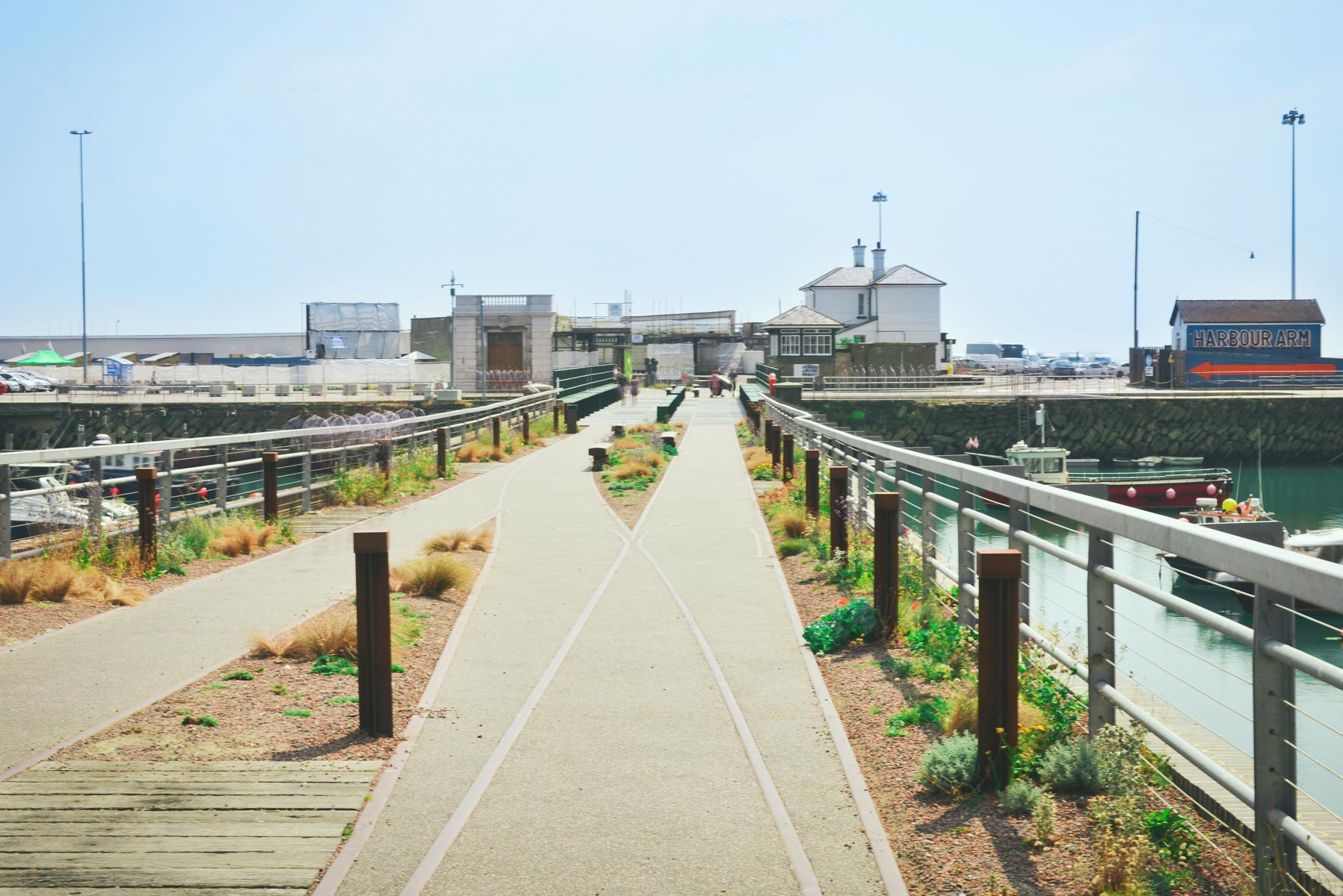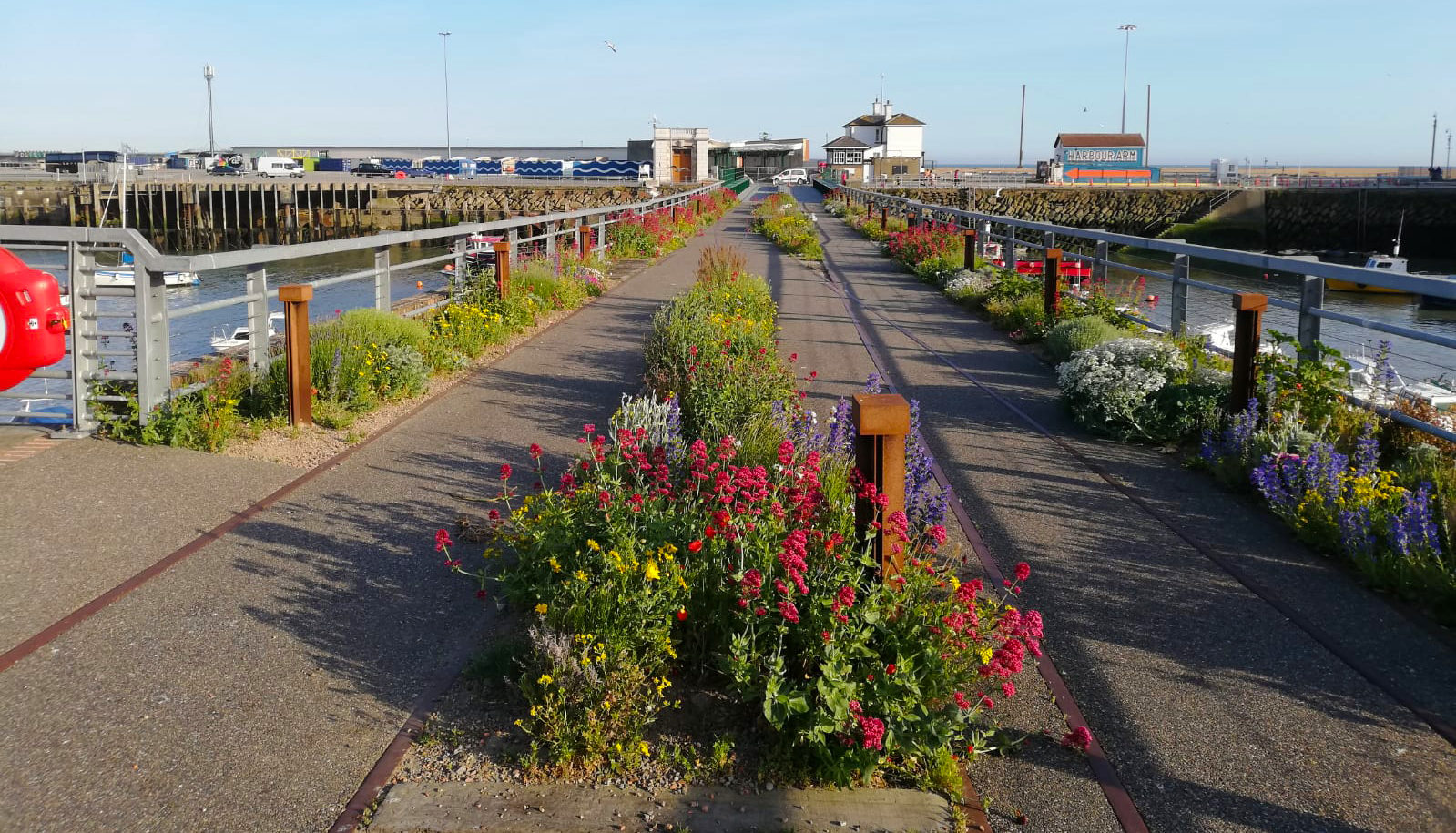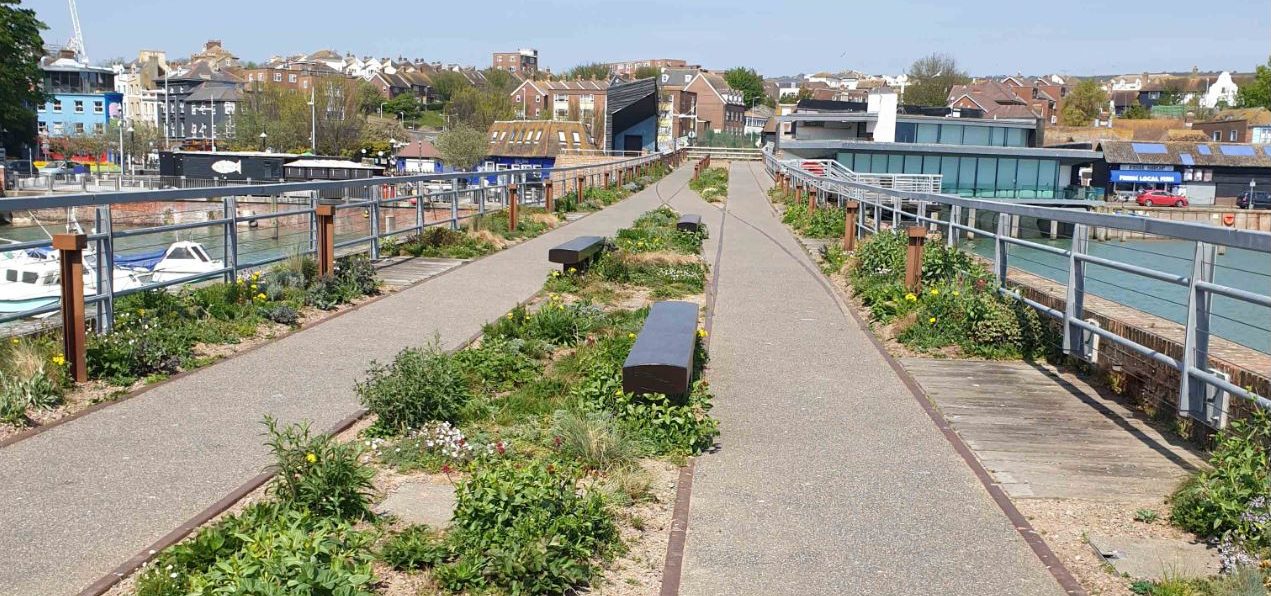 railway heritage
The viaduct and swing bridge are listed structures. Historic England needs to approve any alterations. "We wanted the right materials to create a railway heritage appearance and make it feel like you are walking on the track bed.  It gives it an 'industrial transportation corridor' feel!
"Probably the hardest thing we had to contend with was the planting.  Designing planting that's tolerant to drought, salt air and high winds and that is also low maintenance is a hard ask!  The plants needed to be indigenous to the area and have a shale, beach-like appearance.
"It's also challenging when you have big crowds walking through the area. You'd expect it to fail in such an inhospitable environment.  We've created a roof garden across the harbour, over the coast and it's incredible how it works!"
Into folkestone harbour station
Macfarlane and Associates' work carries on into the Harbour Station, including the introduction with the thick timber steps connecting the track to the platform.  "We spent months trying to work out how we would connect people walking along the platform level to the track level.  We came up with a novel idea; green oak timbers were machined to the curve of the railway line and put together like a huge Jenga puzzle.  They were attached with coach bolts.  It creates seating and a stepped terrace effect. 
"We feel that we have created a completely original setting that respects the heritage of the site. We were delighted that Sir Roger felt our designs were of the right quality and could stand the test of time. That's also the reason why we won this award."
responsible and sustainable
These renovations of the Harbour Viaduct, Swing Bridge and Station have opened an area of the port to the public that was previously inaccessible. "It's wonderful to see the response from the visitors crossing the bridge and viaduct. Opening a link to the town that has so much heritage attached to it was a real privilege.  Our client (Folkestone Harbour and Seafront Development Company) are as much a part of this award as we are.  Without their vision and funding this heritage would not be restored to such a high standard."
Discover more about folkestone below