Gourmet Kitchen – All-Day Dining in Folkestone
Gourmet Kitchen is a family-run restaurant situated on the Sandgate Road near the West End of Folkestone.  Corinne Penk has spent her entire career in the hospitality industry.  She's worked as a concept development manager for Whitbread and Costa Coffee but when working as a consultant she was challenged.  A colleague told of his wonder why consultants never had the guts to take on their own places and develop new restaurants.  Corinne picked up the gauntlet and decided to do just that, and the Gourmet Kitchen was born.  Folkelife went to meet her and her team.
"I started off working in a boutique hotel in Greece about 20 years ago with my then boyfriend.  We made the Good Food Guide, and the Good Hotel Guide and ran that for about 4 years.  We came back to the UK and I got my 'sensible' jobs at Whitbread etc, but I would love to return to Greece some day. 
"When I was looking to leave London for somewhere more affordable, a friend told me about Folkestone.  He'd been reading about the town in the Evening Standard.  I came down here with my daughter and we found our way to The Leas.  It was a sunny March day and the sea looked so like Greece.  I felt it was the next best thing, so I moved.  That was 2015, and my work had changed.  I'd become a consultant to small restaurants and coffee shops, taking them through rebrands and renovations.  That's when a friend said to me 'I don't know why consultants exist, if they're that good, why don't they do it for themselves?'   So I thought why not!"
Folkestone's west end
"I found this property at the western end of the town and fell in love with the stained glass front of the shop.  With my experience of designing new lines of food and restaurants, I felt this end of town really needs more good dining places.  The Creative Quarter has a lot to offer, but we need good restaurants and coffee places in the west of the town too.
"It's a family business, from the refurbishment to cooking the food. We opened in December 2019 and had a good start to 2020.  We're offering good, homemade food that is a treat, but not pretentious.  Our regular customers are people who might come back more than once a day.  We've certainly established ourselves with the local residents who treat themselves to the space to have breakfast and read the paper here.  There are other regulars who can be counted on to order their 'usual' lunches with a glass of wine!"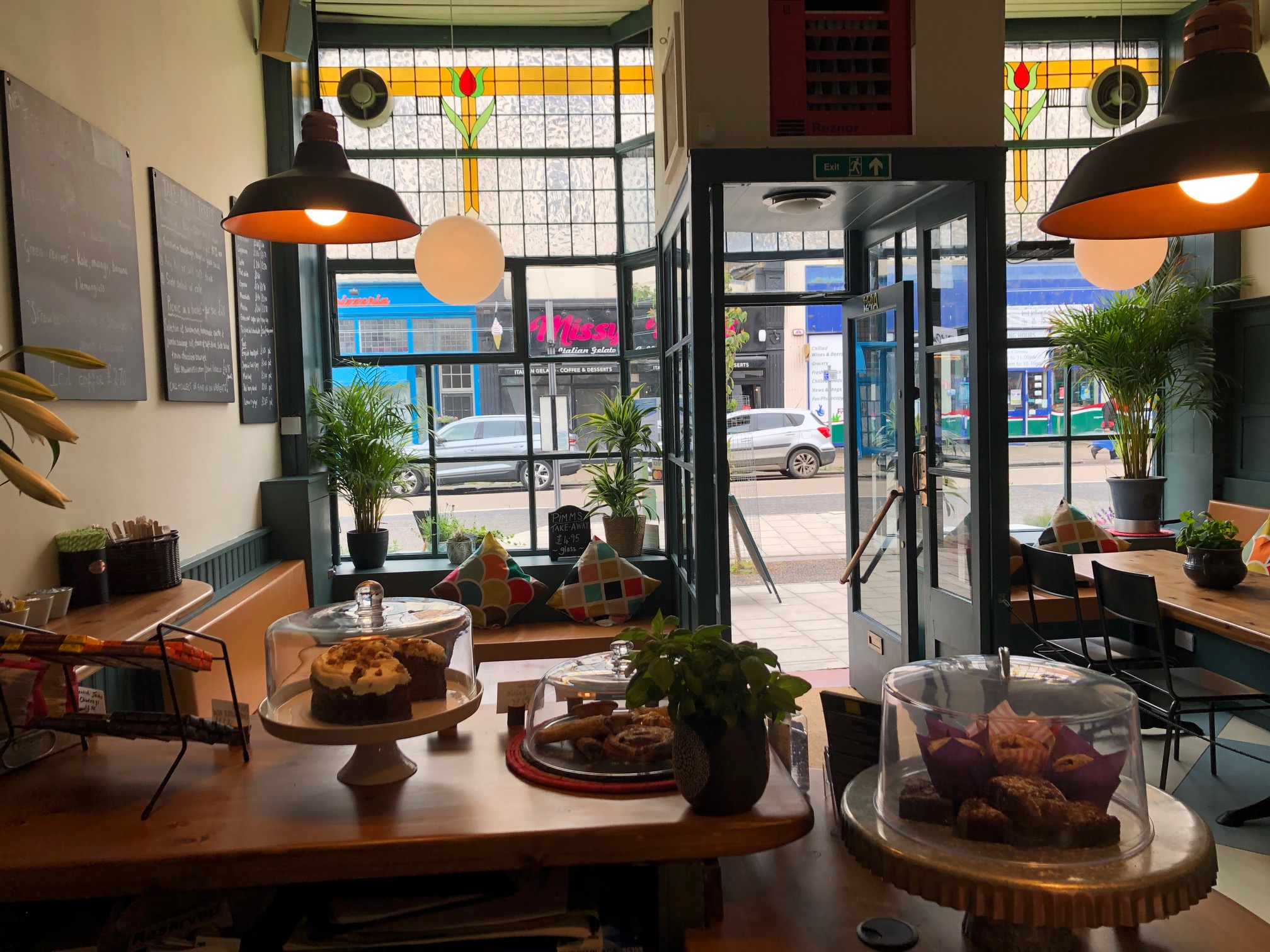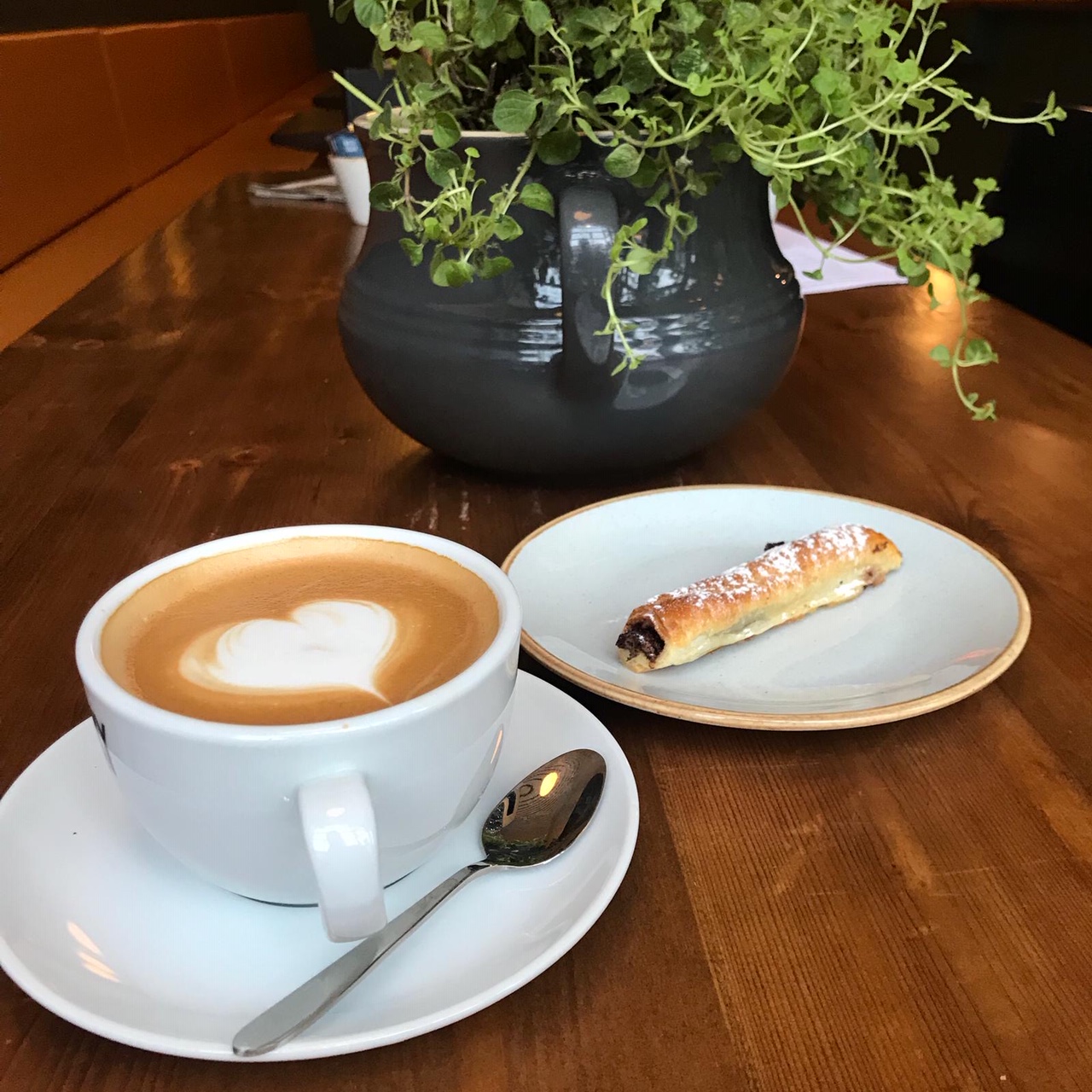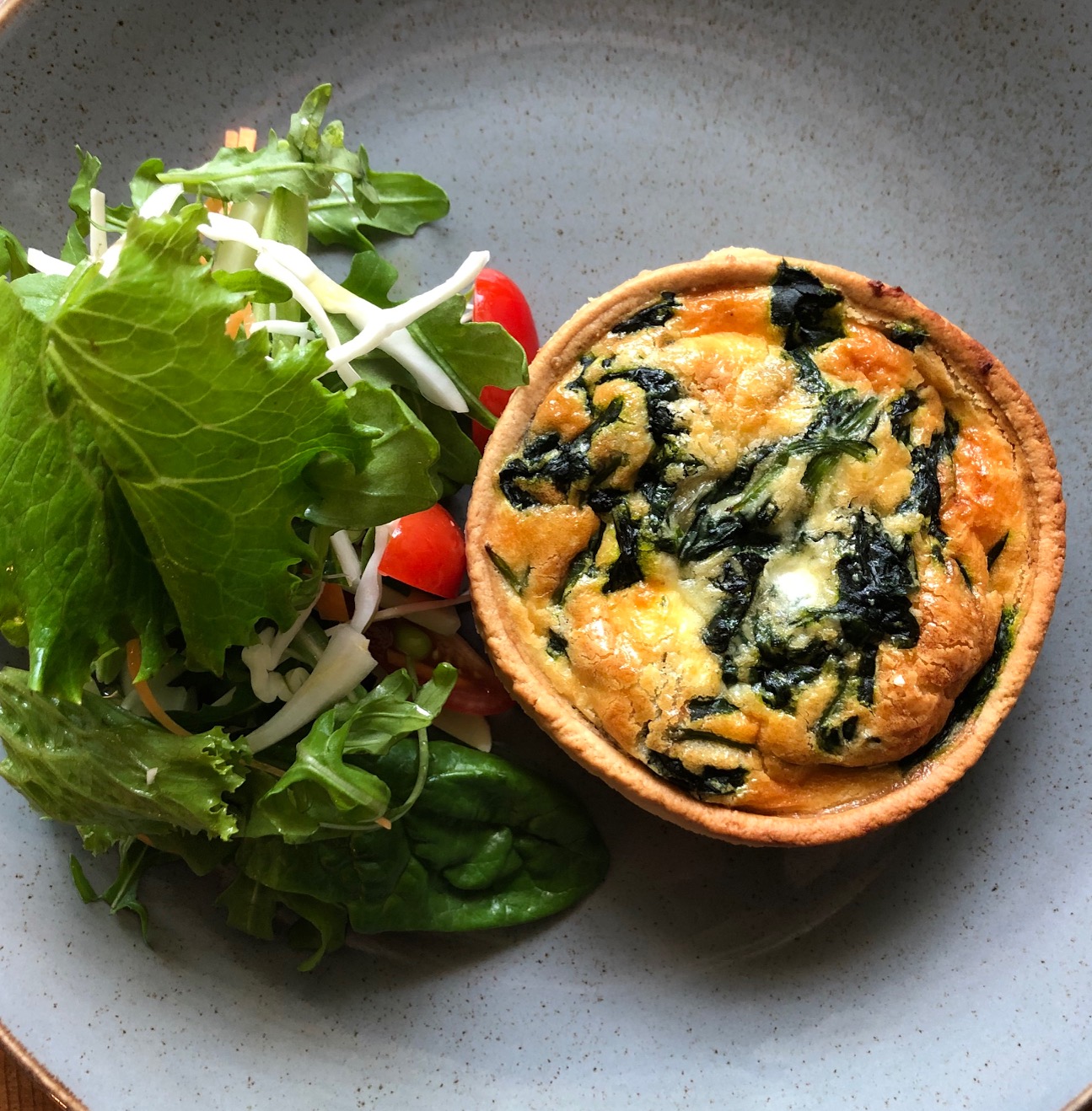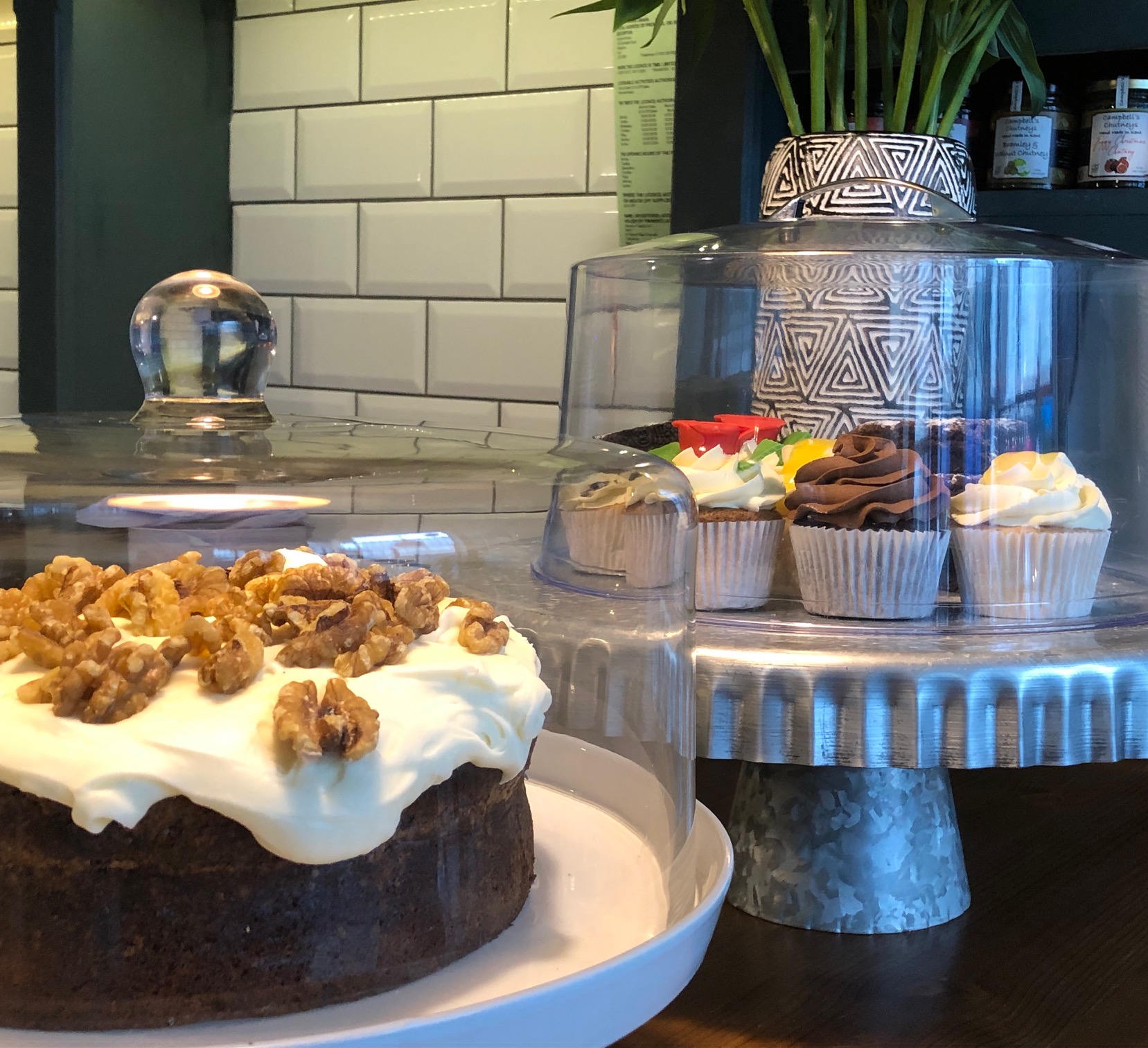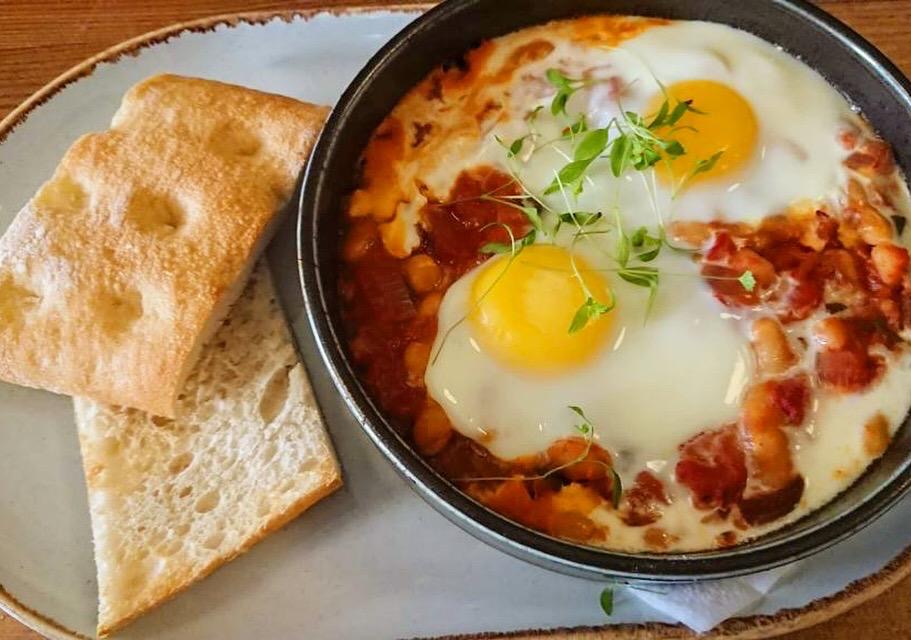 ---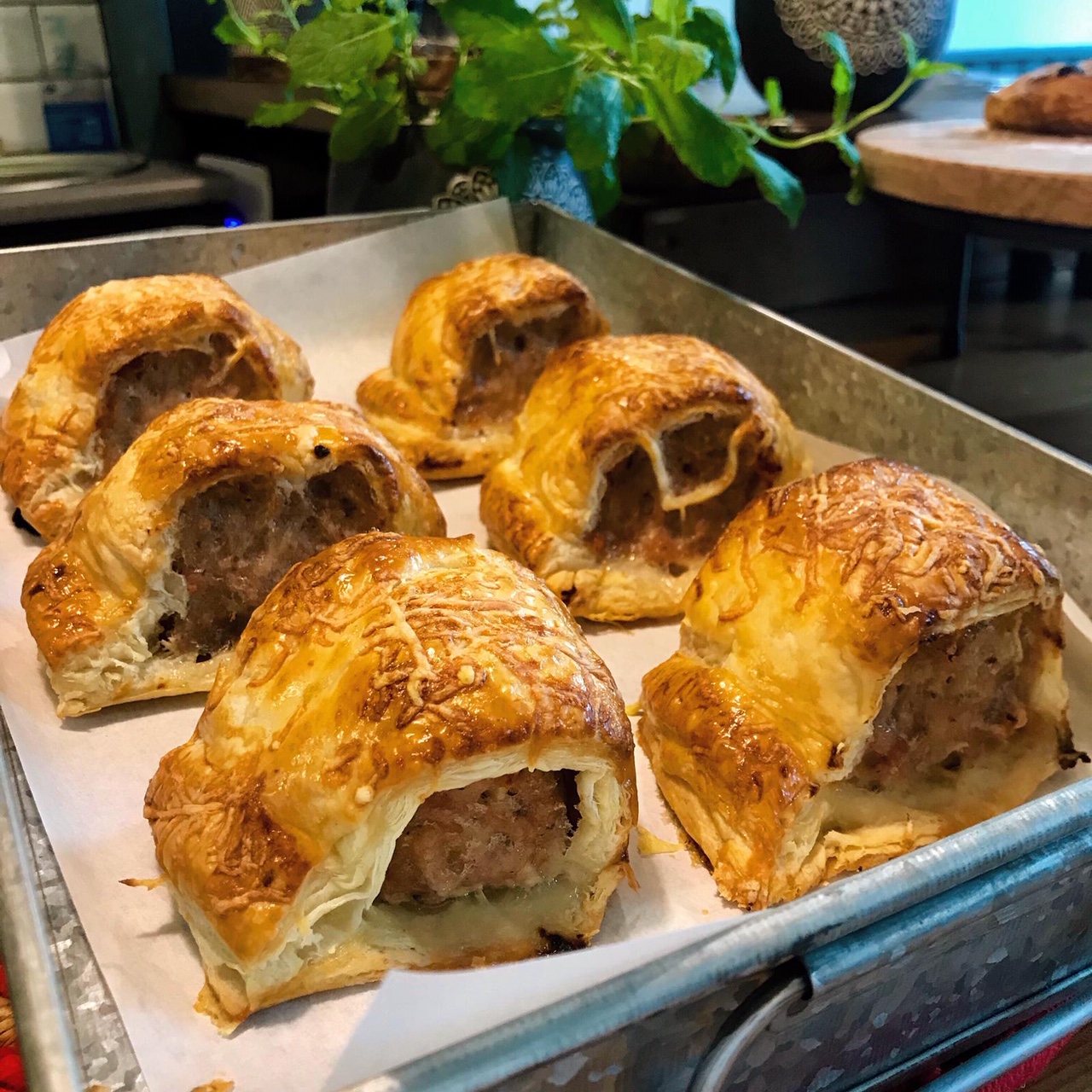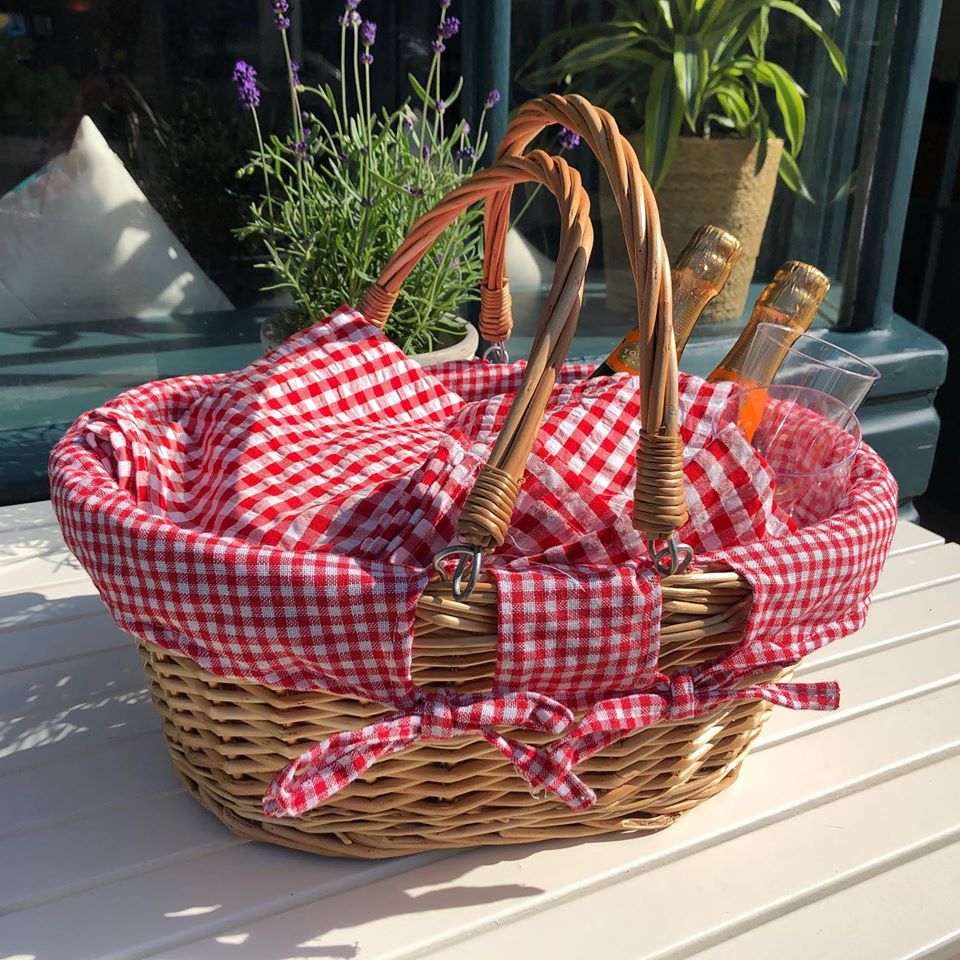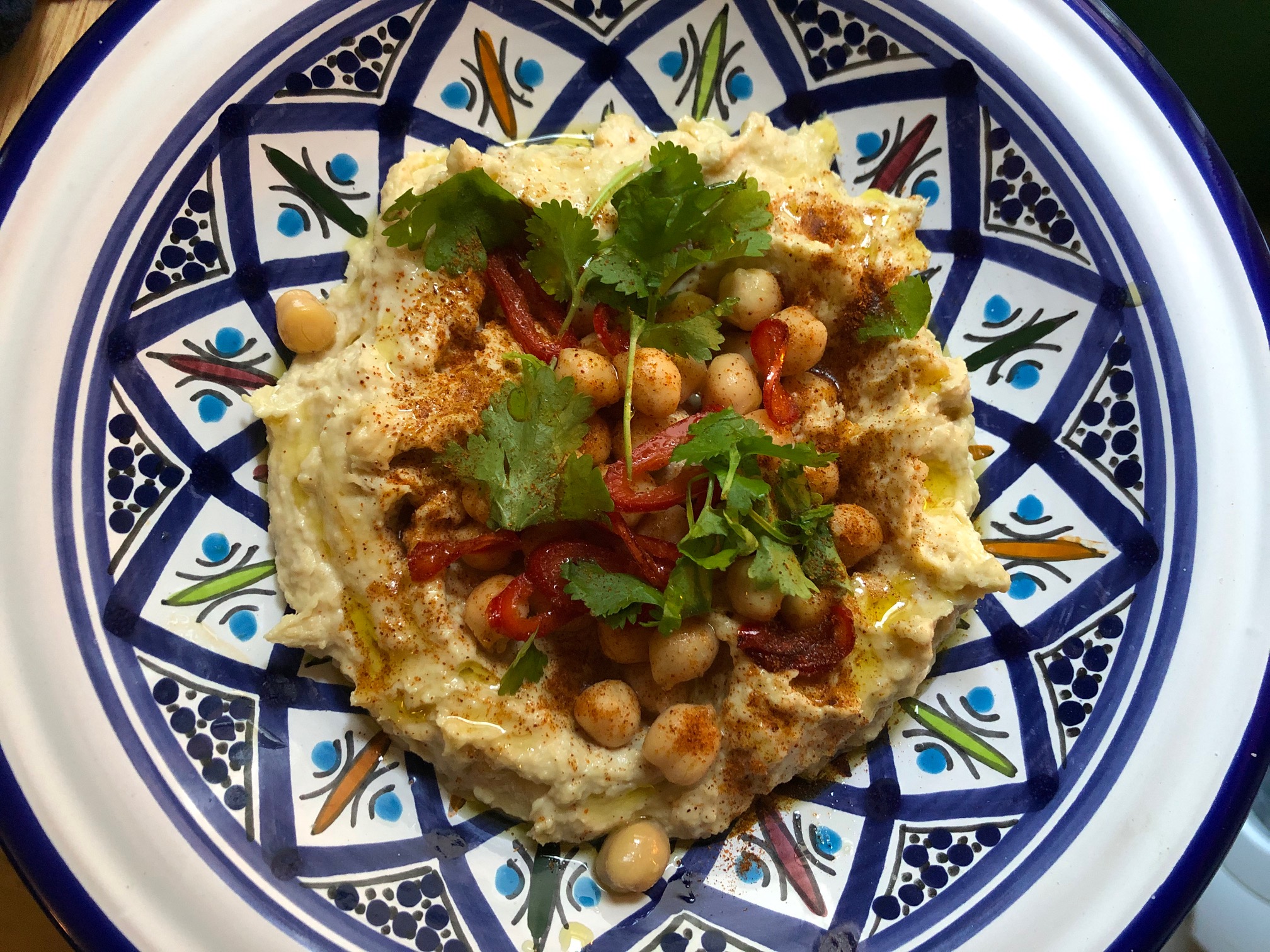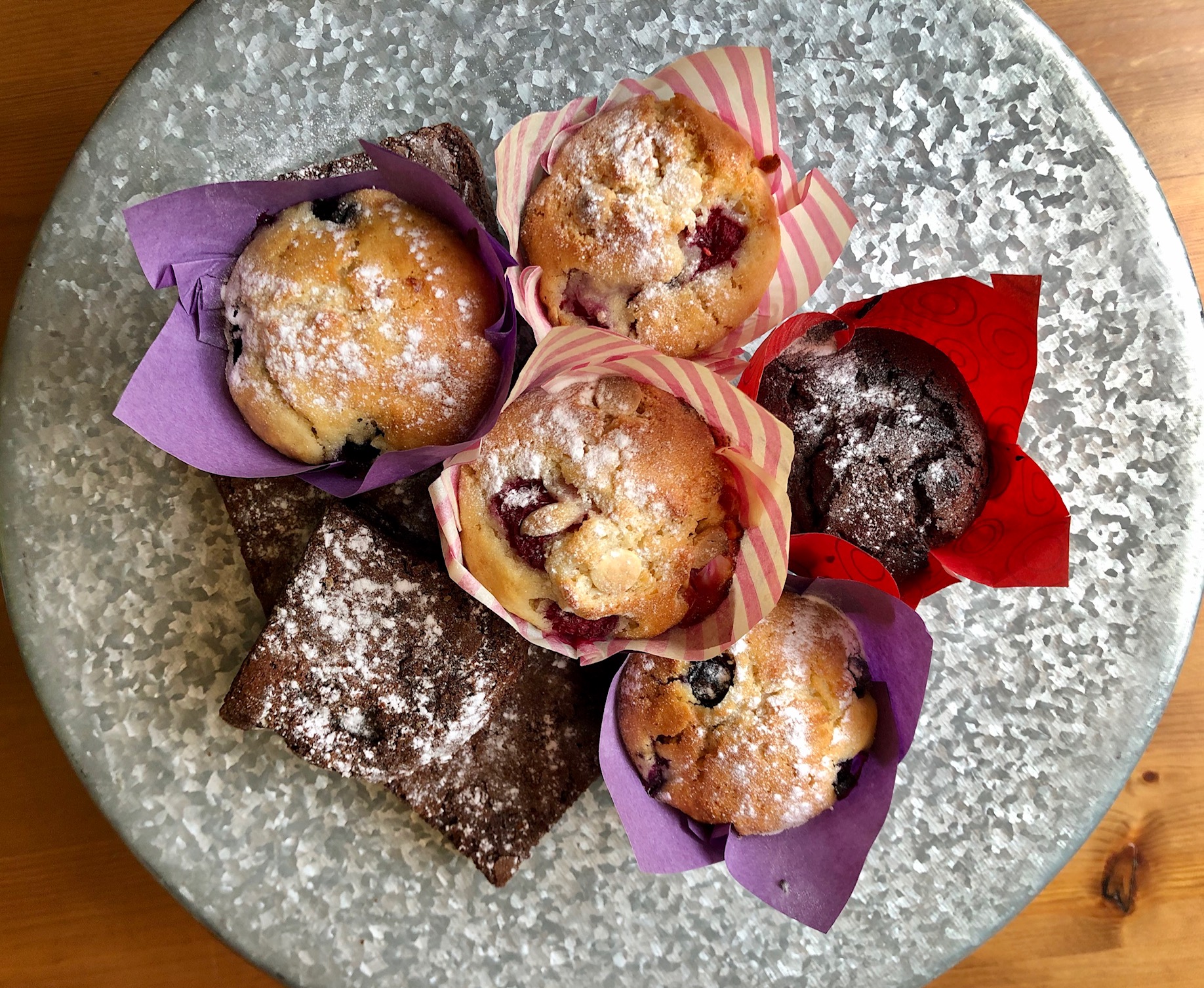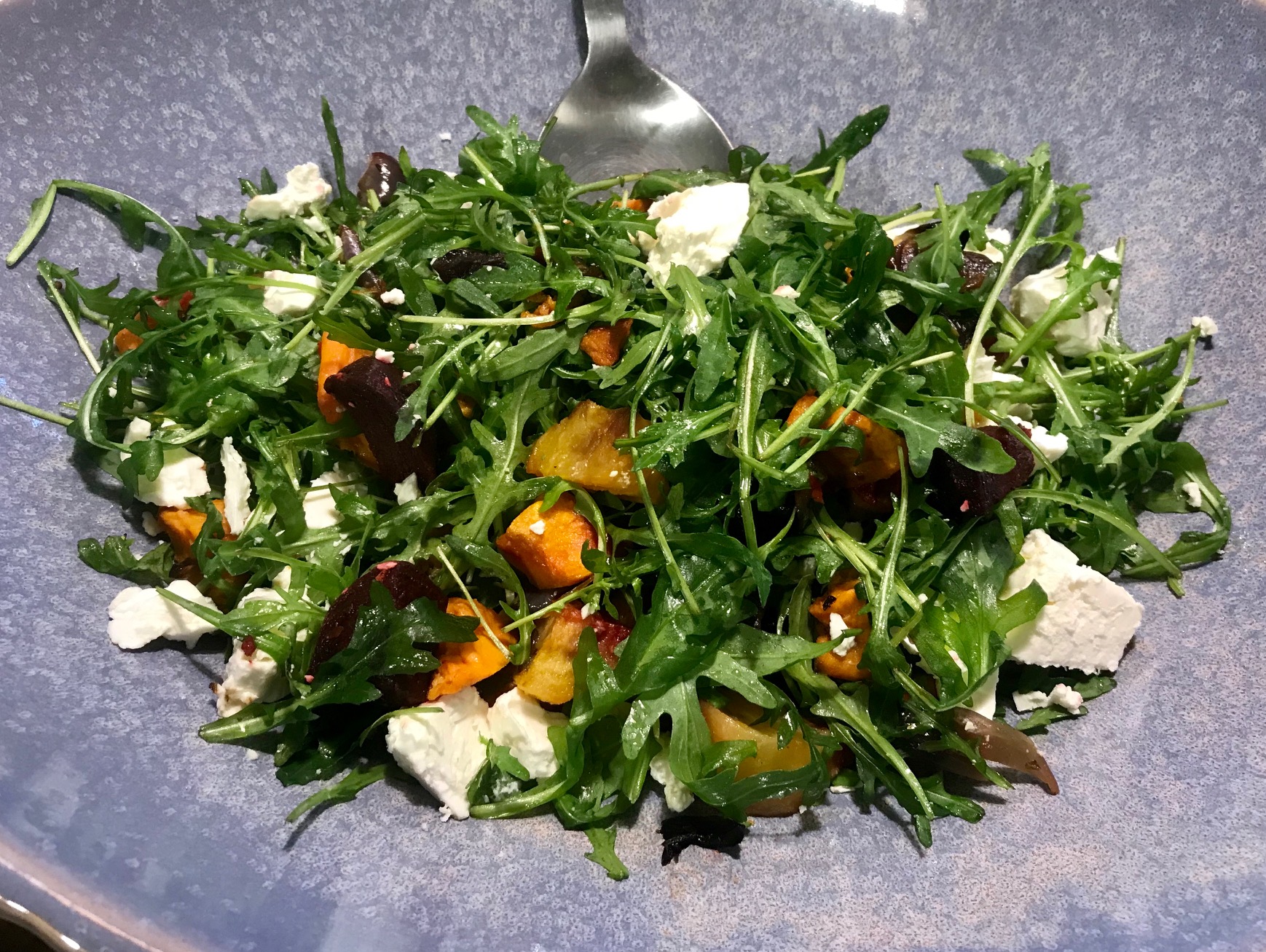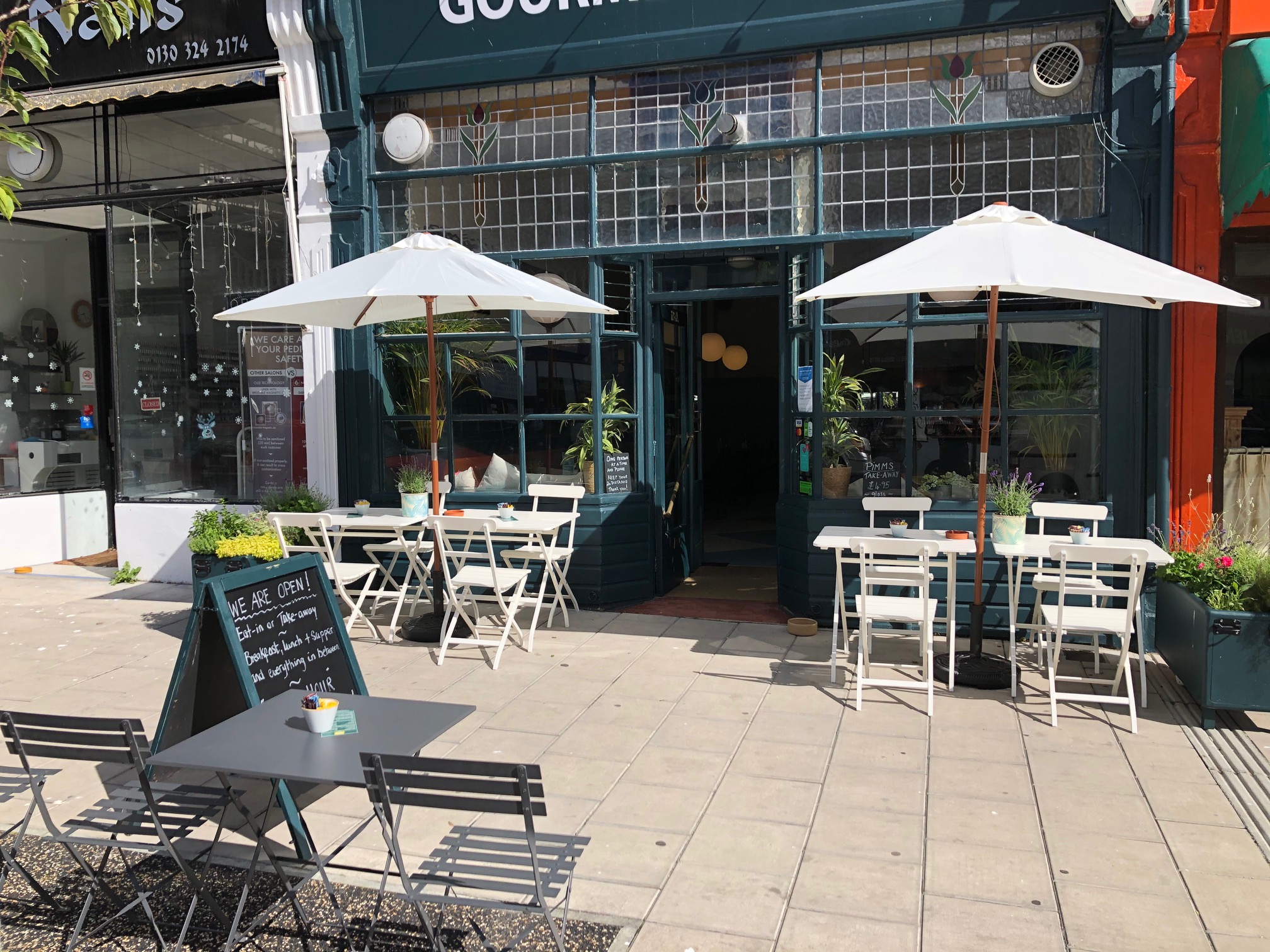 freshly baked cakes and quiches
"I spent the first few months after we opened in the kitchen to get to grips with our menu.  My plan was always to come out front and meet the customers, so now my son, and his friend run the kitchen.  With experience of working at The Ivy in London, they're here for a less stressful way of life.  We have signature dishes such as our quiche and giant sausage rolls which go very nicely in our custom-made picnic baskets.  
"What I always wanted to offer was a restaurant where you could always get something to eat.  You might want to just pop in for coffee and cake, or you might want lunch with a beer, wine or tea.  We've got a café where we offer fresh fish cakes using locally sourced fish, or a chicken salad.  You can sit on the sunny side of the street, eat and enjoy life!"
community connections
"It's important at this time to make sure the customers know we've got their safety in mind.  We actually shut the week before lockdown was announced as I felt it wasn't responsible to be open.  I'd worked out how I could run a take-away service and we opened that in June 2020.  That's still working now as part of our offering.   What we also did in lockdown was to cook for the local Rainbow Centre, who provide support for the homeless and people in dire situations.  It just felt the right thing to do, and they're just over the road from us.  Every Tuesday and Friday I'd cook up ingredients they'd given me, or from funds we'd raised to provide meals.
"We're open again now, with fewer tables, but we're busy even so!  The regulars we had before have returned, and we've made new customers with our take-away service.  We fill a gap here in Folkestone.  We're in the west end which has fewer eating places than down by the Harbour, and we're offering something slightly different too.  Come and try our casual dining experience and you'll find out."
Discover more about folkestone below