Wűnder habour – A bavarian celebration
Folkestone Harbour is the place for a celebration.  Their autumnal fair, set to make a regular appearance, is Wűnder Harbour.  This traditional Bavarian Weekender in the Goods Yard is an event paying homage to Munich's Oktoberfest but with the Folkestone Harbour twist. In September 2023, this extravaganza saw a hog roast from Pork & Co washed down with steins of beer from Barney and the Pizza; traditional flame-grilled bratwurst from The Meat Shack; pretzels from The Dessert Folkes and Bavarian brass bands.  Folkelife was there to enjoy the experience.
magic musical moments
Live music accompanied each day with Sam Ashton and The Instincts kicking off Friday night.  The steins were available to hire or buy, and many went off with a souvenir of the evening.
On Saturday The Bettensteiner Footstompers Oompah Band roused everyone into action. Complete with Bavarian costume they played the crowd pleasers that you would expect such as Bayern, Des Samma Mia (Bavarians, that's what we are, Bavarians and Bavarian beer…and so on), and Ein Prosit der Gemütlichkeit which brings everyone swaying with their steins in hand. Edelweiss is always popular and the crowd needed no encouragement to join in. There were also lesser Bavarian-influenced songs, but certainly worth a singalong with a brass band, Oom Pa Pa and Sweet Caroline which had everyone stomping along, and not forgetting the conga to Is This The Way To Amarillo.  If you want to hear everyone in the Goods Yard join in, then don't miss out next year.  The Yard was packed out and their (not so) dulcet tones could be heard by Martello Tower No 3 on the East Cliff.
The Native Oyster Band brought chilled sunny Sunday afternoon vibes to the Yard.  Possibly some were nursing slightly sore heads but nothing a battered bratwurst from The Fish Shack couldn't sort out.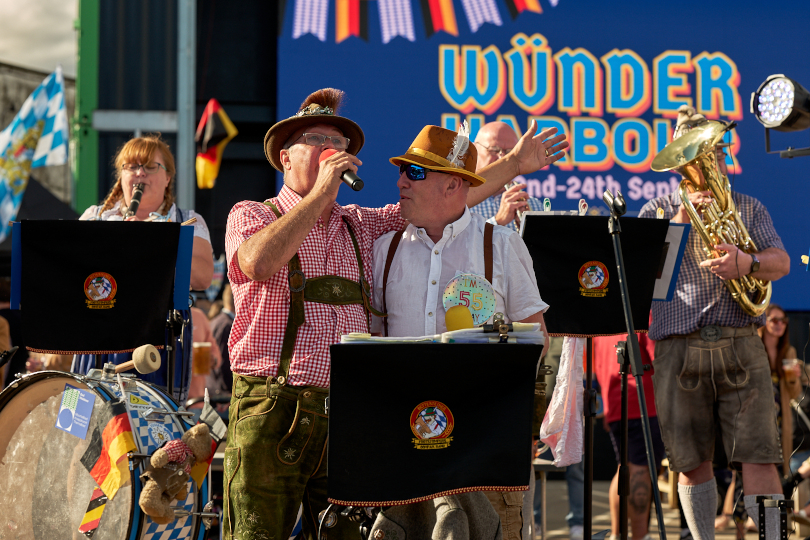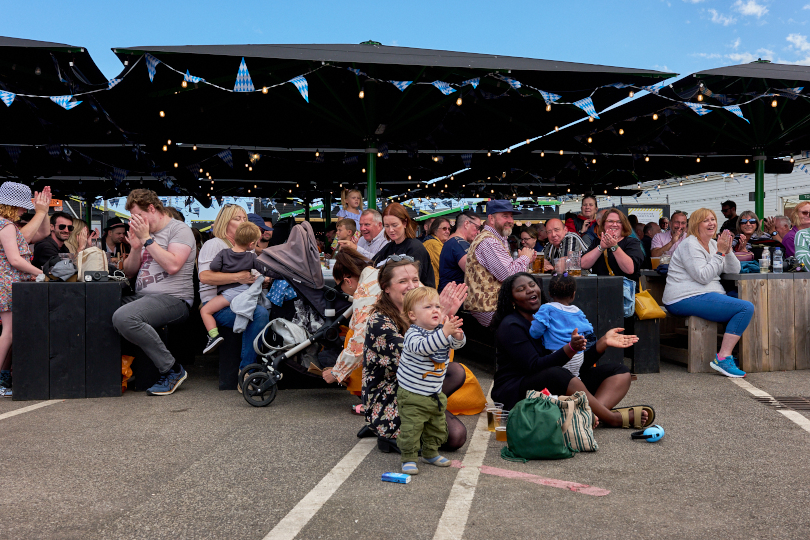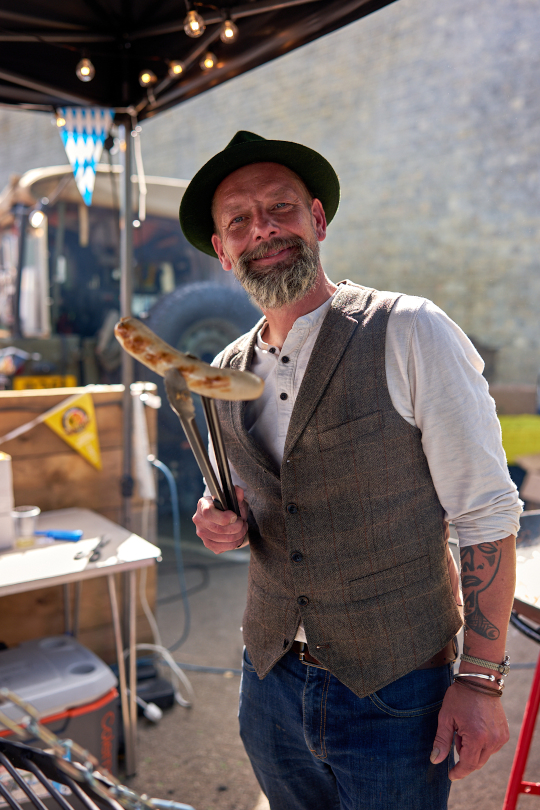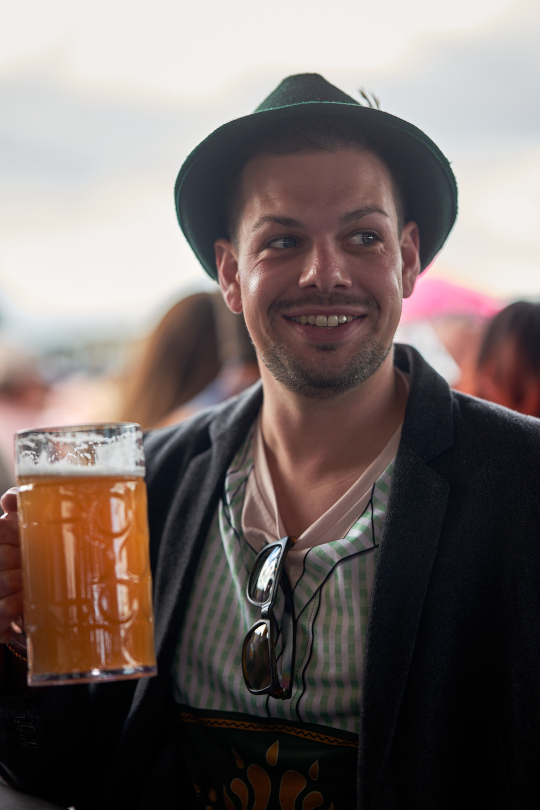 bring on the hog
For Saturday, Sam and the team at Pork & Co had roasted a herby hog for the celebrations.  The queues for this and the flame-grilled bratwurst from The Meat Shack ran around The Goods Yard and all was gone by 2.30pm.  Note for next year to get in there quick!
Pretzels of different flavours were available from The Dessert Folkes and you could also buy some non-edible pretzel earrings in the Marketplace just next door.  The traders here have some fantastic additions to any Harbour party.
next year
The party-goers got into the spirit of the weekend too.  Many dressed up, donning shorts, lederhosen, wigs and hats which must have helped with their singing too.  It's safe to say, when Folkestone Harbour put on a party, it has a wonderful twist, fantastic food and great vibes all weekend. Wűnder Harbour was a great success and so expect bigger and more Bavarian in 2024.
discover more about folkestone below