Festive Harbour marketplace – clothes
Folkestone Festive Harbour Marketplace opens on Friday 17th November at 4pm.  Open every weekend from 11am to 6pm until Christmas Eve and for late night shopping on Fridays 4-8pm, there's a lot for people to enjoy.  There's artwork, food and drink, clothing and accessories – for you or your dog.  Folkelife gives you a rundown of what you can find:
wetsuit rescue
It's good to feel good about the gifts you buy, and here you can find items that have been made from unwanted wetsuits.  Lorna Dorne works with her local community diverting wetsuits from landfill and transforms them into bags and accessories.  Wetsuits alone create 380 tonnes of non-biodegradabe waste every year.  "I'm really looking forward to showcasing my Christmas-themed wetsuit designs at Folkestone Festive Marketplace and meeting the community here.  I'll have a wetsuit donation bin ready to help you recycle any unwanted suits you may have. Come and say hello and see what those old wetsuits can become!"
stuart austen clothing
James' hut will be open this Christmas with a wealth of lighthouse themed clothing.  "It's a fantastic location to be able to sell and connect with the customers locally in a thriving creative environment.  The coastal location and lighthouse are a perfect match for my brand which is inspired by a lighthouse model my late grandfather made me when I was 8 years old." 
Every trader at the Festive Marketplace has a personal story to tell about their creations.  Not only does every sale support a local creative business, but it builds the community connected to Folkestone Harbour.
goodman clothing
Returning for a second year, Goodman Clothing bring their countryside-inspired embroidered clothing to Folkestone Harbour.  Each garment is made from soft, luxurious, organic cotton.  Their embroidered images are designed to be 'conversation starters'.  If you know someone, or indeed you are that person who loves cows, tractors, Land Rovers and more farm machinery, you're going to find exactly what you want here.
Beach bums
Beach Bums are another Harbour Marketplace regular joining us for the festive season.  They print every garment themselves and focus on organic, sustainable cotton to carry their designs.  Being a cross between surfers and skaters, you'll find seaside-skating-inspired designs here for the one who loves one or both those activities.
the house of dawg
But wait, all this clothing for humans, what about my dog? Fear not, our little pooches will be well catered for with the coolest coats, bandanas, collars and more from Baxter's Boutique – The House of Dawg.  Baxter's owners needed somewhere to sell the wonderful items they'd found and made for him, because he can't possibly wear it all himself.  They will be fully-festively attired once you've finished here.  And you might even get to meet the man himself as Baxter does make the occasional visit.  It's like the dog equivalent of meeting Santa.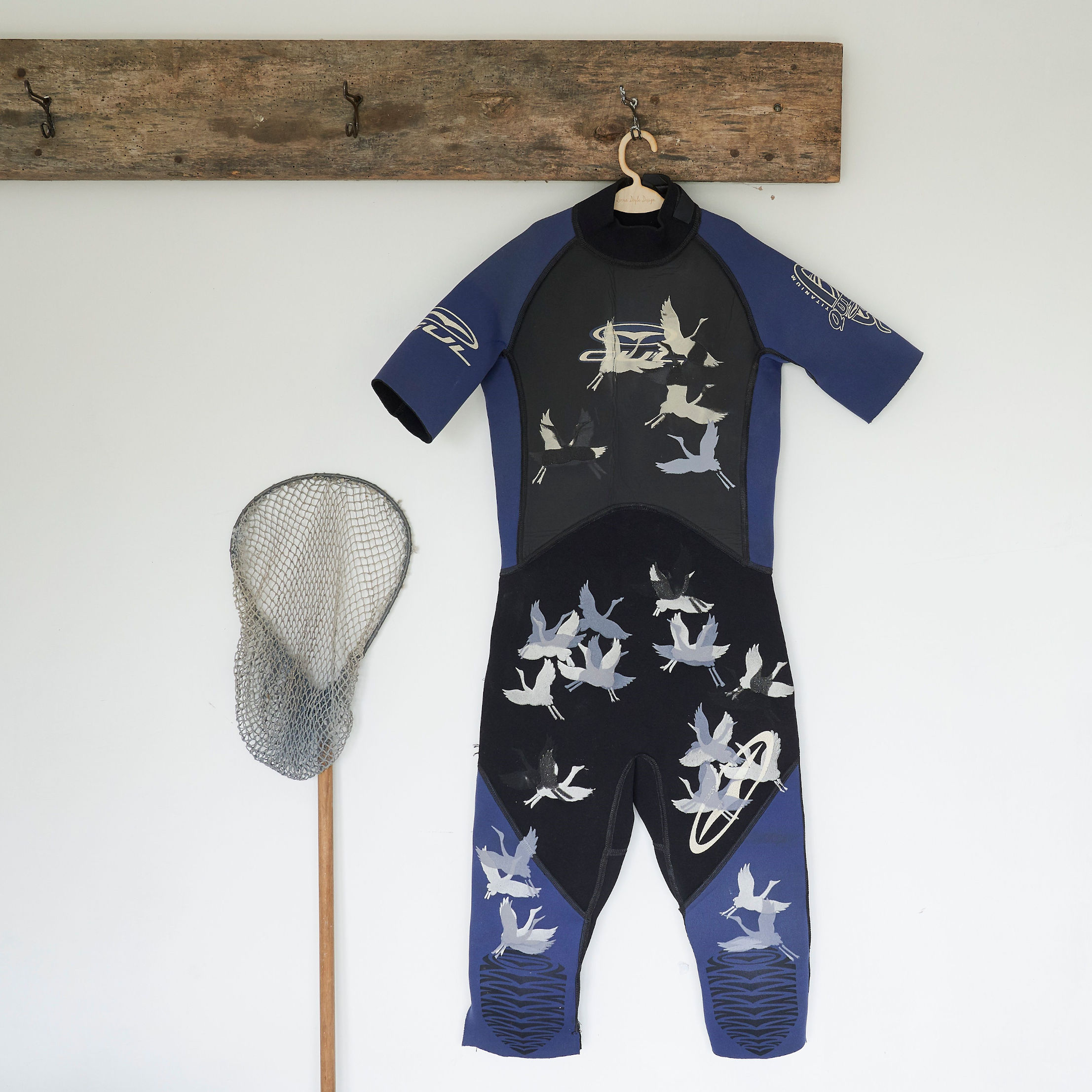 red one design
Red One Design has been a regular at the Folkestone Marketplace since it opened during Covid.  Every item they create is a one-off, unique design due to the eco-friendly ice-dying technique used.  It's not tie-dye.  This is far more environmentally conscious.
dicky smiles
Arron 'Dicky' Smiles has been running his hut throughout the summer.  It's a place where you can design your own clothing using transfers of characters Arron has created.  For Christmas expect an irreverent poke at the commercialism of the festive season with Satan's Grotto.  Here, Dicky Smiles and his alter-ego Anti-Christ Mallard will invite you to explore just how naughty you've been this year and how you should be rewarded.
"There will be the usual beanies and socks, plus thicker organic cotton t-shirts, hoodies and trackies with my characters and phrases on.  Look out for Christmas Stockings that you will be able to design and print yourselves, and if you're really naughty, you get to sit on Anti-Christ Mallard's knee and tell her all about it."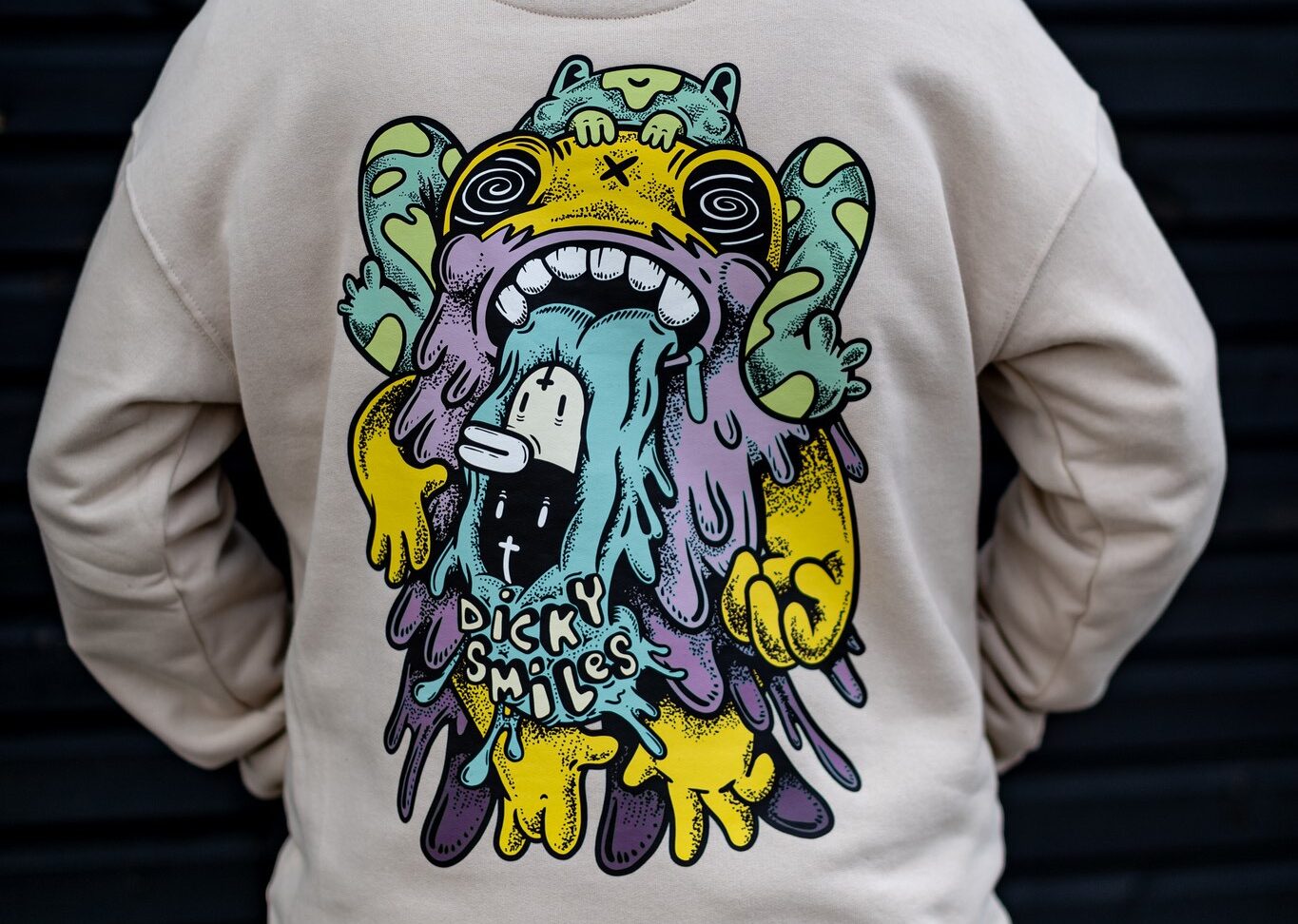 discover more about folkestone below