harbourside at the Folkestone harbour
Folkestone's Harbour has undergone extensive renovations since 2014 to become one of Kent's most popular visitor attractions.  Folkestone is part of Kent's Heritage Coast, which is the only UK destination mentioned in the Lonely Planet guide for 2022 in their top 10 regions to visit in the world.  Each part of the Harbour Arm site has its own unique feel and Harbourside is no exception. Nestled on the eastern side of the Arm it boasts stunning views over Sunny Sands to The Warren and the White Cliffs.  On bright days France is crystal clear, but everyday is different and spectacular.  The newly-renovated containers are about to open with exciting food venues, some run by familiar faces.  Paulo Kingston-Correia is the Folkestone Harbour & Seafront Company's General Manager and he spoke to Folkelife about Harbourside.
creating a feeling
"In everything we do on the Harbour Arm we're looking to support new creative people with their ideas.  We're not afraid to take risks and see what works. What's exciting about our first two businesses to move into the larger shipping containers on Harbourside is that they're already part of our Harbour Arm family.  Mark Babins has run Sole Kitchen, Harbour Coffee Company and The Fish Shack in The Goods Yard.  He's now growing into a new space here just next to Harbour Coffee Company. Paula Cambra joined us 2 years' ago with her Minutas Al Paso trailer.  She's now ready to take on a 40+ cover restaurant to share her Argentinian roots."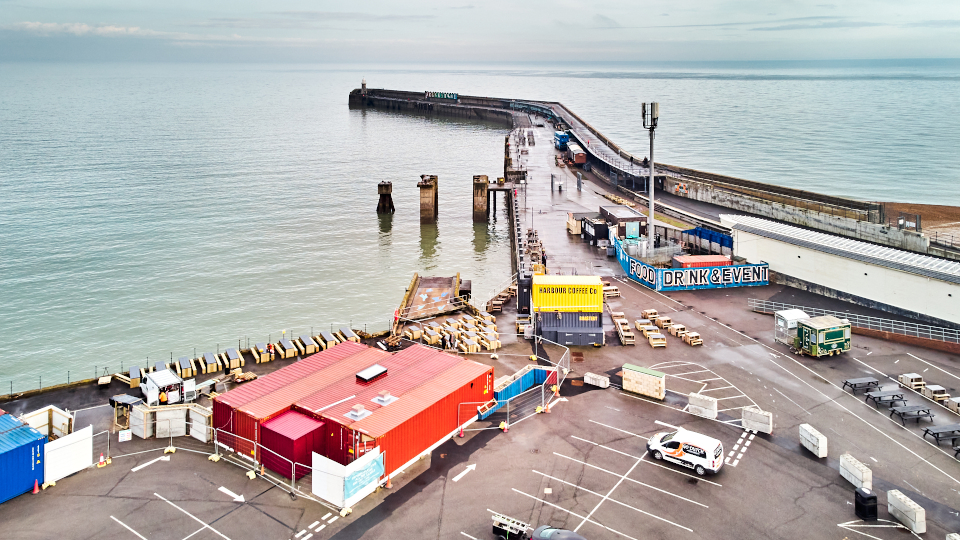 portenio
Paula Cambra has run her Argentine-inspired Minutas Al Paso on the Harbour Arm since October 2021 after a brief summer on The Stade opposite.  "Being on the Harbour Arm is the right place for me.  I feel at home here; it's everything that I am – quirky, adventurous, experimental.  I feel comfortable and able to express who I am in the food that I serve here. 
"I've found that people are also happy to take my advice and be adventurous in what they eat.  They ask me if they will like it and I make sure that they do, but also that they're getting the real taste of Argentina in the food that I make.  All my recipes are inspired by my family; my mother and grandmother.  It's really important to me that I can create a restaurant here in the UK that is something you'd find in Argentina.  We might only have 3 steaks on offer, but they're going to be cooked the way we would at home, and they're going to be juicy and perfect.  I wouldn't serve it otherwise!"
People of the port
"The name Portenio means 'people of the port'.  I'm a Portenia (feminine) as my family immigrated to Argentina as did so many others over the last century.  I have Spanish, Austrian and Italian in my heritage.  There's a huge mixture of nationalities in Argentina and we all belong. That's one of the feelings I want to get across in my restaurant; you'll come in and be welcomed and there's a feel that it's a place for everyone.  The furniture is upcycled and it might not all be from the same set, but it's a mix of colours that come together, everything has its place. 
"I have to emphasise too that football is very important so there is a Chapel of Football in one corner.  There you will be able to acknowledge Santa Maradona and Golden Messi, and the shrine to the World Cup complete with votive candles.  Also note that at the next World Cup everyone will be welcome, especially Argentinian supporters (I might even give away free beer, I'll have to think about that one!)."
argentine grill
"Asado is a meal that has been cooked on a parrilla – a grill.  Traditionally the focus is meat but we'll have fish and vegetable main dishes.  There will also be the popular items from Minutas like the empanadas and, of course, the churros.  I'll have other puddings too, ice creams and traditional flans.  My chimichurri is getting really popular now and I'm going to have to get my chef to sign a non-disclosure agreement so he doesn't share the recipe.  This is a closely guarded secret handed down through my family so that's quite important!
"I can't wait to start and grow into this space.  My trailer was lovely but it's far too small for what I want to offer.  I'm going to be working front of house so I can explain and guide people with the menu; I'll make sure you have some really good food whilst you're in my place."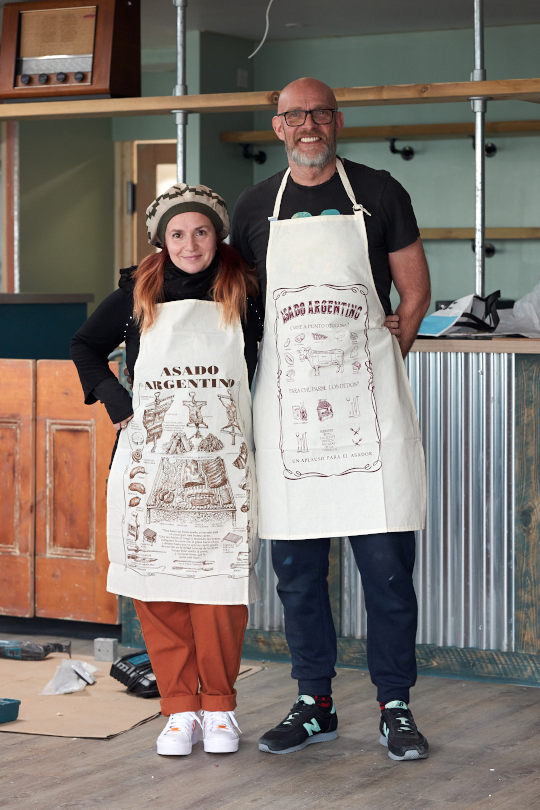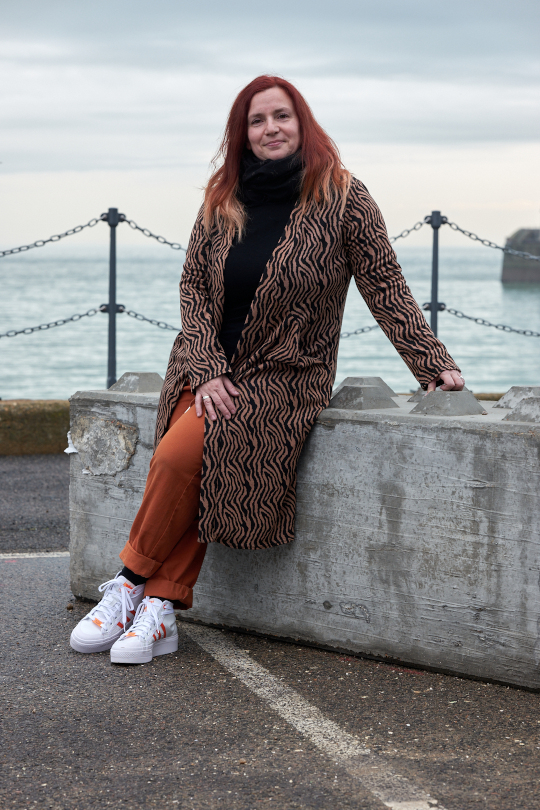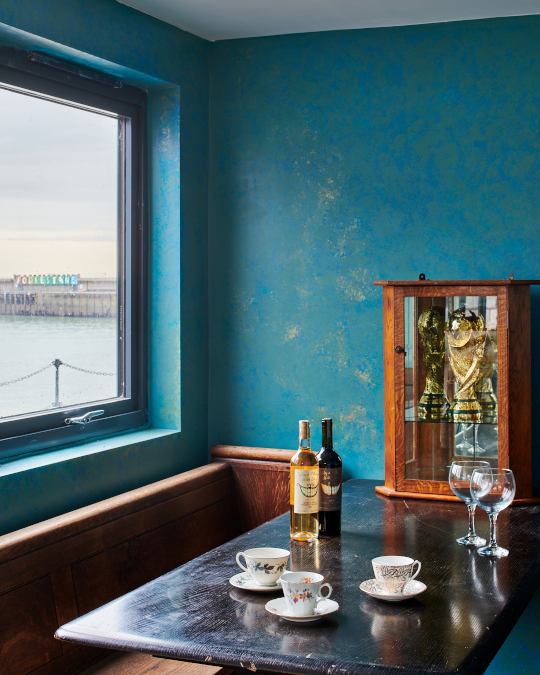 sailbox
Mark Babins has been part of the Harbour Arm traders since it opened in 2015.  Sole Kitchen started by selling fresh fish and chips and their own Harbour Coffee.  Now, with Harbour Coffee and their roasting container, The Fish Shack and the latest venue Sailbox, Mark can share his love of good food and exceptional coffee with every visitor to the Arm.
"I'd taken a break from hospitality and was working as a builder in 2015 when we started up Sole Kitchen with my partner Michael.  I wasn't really sure I wanted to get back into hospitality but we played around at weekends here, serving food for Salt Festival and other things and I really enjoyed it.  I'd bought a couple of small fryers off Ebay so we could serve our fish and chips and by the end of 2015 we'd made a little bit of money.   We were offered the gig to come back in 2016 so we bought some bigger fryers and did the same again. 
"Each year we've grown and grown, it's been staggering actually.  I did worry that if there were more traders then it would dilute trade for everyone but each year more and more people have come, more traders have come and so more people have come."
giving people what they want
"I like to offer food of a quality and standard that I would want to eat if I were going out.  So that's my plan, and it seems to be working.  The next thing with the Harbour Arm is that you really need to have space to sit down inside.  This is a fantastic venue, whatever the weather, but sometimes you need to experience that weather from inside rather than out.  When we expanded Harbour Coffee to be able to have seating inside it doubled our takings.  
"Last year we extended upwards with the Terrace on top of Harbour Coffee which again works really well, in good weather.  Now we've got Sailbox where we can offer all those breakfast/brunch and beyond menus that we've trialed in our other venues, and there's space to sit inside.  There are 60 covers inside, and when we open up outside it takes it to 150."
seaside Pub classics
"We have a reputation for always being open, and that's really important.  Expect that of Sailbox too.  Open for breakfast, brunch and on into the evening, and serving what I call seaside pub classics.  Fish and chips is a must, but I've left the menu open so that we can serve what people want.  Smoked kipper rolls and bacon butties for breakfast always went down well at Sole Kitchen, simple brioche and sausage rolls… there's always been a demand and so that's what we'll do.
"Our coffee is an important part of what we do too.  There'll be space to buy our roasted beans and it will be available from all our venues to drink too.  I'm all for organic growth.  I could push and push and market this, but it's growing in popularity because people are coming and tasting it, enjoying it, and buying it because it's good."
views to the warren
"What I love about being on this side of the Arm is the view.  Sailbox will have 40 foot bi-fold doors at the front which look out across the beach and to The Warren, and round to all along the Arm.   Once the doors are open and the tables outside there really isn't anywhere else I'd rather be than here.  If it rains, come inside, there's plenty of room.  We've also got our own toilets so you need never leave!  We're going to do our best to provide food that makes you want to come back again and again.
"I've been a part of the Harbour team for 6 years now and it's a good community down here.  I've dusted off my tools and have got stuck in with some of the build here, and I'll always help the others out too.  We're like a family here, it's something special."
Photo Credits: Harbour Arm at Sunrise: Dirk Seyfried, Orange House on Harbourside: Tilly Milnes, Interiors: Matt Rowe.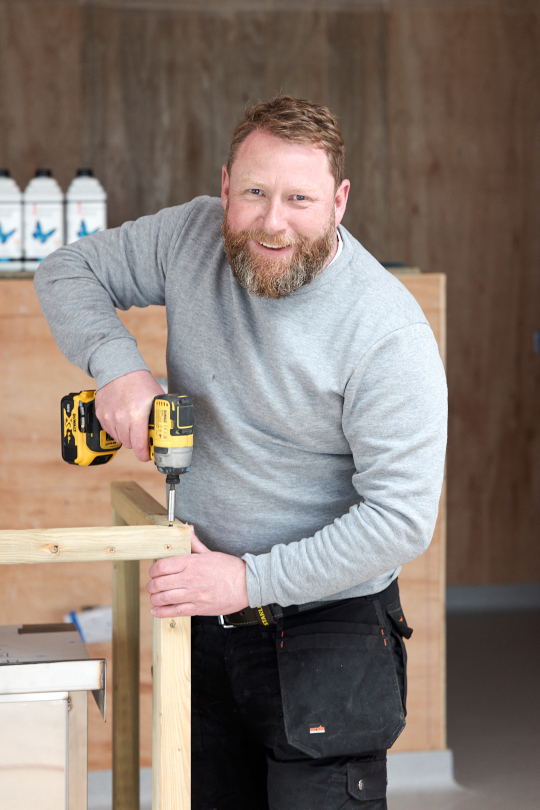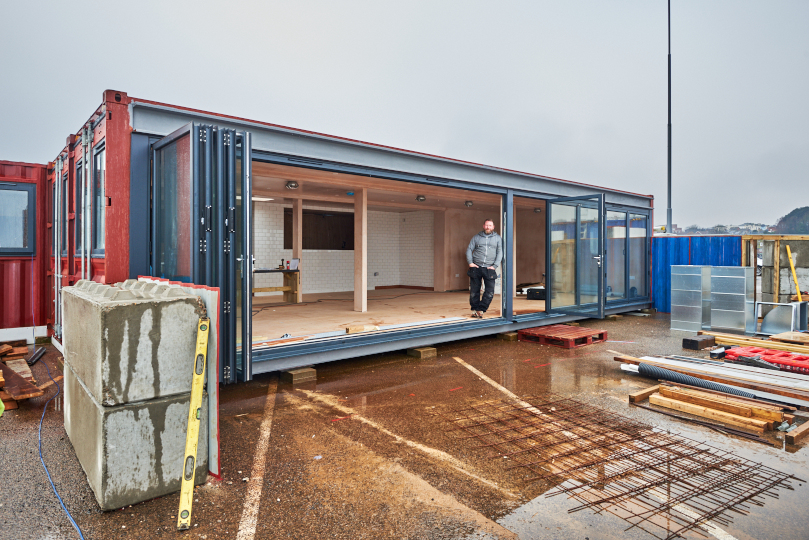 discover more about folkestone below