Little Amal – En Route Via Folkestone
Little Amal is a 3.5m tall puppet that has been making her way on an 8000km journey. She's traveled from the Syrian border, through Turkey and Europe to reach the UK.  'The Walk' has been created by the Good Chance Theatre and Handspring Puppet Company and is a walk of hope.  The 9 year old Syrian refugee that Little Amal represents is on a search for her mother, and sends a message to all of us to not forget about her and those she symbolises. Creative Folkestone and the Folkestone Fringe organised the welcome party for Little Amal in Folkestone.  Owen Kimm from Creative Folkestone spoke to Folkelife about why she was coming.
"Folkestone is the closest point to France.  So logistically, and to fit in with the narrative of this artwork, it makes sense for her first stop to be Folkestone on reaching the UK.  She arrived on October 19th at 4pm near the 'Out Of Tune' bell artwork on the beach to the west of the Harbour Arm.  After, she walked through into the Harbour Station where 500 local singers, and a huge crowd from Folkestone welcomed her.  It was a wonderful thing to witness.  The song they sang was specially composed by Anil Sebastian from the London Contemporary Singers.  Local refugees from KRAN (Kent Refugee Action Network) helped write the lyrics which talk of welcoming Amal and of her being a sign of hope."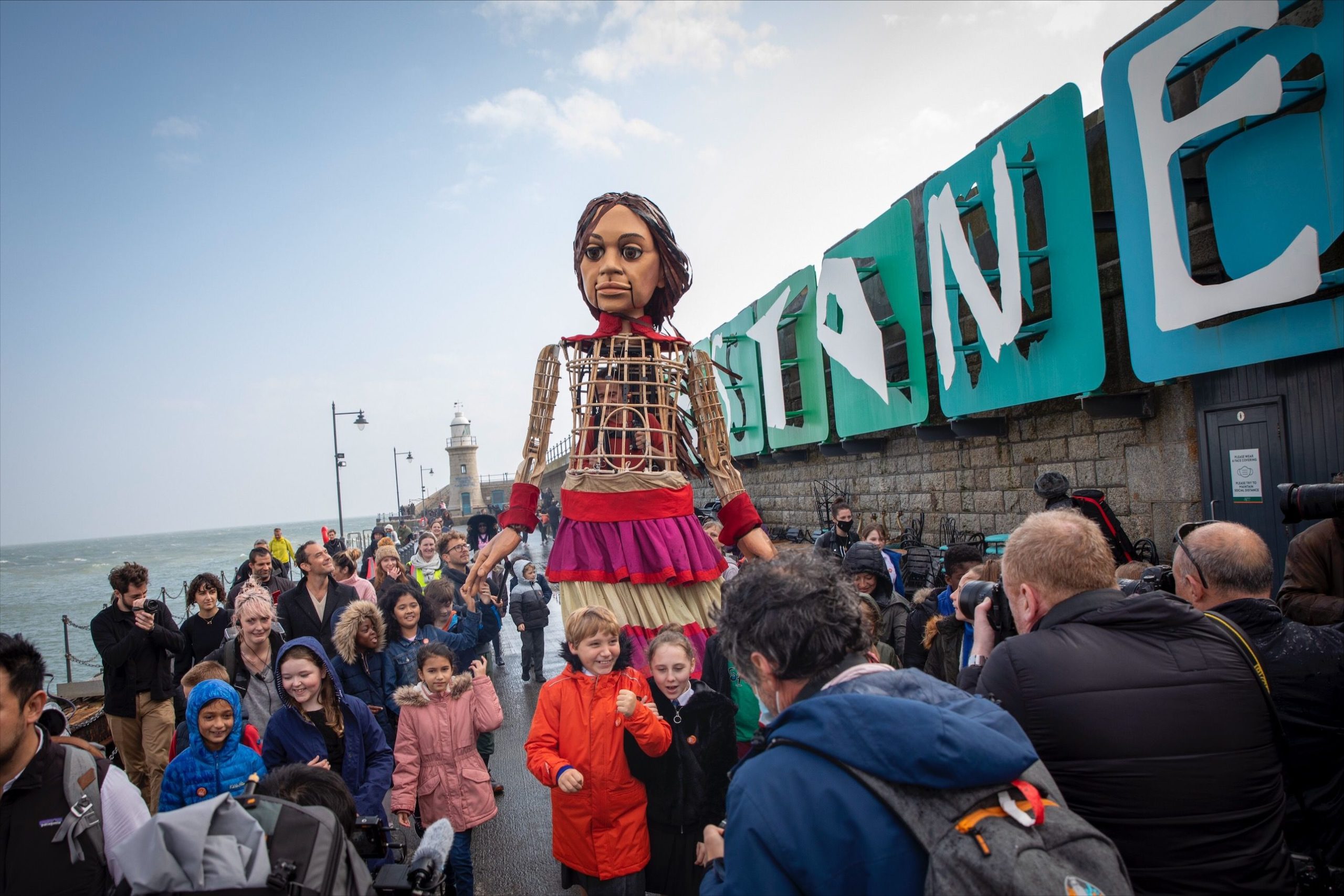 Walk with amal
"This puppet is 3.5m tall and the story that it represents is something that we're all living through now.  The Walk is an extraordinary cultural and artistic response to what's happening globally, which has crossed so many borders in reaching us here.  Folkestone is absolutely the best place for Little Amal to take her first steps on British soil, not just for our geographical location, but because of the creative centre we have created here.  This is a place where we can have art lead our discussions and open up creative thinking to help understand these issues."
jude law Peace One Day Ambassador
Actor Jude Law was in Folkestone to welcome Little Amal in his role as a Peace One Day Ambassador.  He's long supported raising awareness of the issues around refugees travelling to safer places.  Jude Law walked along holding Little Amal's hand and was surrounded by many local school children as part of the welcome.
Refugees from KRAN were also there to welcome the giant puppet and walked behind her as she made her way through the station.  A member of KRAN said the young people really took ownership of the afternoon. "This was their song, they helped write the lyrics and they were so proud to be a part of this event.  One young person said to me that they never wanted it to end.  The welcome that Little Amal got was transferred onto our refugees and they felt the love and kindness that everyone was showing this afternoon.  It was a wonderful and moving experience."
destination manchester
"After us, Little Amal went on to visit Dover, Canterbury and then onto London before arriving in Manchester.  You can follow the whole route of the walk on the Bloomberg Connects app which also has educational material as well as behind the scenes information.  There's an opportunity to donate to The Amal Fund which is supporting education opportunities for displaced children along Amal's route.  It's great that Folkestone was her first stop and we gave her such a welcome, I won't forget that in a long time."
To watch Little Amal's welcome to UK soil, view it here.
Photo credit: Little Amal with Jude Law in Folkestone, and Little Amal on Folkestone Harbour Arm – Andy Aitchison, In Folkestone Harbour Station – Helen Sharp, Other photos from Walk With Amal.org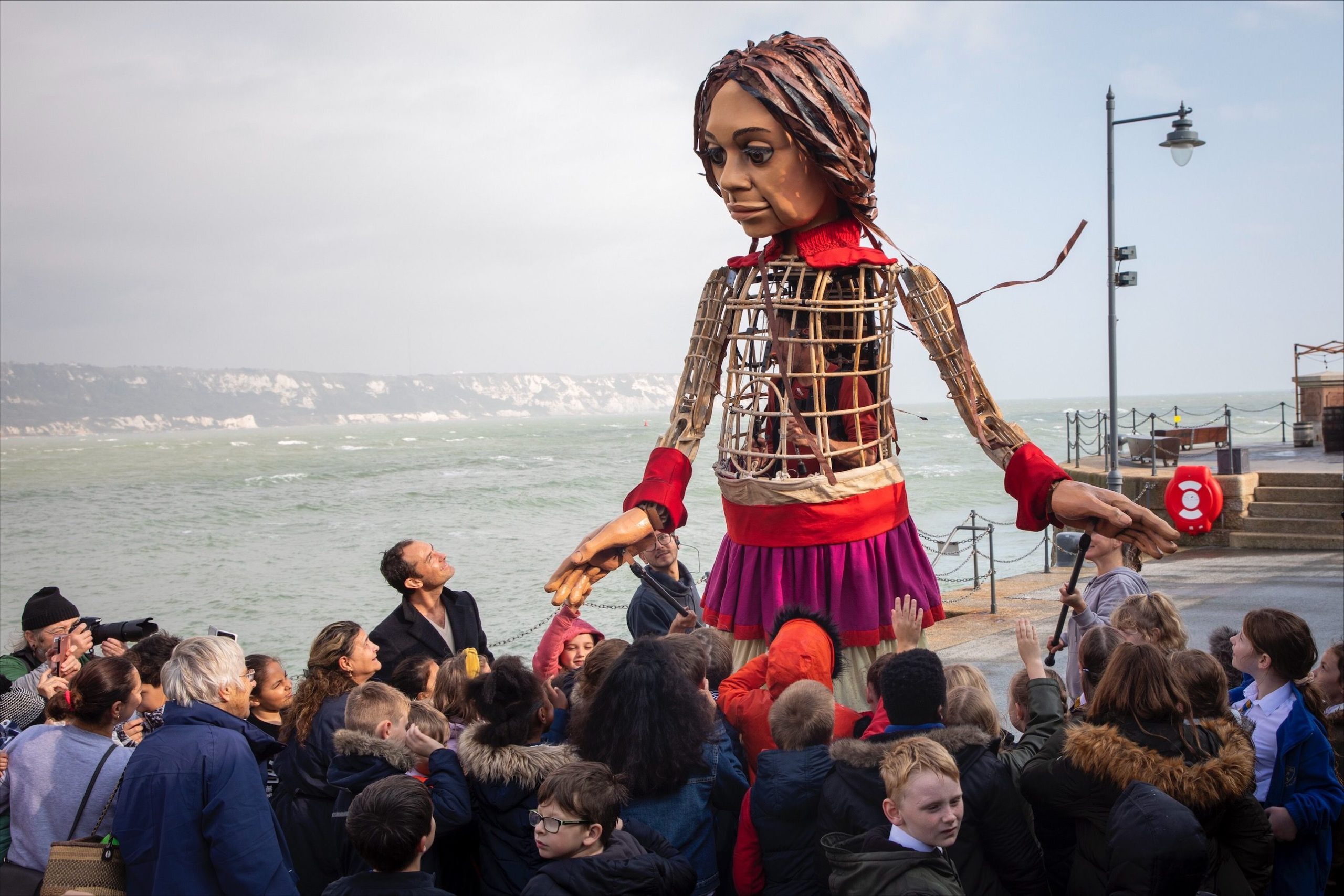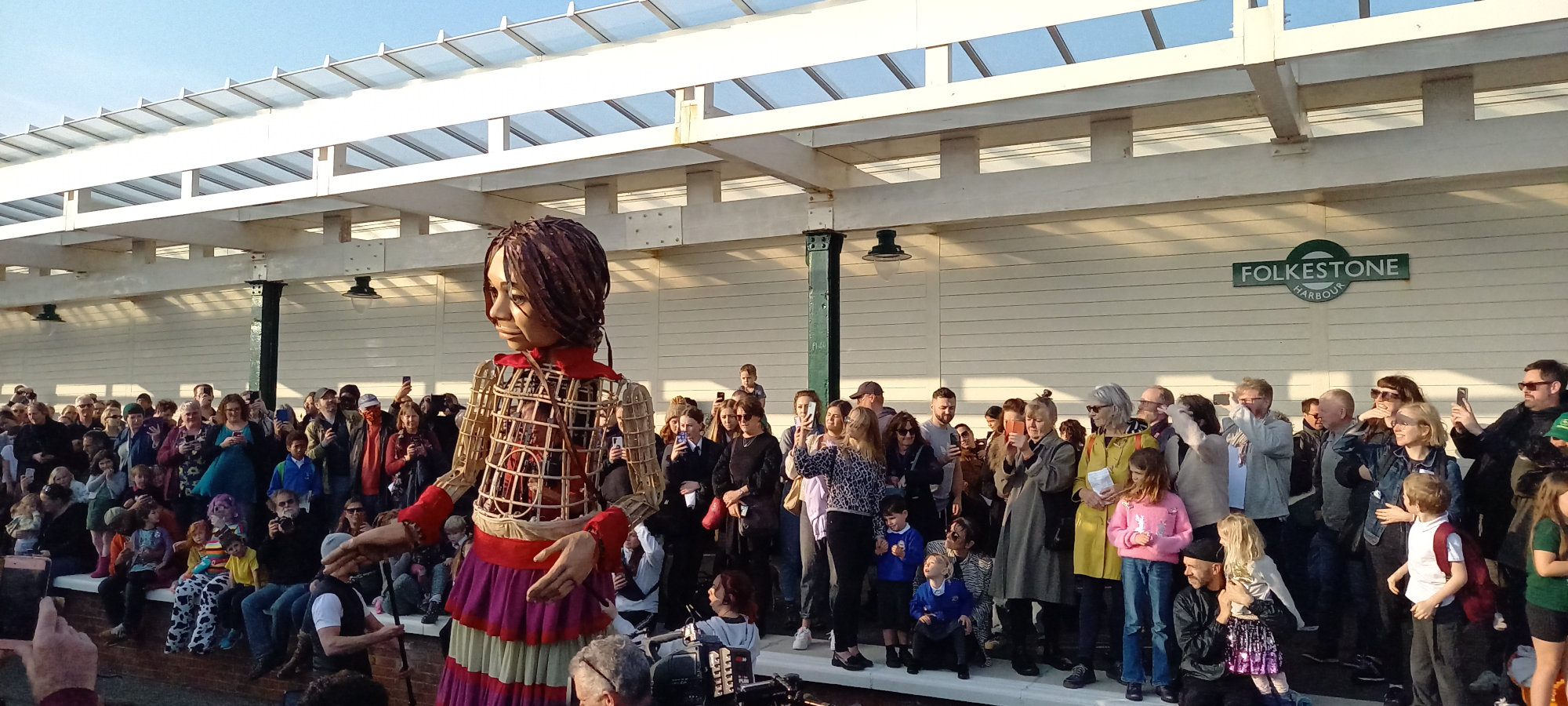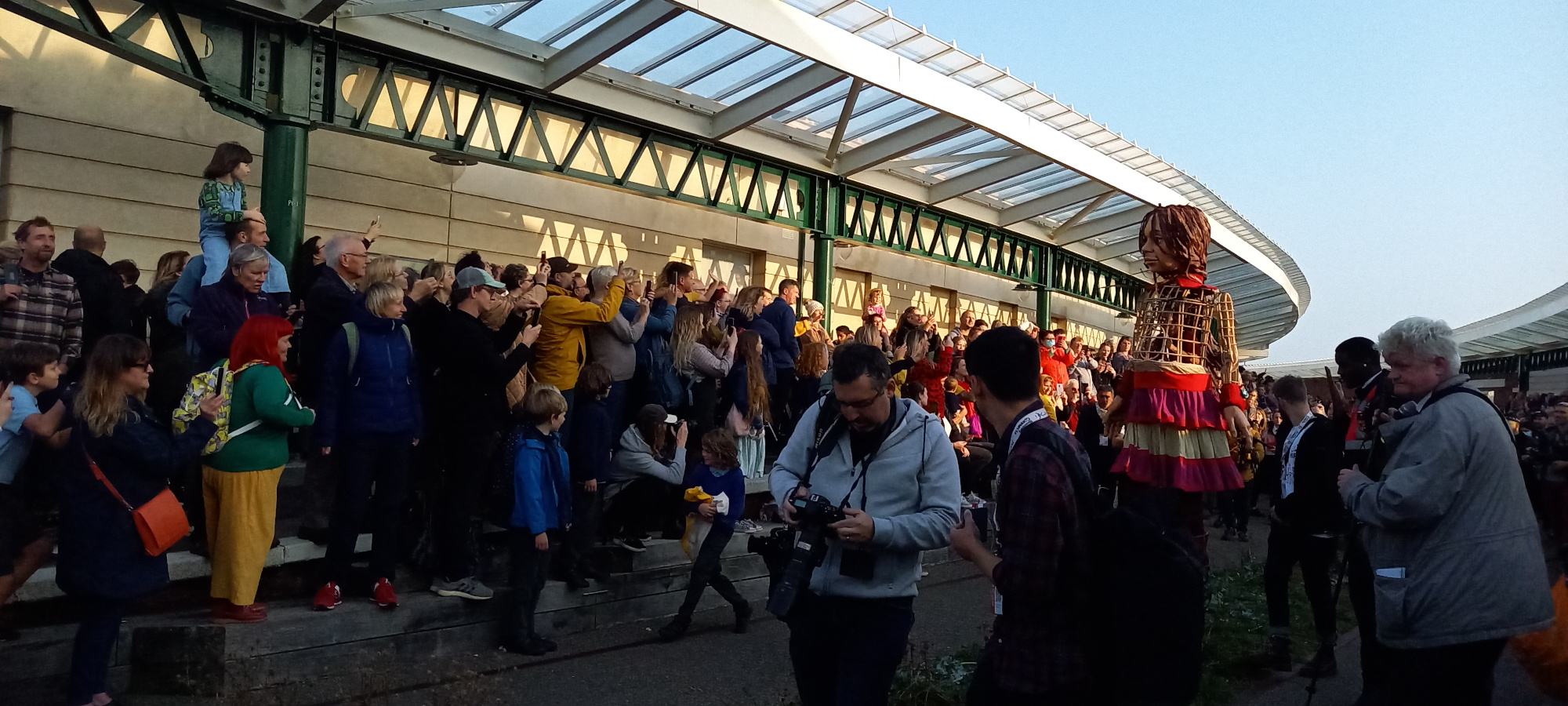 discover more about folkestone below