Chalets On The Beach – Folkestone Beach Huts
A beach hut makes playing and living by the sea an all-year-round activity.  Folkestone's beach huts on Marine Walk have been renovated with an additional 80 new huts installed.  The huts, situated near the Lower Leas Coastal Park, were part of the Creative Folkestone 2021 Triennial – The Plot.  Artist Rana Begum created a geometric kaleidoscope that stretches for over 1 kilometre, making it possibly the largest artwork in the world.
The ownership of the huts has reverted to Folkestone and Hythe District Council from the local builder who had owned them, and the rental lease lasts for 2 years.
New owners are taking possession of these huts and making their own mark on the inside.  Folkelife met a few of them.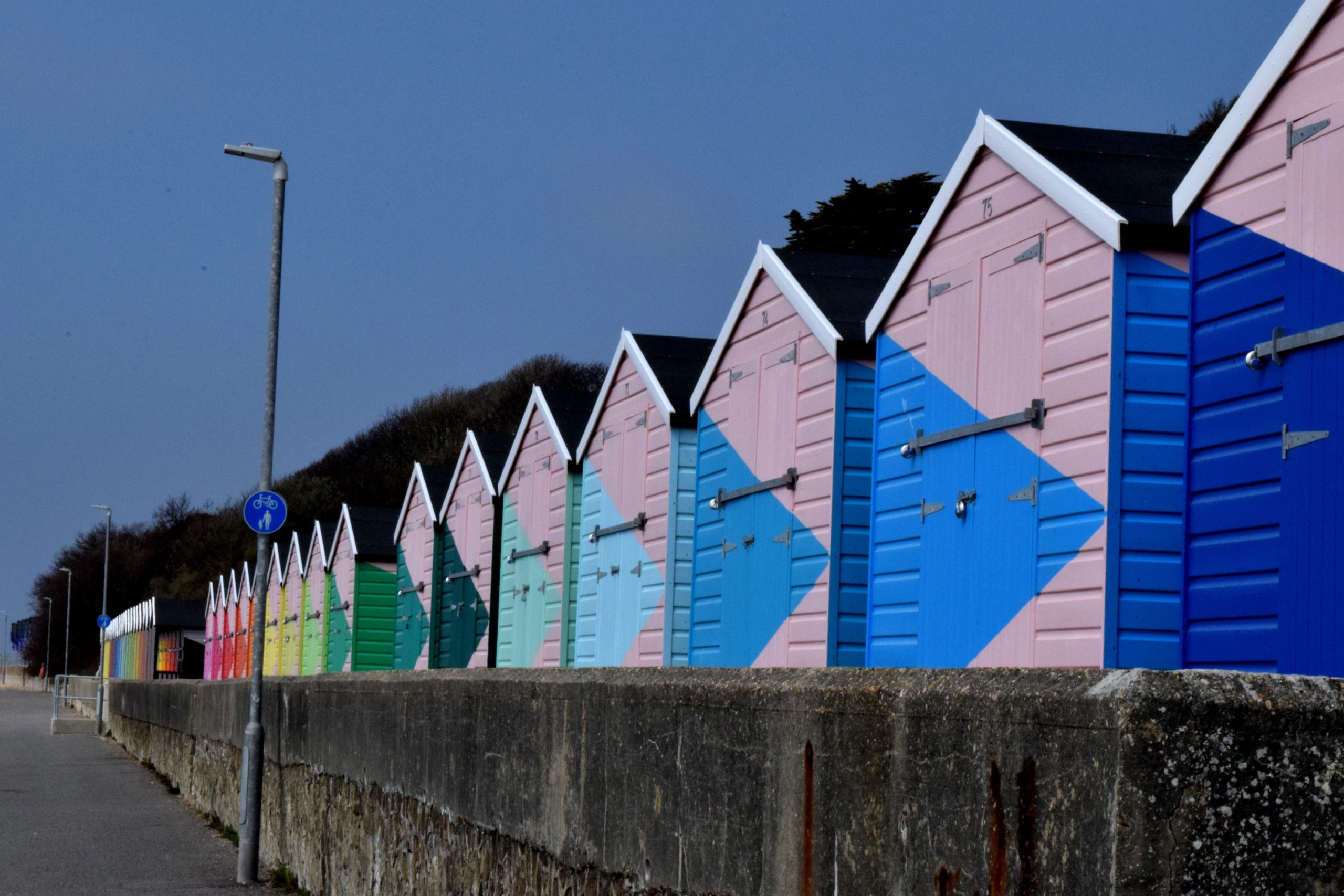 family holidays
Sally Hough has been waiting for a chalet for 10 years.  Whilst painting the lower half of the inside Dublin Green, she told Folkelife what beach life will be like for her: "Well, this is our holiday for this year.  We're going to come down here and enjoy it as much as we can.  My son just loves rock pooling and we're in the ideal spot.  He's completely obsessed with crustaceans.  I'm not sure he'll find lobsters, but he'll make a really good go at looking for crabs!  Both my children can swim from Mermaid Beach, which is just down the promenade and have already started to make friends with the neighbours. 
"There's a great community down here and everyone seems very friendly.  Some people have really gone to town in furnishing their hut.  One person has a fitted kitchen in there!  We're going to have a little camping gas set up in the corner and a bench across the back because who wouldn't want to look at that view?"
Books for Change
"My friend Emily is running Books For Change.  It's an initiative that came out of Black Lives Matter in 2020, to find books with more diverse characters and stories and make them more widely known.  She's going to be running one of her book sessions from here on a Thursday afternoon after school.  They're really informal gatherings, and a chance to discover different story books.  We're looking forward to coming along to that."
local food
"I've also heard that some of the local businesses have cottoned on to the huts being open and occupied now and are delivering cream teas!  Well, if they're not, then they should be!  It's going to be great down here though, as we've got ice cream that way, and food the other.  The sea is out front and what more could you ask for?"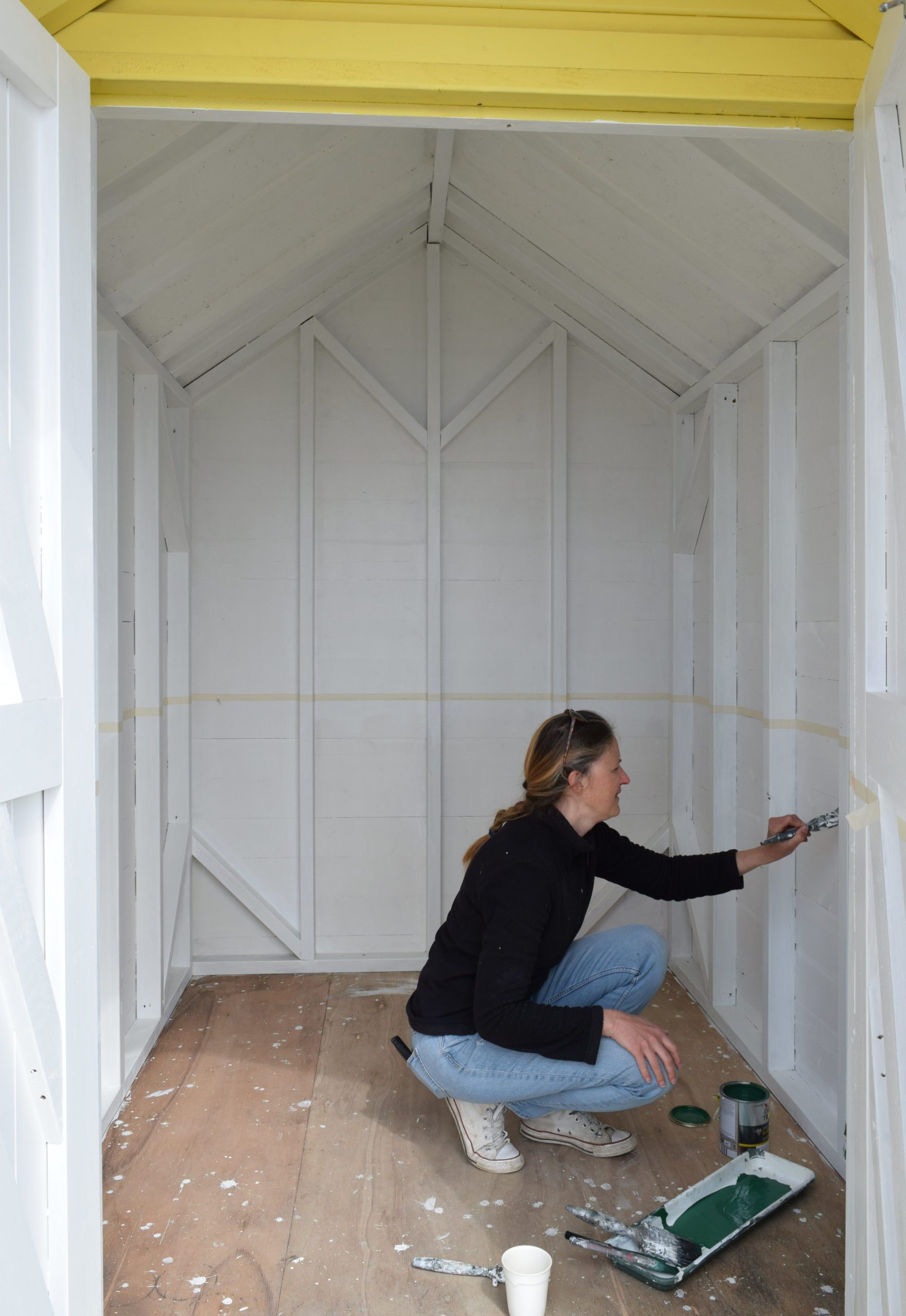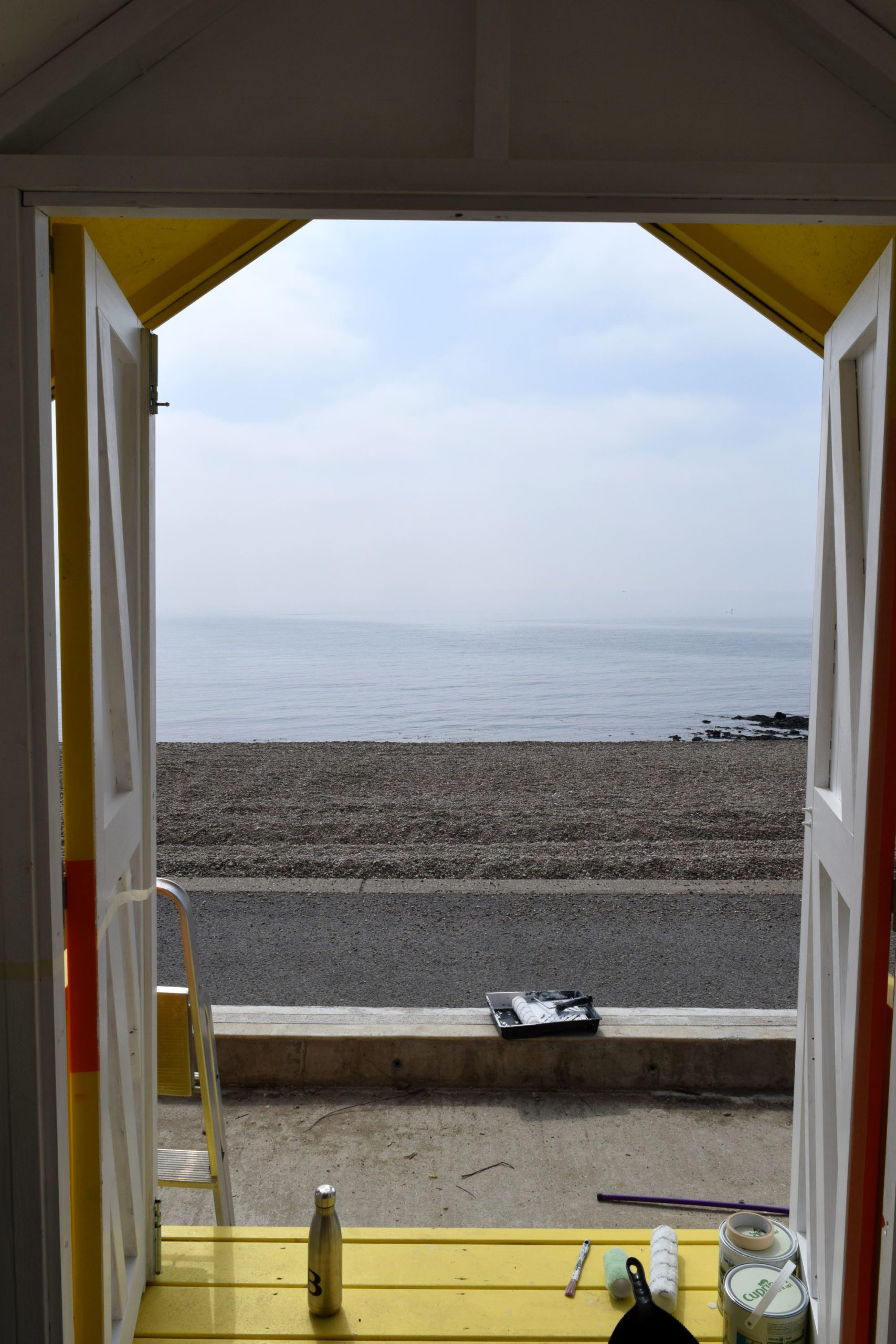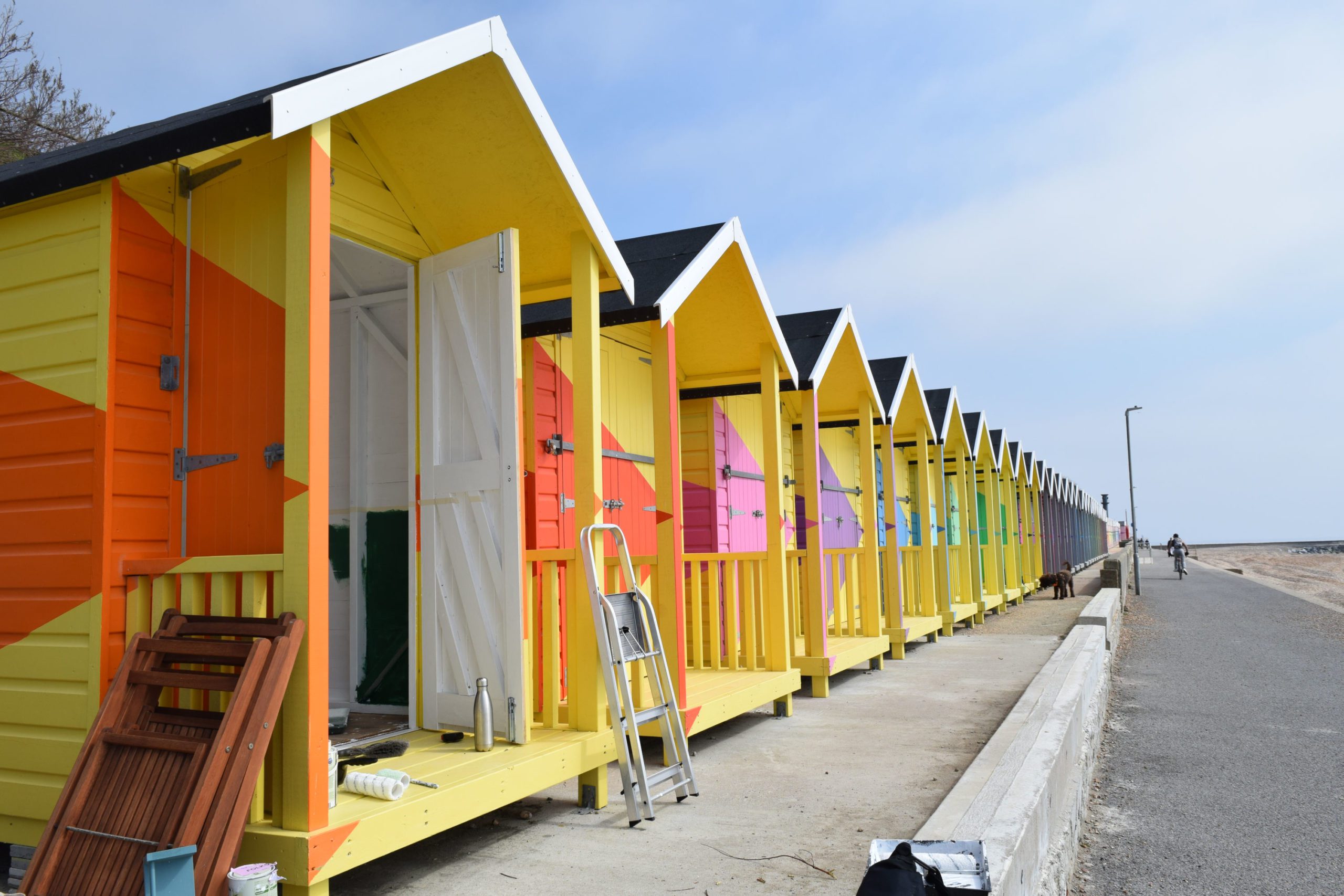 quiet retreat
Di Burns, up a few doors from Sally, is using her hut as a quiet retreat.  "I try to come down each morning with a cup of tea and start my day here.  It's beautifully quiet.  This is my place to paint, write, journal; my personal retreat.  Every day looks different; there are different waves, clouds, birds… No two days have been the same so far.  My dog Beau is here with me and it's a great place to watch people.  They stop to chat too, which is nice!  It's my place to sit and just appreciate where we live.
"I've not painted in the inside of mine, but decorated it with baskets and fairy lights.  I wanted to get in and use it straight away."
Sea Swimming
"I try to swim in the sea regularly so this is an ideal place to get ready and warm up afterwards.  The sea in front of my hut is quite rocky at low tide.  So, I'll be swimming here when the tide is in, or I can just pop down to Mermaid Beach and swim there if the tide is out.  
"If you live up in town like I do, it's really hard to know what the weather is going to be like down here.  It could be lovely and sunny there, and you realise when you get here that the sea fret is in and you can't see beyond your hand.  Other times, it could be really windy up there and it's calm down here. But that's the beauty of it, every day is different."
a select group
"All my neighbours have been delightful so far.  We're all just super happy to have a beach hut having had to wait so long!  Which, I suppose, does illicit some jealousy from those walking by!  It's nice to engage with those walking by too though.  Sometimes I feel like a tourist guide, which is quite funny.  But it's nice to know where people are from, if they're local or visiting and what they're enjoying about Folkestone."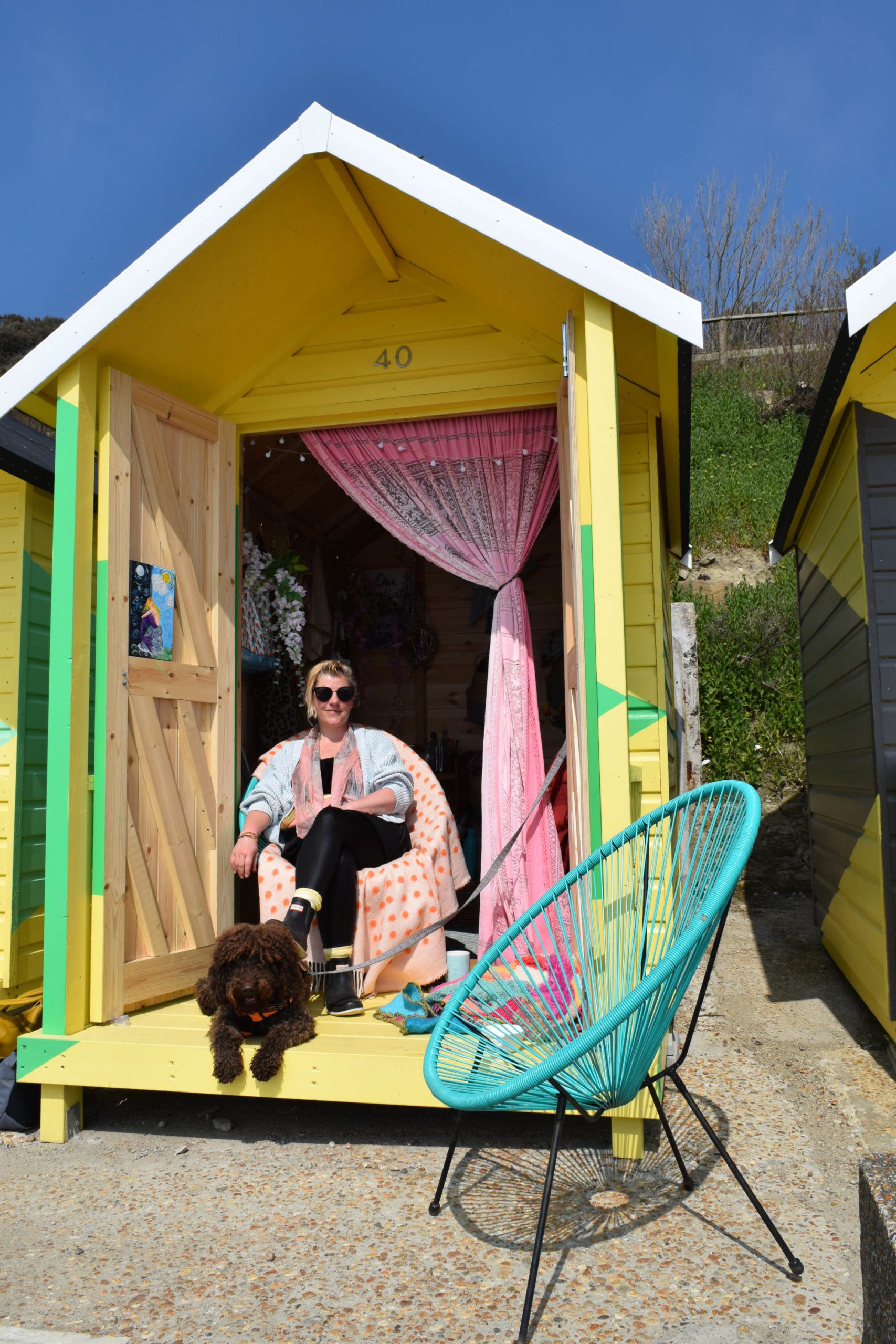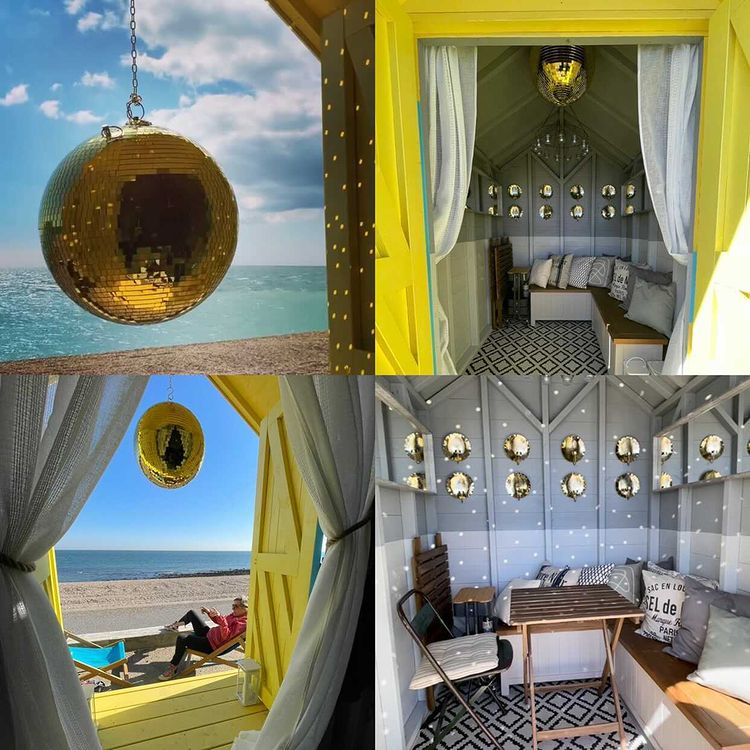 Purely pleasure
Fred Guyot Du Repaire and his friend Matt moved to Folkestone in 2014.  At first they came down at weekends. But as time has moved on, less and less time is spent in London and more work and home life is spent in Folkestone. "Folkestone is such a beautiful place.  I run an Instagram FolkestoneIsBeautiful because it really has something.  Each year it has grown and developed and has something that no other place we've found has, a certain je ne sais quoi!  When we were first here there were two places to eat; Googies and Rocksalt.  Now, we've got more choice than we ever had in London!"
sea sports
"We're SUPers (Stand Up Paddleboarders) and are really looking forward to walking down the ZigZag path and then getting on our boards to come to the Hut.  It's simply decorated so that we can fully appreciate the view from our deck chairs.  I see it as a place we can entertain friends with some decent food and wine, but also just to relax alone in the early morning when it's all quiet, before heading to work."
the glitterball
"We have a friend in Ibiza who said 'you have to get a glitterball' and it really adds something.  The sun shines off and just spreads that wonderful feeling.  We're going to have fun here, and why not? Why have a beach hut if you're not going to talk to the passers by?   All we need is a postcode for the Huts and then we can get food delivered here!"
Discover more about folkestone below