Plot E  – Houses and apartments near the harbour
Plot E is the latest proposed building in the development on the Harbour Seafront.  It will contain approximately 100 new homes.  Planning consent approved for the original masterplan of the area included an outline for this property.
sustainable housing
This is the penultimate development plot in the area called 'the crescents' and is situated on Marine Parade.  Six affordable houses are included in the designs. The fabrics used in the façades are optimised to reduce energy use and maximise daylight.  Consideration to the fabrics used also reduces the embodied carbon of the building.
Photovoltaic cells, solar shading, energy efficient systems and rainwater harvesting plans are included to support sustainable living.  Highly efficient heating, ventilation and air conditioning will be used from the outset to eliminate potential local sources of pollution.  This will maximise the use of low carbon and renewable electricity.   Biodiverse planting across the landscape links the crescents to the beach.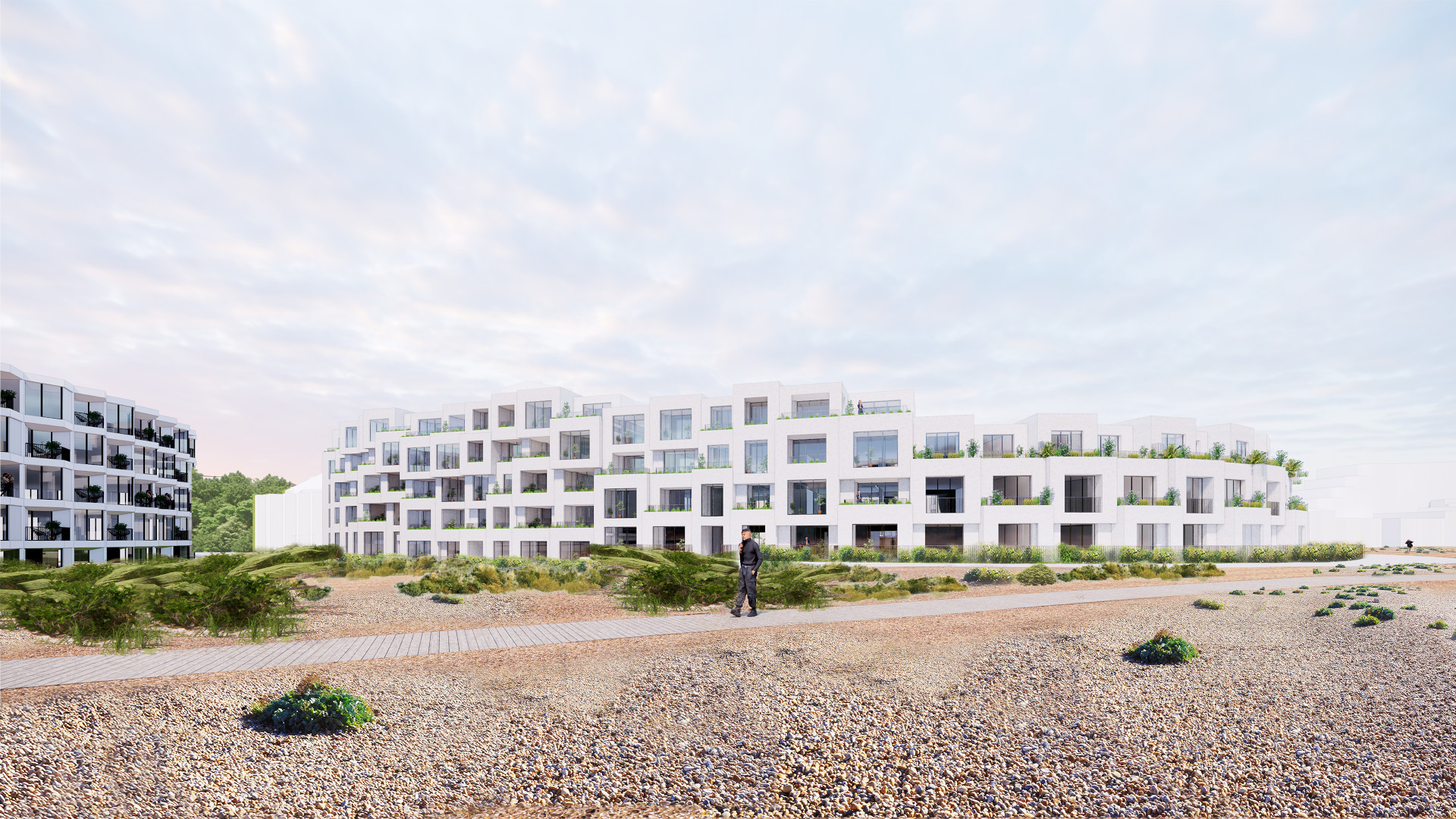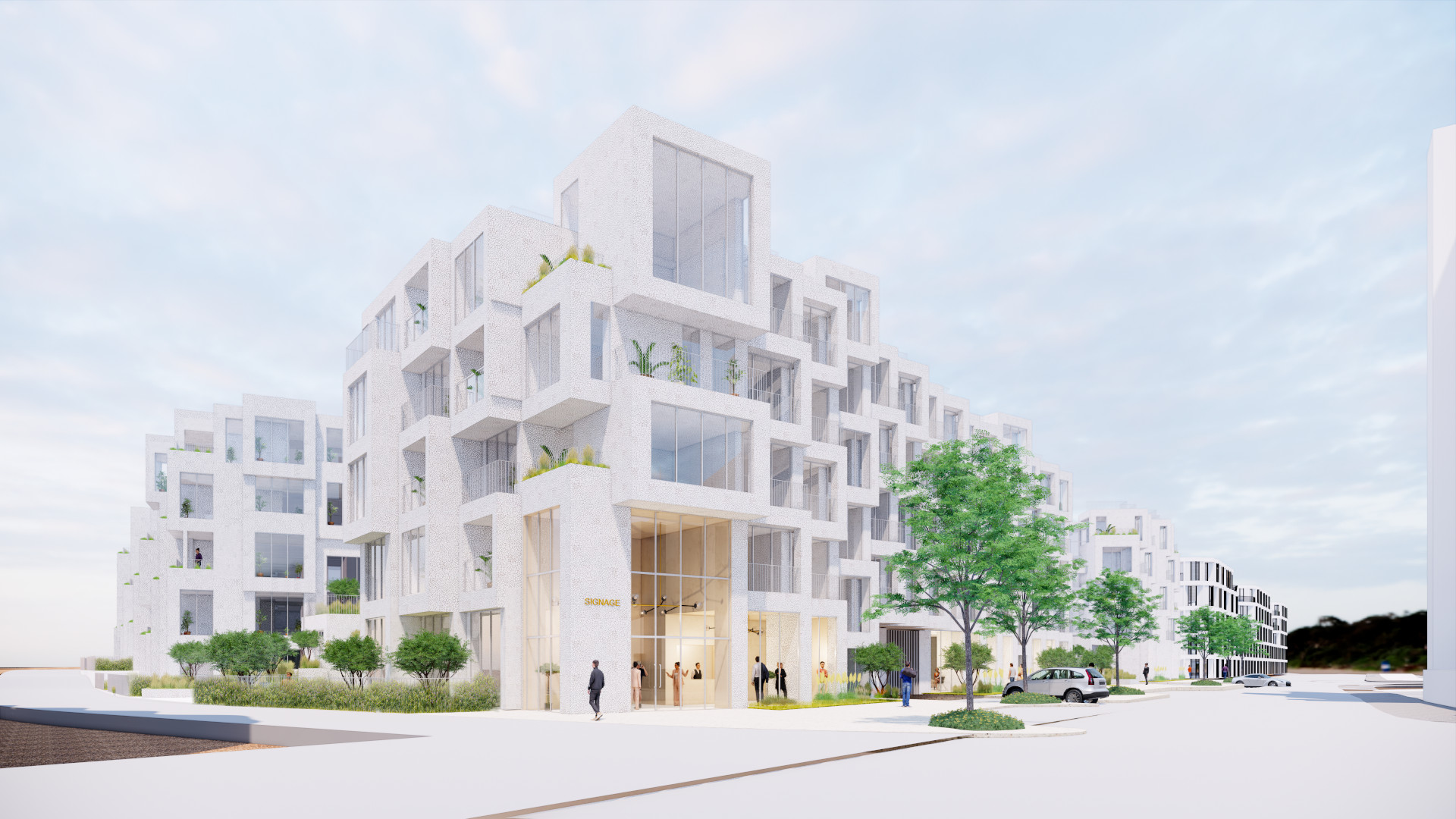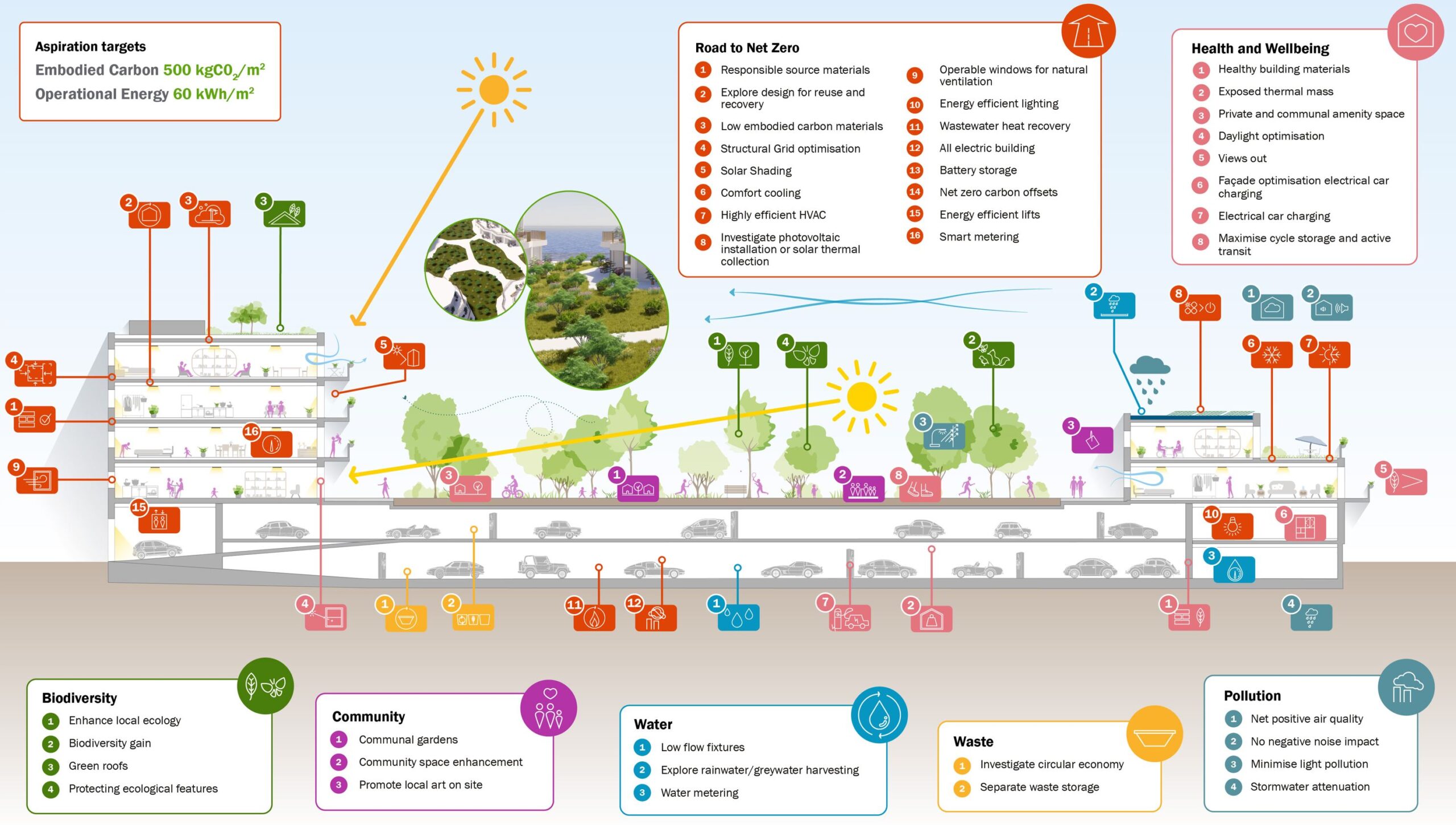 variety of new homes
The crescent building will contain approximately 100 new homes from one to four bedroom apartments and town houses.  The layered design shows the building is 5 storeys at Marine Parade graduating to 3 storey town houses closest to the sea.  All proposed dwellings will have stunning views facing the sea or the harbour, and podium garden.  Access to the public shingle beach is via a landscaped route between the crescents.
The building has been designed to be accessible for all persons.  Each dwelling will have designated cycle storage and the car park is situated under the podium garden, with access from Marine Parade.  There will be a minimum of 150 car parking spaces each with capacity to charge an electric vehicle.
tree-lined boulevard
The designs show the introduction of numerous trees and planting.  The vision of a tree-lined boulevard is not only aesthetic but contributes to the design's plans of creating protection from the elements and microclimates for diversity.  The landscaped shingle gardens with coastal planting are also part of this vision.
The residents' podium garden offers a mixture of open biodiverse lawn surrounded by swathes of coastal planting, a sheltered tree grove and plenty of seating.  Harvesting of rainwater in the podium garden, which, combined with water-efficient fittings, will greatly reduce the development's demand for portable water.
The design incorporates a local area for play for residents with a looping trail through a mixture of spaces and planting. Private residents' terraces with defensible planting will line the edge of the podium garden.
Discover more aBout folkestone below