Exceptional Tea is a Daily Pleasure – Debonair Tea
Folkestone is a hub of creative, innovative business.  Debonair Tea, home-made in town, served in town, sold across the country and soon the world!
Debonair: Adjective: confident, stylish, and charming. Synonyms: sophisticated, cultured, gracious, refined, polished, well-bred, genteel, dignified. In fact, everything you would look for in a cup of tea.
Louisa Johnson gently sits back, with 7 week old Jimmy snuffling over her shoulder.  She surveys the 250 sample packs of tea ready for the Kent Food and Drink Awards goodie bags.  
Louisa is the Director and creative person behind Debonair Tea, set up in 2014.  She is an accredited tea sommelier with the British Tea Academy and can talk about it until the cows come home!  Louisa had been really involved in the café culture in New Zealand, where she'd been living at the time.  On returning home to the UK, she and her husband Phil had a plan.  They were going to serve really good tea at major events, instead of being charged £2 for a cup of hot water and a tea bag. Louisa has grown up drinking really good tea, and wants to deliver this to the UK.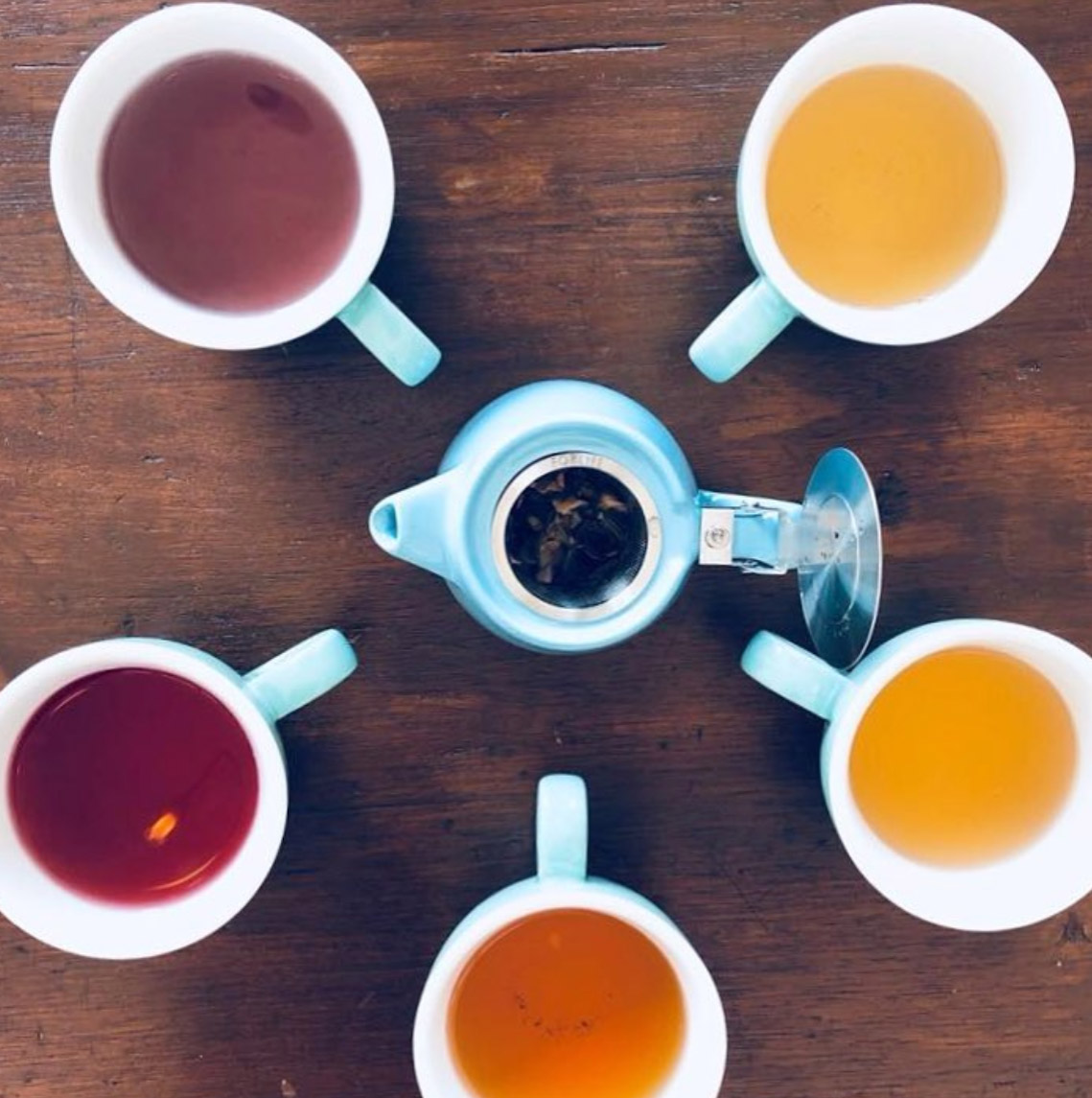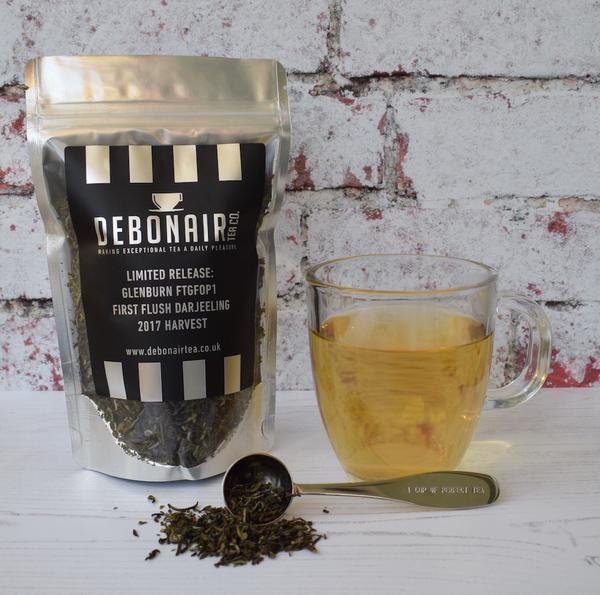 Flogging Tea to the Brits
While the renovations were starting on their little portable tea van, Louisa began to play around with some blends of tea. She tried them out at the Elham Christmas Food and Craft Festival.  Her plan was to do a little market research as to what teas people would buy. However, she was asked by her first café if they could serve her blends.  That night "I rewrote the business plan and started to flog tea!"
At that time she had 10 blends of tea in the range, now it's around 25, of both caffeinated and herbal teas. There's also a Sommelier Selection and some seasonal blends too. "But…I've been tied up having babies." Louisa and Phil now have two children under two, but forget maternity leave, Louisa's packing tea and being mum at the same time. Helping her out, with child-care and tea-care is good friend and employee, Jess.
Debonair quality
Debonair Tea is quality tea. Louisa's standards are high. No more drinking insipid cups of milky tea. If you are a café or restaurant that takes any blend of Debonair Tea, you will be given a laminated crib sheet on how the tea should be stored, made and served. Stump teapots, warmed before the correct amount of blend is added to the core strainer.  The amount of tea is in perfect ratio with the water, and the water must be at the right temperature.
Warm the pot and don't boil the water!
Each blend has a different temperature; for a green tea the water must be between 70 and 80° C. In fact, you don't use boiling water for most teas, white, green, yellow, oolong or Darjeeling first flush. The whole leaf teas Debonair Tea sell must also be steeped for the right amount of time: 2-3 minutes for a Japanese Green Tea, whereas a more robust green tea will steep for 3 to 4 minutes.
Louisa does check up on the local suppliers of her tea.  If it's not served correctly she'll have harsh words!  Try a cup at the Folkestone Wine Company, or at The Radnor Arms in Folkestone. 
herbal take-over
Her attention to a good cuppa doesn't just stop at caffeinated tea; the herbal and fruit infusions are a cut above the rest too. "It's very clear that herbal tea can be atrocious, so our first blend of Raspberry and Orange has been a real hit." Others have followed such as Juicy Ginger, Elderflower Punch and Vanilla Anise. "The most important thing about infusions is the hibiscus base."
The company is small and shipping in stock often means teaming up with other, like-minded tea sellers around the country.  Freshness of stock is really important, so they can't go for big bulk buys. But, with their connections around the country they can keep tabs on how the tea market is faring. What happens in Oxford is mirrored in Folkestone, which is helpful to know!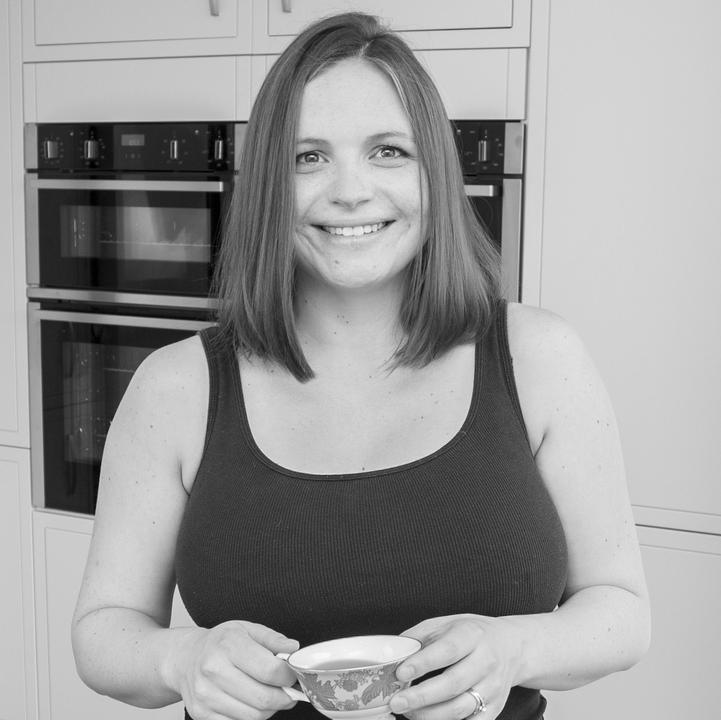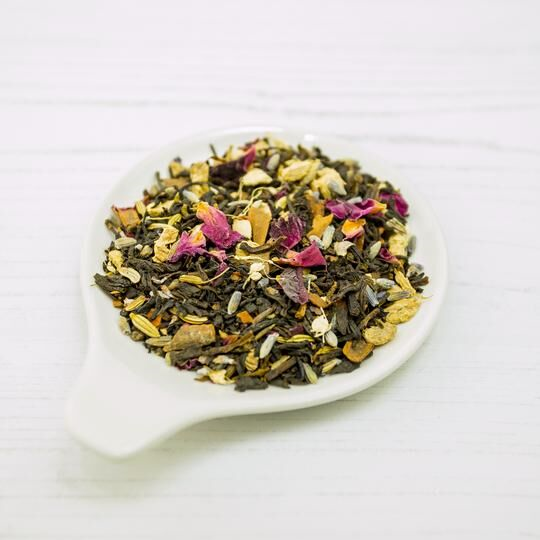 Challenging market
The weather will determine the temperature of your tea: "We offer cold-brewed tea," Louisa introduces this idea: "You steep the leaves of green or white tea in cold water, leaving it to rest in the fridge for a number of hours. The result is a really delicate take on the teas we love when made with hot water."
There's been an explosion of new tea companies starting up in the UK.  And, with minimal barriers to entry into the market, it's hard to find the people who really know what they're talking about.
Louisa, Phil and Jess have been recognised though. They were nominated as Best Newcomer at the Kent Food and Drink Awards in 2016 and have gone from strength to strength since.
Their thoughts have turned to the future and how to take the business on. Still on the plan is to renovate their van to take tea around to major sporting events.  They also want to be in cafés and restaurants up and down the country. If their retail sales can extend to being international then Debonair Tea will be achieving beyond their dreams of a few years' ago.
Discover more about folkestone below