Hop Aboard for Authentic Greek Food – The Big Greek Bus
The Big Greek Bus has been parked on Folkestone's Harbour Arm since 2015.  They served their last gyros in October 2023 ready to create a new venue for 2024.  In the meantime, whilst we wait for what's to come, take a trip down memory lane to the Big Greek Bus.  It was ready to whisk you away to a land of sea and sun. When the sun's out, you'd think you were in the Mediterranean.  When it's a little chilly, sit on the top deck and just imagine!  You're surrounded by the fantastic views of the sea whilst eating the authentic Greek food cooked below stairs.
If you fancy calamari then make your order at the driver's window. After a brief pause you will be served with fresh, crispy rings of juicy squid to be enjoyed in the fresh sea air.
If you love authentic chicken or pork gyros – succulent slices of meat on a skewer – then walk through the back doors of the bus and place your order.  Bernadette, Emma and Hannah, the family owners, get through around 35 kilos of chicken and pork on a busy sunny weekend.  They've been known to run out. Their supplier is an authentic Greek source in London and so once it's gone…you'll have to wait until next week!  
Hannah is in charge of the Little Greek Bus which can be found in its new location next to the Harbour Coffee Company on the entrance to the Arm.  Whenever the team took the Big bus on tour to other events, it was sorely missed from the Arm.  It also isn't the easiest machine to drive, taking 2 days to pack up the kitchen before travel.  It's restricted in speed too and so takes about as long to get to where you're going!  So, the Little Greek Bus is good for these missions.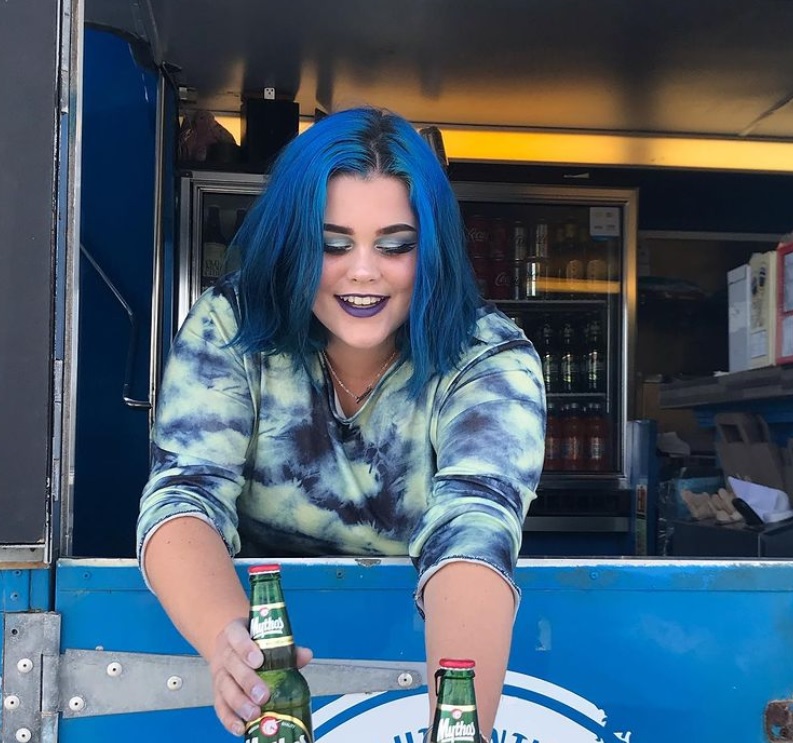 ---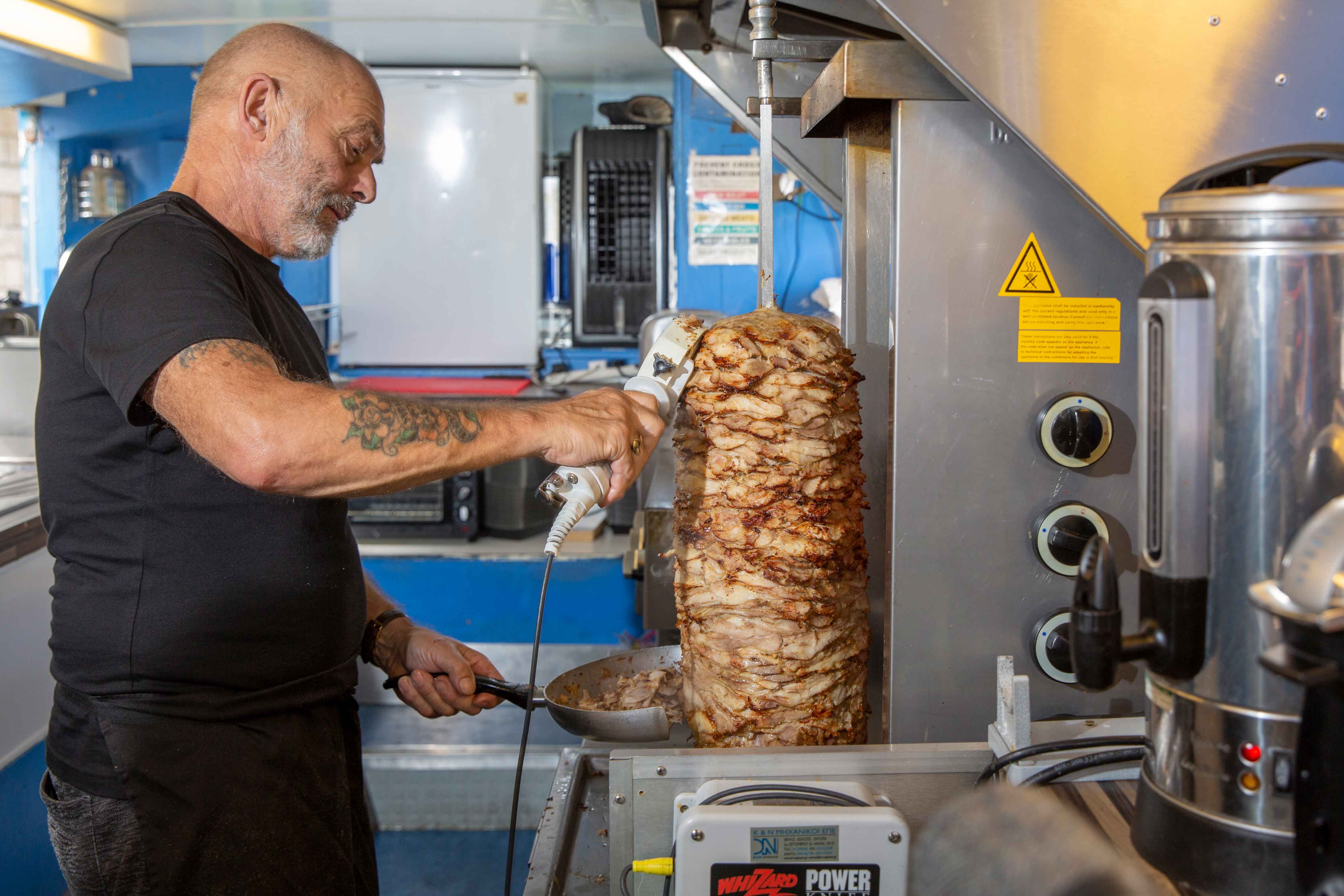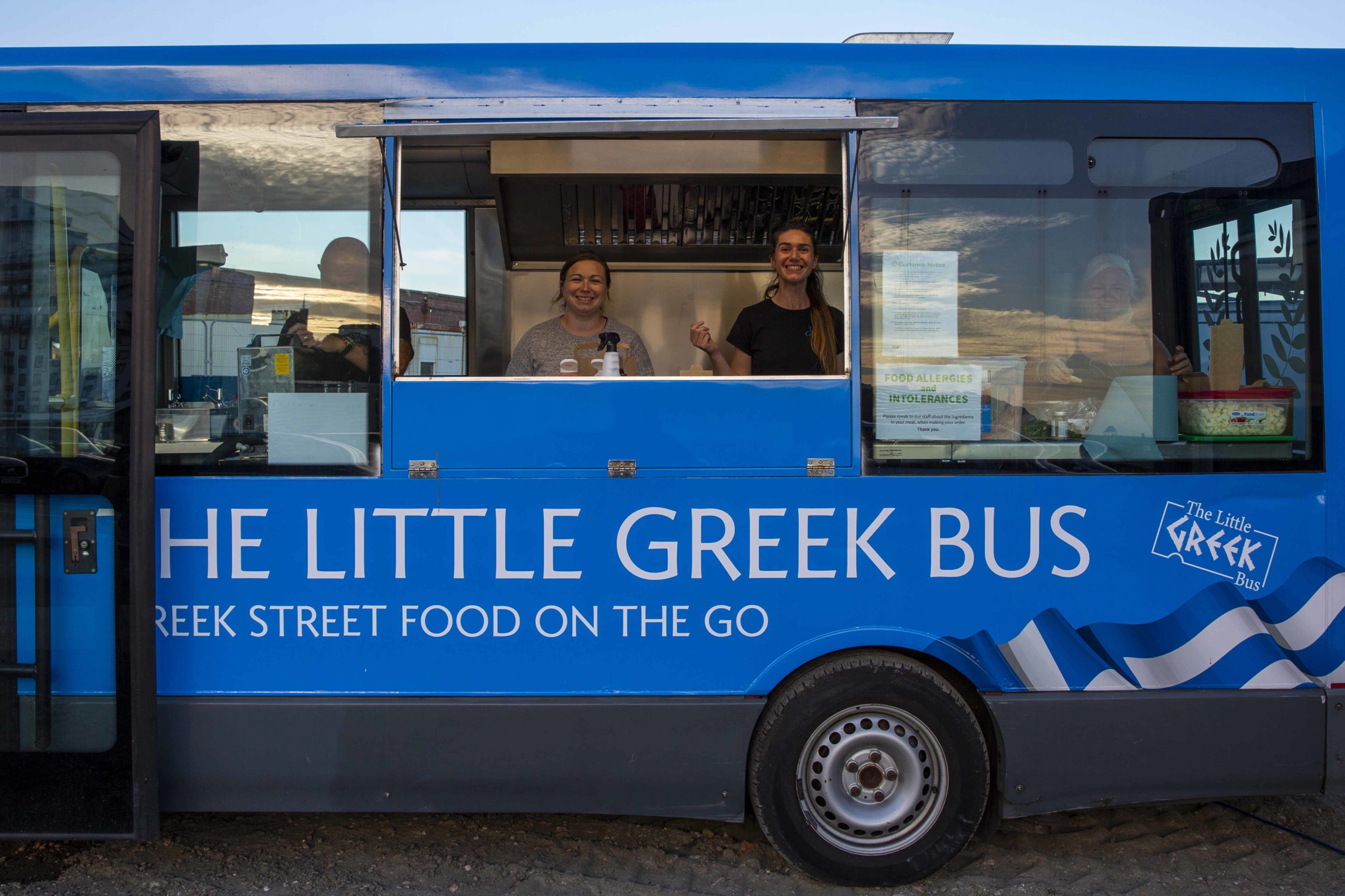 Original Business
The Big Greek Bus is one of the original businesses that opened on the Harbour Arm in its first trading year in 2015. The family have seen many people grow up on their food.  Bernadette, mum to Emma and Hannah says "It's just wonderful to see customers whose babies nibbled on olives in their prams in 2015, now eating their own portions when they get here.  I find it really funny when they see me in the supermarket too.  The children can't help but say 'It's the Greek Bus lady!'  I always say hello!" 
Daughter Emma joins in: "We were never supposed to have a double decker bus!  The business was going to be run from a catering van but then we saw the bus and thought we had to have it!  It's true that when we took it away from the Arm to do other events, we got loads of messages asking where we were.  So, we've put it on the Arm and it wouldn't be the Harbour Arm without it now!"
little greek bus
Daughter Hannah runs the Little Greek Bus which had its first outing on the Harbour Arm in 2020.  "We want to be able to go to festivals, events and weddings etc, so now we have the Little Greek Bus.  I can serve the most popular items from our main menu, and it's much easier to pack away and drive off. 
"The summer of 2020 was, as we all know, affected by Covid.  When the Harbour Arm decided to move the Big Screen so there was space to run it as a Drive In, we were able to sell our halloumi fries and gyros for the audiences there.  Then, when The Goods Yard opened up as somewhere to get take away food, it was the ideal place for us.  It's really great that you can go to the Harbour Arm team with a suggestion for a new venture and they take it seriously.  It means we can grow as a business and also have space to try out new ideas."
---
Fresh Food and child friendly
Hannah: "The Goods Yard is a great space.  There are tables outside and people can sit and eat all different types of street food that the traders are serving.  Because the Little Greek Bus is more portable, we can also move it around the Harbour site and serve from different places. What most people enjoy is the atmosphere, being outside and having someone else cook the food!
"In our new venue next to the entrance to the Harbour Arm itself, it makes sense for me to be here when things are quiet on the Arm.  But, when it's busy I'll be close to family if I need anything.  I am looking forward to being on my own and running things my way.  Then, the food fairs, weddings and festivals will beckon and I'll be out on the road!"
Bernadette: "And we'll be there in the Big Greek Bus, just around the corner.  There's nothing quite like a sunny day on the Harbour Arm to feel part of the buzz of Folkestone."
Photo credit: Little Greek Bus – Andy Aitchison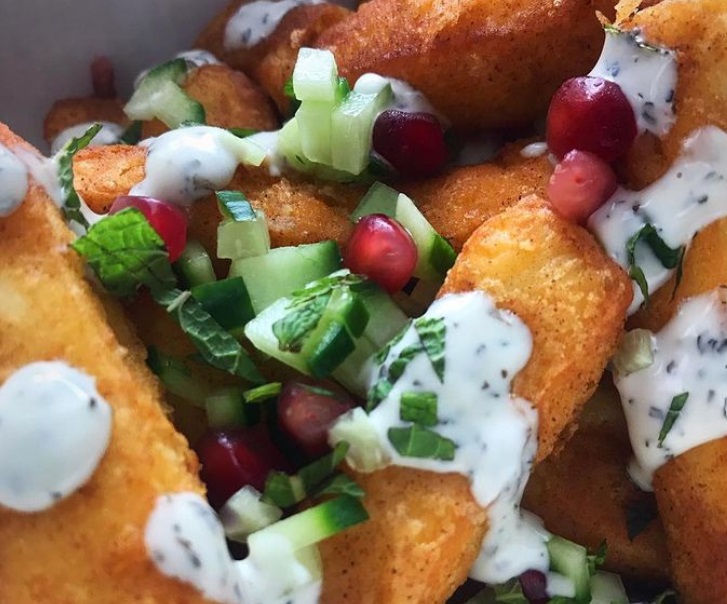 Discover more about folkestone below