Pier Pressure Folkestone – Free Skateboarding Festival
Pier Pressure is Folkestone's returning skateboarding festival.  Back for a second outing on 31st July 2021, Pier Pressure happens on Harbour Arm.  It's a free skateboarding festival and is building anticipation for the opening of the world-first multi-storey skatepark, F51 in Folkestone.  Following on from the success of the first festival in October 2019, the ramps are bigger, there are more ledges and free skate competitions, as well as trips around F51 plus an after-party.  Alex Frost, Project Officer for F51 spoke to Folkelife before the event.
"The first time we did this festival we had a car jam.  Now we've set a precedent and so I need to make things better this time.  What have we got?  I've spent the last week moving a boat to Canterbury to be jammed up with ramps and all sorts so people can play over that.  This means I've got a problem – what do I do next time?  An aeroplane?  Well, we've got other things happening on the Harbour Arm with Red Bull and Blokes both running jams which you know will be mental. There are cash prizes for tricks and loads of other goodies to give away.  You can also book a trip to see F51, the new multi-storey skate park and find out how that's getting on."
bigger and better jams
"The boat jam is actually a testament to the community that's grown up around skateboarding here.   I grew up in Folkestone and only a few years ago I knew every skater there was here.  Now, so many people have joined us that the community has really grown.  Every time I skate I meet new people.  It also means that when I need someone to help me tow a boat from Folkestone to Canterbury, I can find someone to help!"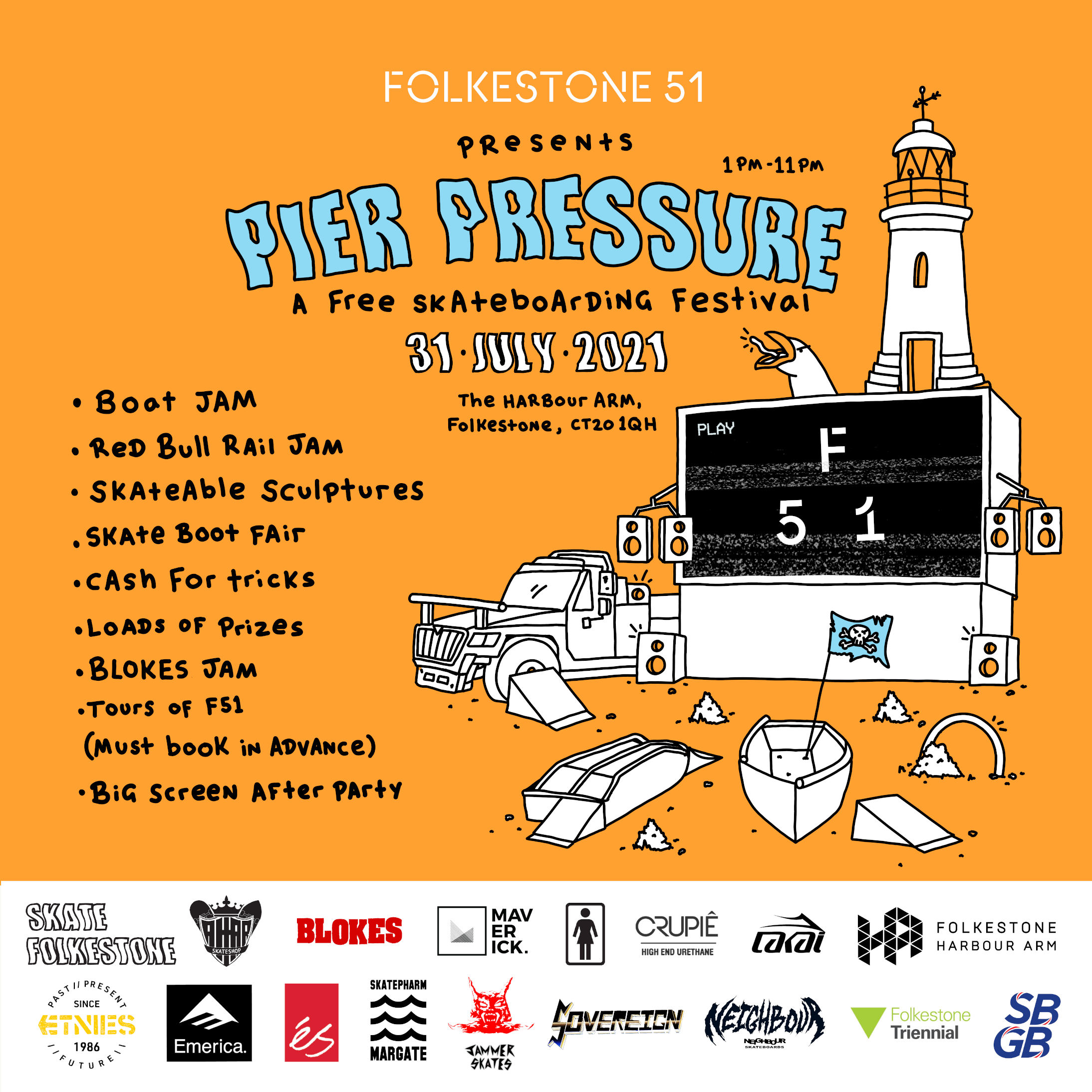 Artwork and Skatework
Alex has skateboarded in Folkestone since he was 13 years old.  Over that time he's seen the community grow.  "There's a huge number of girl skaters now which is great to see.  The FolkestoneWomxnSkaters meet regularly at the Three Hills which is something that's really grown out of lockdowns.  
"We're aiming to have a skate market on site too.  So, like the normal Harbour Arm Marketplace on a Sunday, this will look similar but everyone there will be local skate creative's.  They are artists, producers, creatives of any kind coming together to show and sell their wares on one platform. Then to finish off there will be a Big Screen After Party too on the Harbour Arm. I'm really looking forward to seeing everyone on the Arm on the 31st July. 
"There's also an installation that's part of the Folkestone Triennial 2021 – The Plot – installed on the Harbour Arm.  It's one you can ride on which will be around for longer than just Pier Pressure but should be fun to play on this summer. Come and join us, you know you want to try it!"
Credit: http://www.joycedivision.com/, f51.co.uk/ and www.shitpencil.com/