mini Golf On The Harbour Arm!
Mini Golf has come to the Harbour Arm.  Now you can walk around the Arm and play a round too!  Stage manager and set designer Charlie Hodsdon has created a bespoke mini golf course, complete with Folkestone Harbour Lighthouse, to entertain everyone on the Harbour Arm.  Folkelife met the man behind the models.
"You are drawn to the Harbour Arm, well, I am.  I first discovered it about 4 years ago.  My partner lives in Deal, and I'm from Reading.  We have a friend who runs a café in town and we came down to the Harbour to have a look around.  I also love railways, so was really taken by the regeneration of the viaduct, which looks similar to what they've done in New York.   The Arm itself is a great place for eating and drinking, and walking too.  I'm now situated in the Marketplace area and am excited as there's nothing else like me on the Arm!  I'm not competing with anyone!"
folkestone's landmarks
"With a mini golf set up you usually have a windmill, and a castle and so forth.  I love the traditional seaside feel of things, plus the era that the decor of the Harbour Station dates to.  So, I thought that our little scene here needs to reflect that.  I've made our very own lighthouse as a hole, and one of the painted house, and there has to be one with water incorporated into it!  We have the Leas Lifts, and the Foord Valley Viaduct too.  It's here to give you a little taste of Folkestone."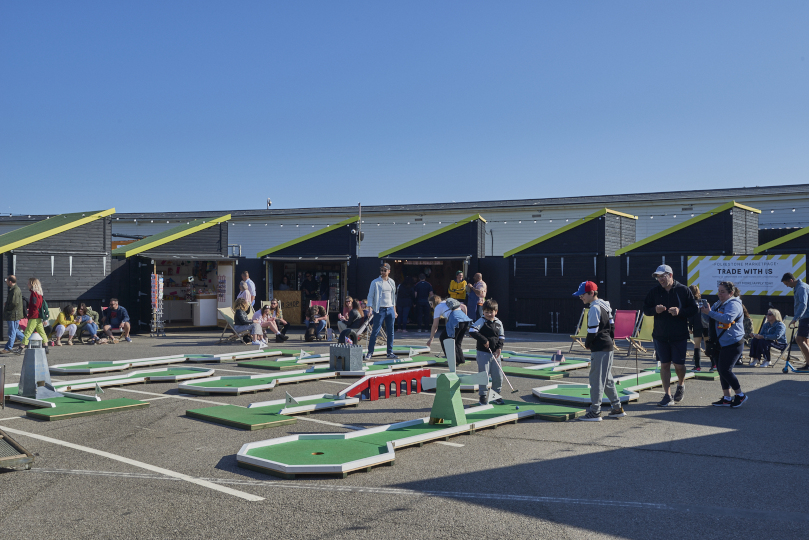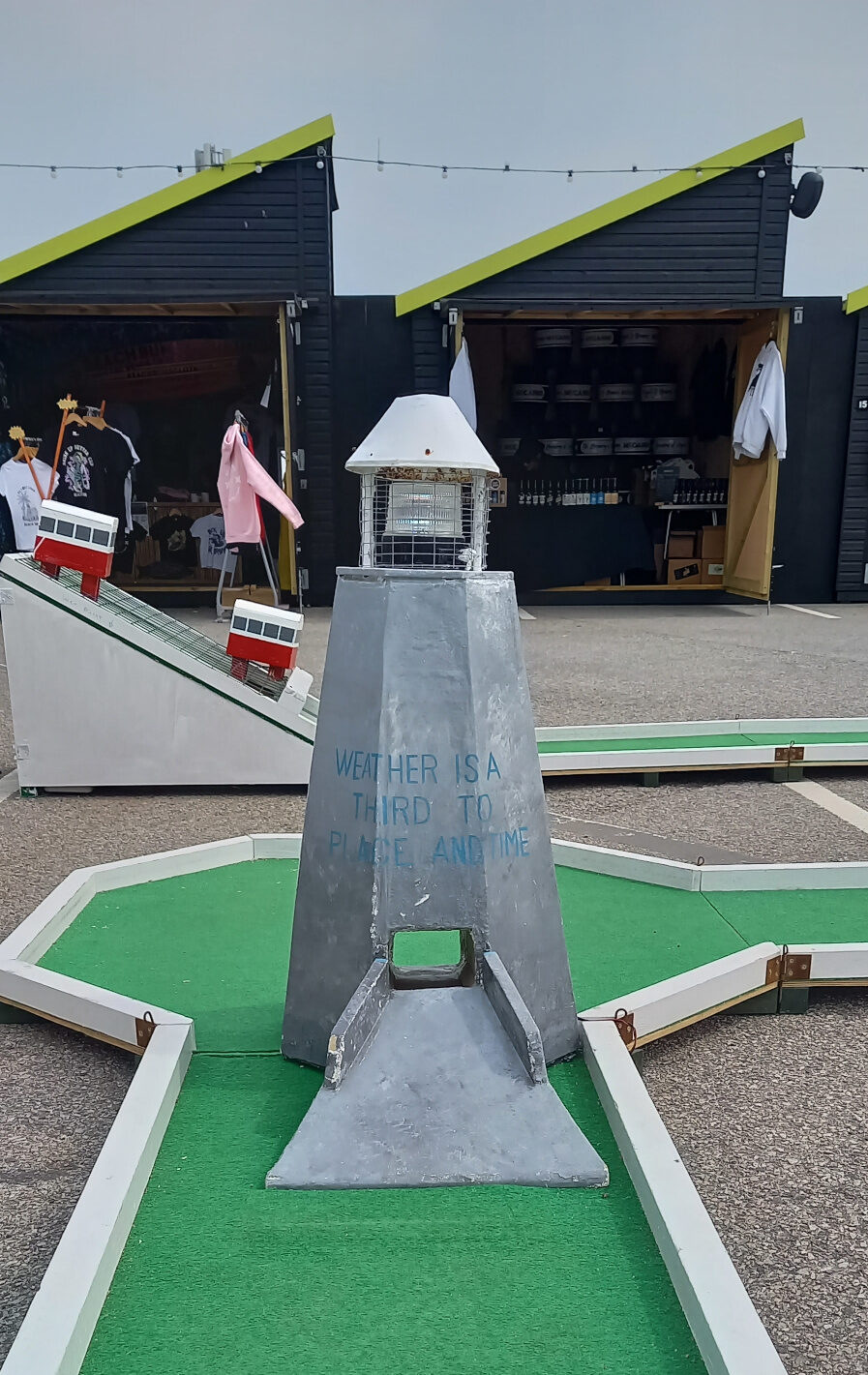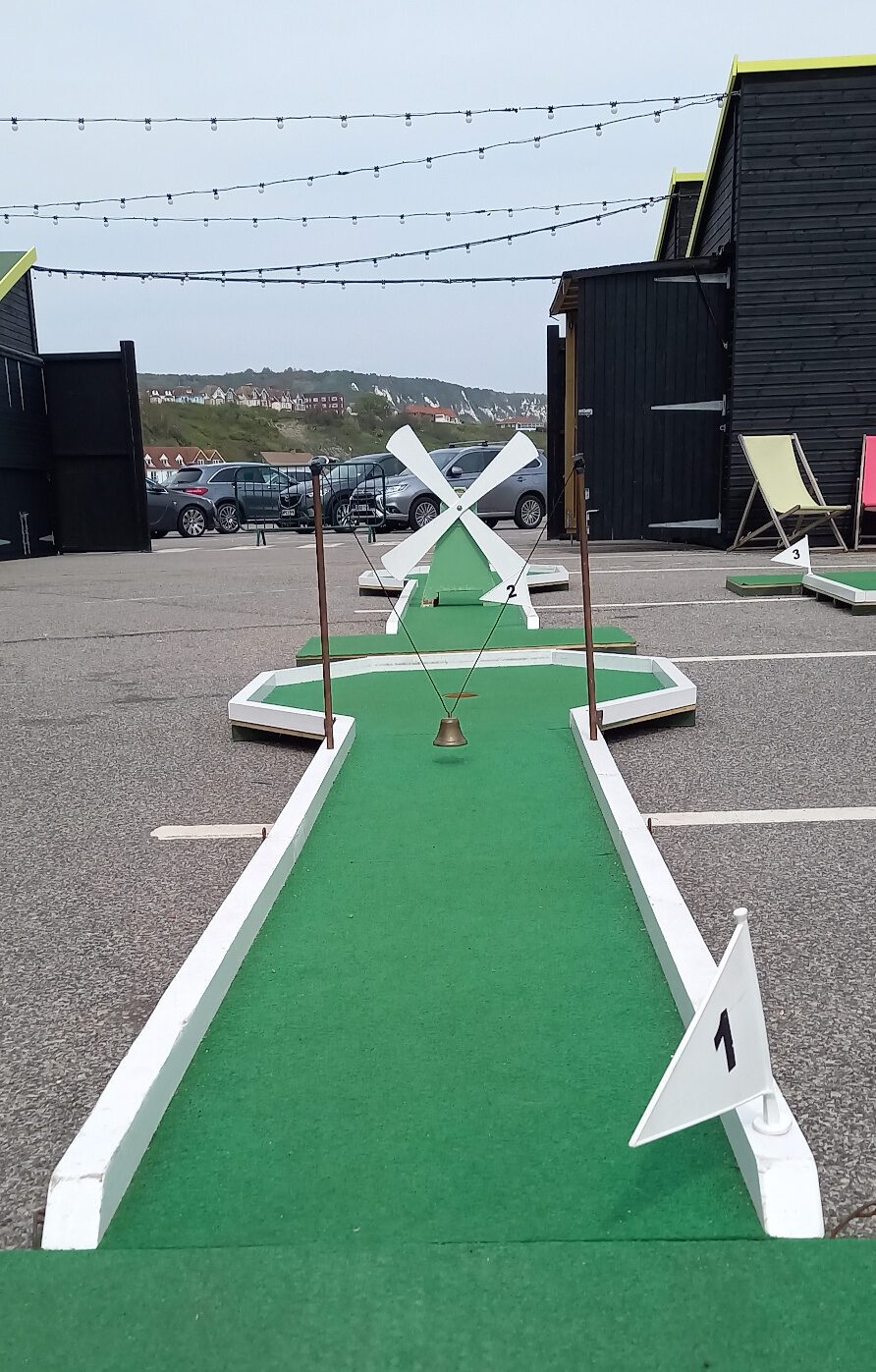 theatre background
"I've worked in theatre, as a stage manager, but also on set doing a lot of lighting and design.  I have all the skills to build these different models.  When lockdown started in 2020, I thought I ought to have a 'plan B' as it were.  Mini golf is classed as an outdoor sport, and so it's the perfect thing to marry my technical and design skills with some classic seaside fun. 
"Being part of the Harbour Arm team now is great.  I've loved coming down and enjoying my time here on the arm, I've felt drawn to it really.  Now to be a part of that carnival atmosphere, it's really exciting and I can't wait!"
family seaside entertaiment
"Mini golf is fun for all the family too.  The charge is £3 per person, so it's affordable for a game before or after your lunch or dinner!  I'm part of the Marketplace, so you can have a go before or after you've had a look around the shops.  We're open every weekend and bank holiday, come and find me!
Discover More about FOlkestone Below