Folkestone MarketPlace – retail space on the harbour arm
Folkestone Marketplace is the retail space at Folkestone Harbour.  Huts located next to The Goods Yard are home to some very special traders that add to your seaside experience when visiting Folkestone.  During November and December there's a real festive feel too.  Since 2014, when the Harbour Arm opened for business as a visitor attraction, the team have worked on developing new talent with their food traders.  They are now growing the retail element with some fantastic local businesses on site. Folkelife went along to meet some of the vendors:
gaia homeware
Alex and co-founder Mum run Gaia Homeware.  It was born during Lockdown when the appeal for creating beautiful pieces of tableware and furniture from pieces of driftwood and off-cuts won over working in retail.  "It's that age-old story of making something that a friend says 'ooh, you could sell that' which turned into this and our shop in Westerham in North Kent.  During the first lockdown I made a console table from a piece of driftwood I'd found on a holiday in Scotland (which had sat in the shed for way too long!) and my friends said to sell it.  I was getting 40 to 50 orders a month.  Trying to make and ship them around the world – yes, to America, Australia, everywhere – was just too much with a day job as well.  So October 2021 I quit my job in retail and here we are!
"We came down to Folkestone to see about setting up in one of the huts here and the vibe just suits us down to the ground.  The energy and buzz behind what's going on in the harbour area is so exciting.  Plus, for us, it sits well with our business.  We're about being eco and sustainable and being by the sea adds a relaxed nature to what we're doing.  The Harbour is promoting local and creative businesses and we're trying to be as local as possible."
the refill station
"No two items are the same in the shop because everything I make comes from unwanted pieces of wood.  They might be on their way to being firewood or scrapped.  So I take them home and make them into something beautiful.  All of the other products we stock tick the same criteria – beautiful, eco and sustainable.
"The hut opposite us is our Refill Station and that's another element of what we do.  You can pop down here to refill your shampoo, conditioner, home cleaning supplies and dried foods.  There's 15 minutes free parking down at the Harbour so if you want to contact us ahead of time so we can get your order ready, then you can just collect and go."
beach bums
Carly and Chris are husband and wife team who create unique tees and hoodies with a beach theme.  Working with local artists to bring to life their designs, each garment is created with the environment in mind.  Using organic and recycled material and plant-based friendly ink, you can buy directly from the creators at their hut.  "We came here for the Market on the Station, and then the Christmas Market in 2021 as an experiment.  We sell online, but this is our only 'in person' outlet and we wanted to meet the customers directly.  It's been great to do that, and be a part of an space that is growing for retailers like us.
"It's important for us to be as sustainable as possible, so we don't have masses of stock made up.  You can order it from us here."
angels and demons
Local brewery Angels and Demons have various stations on the Harbour Arm.  Their bar in The Goods Yard serves many a visitor who comes to sit and sample the wonderful food on offer, and watch a movie or two.  They also have the Dog And Otter, situated half way up the Harbour Arm.  It's a pub, with carpeted walls and a bar you can enjoy in the wind, or sit outside in the sun.  Their take-away offering is at the Marketplace and you'll be served by the well-dressed Joseph, complete with hat.
"We have Racing Tiger which is our dry-hopped larger, very crisp and refreshing. It's a proper summer beer with a lot of flavour.  Panama Jazz is a red IPA; a little bit spicy, a little bit dark with hints of chocolate but with a bitterness to it.  It would suit drinking as a dessert beer, not that it's sweet, but because it compliments the sweetness of desserts.  Next is Bombay Social which is the best IPA in the world.  It has a hoppy flavour to it with some floral notes to it; I can identify elderflower.  It's 3.8% and that makes it an excellent, refreshing beer for scorching hot days. 
"New Wave IPA sits right in the middle of the IPA and our ale.  It is rounded and balanced with no over-riding flavours which makes it a really drinkable beverage.  Black Taxi To The Moon is nectar in a bottle. It's very full-bodied with hints of dark chocolate, coffee and a smokiness plus a little bit of spice.  The key is in the balance of it, so if you like dark beasts, this is for you.   There's a complexity to our beers which make them an intelligent choice for a drink." 
mini golf
Charlie made his first appearance on the Harbour Arm with the mini golf set up in 2021.  Now in the Marketplace, you can shop, play and shop and play to your heart's content.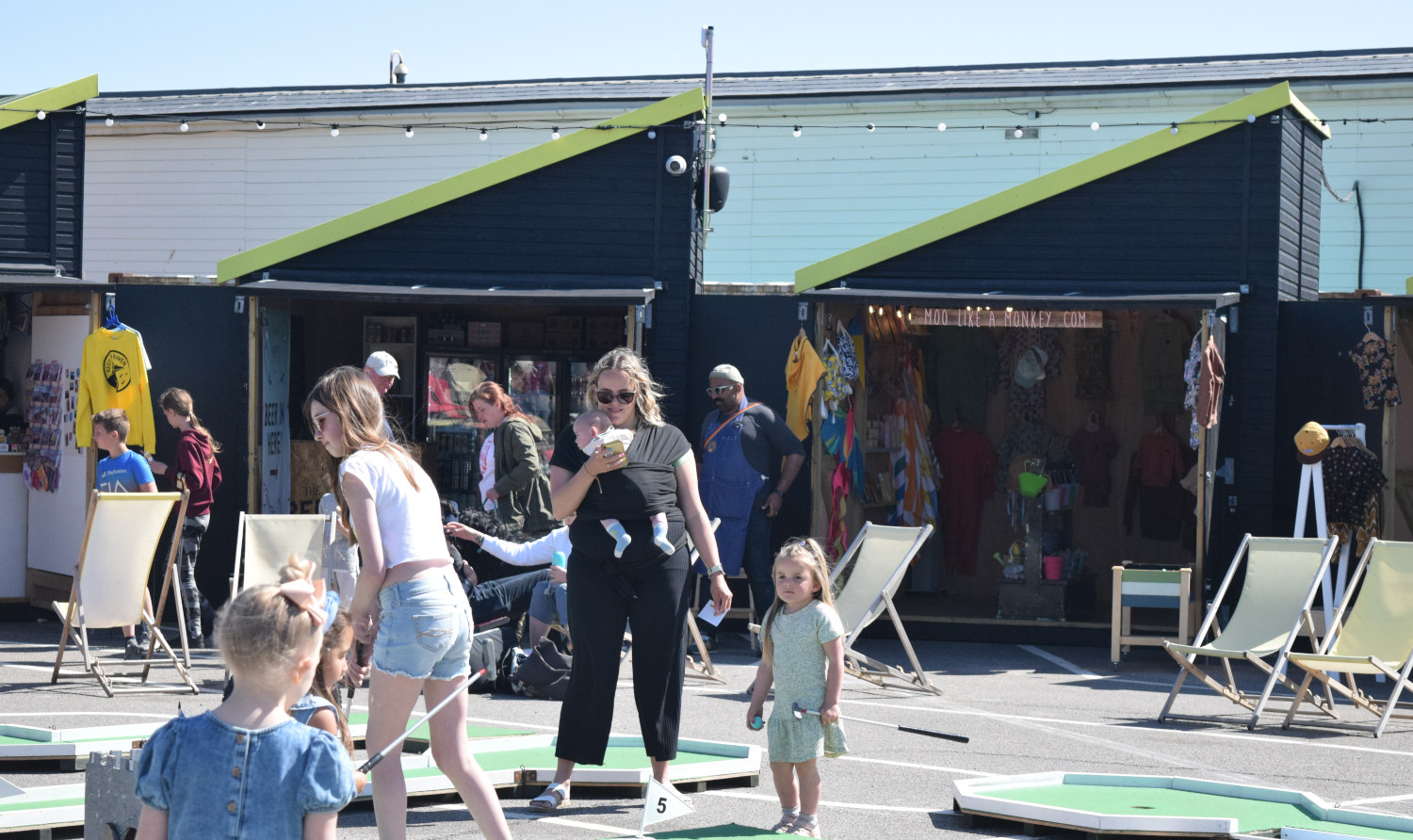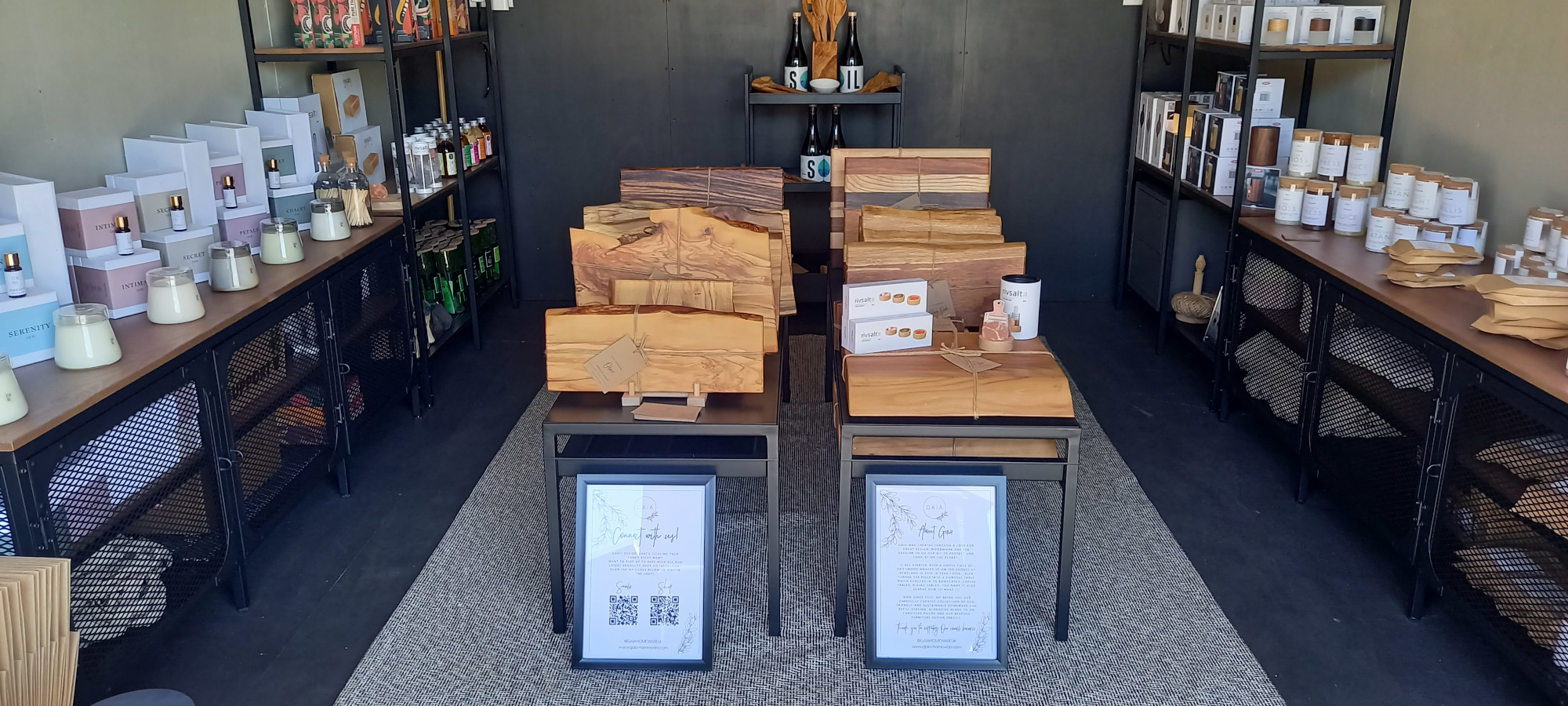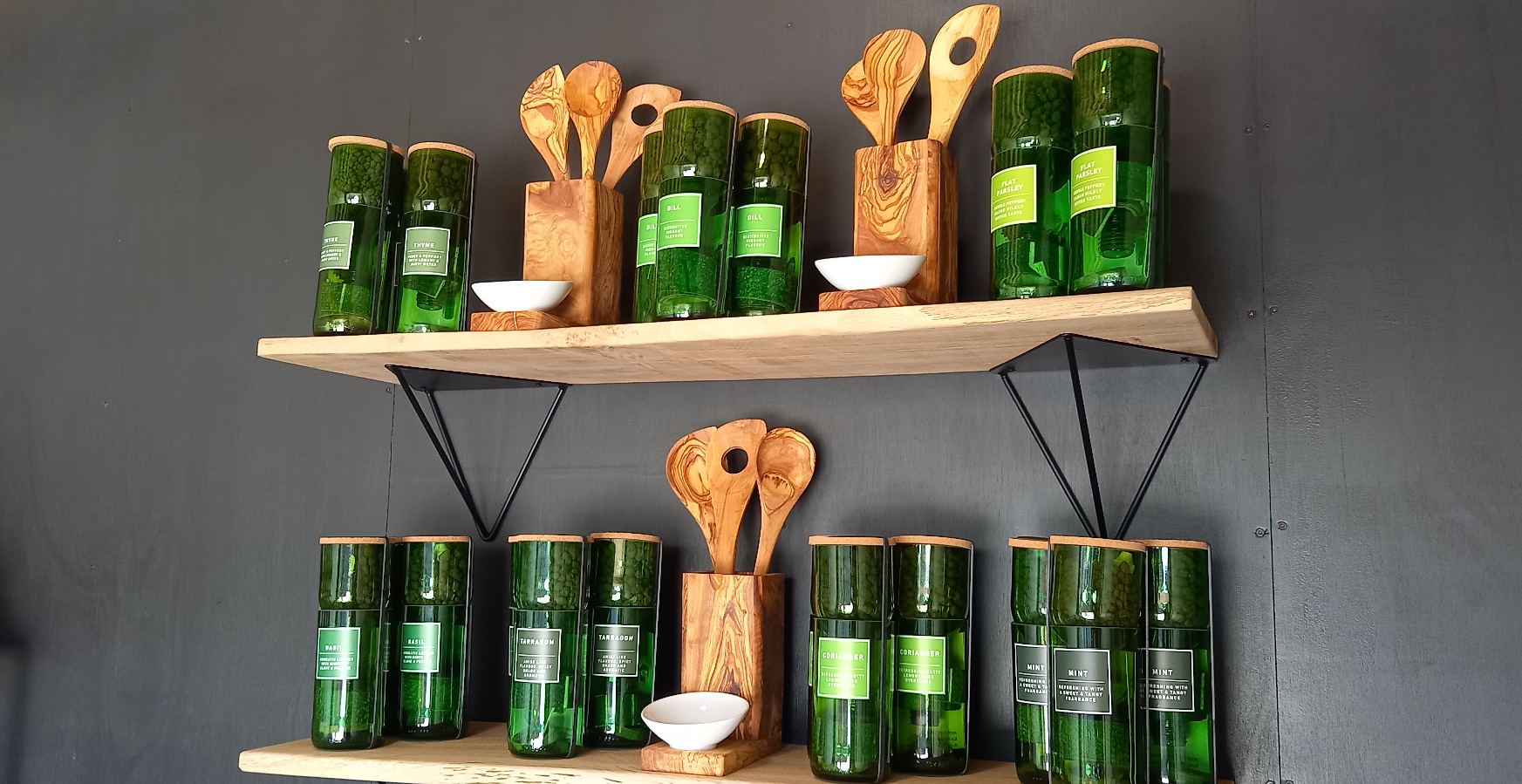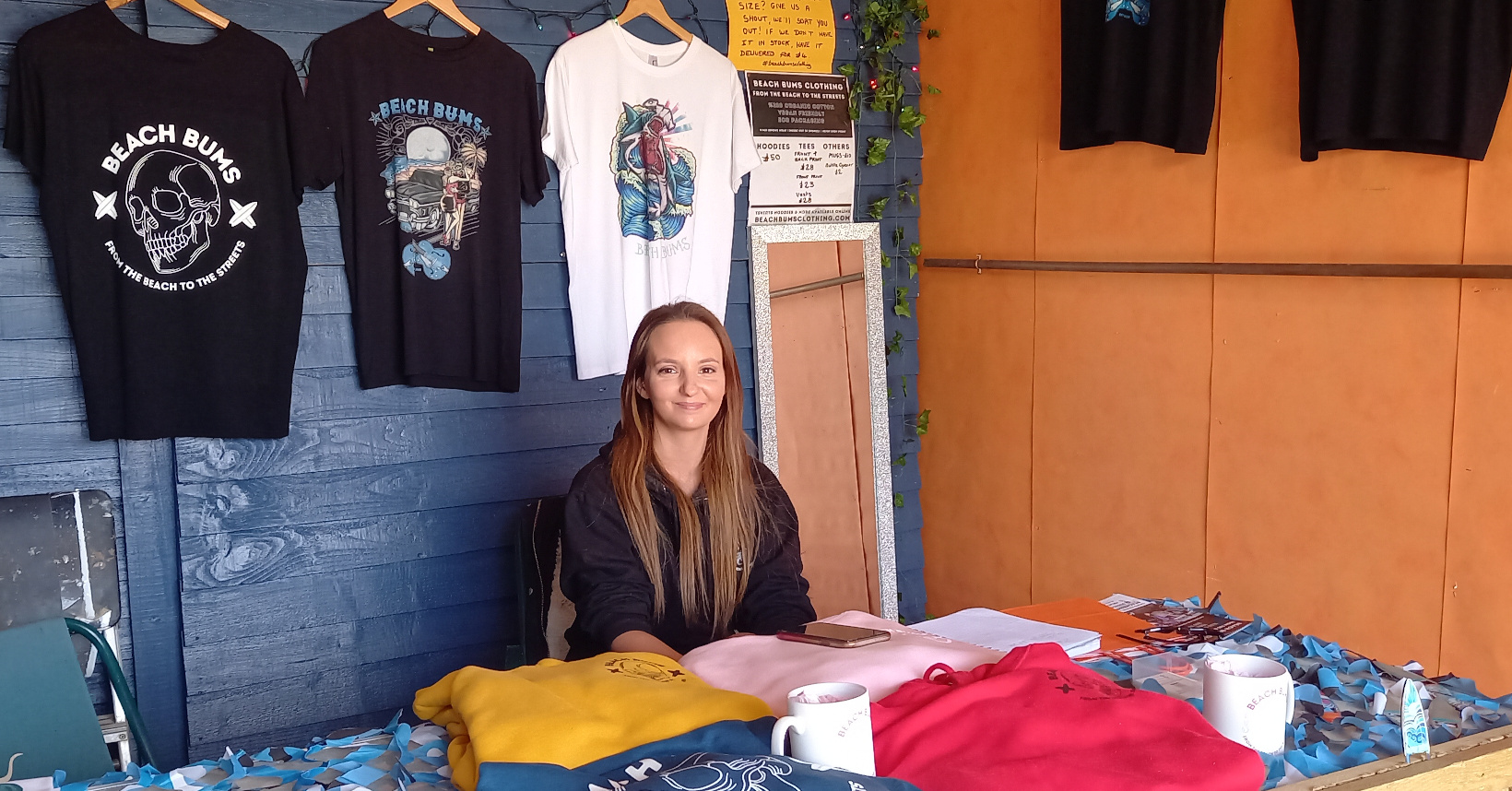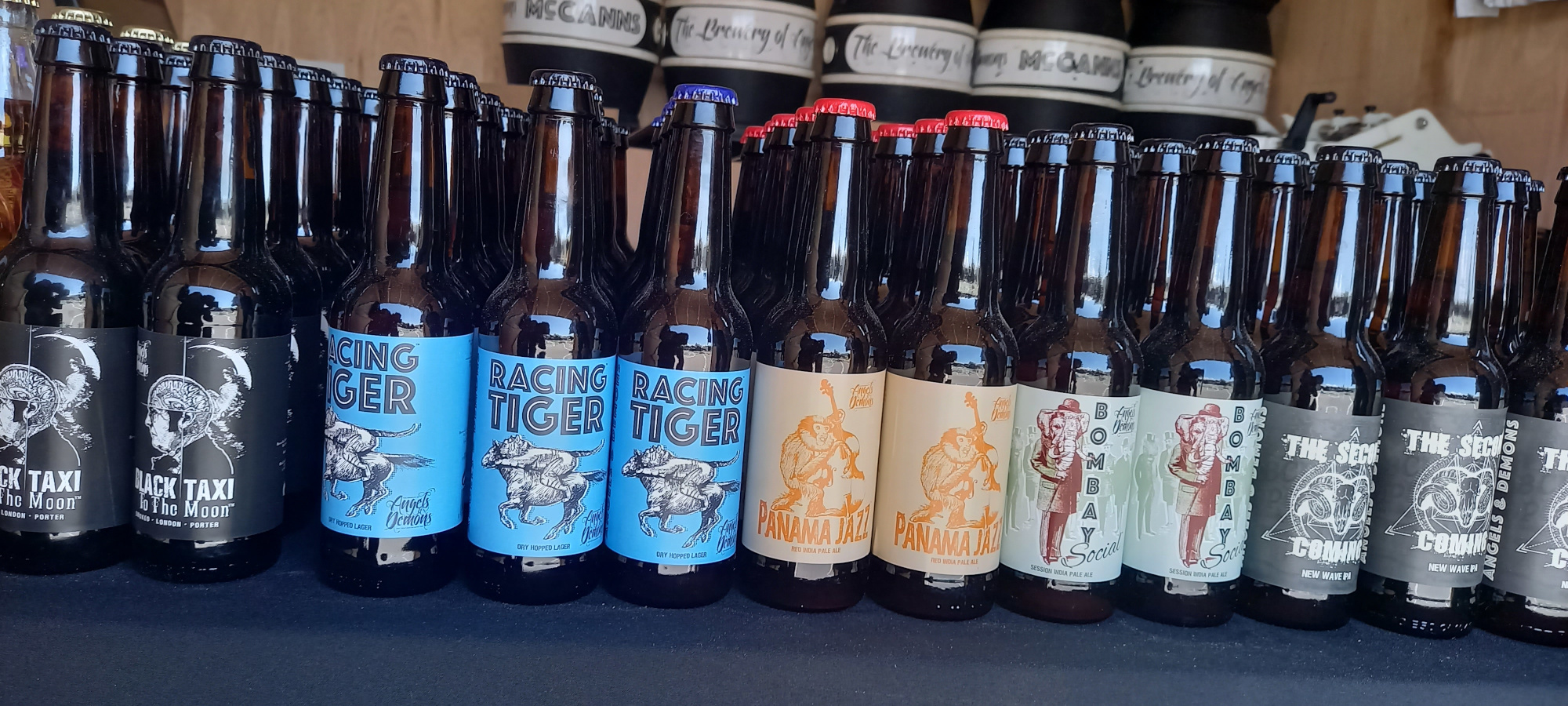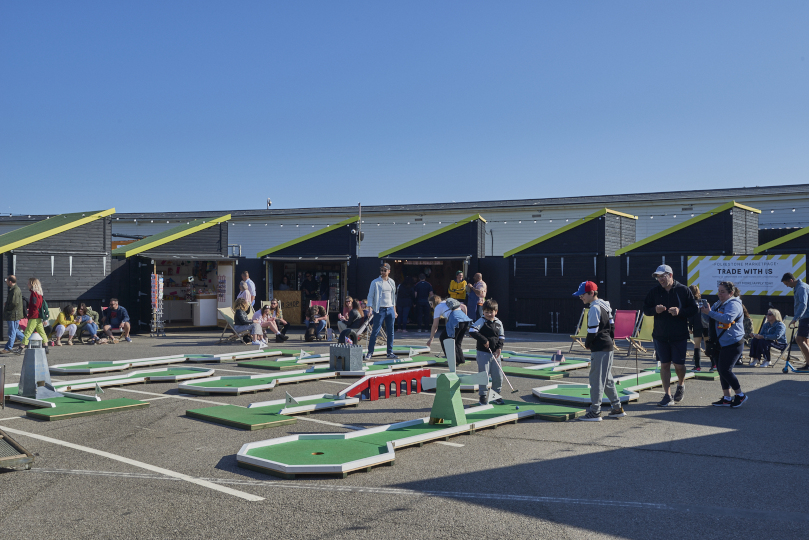 ---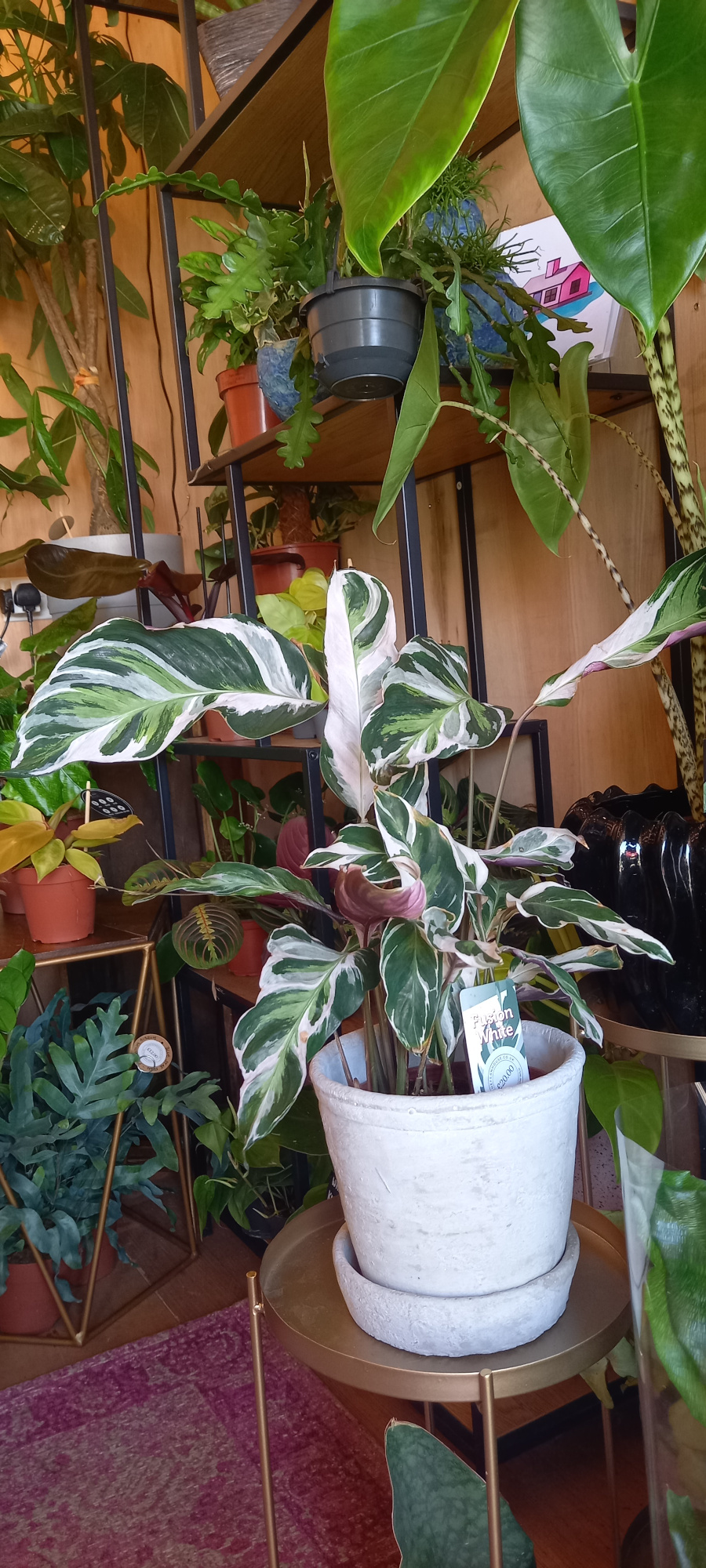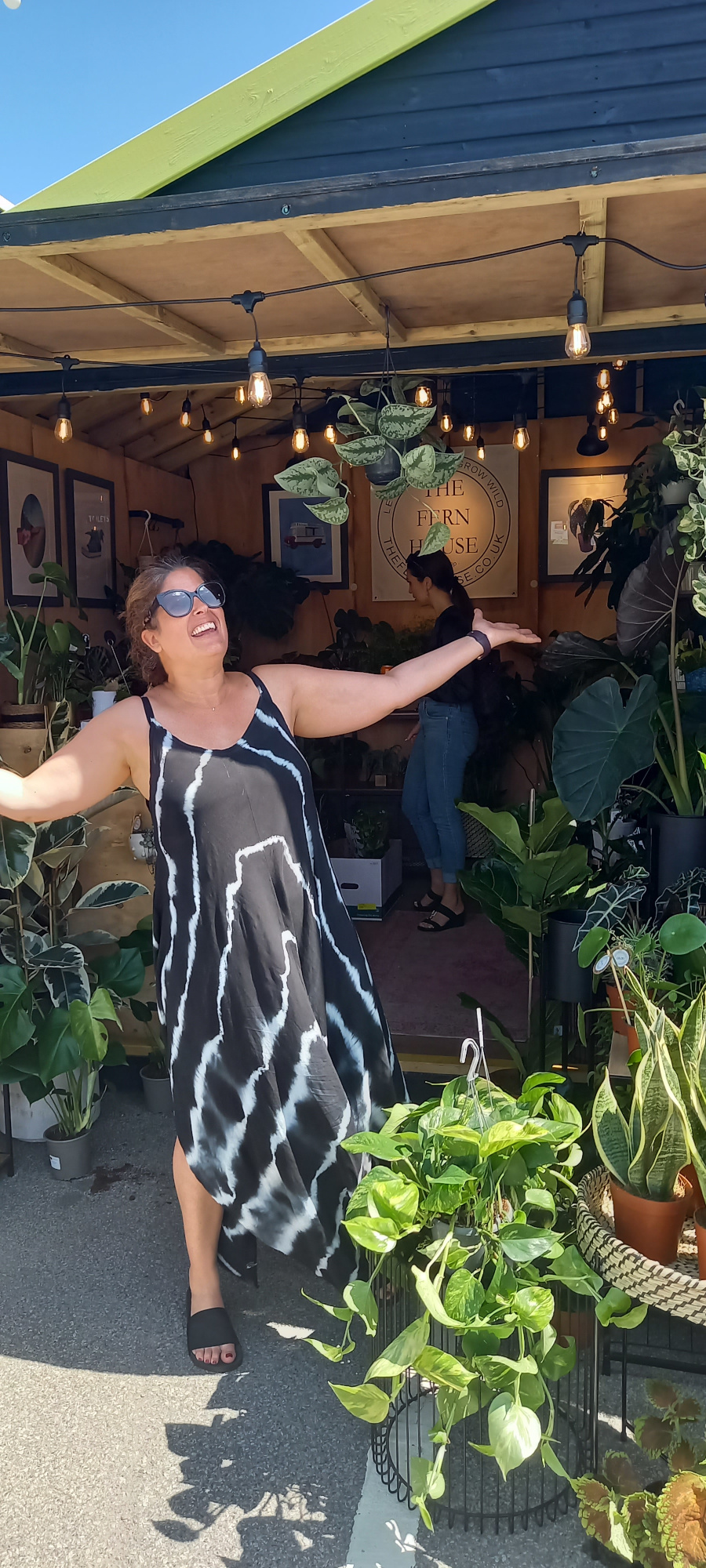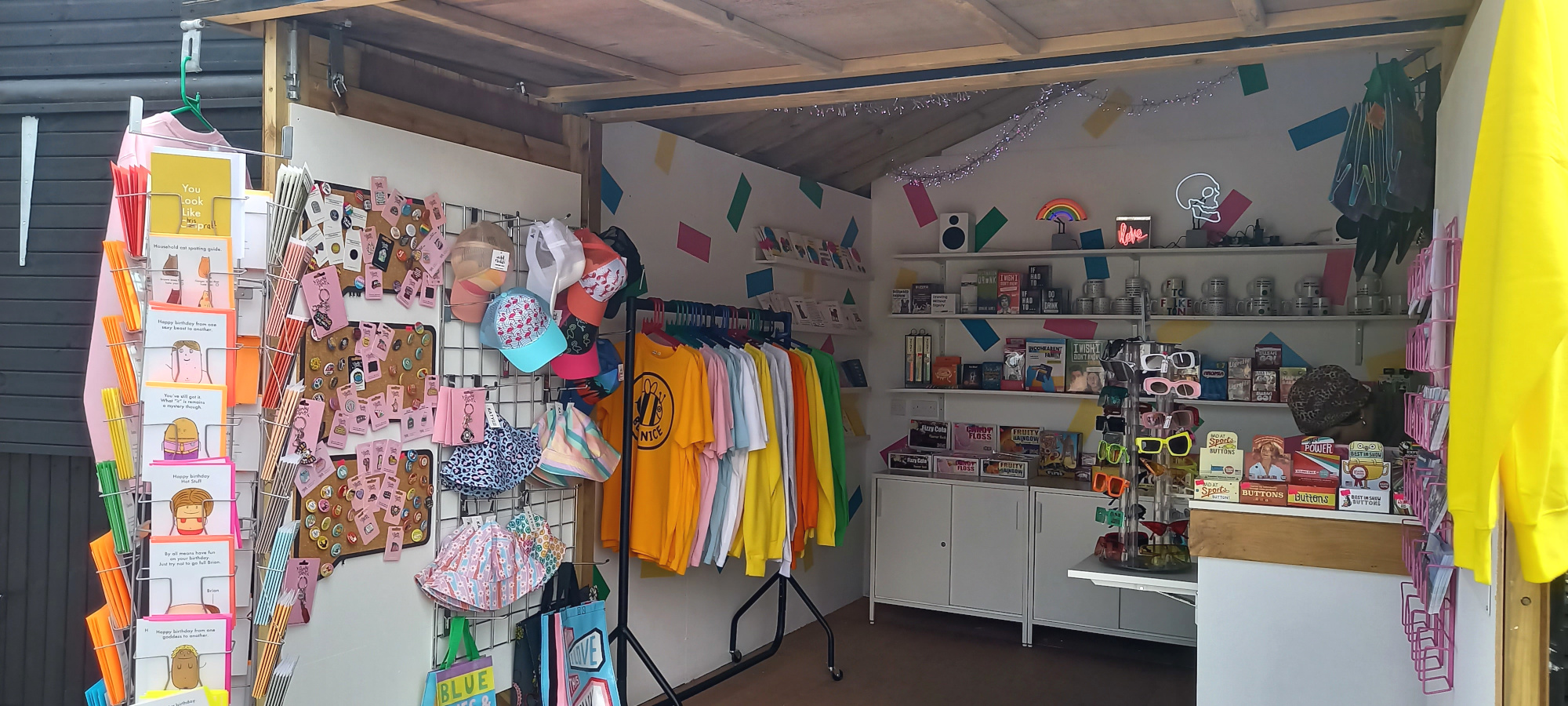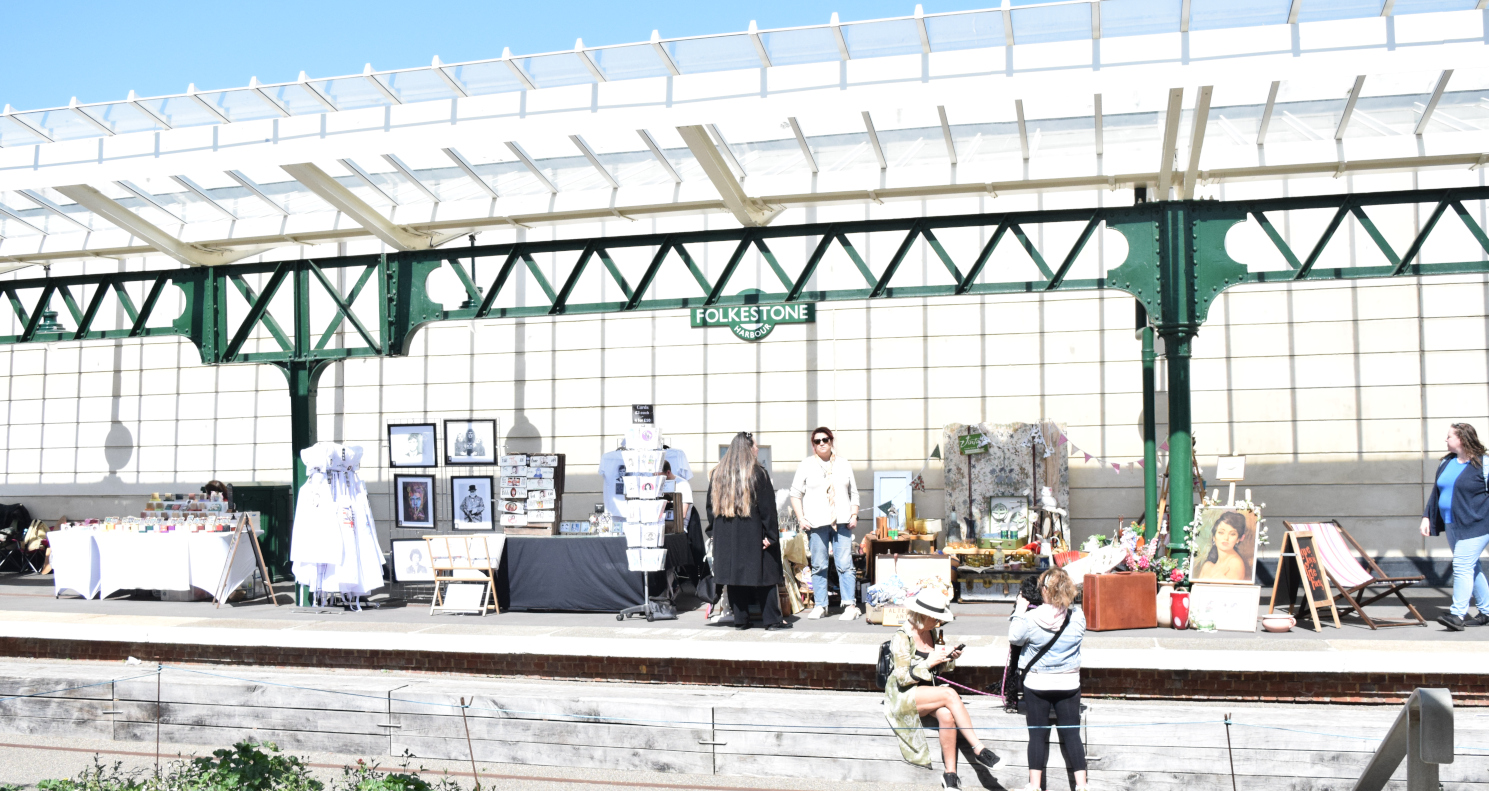 The fern house
Michaela and Stephanie are the sister act who run The Fern House. "The location here just lends itself to having a plant shop.  We spend a lot of time here, its our sanctuary really; we swim and join in with a lot of events that happen in town.  Both my sister and I wanted to bring what we love to everyone here in Folkestone.
"Everything on offer is to help with looking after houseplants.  There are the plants themselves and then we also have the watering cans, feed, photographs, shelving and lighting as well.  You can see on our Instagram that we work a lot on developing people's interiors, using plants as well as other decor. 
"It's wonderful being down here as part of the team in the Marketplace.  The sun shines, my cacti love it!  And there are so many different people here to meet, it's so interesting and just brilliant."
the beer shop
The Beer Shop on Rendezvous Street has done a roaring trade in take-away beer during the Covid period.  Now down at the Marketplace they're focusing on a huge selection of London and local craft beers in cans.  There's also the 'not beer' range consisting of cider, wine, whiskey and soda, and soft drinks.  Take away cans of all different shapes and sizes for you to drink on the Arm, the beach or take home with you.
There's a rather fun can-crushing machine for you to help responsibly dispose of your cans once empty.  Expect a really good selection of beers and non-beers here; possibly the largest selection of drinks on the Harbour Arm.
moo like a monkey
Charlotte and Nav have extended their hugely successful children's boutique from The Old High Street to a hut in Folkestone Marketplace as well.  "We're offering a summer, beach-themed, family/kids fun things to enjoy this summer.  We have eco-friendly buckets and spades, quick-dry beach towels made from recycled materials, crabbing nets and lines and buckets.
"It's been an experiment to be here as it's a really different crowd to what we see in our shop on The Old High Street.  Here there are visitors and tourists who are not looking to shop, but to eat and drink and enjoy the day.  So we're helping them to enjoy their day and get in the mood for summer.  We also have some summer clothing, beach-wear and kites.  Who doesn't love a kite?  What about some plastic-free unbreakable children's sunglasses?  They've got a durable bendy frame and made from plant-based materials.   
"We discovered this talc-free powder that you shake on and it helps remove sand from difficult to clean areas (like in between your fingers and toes).  This has been especially popular with my family, some of whom hate sand!"  
objectables
"Our shop on The Old High Street is open 7 days a week but we wanted to be here on the Harbour Arm too.  There's a different customer here; someone who might not have discovered The Old High Street yet.  Being here also allows us to be a Folkestone Souvenir shop, and object that we've designed ourselves.  It's something we've wanted to do for a number of years.  Although, it will be a souvenir shop with the Objectables twist to it.  We've got Folkestone Rock, and a decent selection of sweets. What's a trip to the seaside without some really fun sweets?  
"The Harbour Arm has a real festival feel to it, especially when there are events on such as the football.  We've got a great selection of games for sale that you could buy and play there on your day out with friends."
the station market
Every Sunday from April to October the Station platform is open with the Sunday Market.  Independent creative businesses selling a wide variety of paintings, hand-made clothes, jewellery, cakes and plants adorn the platform.  Come and browse and buy unique items and enjoy the atmosphere, food and drink at Folkestone Harbour.
discover more about Folkestone below