Hot Salvation – Independent Record Store and More
Hot Salvation owners Natalie Barker and George Clift have always been into music.  Growing up in Grimsby, Natalie would set up shop in the High Street with her collection of cds and records to sell to anyone interested in music not available in the mainstream shops.  George had been in bands, and put on gigs for people who wanted to hear good live music.  They're a natural partnership.  So, after the birth of their second child, looking to make some life changes in terms of career and lifestyle, they moved to Folkestone to open Hot Salvation in 2014.
George is a Kent boy, growing up in Ashford, university in Canterbury and then a stint in London.  He met Natalie in Sheffield and Nottingham through their common interest in Punk in the early 2000s.  They lived in London for a year whilst Natalie worked for Fred Perry and George commuted to his teaching job in Sittingbourne.
Owing a record shop
After their first child was born, it was time to leave London; "We were living on a boat which was under construction as a recording studio, so it wasn't anywhere I wanted to have a child!" says Natalie.  "We moved to Canterbury and rented there for a while," George continues, "But it's so expensive and the houses are too small.  We had friends in Folkestone and came here for the day and bought our flat straight away.  There's more space, more outdoor space and we love it."  "I'd never been to Folkestone before," Natalie chimes in "but it's just like Grimsby, only in the south! It instantly felt like home to me, being by the sea, and the commute into London was good."
"It was our joint ambition to have a record shop, and so, living in Folkestone, we had a much more affordable way of life, and thought 'now's the time'!" George and Natalie finish each other's sentences.  "We started buying stock, and then at the Christmas Lights switch on for 2014 we opened our first shop.  We were in the Old Royal Albert Hotel in the town for a year, and then we took on this lease and Hot Salvation has been here in Rendezvous Street ever since."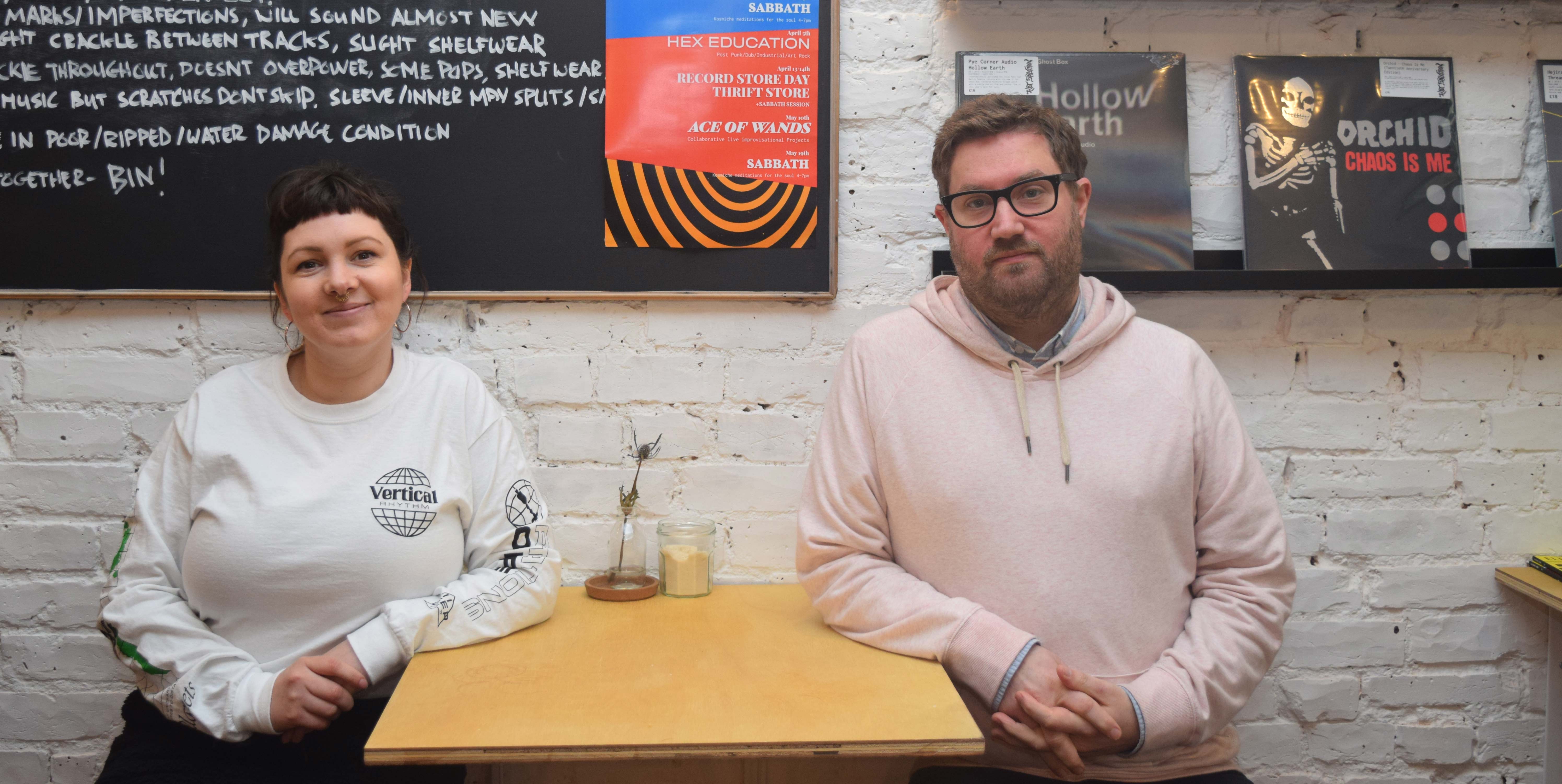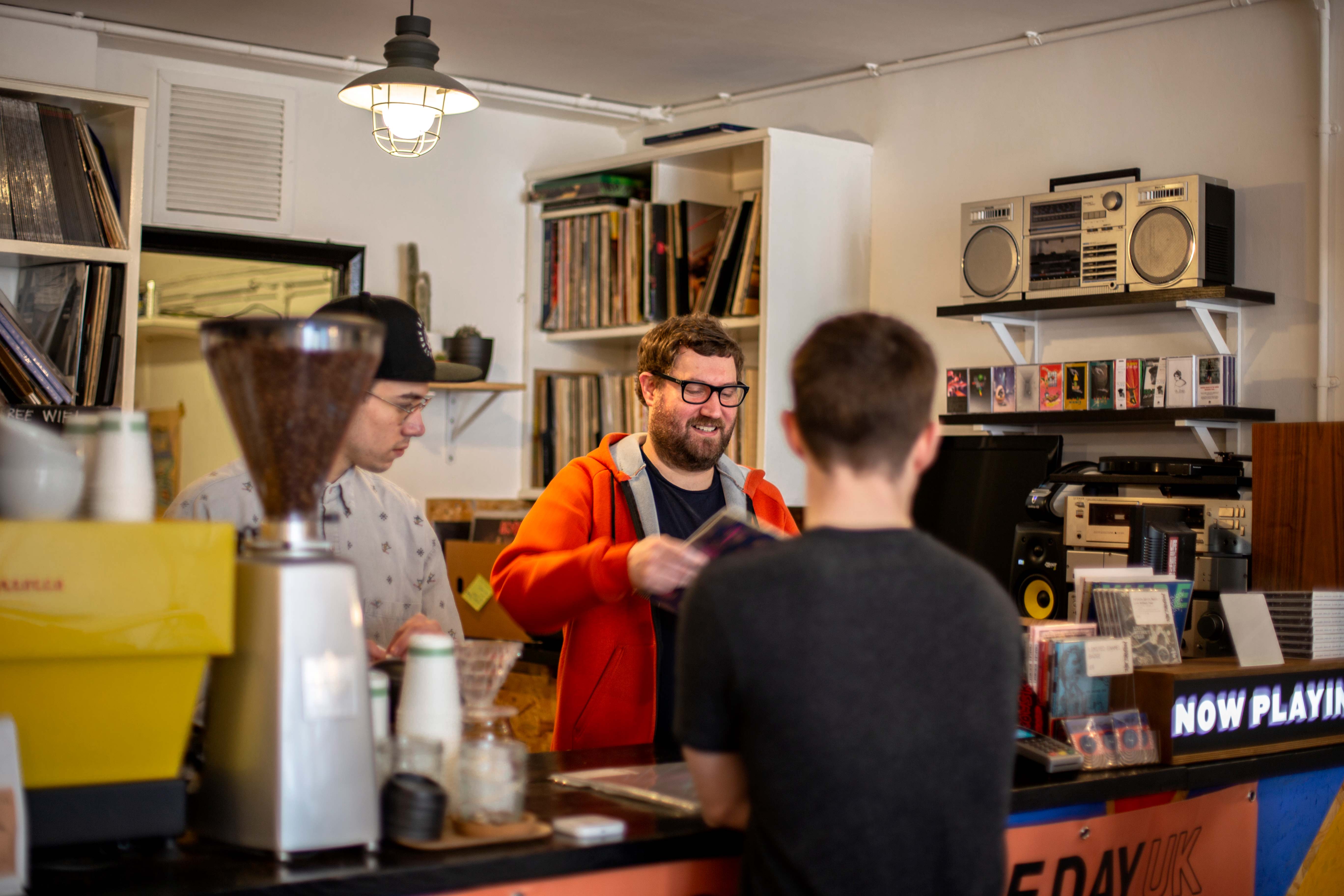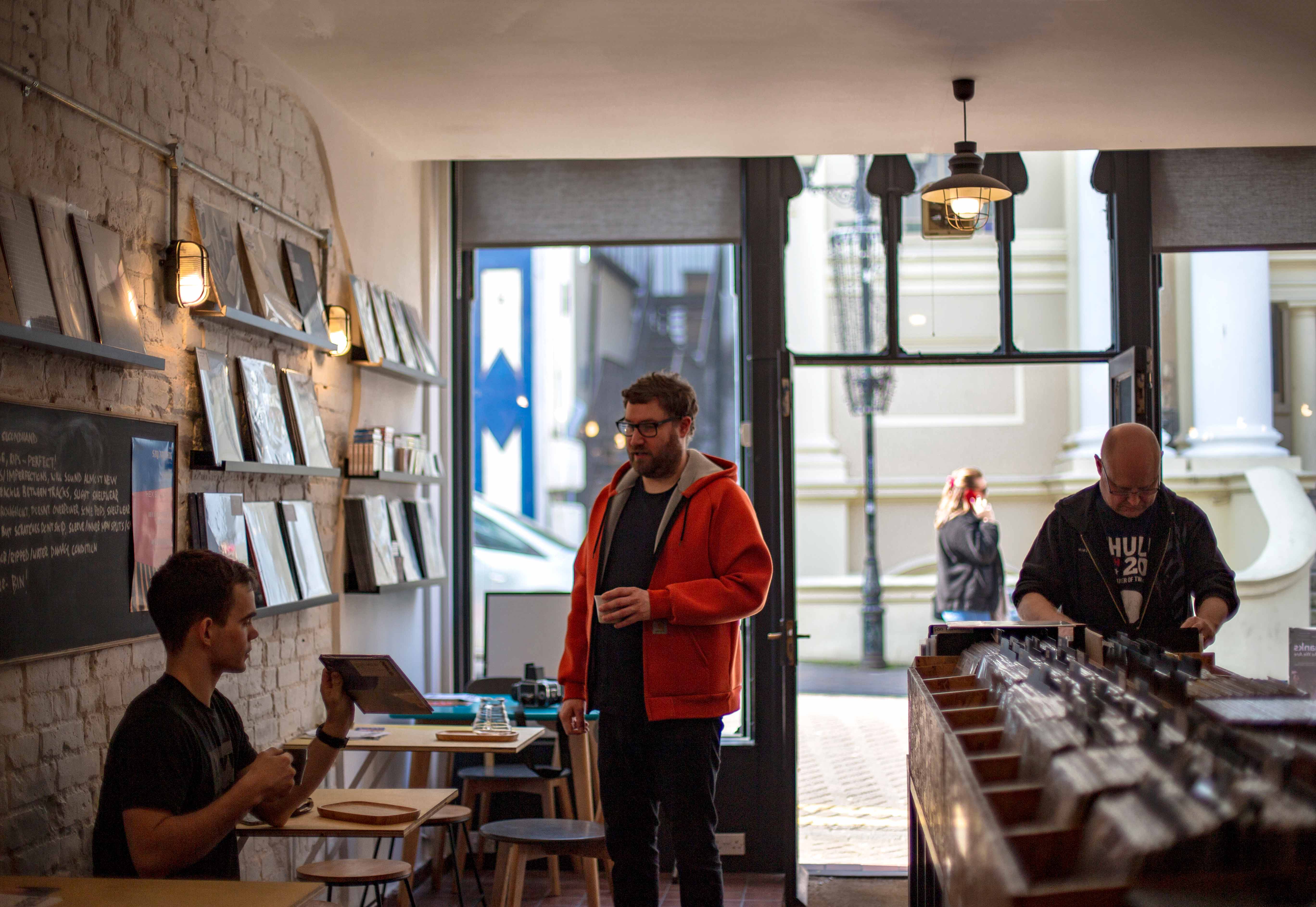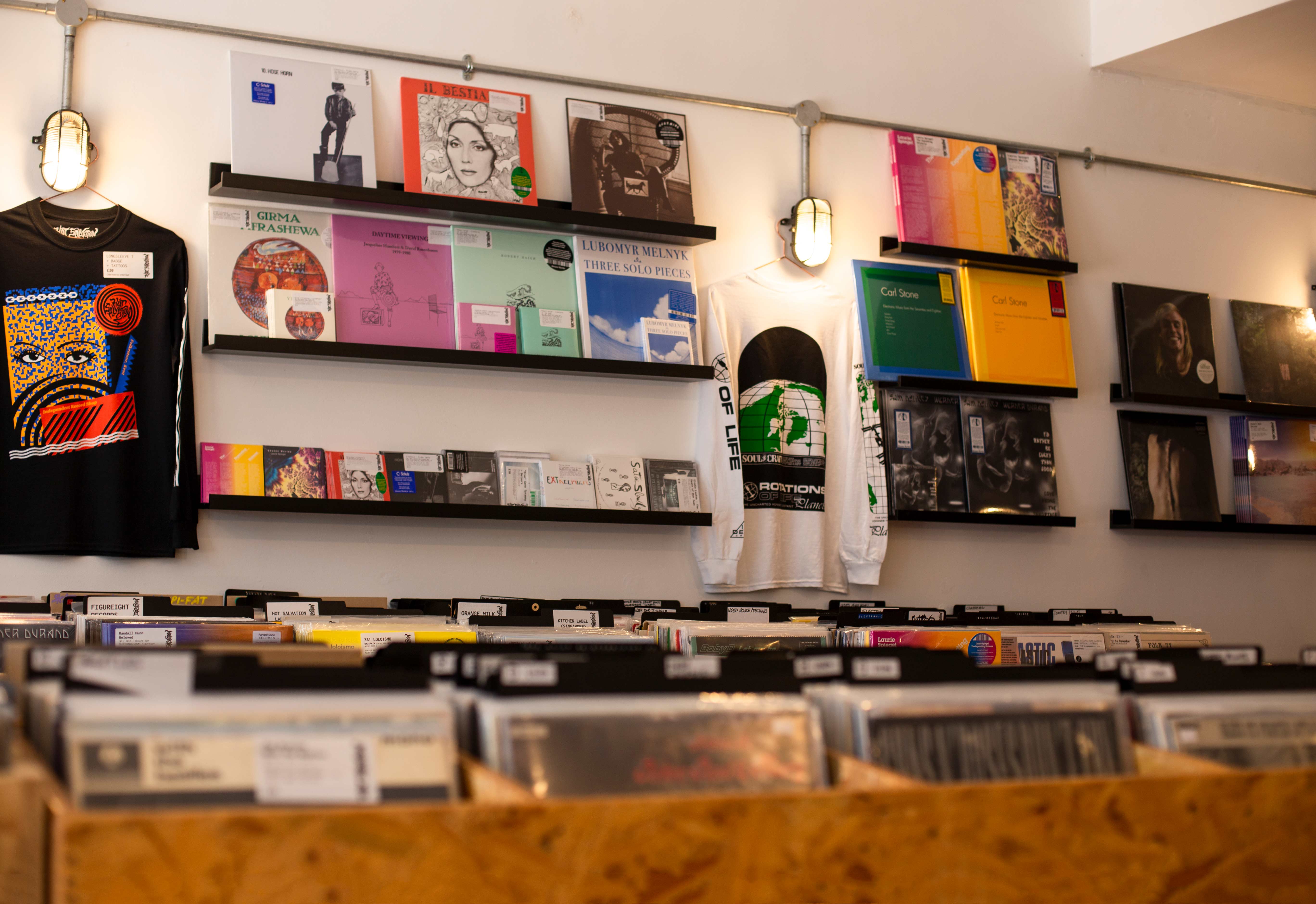 Friends in Folkestone
"Hello Hair, who's now on the Harbour Arm, was here with us to start with.  She's a friend from Canterbury days." Says George, Natalie carries on, "And I gave up the commuting after a couple of years so I could be here all the time."
"Folkestone is a small town for a record shop such as Hot Salvation," George leans back on the central bank containing records, "but you don't want the town to get any bigger!   We've always wanted to sell records, and music that isn't mainstream, but that does mean we need to be creative in how our business works.  People don't just wander around the town spending their money anymore.  Our core business comes from a group of people who love music; they've been collecting records for years and are proper record-heads!" 
Not a shop for hipsters
Natalie takes over, "Some people think it's the graphic designers from London who shop with us, but it's not.  People who work in London still buy in London, and when they're here for the weekend they have their allotments.  They're not really our clientele.  Our locals our Folkestone born and bred, they're tradesmen, railway workers and not in any way hipster, much as people like to think it is!"
"We do sell online," George explains, "but it's still 80 to 20% in favour of what we sell in the shop.  People used to travel to London or Brighton to get what we're selling, and now they can find it here in Folkestone. Records also don't post very well, our postal service can't really handle it!  So people know to come into a shop like ours to spend that extra pound to get a good copy of what they want.    Now we have Orchard Lane here, our customers come in and get a coffee, browse, sit and listen to something new.  They can spend up to an hour in here just listening to things that wouldn't be recommended to them by some algorithm online."
distributing international music
Hot Salvation isn't just a record shop though, Natalie expounds, "Alongside what we do in the shop, we also work with a label management and distribution company.  There are labels that we are the primary face of in this country.  They're European and American labels, and people come in to sit and listen to the new stuff we're distributing.  We've got the Kin Leonn record, and that's on a label from Singapore called Kitchen Label.  It's electronic, modern classical music.  Kin Leonn's based in London now, but he's from Singapore.  We'll put that on and sell copies to nearly everyone who's in the shop; it's not something you hear everywhere, yet it's beautiful and commercial.  We stock the cds of that too, and to be responsible for all the sales for that artist in the UK is really great."
George expands on their business model: "We're not about quibbling over the 50p difference suppliers can provide music for online, we want to concentrate our efforts on music that we're interested in.  So you won't find the same stuff on our shelves as you will in every other record shop; you won't be disappointed!"
Not just vinyl in Folkestone
"We're not format fetishes though!  We listen on Spotify and YouTube, to tapes and cds as well as vinyl.   We just have to look at where people are spending money and how that aligns with what we're interested in.  So we're really putting our efforts into something that we're interested in, and that we have a slight monopoly on, and we can provide an all-round service to artists who have little or no connections here."
Natalie continues, "We have good second-hand vinyl here at Hot Salvation which is collectable, and people are willing to pay for that.  It's not worth us having vinyl of new commercial releases as many don't have the means to play the records, and they are more expensive.  We've created a shop that we would like to shop in.  We both come from Punk, and we both come from small towns.  When I was still at school I was providing niche music with my distro – I'd buy cds and records from various labels in Europe and the UK and have a little stall in the High Street.  To get niche music to people in small towns, you have to do it yourself!"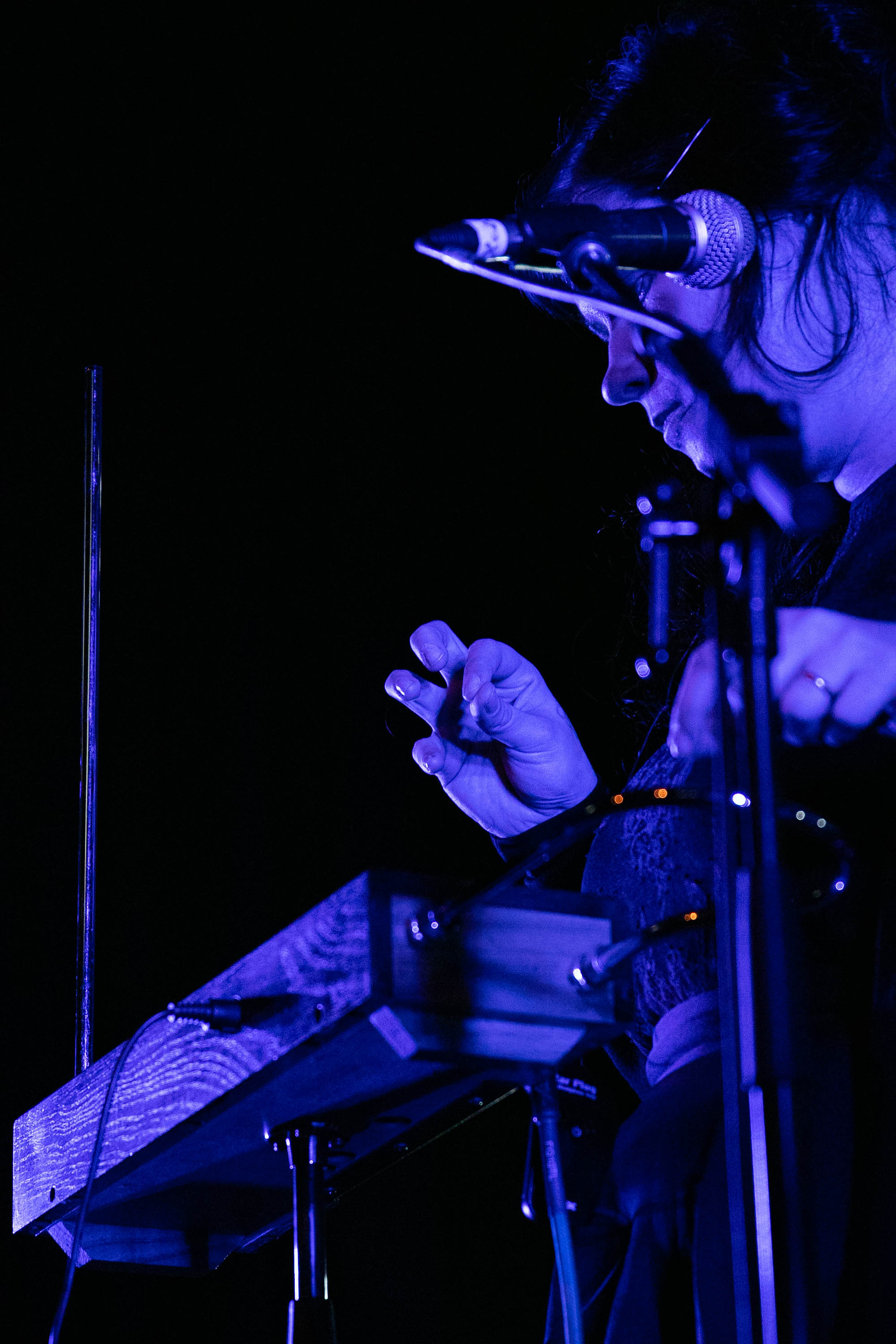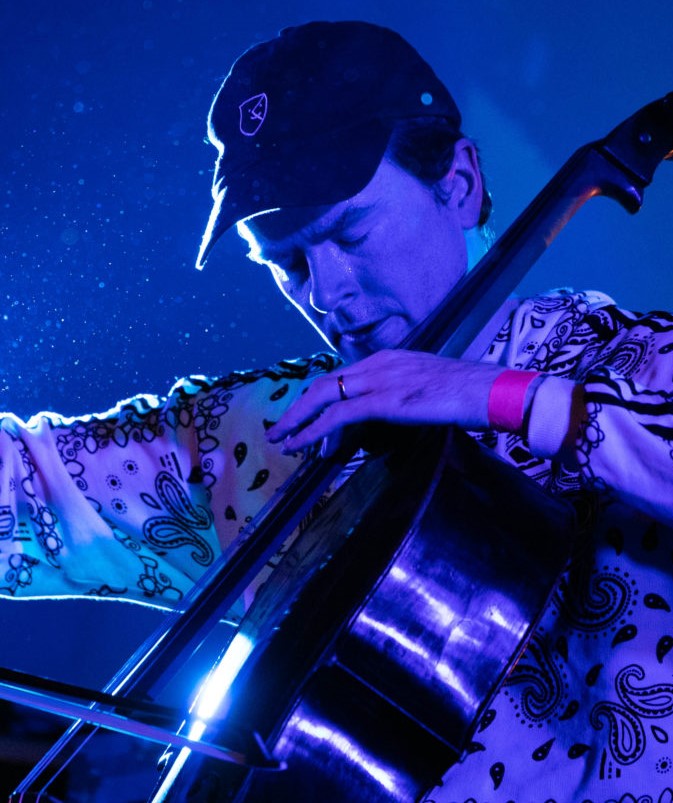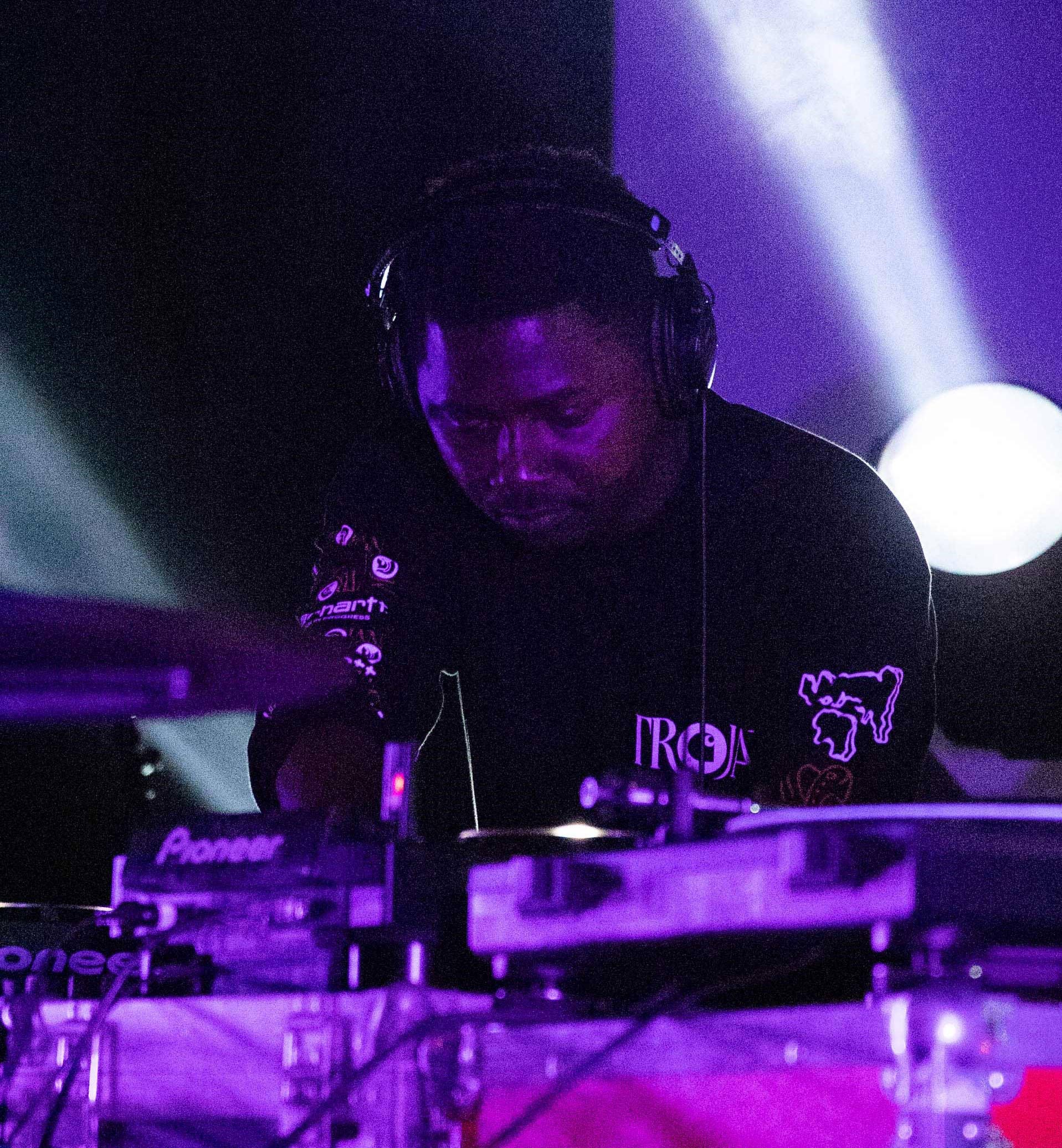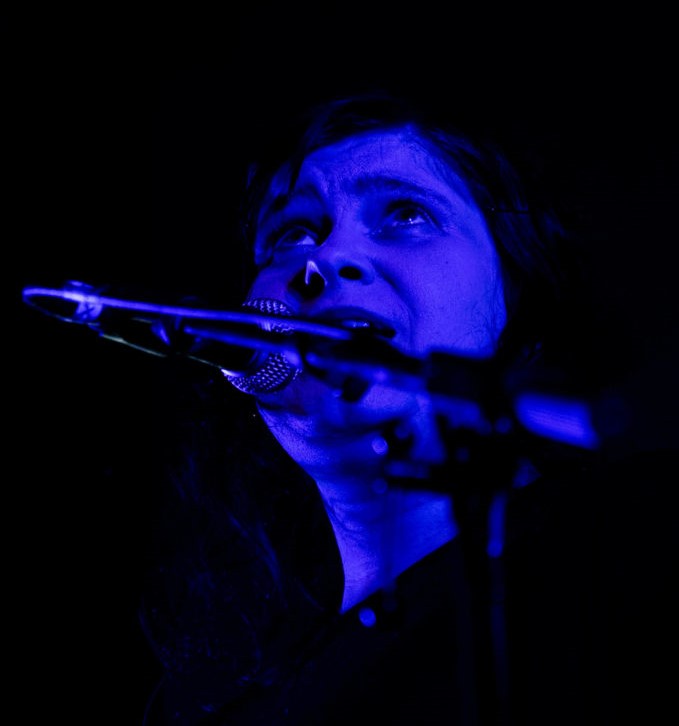 Folkestone's Profound Sound Festival
George curated a lot of the 2019 Profound Sound Festival.  "We got involved with Profound Sound about four years ago; we invited a band from Barcelona called Za! And another band from Leeds called Nope, they came down for the weekend and played.  We've known Di and Denise (Dever) since we've had the shop and they just asked us!  We'd already organised a gig at the Harp Restrung and Za! played the daytime set.  The duo is really engaging, quite noisy, somewhere between Beastie Boys and a noise rock band, with a bit of jazz in there, it's really quite fun! We've been increasing our involvement ever since.
Natalie carries on "We've invited Oliver Coates too, he's an absolutely incredible cellist.  He lives in the Outer Hebrides now, and plays with Radiohead, it was really interesting to have him here.  He performed the track he did with Mica Levi which was on the soundtrack to the film Under The Skin – with Scarlett Johansson, written by Michel Faber who also lives in Folkestone."
International, diverse and local music
"We curated a broad and diverse, international roster which was great, with opportunities for local talent to take part."  George is rightly chuffed with the festival " Reese, who used to work here in the shop, did a performance with Justin Wiggan who has the technology to take the biometric readings from your house plants and make music from that information.  Hekla, from Phantom Limb record label, is an Icelandic Theramist; incredible to watch!  Lamin Fofana who lives in Berlin but originally from Sierra Leone; he's an electronic artist and producer.  It was great this year!   We've got an incredible team who can pull together quite a special programme for Folkestone."
It doesn't just happen in February either, George and Natalie put on Profound Sound performances in the East Yard at the Harbour Arm during the summer.  "We had Baby come and play, she's from Margate" Natalie informs "She's just about to release an album this year.  She's performed before at Profound Sound and played at the East Yard. "
party with the space gallery
"Our links with Mike Brassica, who's an old friend of mine, and he gets booked internationally, all over the place, has lead us to doing a programme with the Space Gallery this year, which is a sort of series of parties as well!" Says George.
"We've done a few collaborations with Space.  Every single one is different, reaching different audiences, but then, we're into so much stuff!  Again, we're treating it as something that we'd want to go to.  There are so many incredible local musicians, Johnny Tomlinson does DJ sets for us. It's great to be able to have a community that supports music.  Music is a great common thread for a lot of people from different backgrounds, different walks of life; it's such a leveller for people and that's why we try to provide lots of different types of music and performance."
Record Store Day
The smooth transition between George and Natalie's narrative continues with Natalie "We've got Record Store Day which we celebrate.  It's trying to nurture the next generation of people that might want to make music, or book music, or be involved somewhere with a music event.   It's an annual celebration of record shops and their place in communities, and in culture.  We're trying to take some of the commercial aspect out of the day and turn it into a party. 
Natalie sums up their eithos at Hot Salvation: "I'm a lot happier working here, because we're not trying to fit into, well, anything!  We're involved in the Profound Sound Festival, the shop, the distribution, the label… it's just us, and us finding other people that may not be into the same thing, but think the same way.  That's the commonality we find with so many people in Folkestone, which is why we love it here!"