Dog-Friendly FOlkestone – A Whole Community
Having a dog puts you in a special community, and Folkestone is very big on dogs!  There are so many places to walk and explore, it's a dog-friendly place.  The town prides itself on welcoming everyone and you'll find many venues also welcome our four-legged friends too.  Folkelife discovers Folkestone's dog-friendly areas.
The Warren
If you are looking for a place that's by the sea and open all year round to dogs, then The Warren is it.  It's a stunning area of Special Scientific Interest and has cliff-side walks and you'll get to know many local Folkestonian dogs in this area.  It's a real wilderness.  Lola, pre-shake, post-dip, models the fine gault clay look you get from the area.  We're not entirely sure if she's aware of the beauty properties of this clay.  Charlie has come equipped with a beach mat while he recovers from the walk down to the sea.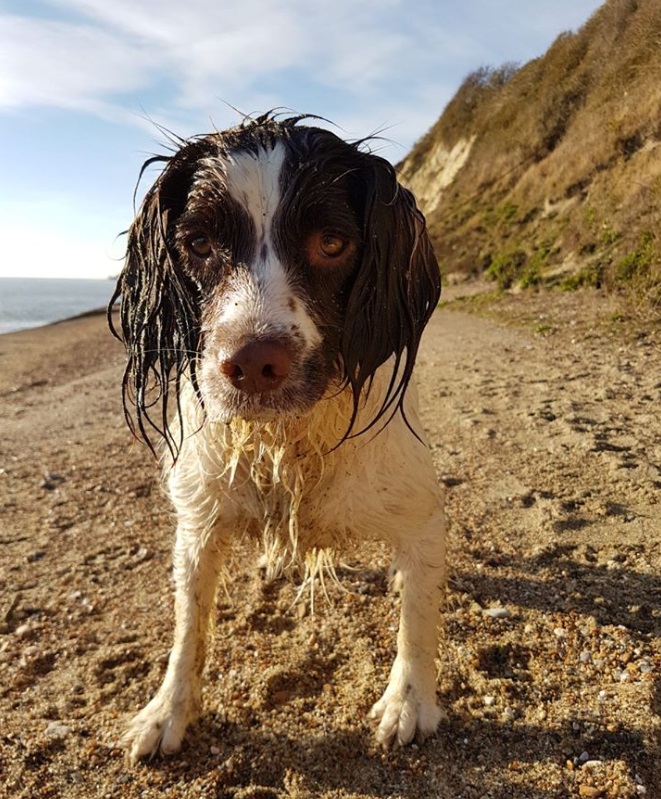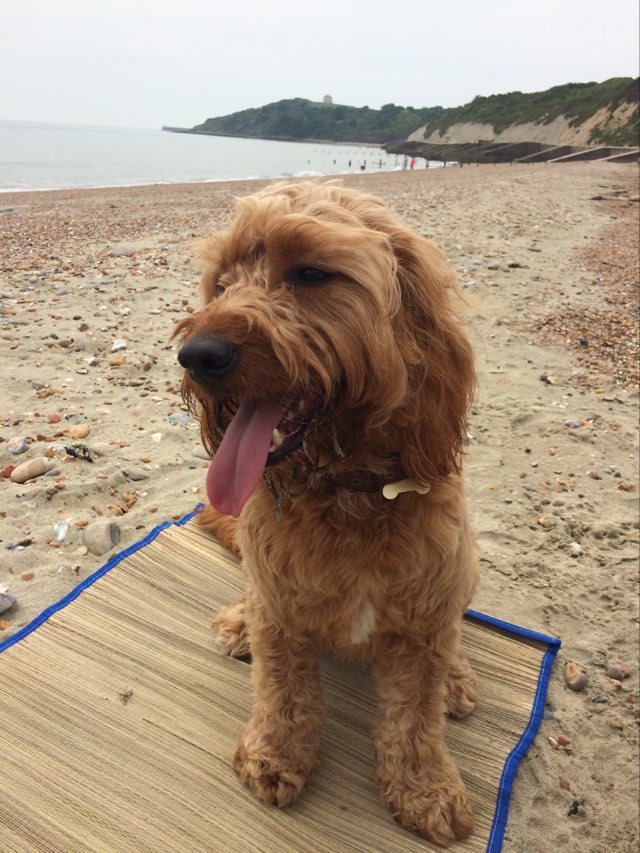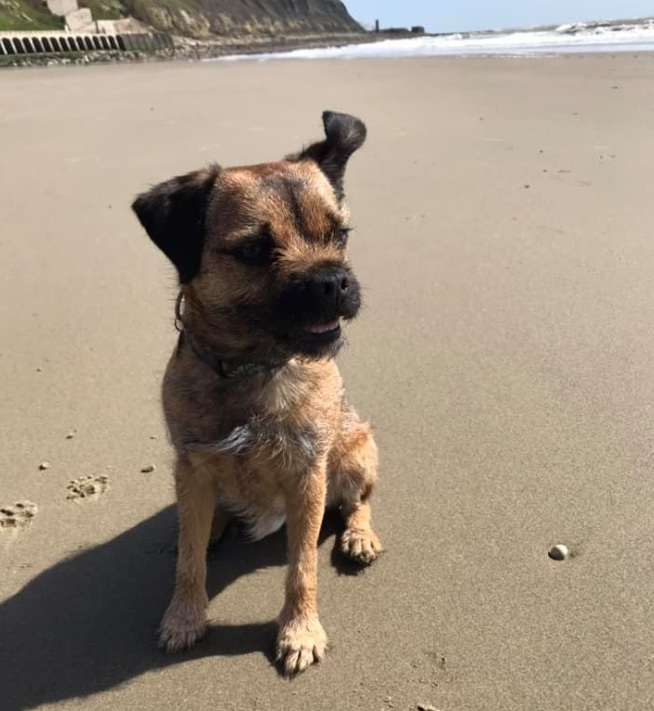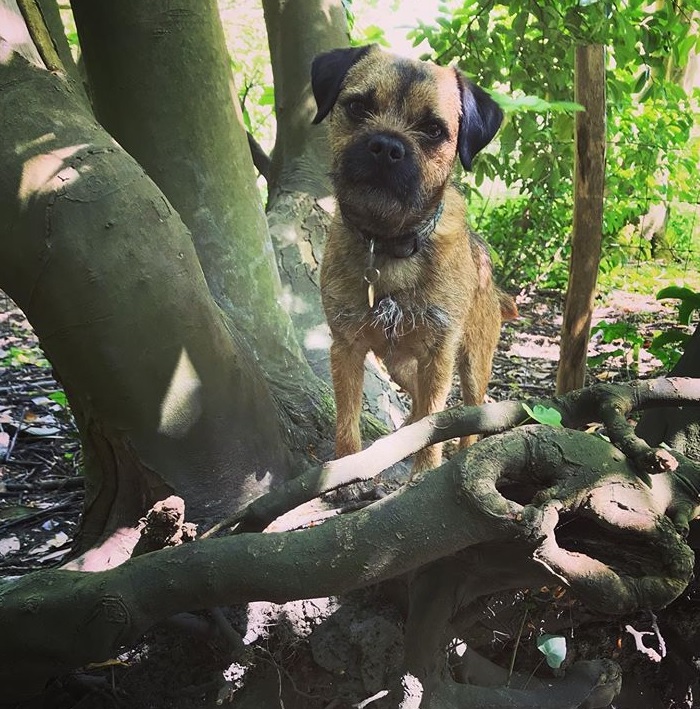 Sunny Sands
Here's little Clovis, a proud and noble Boarder Terrier, taking in the sea air on Sunny Sands between 1st October and 30th April.  Dogs are allowed here during the winter months, and they make the most of it.  Clovis' other favourite walks include The Leas and Sandgate sea front.  His little legs have been known to take him as far as Hythe, along the canal and the sea front there.  The canal path goes through to West Hythe and is a lovely walk to take in the shade when the weather is too hot for paws on pavements.
Clovis rates The Radnor Arms for a refreshing bowl of water and they're really good at fussing over him.  There's also a decent fire there in the winter.  Children might recognise Clovis from lessons at school as his owner is a teacher and Clovis a keen classroom assistant.
dog-friendly venues in folkestone
There are plenty of food venues in the town that welcome dogs.  Spuds is lounging in Market Square, and The Pullman and Harbour Inn are favourites too.  If you're an early morning walkies type then the Captain's Table on The Stade is a good place for breakfast.  Djangos always welcomes a dog or two if you happen to be walking up to town.
Folkestone Harbour Arm
The Harbour Arm is a great place to walk when it's open.  You can promenade on both levels, and find the stony beach on one side too.  It's a great dog-friendly place because it's in the open air and part of the team there is canine.  The Folkestone Fringe is actually run by Bo who is generally well behaved in the office but is known to eat all the decent biscuits and has issues with sharing.  The food vendors offer water bowls to all thirsty beasts and the majority of the seating is outside, so just be careful you don't get blown away.  You'll definitely have 'Harbour Hair' at the end of a day here.
hello Hair
Bruce, from Hello Hair, could help you out if you are having folical issues. Although they are more suited to humans sitting in the chair than dogs.  Bruce loves coming to work at the hair salon on the Harbour Arm, getting very excited when he walks through the station by Dockers to the pebble beach.  Maybe it's the 'pow' of the wind as it hits you on that corner, who knows!  He also loves the drain covers along the Arm which are great for a roll over and back scratch.   Being a chilled dog, Bruce loves to take in some music and can often be found in Space 7.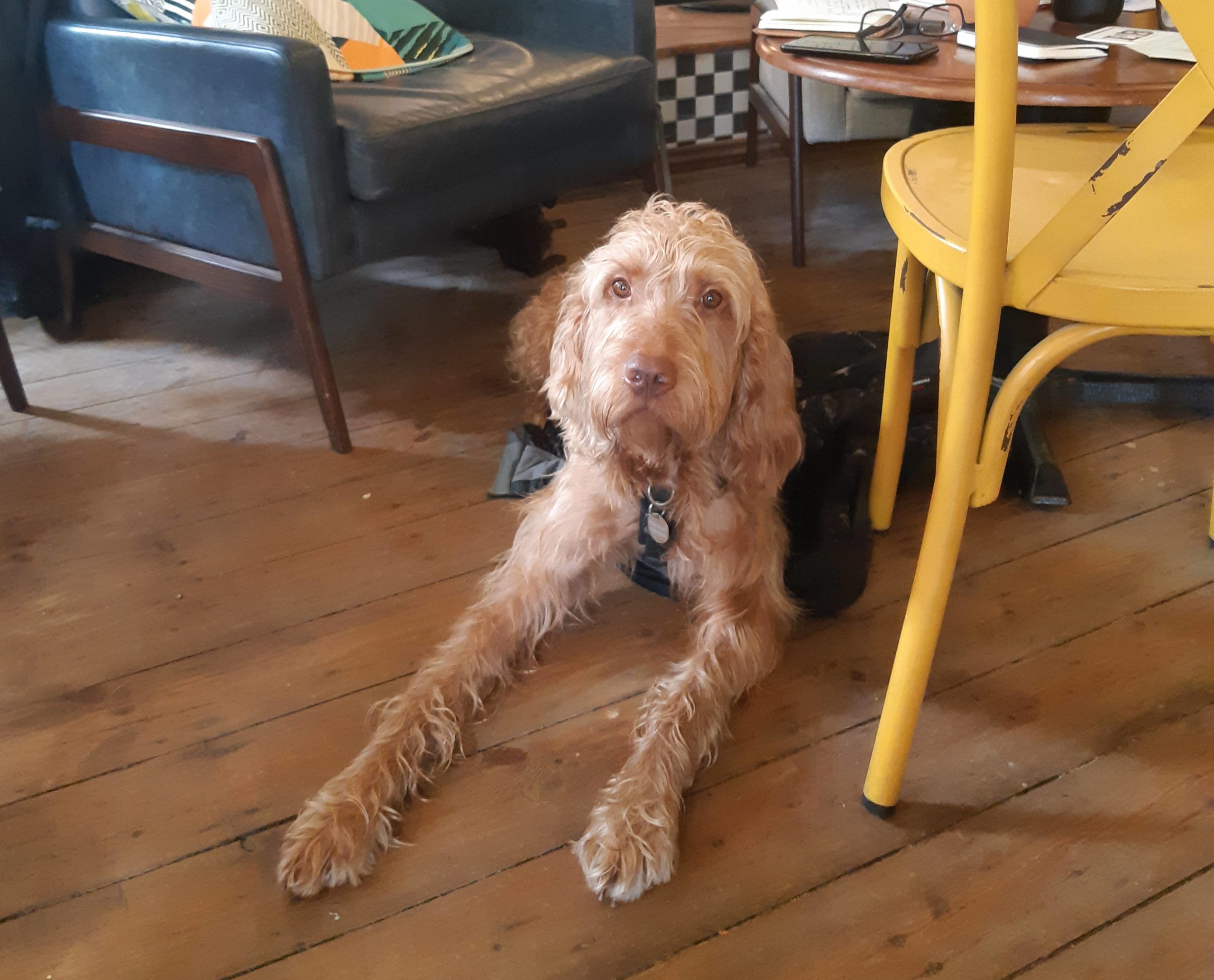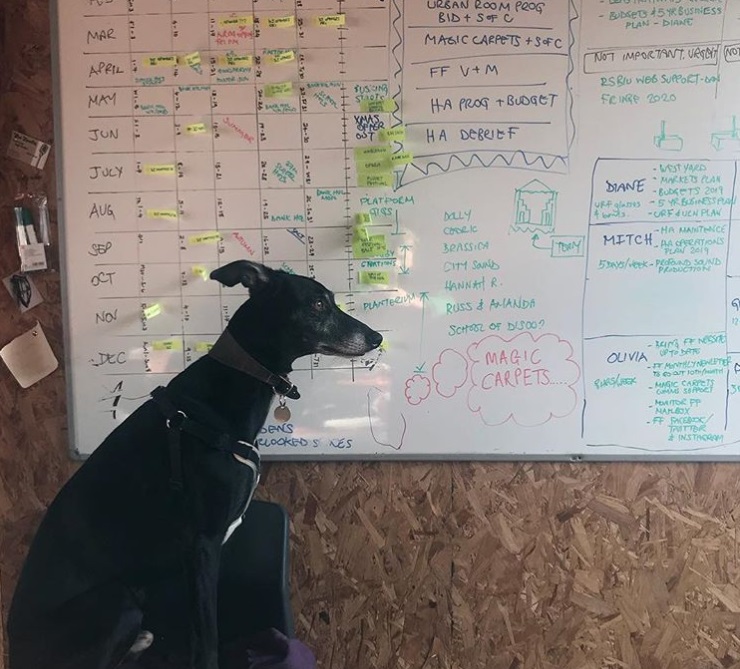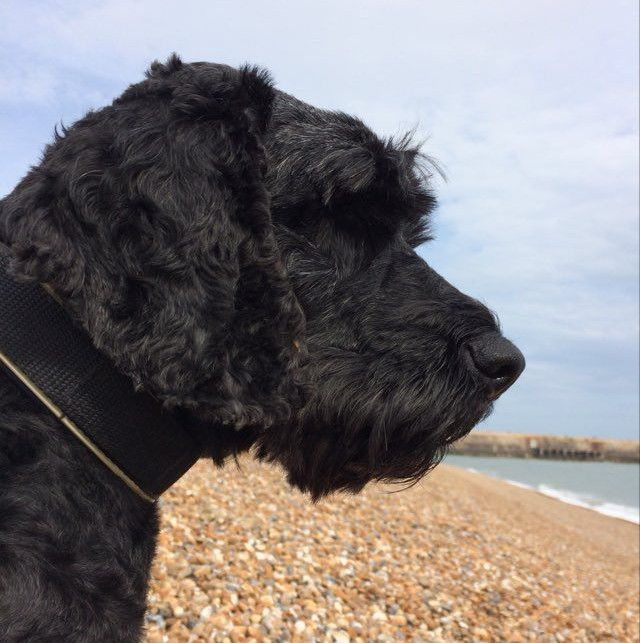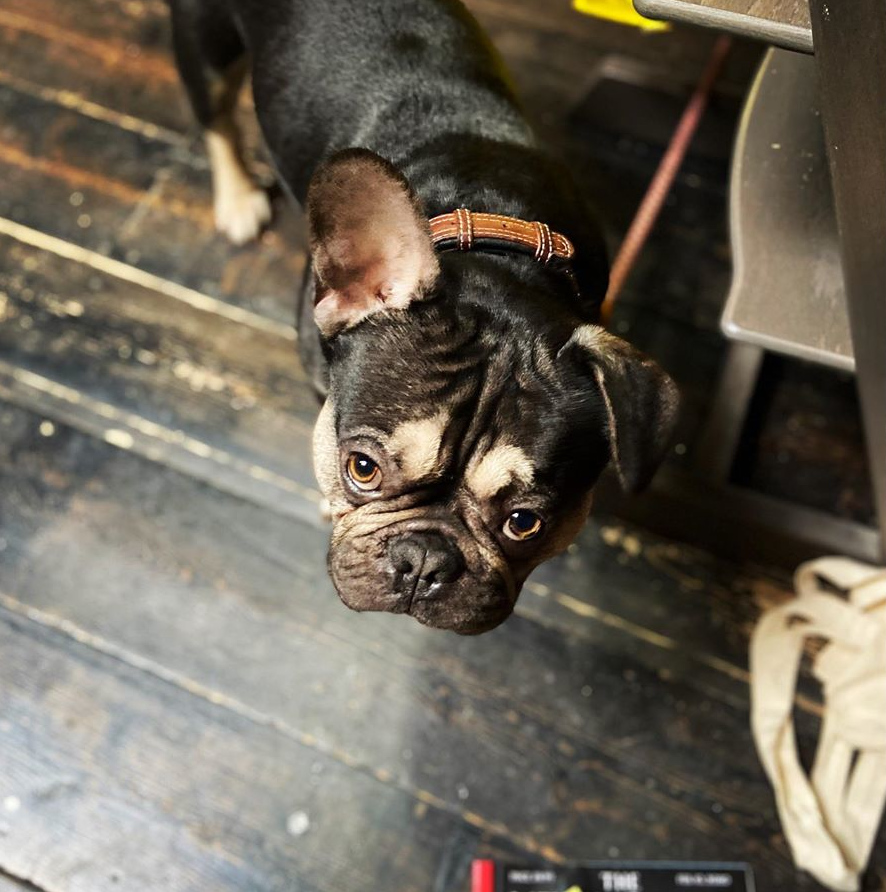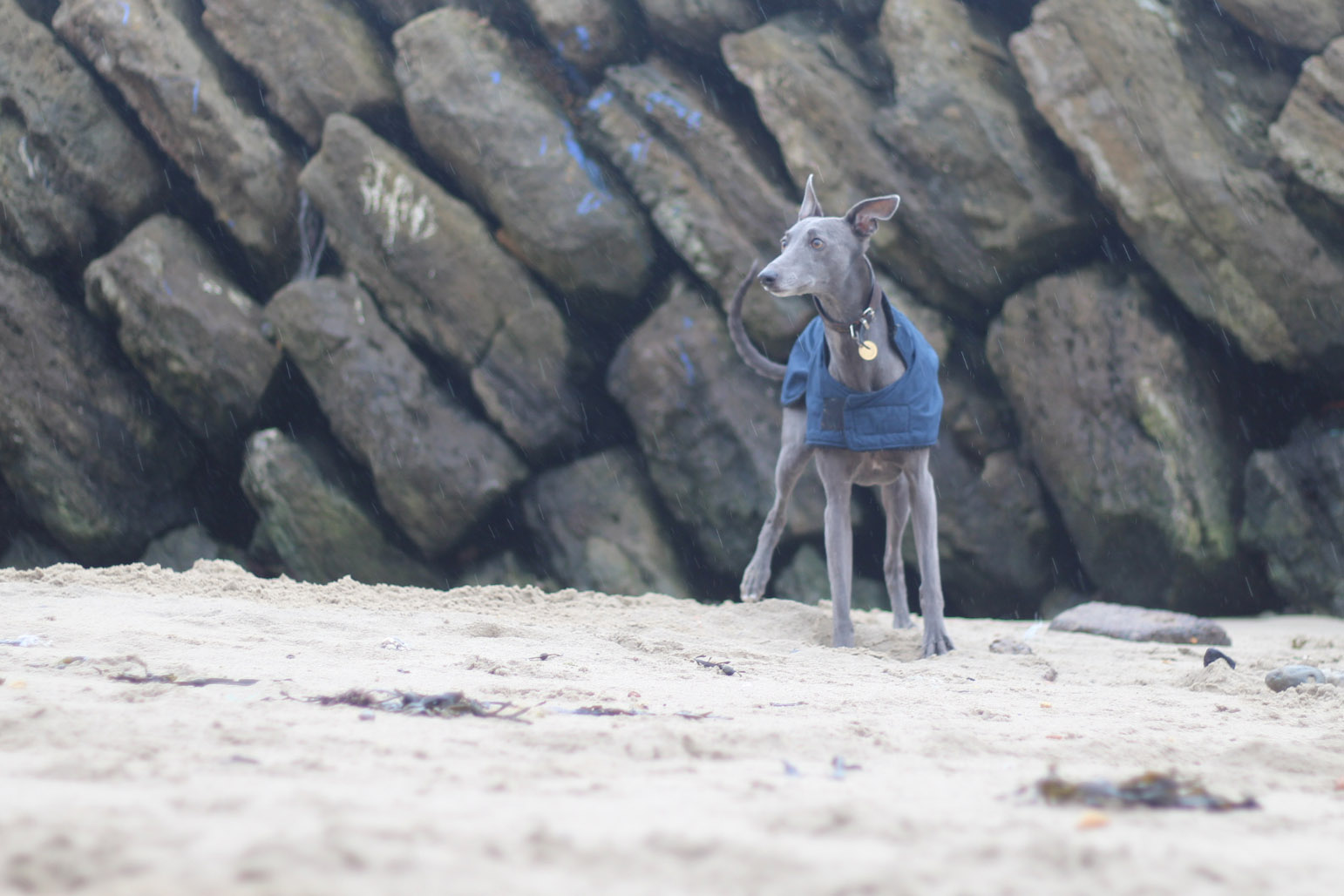 Artistic dogs
Baxter is very knowledgeable when it comes to Creative Folkestone.  He knows the office well, and supports local artist Sight Hound in her creations.  His speed takes him from Sandgate to Folkestone and he also finds the beach hard to resist.  It's worth using a tides app to plan your visit to Sunny Sands as when the tide is in, the beach is totally cut off.  Baxter, being 9 years old now, does exercise in short bursts, more 'interval training' than marathon running.
Baxter also frequents Sandgate and there are some good woodland walks here.  The Saga park has a great mix of terrain with the prospect of saying hello to other dogs.  There are also good eateries here too with Orchard Lane and Loaf being particular favourites to dog owners and dogs alike.
Care in the community
Our dogs also give back to the other residents in Folkestone.  Otto has struck up correspondence with his neighbour who sadly doesn't have any pets.  Before lockdown, they started writing to each other and it's been a lifeline during the pandemic.  Owner Hannah Prizeman has even worked out that bathtime can preceed a visit nextdoor, where some crucial contact helps her neighbour Pauline cope with isolation.
The Bouverie Tap
It is undoubtedly true that our dogs have noticed a difference during lockdown.  They might be benefiting from more social activity at home than before, but they are certainly missing the buzz of a decent pub (with the prospect of biscuits through that magic door…). It's hard on a pooch to walk past this door and not be able to go in.