saffa bru – south african street food on the harbour
Folkestone Harbour has built up a name for providing excellent, authentic street food from around the world.  Saffa Bru is joining Harbourside and offering such enticing dishes as 'bunny chow', kimchi chakalaka and 'poikies' in winter.  You could take pot luck and just dive in, or join Folkelife to hear from Keaton, the man behind Saffa Bru, to learn about this fantastical menu.
"A Bunny Chow is our version of a kebab.  If you go out for the night with your mates, you want something to soak up the beer so a bunny chow is exactly what you need.  It's a loaf of bread which has had the lid cut off, you take out the insides and fill it with curry, then place the lid back on which makes it look like a bunny with ears – hence the name.  Curry is really big in Durban, where I'm from, as we have the second largest population of Indians outside India living here.  They've had a big influence on the food."
bunny chow
"But South African curry isn't like British or Indian curry, we've made it our own.  It's doesn't have as much of a sauce-lead consistency as British curry; it's lighter and has a oil base, with tomatoes.  One thing though, we have to teach our British customers how to eat a Bunny Chow.  Lots of people have gone in with a fork, which isn't how you do it at all!  You use the bread as your spoon and that means you get the sauce-soaked bread around the rest of the curry.  Nothing is wasted.  Oh, and it's delicious."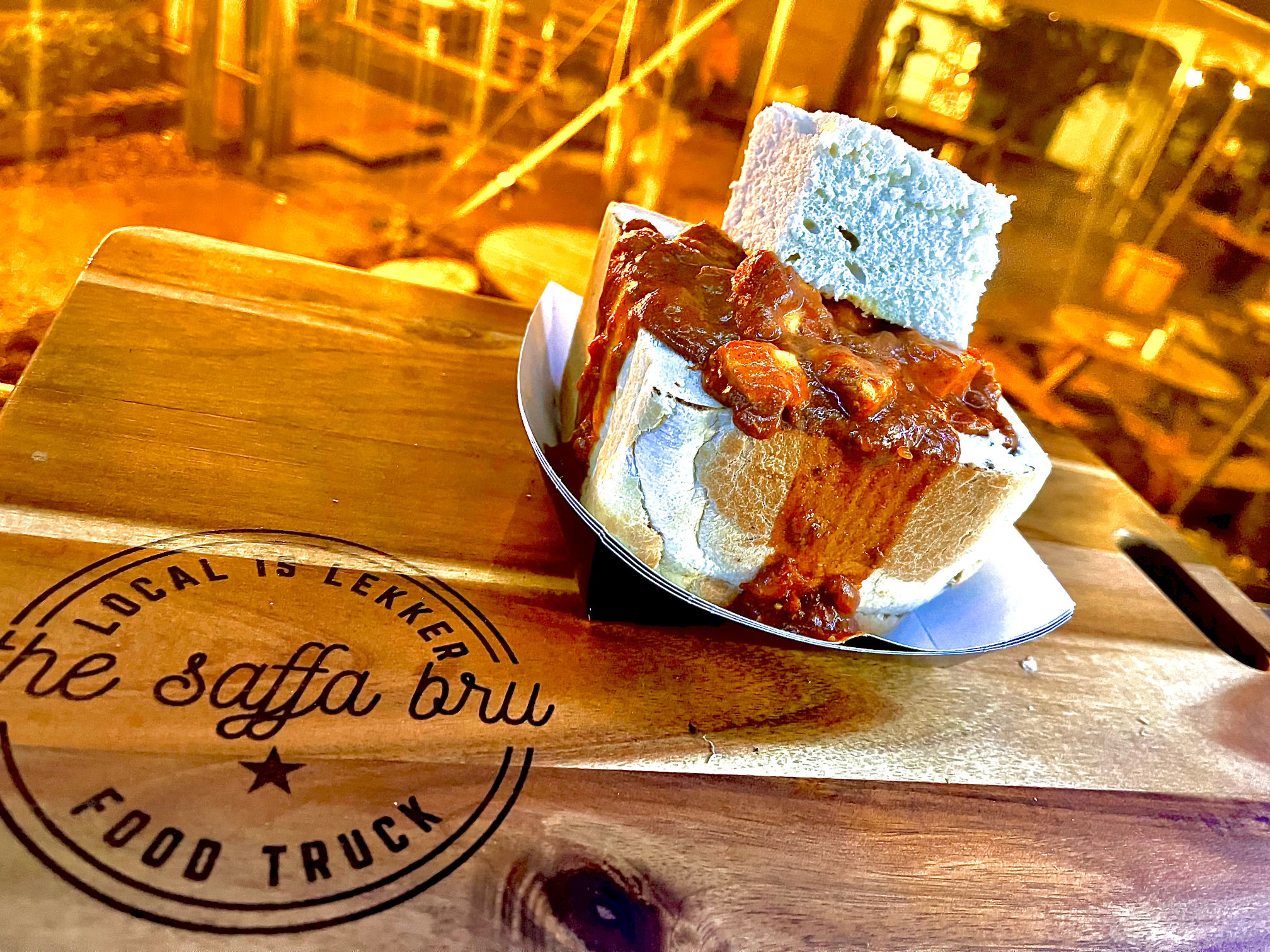 kimchi chakalaka
"I love food, and I love cooking.  I was working as a chef in South Africa and wanted to come over here to see the British side of my family.  Seven years ago I started out here working as a freelance chef which meant I got to see so many different venues and food-styles.  It's a great way to learn.  Then, two years ago, I got a food truck.  They rang me on the Monday, I picked it up on the Tuesday and we had our first gig on the Friday at City Feast in Canterbury.  Since then, I've moved the truck around to small markets and places like Macknade in Faversham.  You'll find it now in its permanent home at Dreamland in Margate.  
"The vibe I'm bringing with Saffa Bru is South African street food, definitely, but with some Asian influences so we get a fusion of different cultures in your mouth.  Chakalaka is a really traditional South African dish which everyone makes differently.  I base it on onions, tomatoes and beans stewed together but you could add peppers, sweetcorn… it's a vibrant and tasty dish.  And I've added my own kimchi in there."
sit down or take away
"Up until now Saffa Bru has been a take away venue, but joining the Harbour team means this will be our flagship restaurant.  You'll be able to sit down in or outdoors, or take away from the window.  With the advantage of the restaurant I'll be able to serve things like poikies – a winter stew in a cauldron that you cook over 2 days.  It's beautifully tender and succulent with that long, slow cooking and is perfect for warming you up on wintery days.  
"The restaurant also allows space for pudding too and another authentic South African dish is Koeksisters – basically Cake Sisters.  It's a doughnut type pastry that you plait as if plaiting hair, and then deep fry and soak in sugar syrup.  It's sweet, it's strong, so you don't have loads of it, but it's a traditional dish.  We've then got milk tart, which is what it says, a milk tart dusted with cinnamon.  There's peppermint crisp tart too which is a real South African thing.  The base is made by, oh, we call them Tennis Biscuits in South Africa but here you call them malted milk biscuits.  Yes, and so the base is made from them, and then a layer of caramel, then cream, and then broken peppermint crushed chocolate.   You don't really get that over here so we're going to have to make our own.  You layer these up as you go and build a brilliantly peppery pudding."
unique and vibrant
"I've looked around and there isn't anyone else doing what I do.  There's a man in Ashford who makes his own Biltong so I'll be using that.  But otherwise there are very few South African restaurants around.  We'll be able to seat around 30 people inside and then the outdoor seating is endless.  For the summer we'll have sharing platters which are giant pizza boxes of different types of cooked meats.  Then you'll have your potato salad, corn on the cob, kimchi chakalaka and fries.  It's so easy for street food to become stodge city, but the variety we have on offer, just from us, but from the other traders around, it's such an innovative place to be.  We'll be catering for everyone so you'll all get to try it."