Quinn's – A wholesome Team Of Five
Quinn's takes its name from the team of 5 who run this bar and restaurant: Sam, her brother Martin, her daughter Claire and friends Aaron and Chris.  Born out of one of 'those' chats in the winter of 2020 on how Covid had affected their business plans, the team wanted to run a bar and restaurant on Rendezvous Street in Folkestone.  Sam had been running the Wonderland Café in the same place, but during Covid it had been a struggle.  So, undeterred, and with a bigger team to shoulder the burden, a little bit of redecoration and Quinn's now offers street food, live music and tea and cakes.  Folkelife went to taste the wares.
"2020 wasn't the greatest year!  We'd opened up as The Wonderland Café in the January and had to close in the March due to the first lockdown.  Things were getting going and then we had to shut.  So, by the time we got to Christmas 2020 I was a bit demoralised, I'm not going to lie.  But… we all got together and worked out a plan.  Aaron, Chris and my daughter Claire have worked together before and they know about running a bar.  I know about kitchens and Martin, my brother, he's our go-to electrician, plumber, painter, carpenter… you name it!"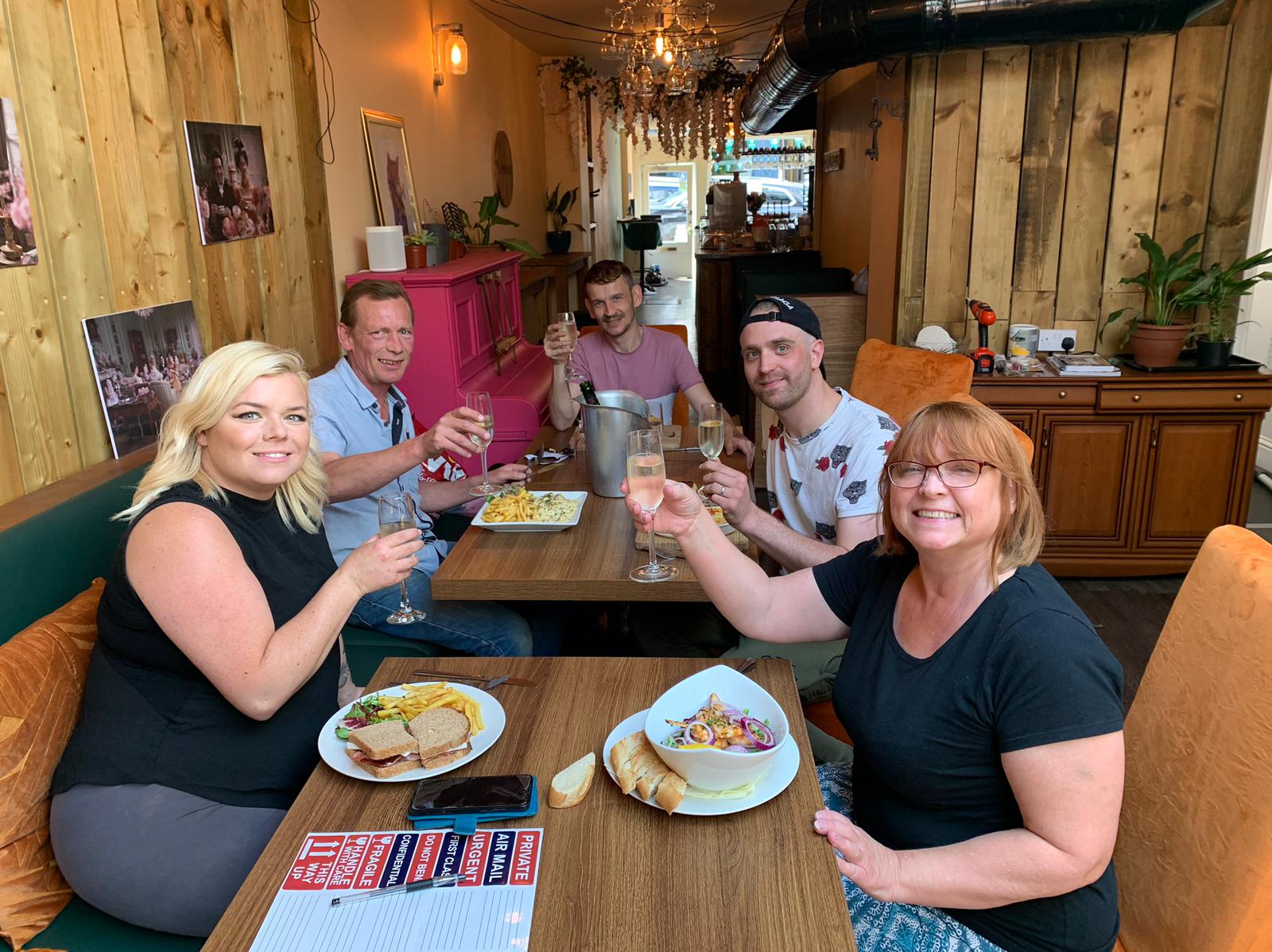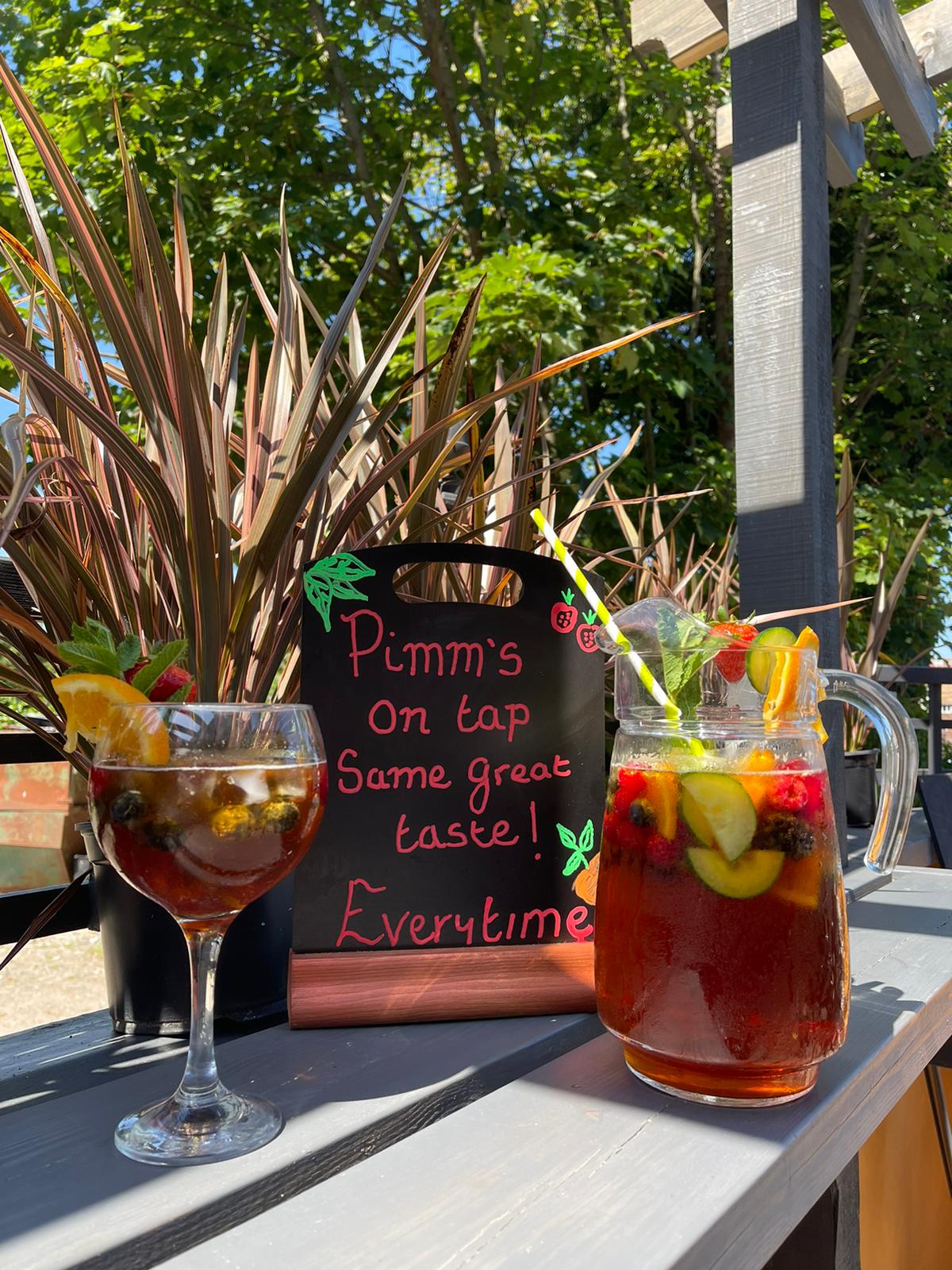 The TEam
"We're open now as Quinn's – because there are five of us – and I love it!  I love the look of it, the feel of it and we're doing exciting food and entertainment.  My other daughter sings, and she and her boyfriend have played here, Martin's daughter and her boyfriend have played here too. We've got great connections with musicians who play different kinds of music, and a little band area which makes it intimate.  It's so wonderful to hear live music again, and adds to the atmosphere we're creating here."
we threw out the fryer
"I cook everything here and when we moved in we threw out the deep fat fryer.  They leave an awful sticky residue over everything, which I hate.  So, that went out, and we don't fry anything here.  What we're offering is street food with a Mexican vibe.  I love limes, coriander, anything like that, so what you'll get will be made by me and baked, not fried.  We're slightly healthier than other places on that front.  
"We've got a little terrace out the back and I'm considering growing my own herbs there to use in the kitchen.  I make all my jams and chutneys – if I have any fruit left over that's not needed for a day or two, I'll pop it in the freezer to make jam with later.  There are salads in my home garden that I'm growing to use here too.  I love that: local produce that you know where it's come from and how it's been treated.  I also don't like waste, can't bear that!"
music with your tea
"When we had the tearooms I loved serving afternoon tea.  We'll still have cakes here – all made by me – and you can have some music along with your tea which makes it feel special.  Then, as we move into the evening, the music can be a bit louder and bring something different to the restaurant.  We want to have quizzes and events here too, so are looking into organising that as well."
community spirit
"It's important to be a part of the community in Folkestone as that's how we all succeed.  Our neighbours Lee and Lauren in The Beer Shop are really supportive.  We worked with them on OctoberFest in 2020, the beer festival, where we supplied the food for various things they were doing.  It's going to be great working with them again.  David, next-door-but-one in The Potting Shed, is also really helpful too.  Djangos have been great.  They served us our opening meal here – cooked it there and brought it over on plates for us!  There's a real community feel along this street of businesses wanting each other to do well.  Yes, we're in competition, but there's such variety here that we all bring people to the area, and that can't be a bad thing.  When you come for one thing, and discover another, we all win!
"We also want to get involved with the events that happen throughout the year.  It makes things feel joined up then.  Pride is something we'll be supporting, plus the arts events and more.  Our garden wall here is a prime place to decorate with rainbows, anything really, depending on what's going on!"
folkestone feels unique
"I worked in Ashford before coming here and there's a particular feel to Folkestone.  There are so many independents here and it feels rather special.  It's a really exciting place to be because of those independent businesses and the wealth of different foods on offer.  I really feel that those businesses are going to be the strength that will see the High Street survive.  If you walk up from the Harbour, through the Old High Street and up to where we are there's so much on offer, and it's really vibrant.  I feel quite passionate about being a part of making this work.  I love it here!"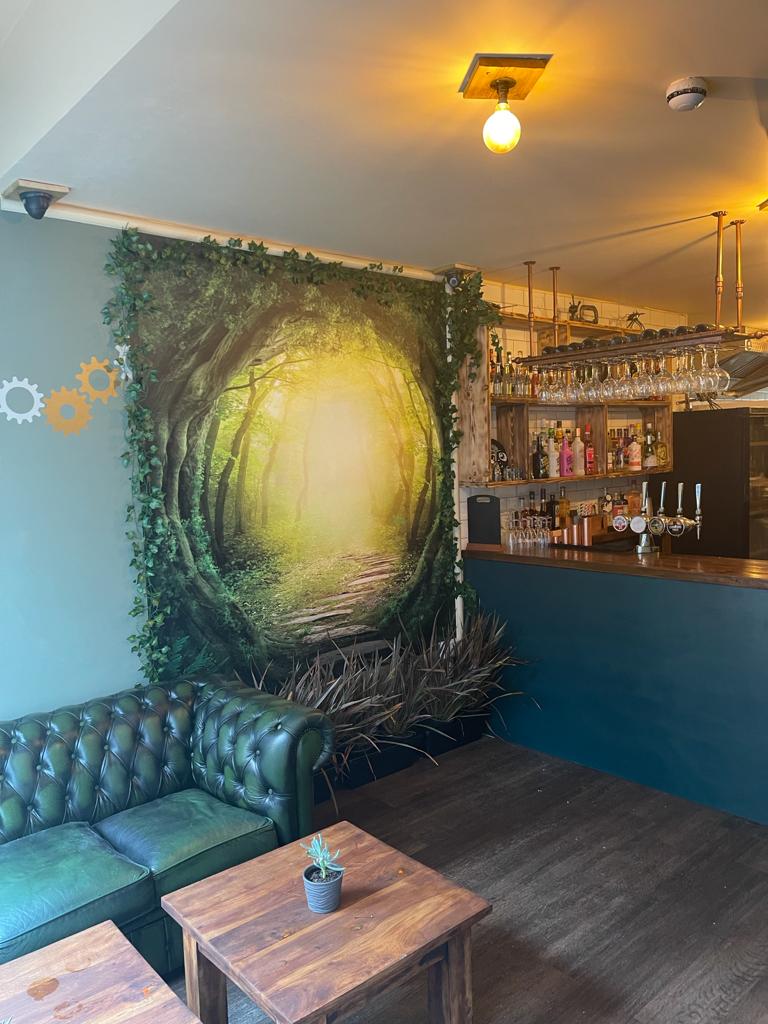 Discover more about folkestone below