Portenio – Traditional Argentine Grill on folkestone harbour
Portenio is Folkestone Harbour's Argentine restaurant run by Paula Cambra.  It is situated on Harbourside looking over the White Cliffs, across to France and nestled between Sailbox and Le Coq. Paula's recipes have been passed down from mother to daughter and secrets will not be shared.  The only way to understand the unique flavours and dishes is to try, and return to try more.   Folkelife took a moment in the sun, on the bench by the harbour, to speak to Paula about her new venture.
"I love to travel and to live in different countries and have lived across South America.  I came to the UK with an old boyfriend.  He lied to me.  He said there were beautiful summers in England and that it never rained.  I'm not with him anymore!  No, I'm joking!  I have a new partner now and living in this part of the country I wanted to bring a little bit of Argentina to the table.  I cook what I like to eat, and I find that these foods are missing from what's on offer in restaurants and takeaways in the UK."  
beef with beef, Chicken with beef
"We do eat a lot of meat in Argentina.  People joke that it's 'beef with beef, and chicken with beef…' But it is very good beef, with lots of flavour.  The cows have had a really comfortable life, not having to work too hard, so the meat is tender.  They grow up on good grass that means they're very well nourished, and you can tell when you eat it there's something special there.  It travels 4,700 miles to get here and it's worth every penny. 
"Then there's the magical chimichurri sauce; a mixture of fresh herbs and I can't tell you any more than that as my recipe is a secret!  It can be used as a salad dressing or on our Argentine chorizo (which is different to the Spanish).  I don't put it on the steak, because you need to taste that for what it is, but it can go on nearly everything else!"
harbour is home
"Being on Folkestone Harbour is the right place for me.  I feel at home here; it's everything that I am – quirky, adventurous, experimental.  I feel comfortable and able to express who I am in the food that I serve here.  Know that you're going to get a real Argentine experience when you dine at Portenio."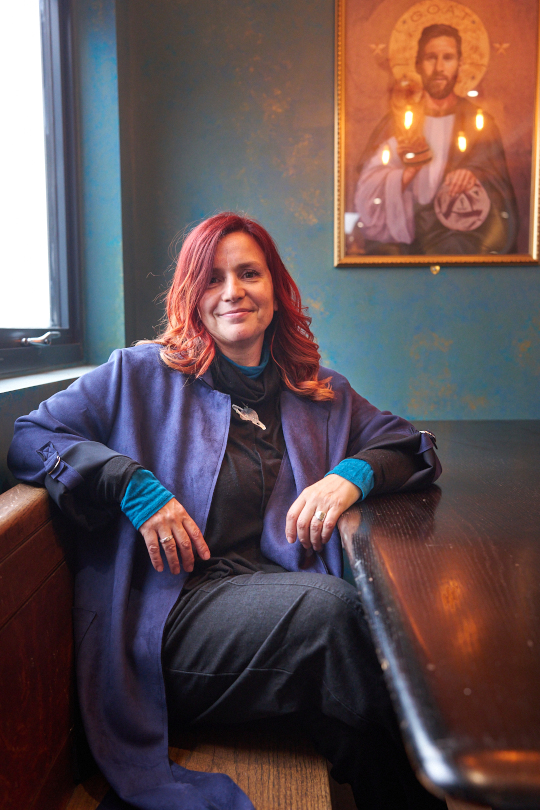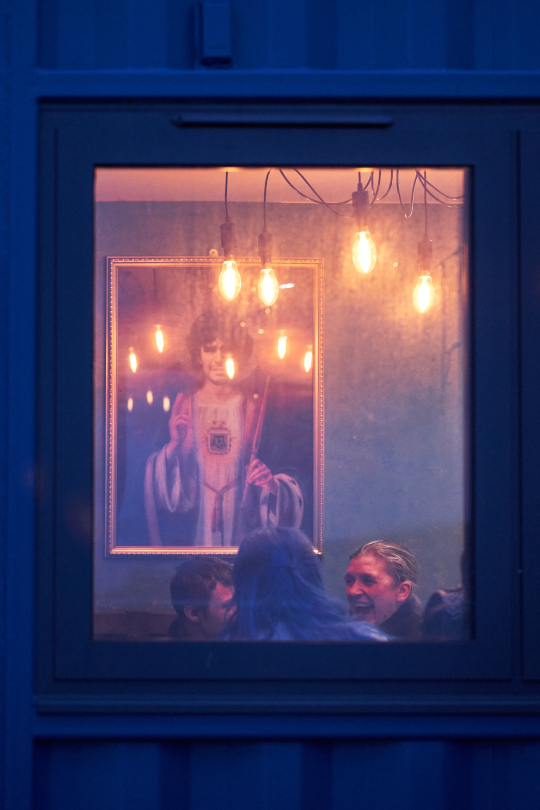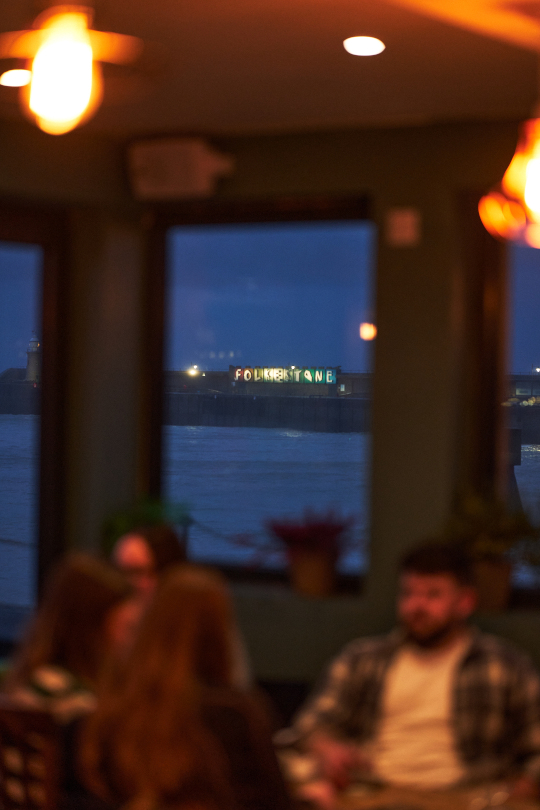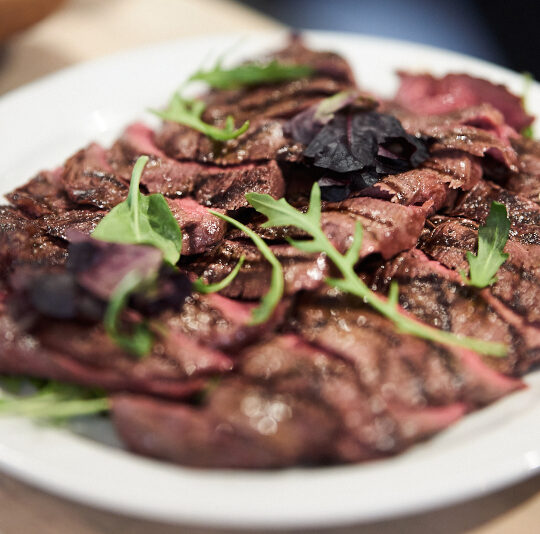 People of the port
"The name Portenio means 'people of the port'.  I'm a Portenia (feminine) as my family immigrated to Argentina as did so many others over the last century.  I have Spanish, Austrian and Italian in my heritage.  There's a huge mixture of nationalities in Argentina and we all belong. That's one of the feelings I want to get across in my restaurant; the chairs and tables are a mix and match.  There's lots of different colours that all come together.  The bar has a touch of shanty town with the corrugated metal.  Everything has its place. 
"I have to emphasise too that football is very important so there is a Chapel of Football in one corner.  There you will be able to acknowledge Santa Maradona and Golden Messi, and the shrine to the World Cup complete with votive candles.  Everyone is welcome to enjoy the football together.  
"I also want to bring that party celebration feel to you so expect music, chocotorta (the cake you have for any celebration) and warmth.  When it's winter in the UK, it's summer in Argentina, so let's continue that warm beach party from the inside of my restaurant!"
argentine grill
"Asado is a meal that has been cooked on a parrilla – a grill.  Traditionally the focus is meat but I also serve fish and vegetable main dishes.  Empanadas and churros have always been popular and they continue to be on my menu.  Look out for a Christmas treat with Mince Pie Empanadas!  Chocotorta is there too, layers of chocolate and Dulce de Leche on top of special Argentine biscuits.  You get a slice with a dollop of vanilla ice cream which just cuts into the rich, unctuous chocolate. A perfect combination!"
advice and guidance
"I've found that people are also happy to take my advice and be adventurous in what they eat.  They ask me if they will like it and I make sure that they do, but also that they're getting the real taste of Argentina in the food that I make.  All my recipes are inspired by my family; my mother and grandmother.  It's really important to me that I can create a restaurant here in the UK that is something you'd find in Argentina.  We might only have 3 steaks on offer, but they're cooked the way we would at home, and they're juicy and perfect.  I wouldn't serve it otherwise!"
"My restaurant is a home from home and expect great hospitality when you come.  Moving into the winter months this venue really comes into its own.  We have a glass front onto the sea and the White Cliffs.  When it's a good day we can see France.  It's a cosy setting to experience Argentina and I look forward to welcoming you."
Discover more about folkestone below