Planet Earth Kitchen – Vegan Café
Planet Earth Kitchen (PEK) started a year ago. Its owner, Lorraine, is Folkestone born and bred.  She'd run various businesses and worked in quite a few kitchens. A venue came up in a quiet street in Folkestone and, with the support of husband Glenn (the baker!) and son Sam, Planet Earth Kitchen has gone from strength to strength.  They serve vegan food to residents and visitors alike. Over a (delicious) bean and lentil chilli, Folkelife spoke to the driving force..!
"We're not just aiming at people who are motivated to be vegan, we want everyone to eat a healthier diet.  Vegan is a much healthier option for your heart, there are less saturated fats – obviously!  I'm an animal lover, and an animal rights activist, so for me, I'm not eating meat or animal products because of the animals.  It got really depressing and emotionally exhausting campaigning and protesting about animal rights.  Then I worked out how I could be an activist as well as sharing my love of food!  We serve to food to anyone, and we serve good food."
hidden gem in folkestone
PEK started off tucked away in the corner off Rendezvous Street with a restaurant that could seat 12.  Within months they'd realised the accommodation was far too small.  A new location came up on Rendezvous Street and they moved over the winter.  Now they can seat 50 people over 2 floors and outside on the street.  Lorraine can't hide her surprise "I knew this is where we wanted to be, but I didn't think we'd get there this quickly! We wouldn't have survived in the old location, but this place gets so busy, and we get passing trade which is great!"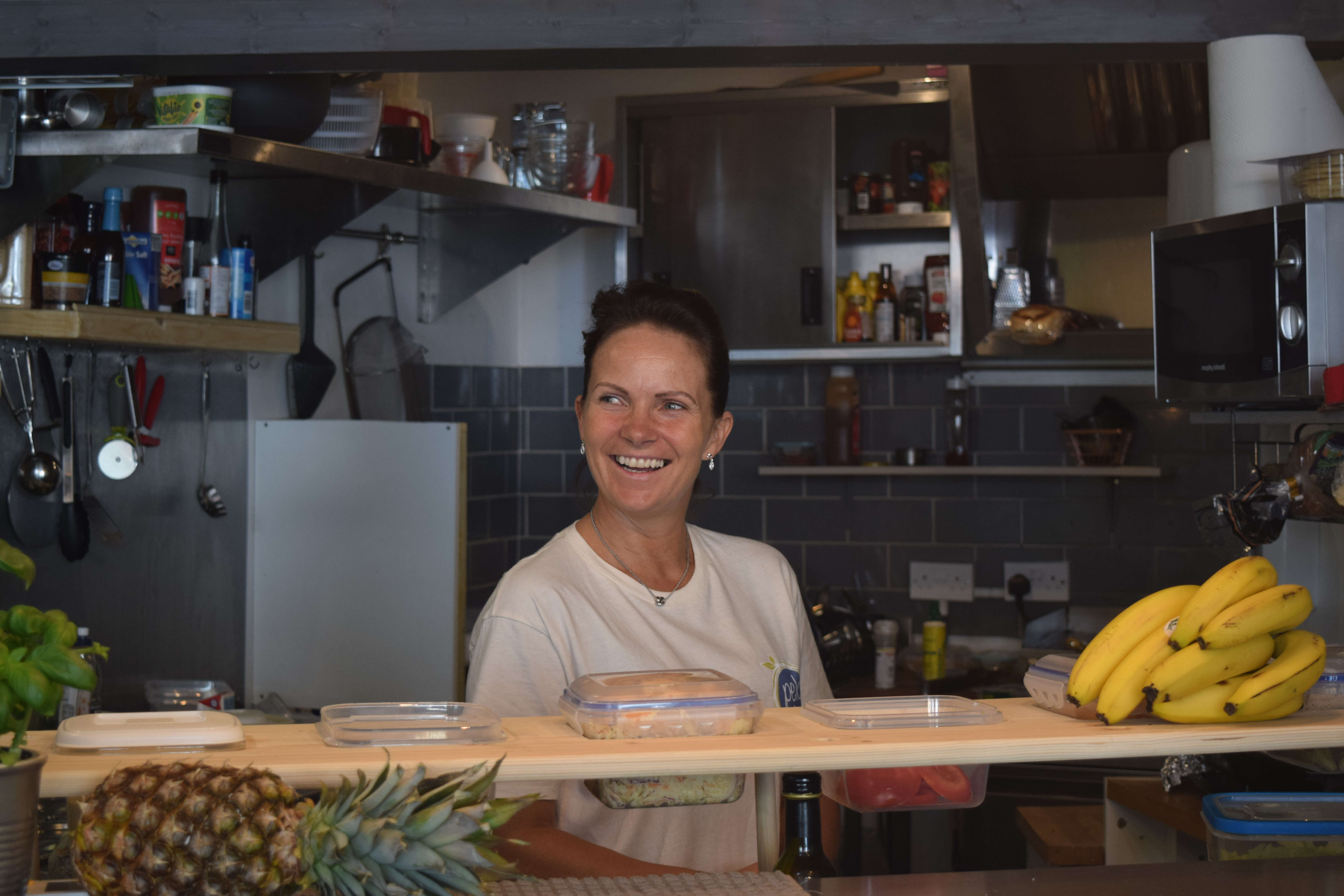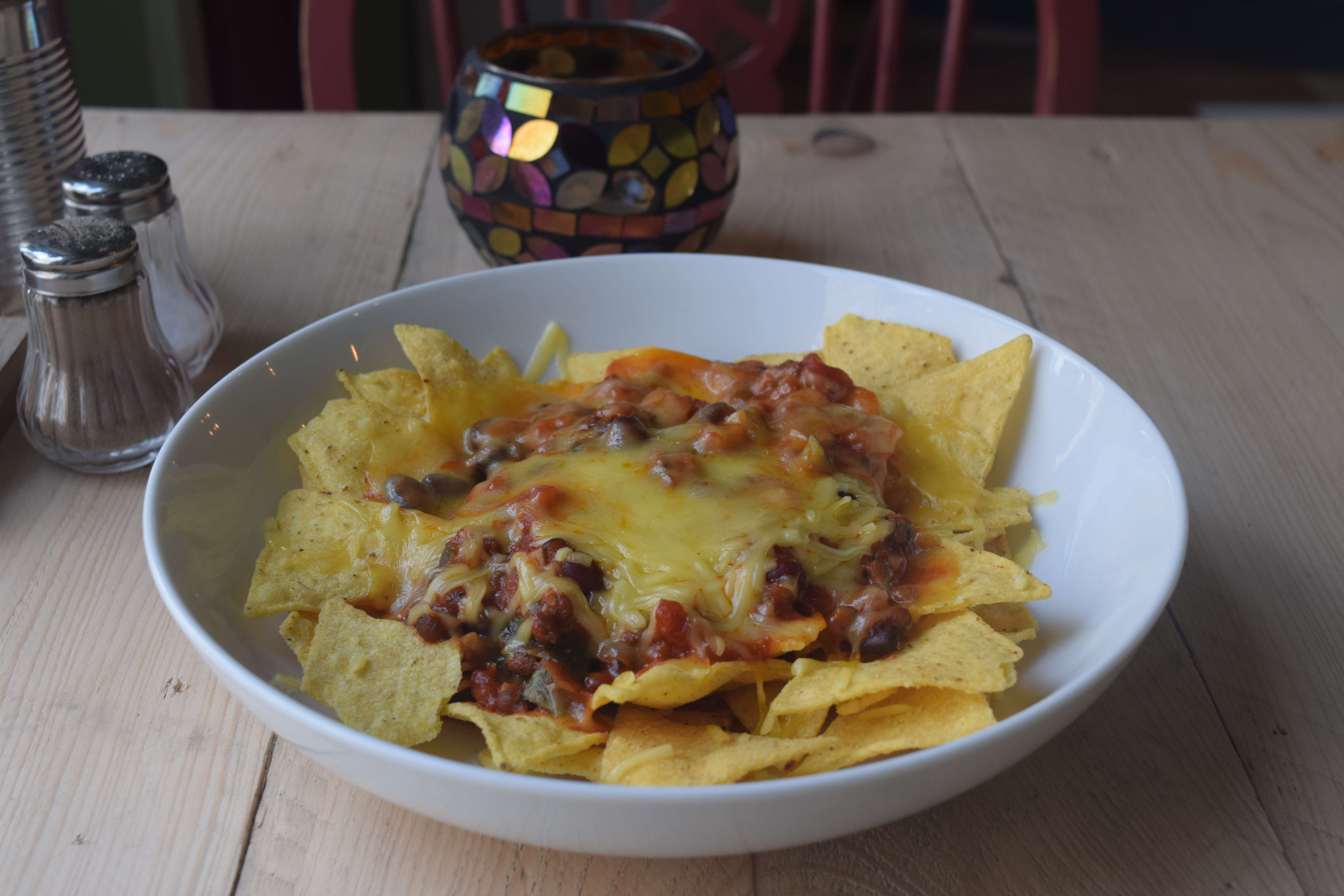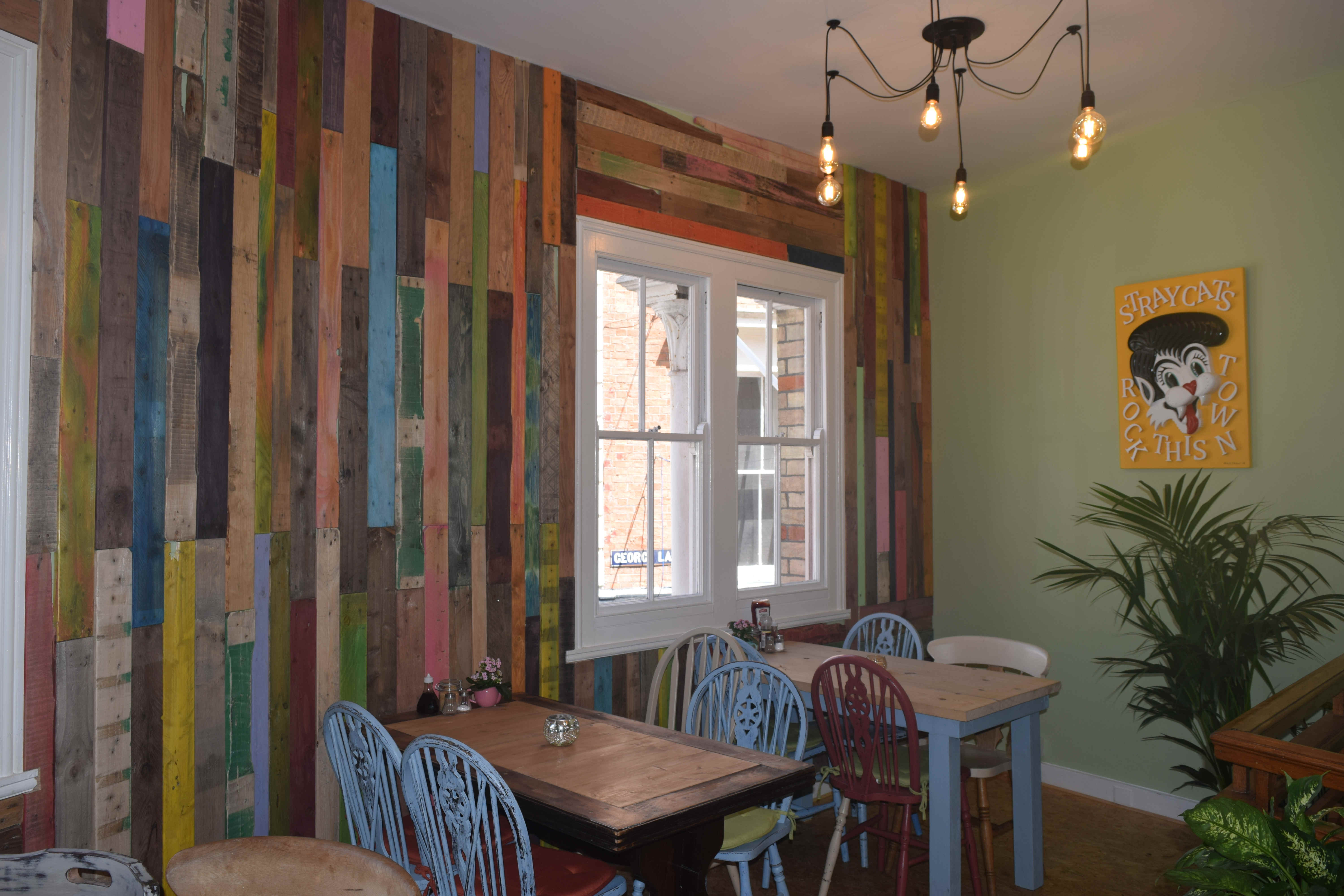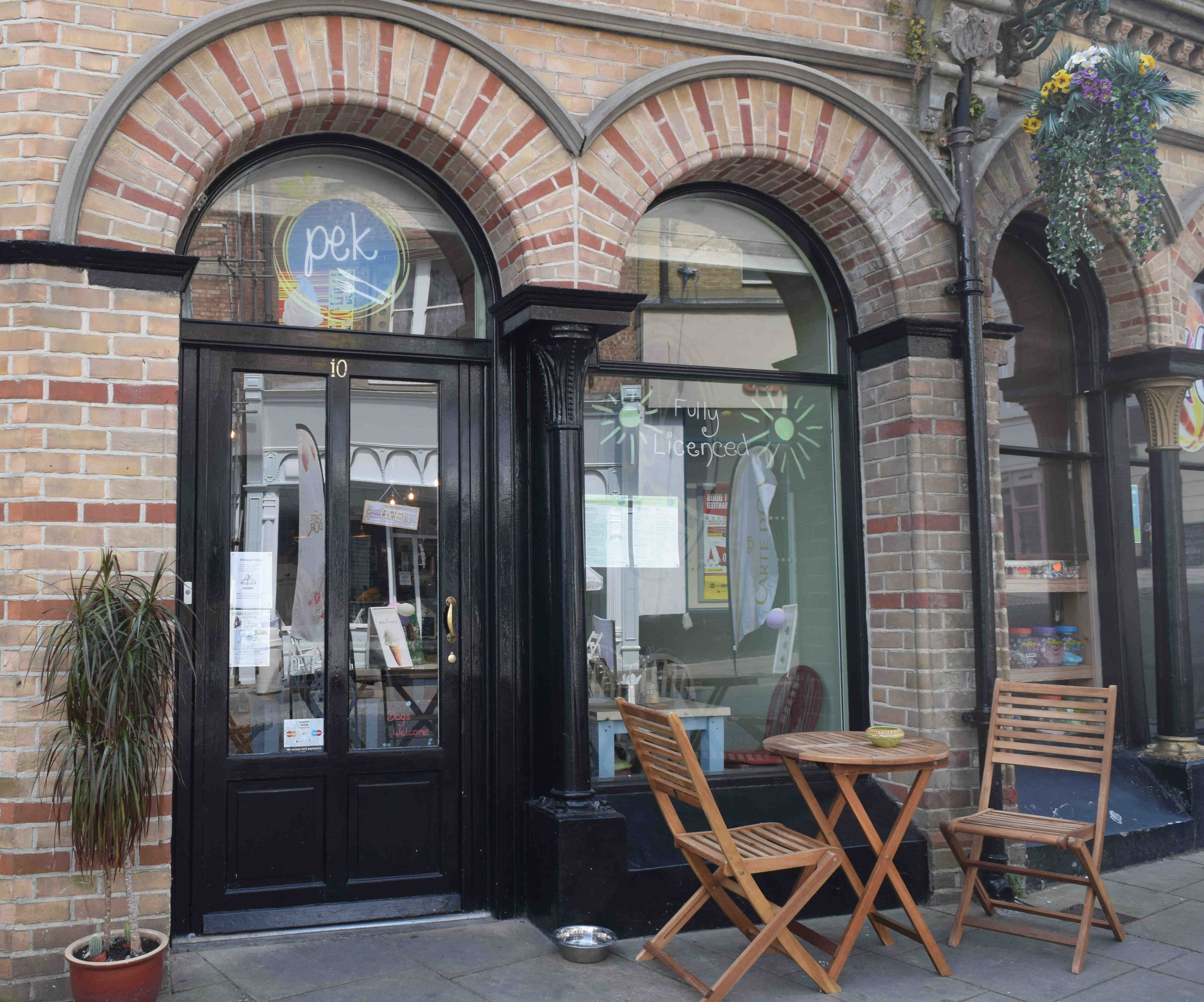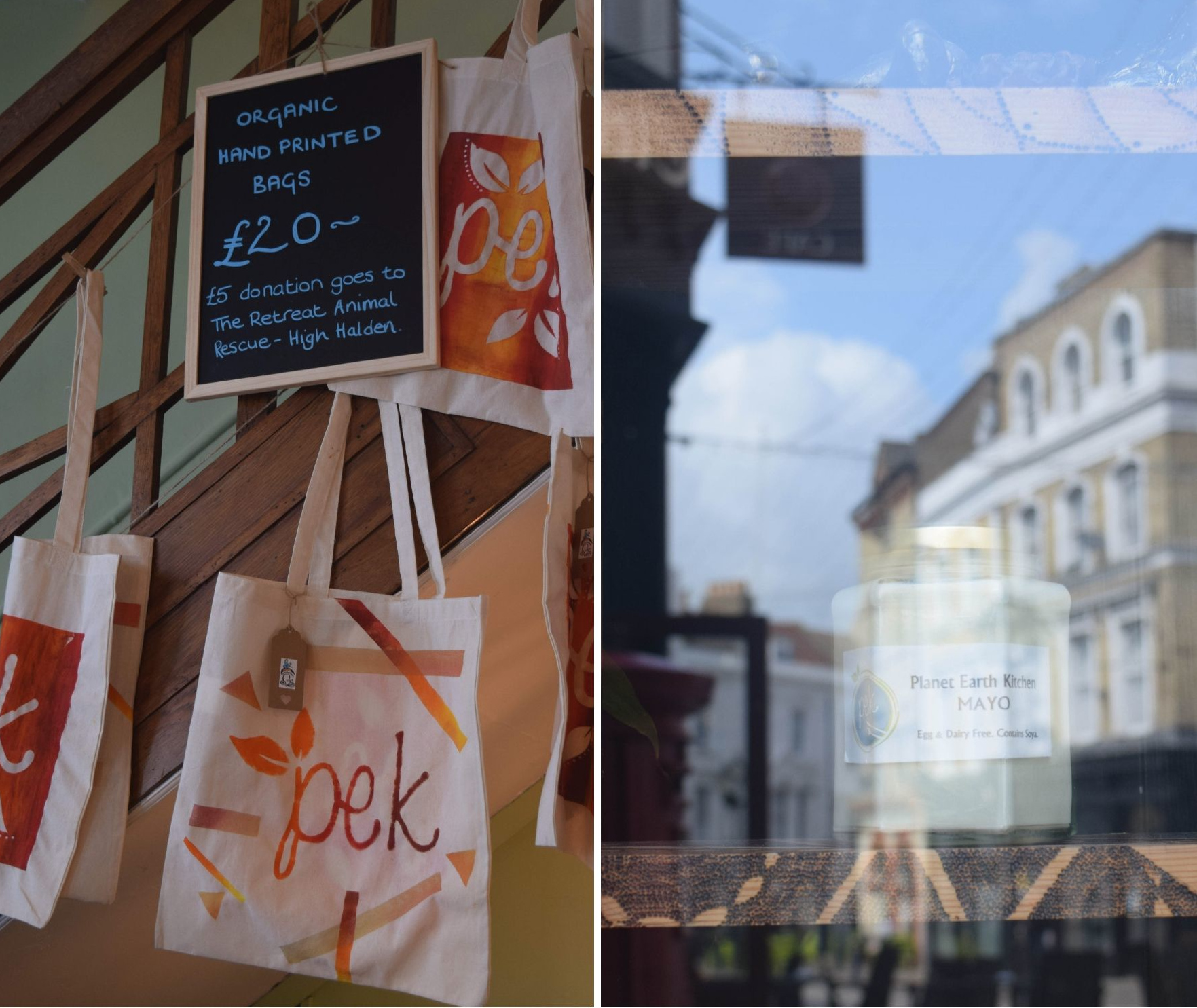 Folkestone's vegan footprint
The restaurant has just been mentioned, alongside Folkestone's other vegan offerings (Dr Legumes, Beanos, The Bay Tree Bar and Grill and Marleys), in Simply Vegan.  Lorraine – bouncing with excitement, "I said to my partner we'd appear in this magazine, but again I didn't think we'd make it so soon!"
Glenn, Lorraine's partner, is a chef and cooks all the mains and bakes the cakes.  When they met, he wasn't a vegan, "I shared a few things with him, and he's found his own way into veganism," says Lorraine. "But in the meantime he tried out recipes, and everything he's cooked for me he's loved!  He's like a kid in a new sweet shop, you know, he's found a new challenge in his cooking and is really excited about it."
Lorraine and Glenn, in their honeymoon period as a couple, would sit with a bottle of wine of an evening and plan their idea of starting a café. "It went from being just dreams and aspirations to being written down on paper.  Then, when Glenn realised along with me that this is something we could really do together, it took off!"
where to eat in folkestone
On completing one year of business, I ask what's in store for the future. "Well, we're looking to open our old restaurant again, but just using it as a cooking area.  We might look into a delivery service, or even another café somewhere else – making it Planet Earth Kitchen 2, 3, maybe even 4!"
Whatever ventures they take on, they're definitely looking at growing.  With many different eateries in town I ask if Folkestone can support another food business?  "I call this area the Folkestone Food Quarter, there are so many foodies around here.  The Harbour Arm brings tourists in all the time.  Folkestone is so beautiful now – it always was, but it did get a bit overlooked.  Now the town is growing and the numbers of visitors are growing too. 
"You don't just have to be animal crackers, or a peace-loving hippie to choose a good way of life; it's the way forward.  We can't sustain a meat-eating planet for much longer and people are aware of their health; they don't want cancer, diabetes, that sort of thing.  It just felt that the time was right, we were ready.  Some people thought I was mad, but we've turned a fair few people vegan ourselves, and people don't ridicule us so much now.  They can see there's real food, and it's good food."
Discover more about folkestone below