Cocktail or Beer? Try Bathtub and Gun
Pete Lawless runs the very cosy Bathtub and Gun bar in the corridor on the Harbour Arm. The title denotes what he sells:'Bathtub' the general term for spirits that were made illegally during times of prohibition, and 'Gun'– the name of the local Folkestone brewery established in 1845 by Mr Ham Tite. That brewery is no longer here but its memory lives on in the beers Pete sells as part of his offering.
Pete set up Bathtub and Gun in 2015, and has had the same 2 staff since the beginning. He's always worked in bars, since the age of 16, and with a stint at University– where he still worked in a bar– to study philosophy, Pete's love of finding the right drink for the right customer lives on.
It's a difficult job though, he's done his time in pubs and bars, and for a year worked on an American cruise ship. The American customer drinks entirely different things to Brits in Folkestone.  He had a rolodex of 3,000 recipes to consult and certainly broadened his knowledge of what's available.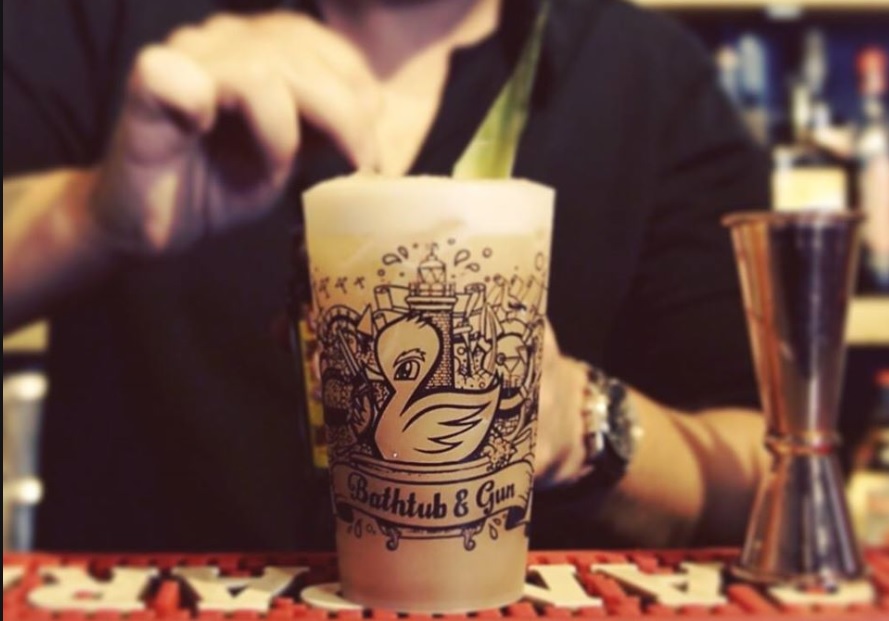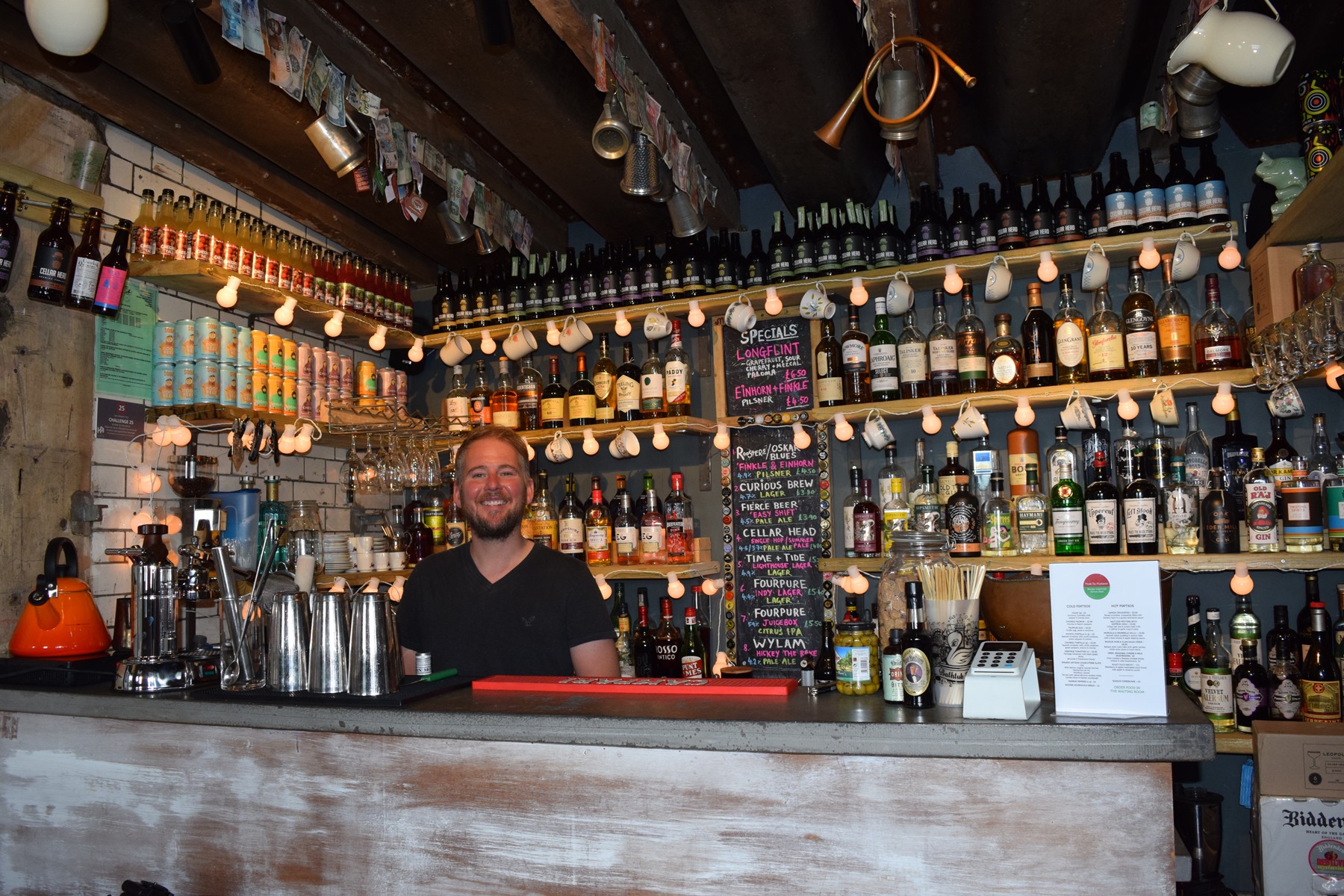 STirred, not Shaken
"You get thrown in at the deep end! They gave me a uniform, and this rolodex and told me to go and make cocktails. The customer would ask you to make something you've never heard of, and the problem was the rolodex wasn't even in alphabetical order! So you had to memorise where things were and just hope you'd get it right!"
"I lasted at that for a year, and then wanted to come back and spend some time on land! So I got a job at Rocksalt but have always wanted my own place."
The place I call My Own
"I wanted it to be somewhere where I would like to go for a drink. I like to try different beers, I like to try anything different really – something that you might not even have heard of, so there's a lot of that in what we do."
"Some people have an idea of what they want when they come in, and you can have a conversation with them then. If you have something you think they might like then you can talk to them about what's on offer. But quite often people come in and say – where do you start?" 
cherry soaked mojito
"We have a lot of choice here, and it can be quite overwhelming, but asking if you'd like a wine, beer or cocktail helps narrow it down. Would you like something long and refreshing or short and boozy? You can usually work from there…"
"Our menu is seasonal, but the summer menu is what Bathtub and Gun are best-known for. The most popular drink being the Cherry Soaked Mojito which contains the usual ingredients, but also a splash of maraschino cherry juice and a cherry on top, which adds extra sweetness and flavour."
Educating folkestone
"I like to put things up there that people haven't heard of – but I use ingredients that suit a popular palate. They are things that most people would like, so it's not too over the top and wild! In the winter, our Bathtub espresso martinis have been really popular. We've made a seasonal change to our Tin Cup adding All Spice and vanilla which makes it warming."
"This is such a great location and, on the colder days, when you are inside looking out, it's really cosy. You get to meet some amazing people in here. It is intimate and forces you into conversation and works really well. It's also good just having 2 people in here, when it's cold outside… that's where my philosophy comes in useful!"