Vintage clothes, Crafts and antiques at the Harbour Market
The newly renovated Harbour Station lends itself to a venue as an outdoor market, which happens on Sundays from the spring.  Selling vintage clothing and locally made art and craft products, we went along to meet some of the vendors:
Katie from Make Waves is a textile designer and selling macramé plant holders and limited edition prints "until the stencil breaks!" "Do they break often?" "Yes, they do!" Katie has been in Folkestone for 7 months, moving from Maidstone, via Cornwall and Reading, but arriving here for the creative scene and bar culture. Find Katie on Instagram @makewaves.
Makala, at the next stall, sells pre-loved children's and adults' clothes. Born and bred in Folkestone, she sells online, in pop-ups and at style evenings in people's homes. She was part of the initial group reviving the Sunday Market on the Harbour Arm car park two years' ago. "This venue is much better though; I'm not running over the car park picking up my stuff! It's such a nice place to walk that it doesn't matter it's not on a main street. The footfall has been great this morning and I've made some good sales too!"
"I think everything that's happening here in the town is great…I remember the outdoor pool when I was younger, and it would be lovely to see something like that back again, but the regeneration has made all of this (Makala spreads her hands around the newly-renovated Station) happen".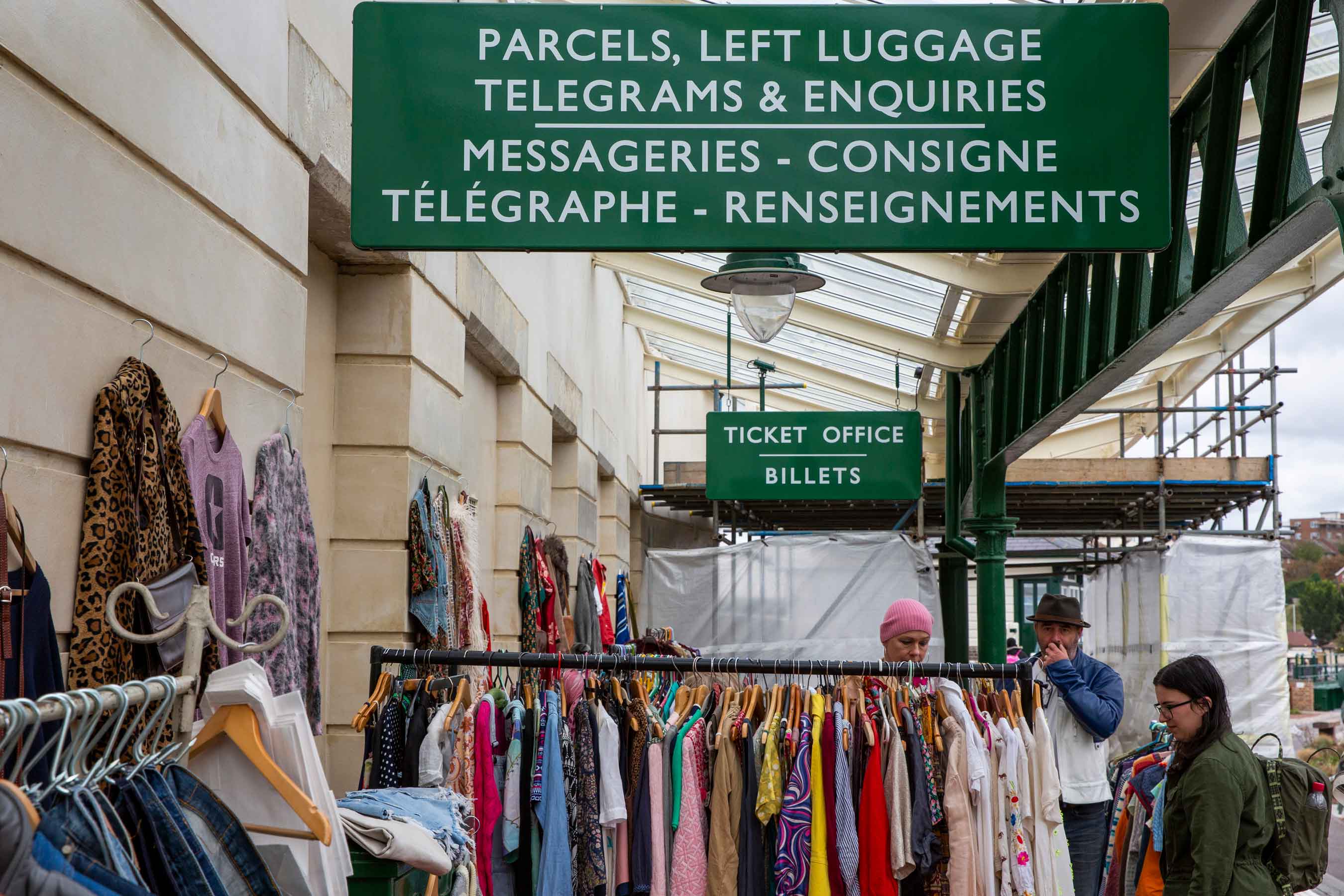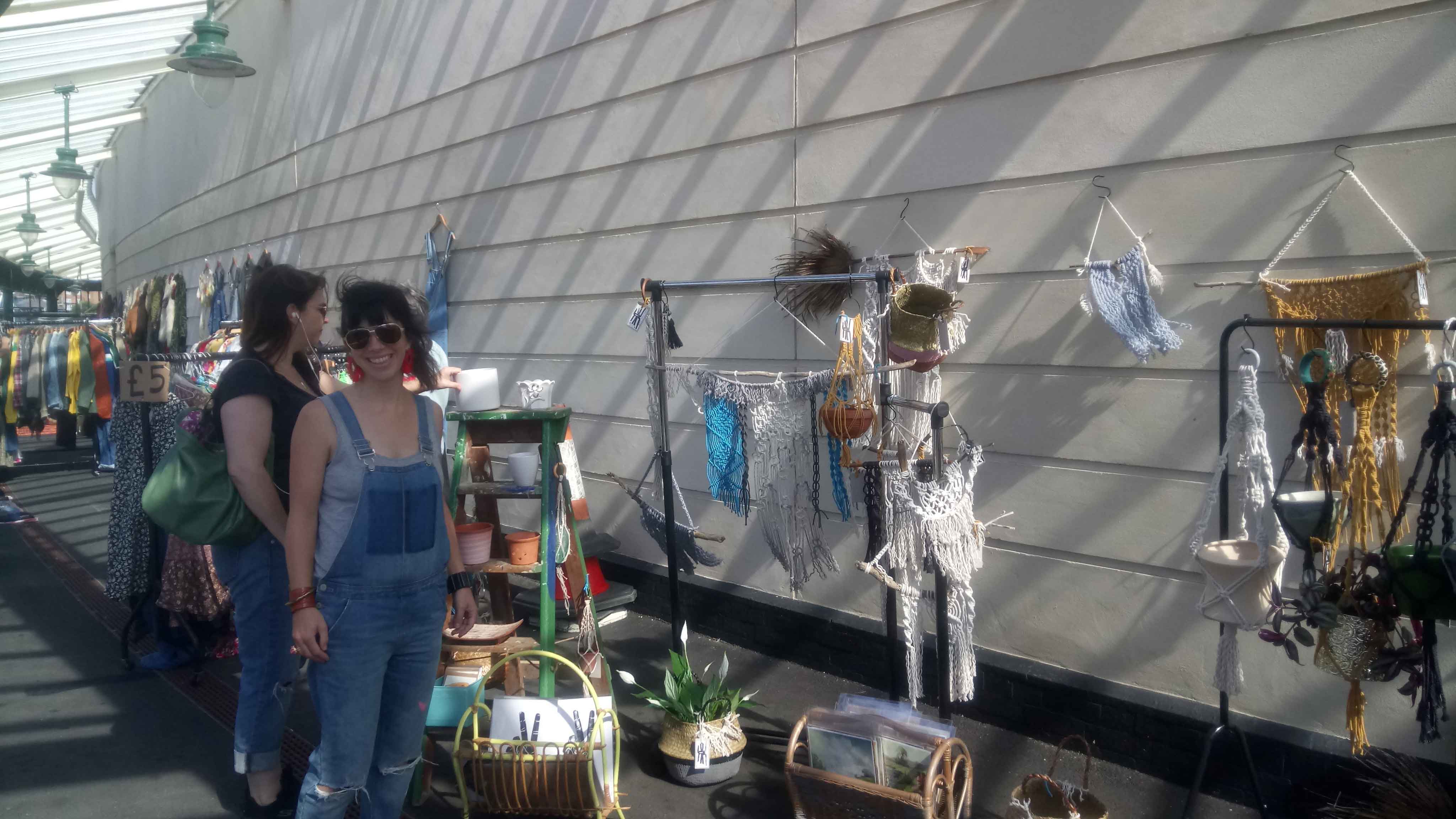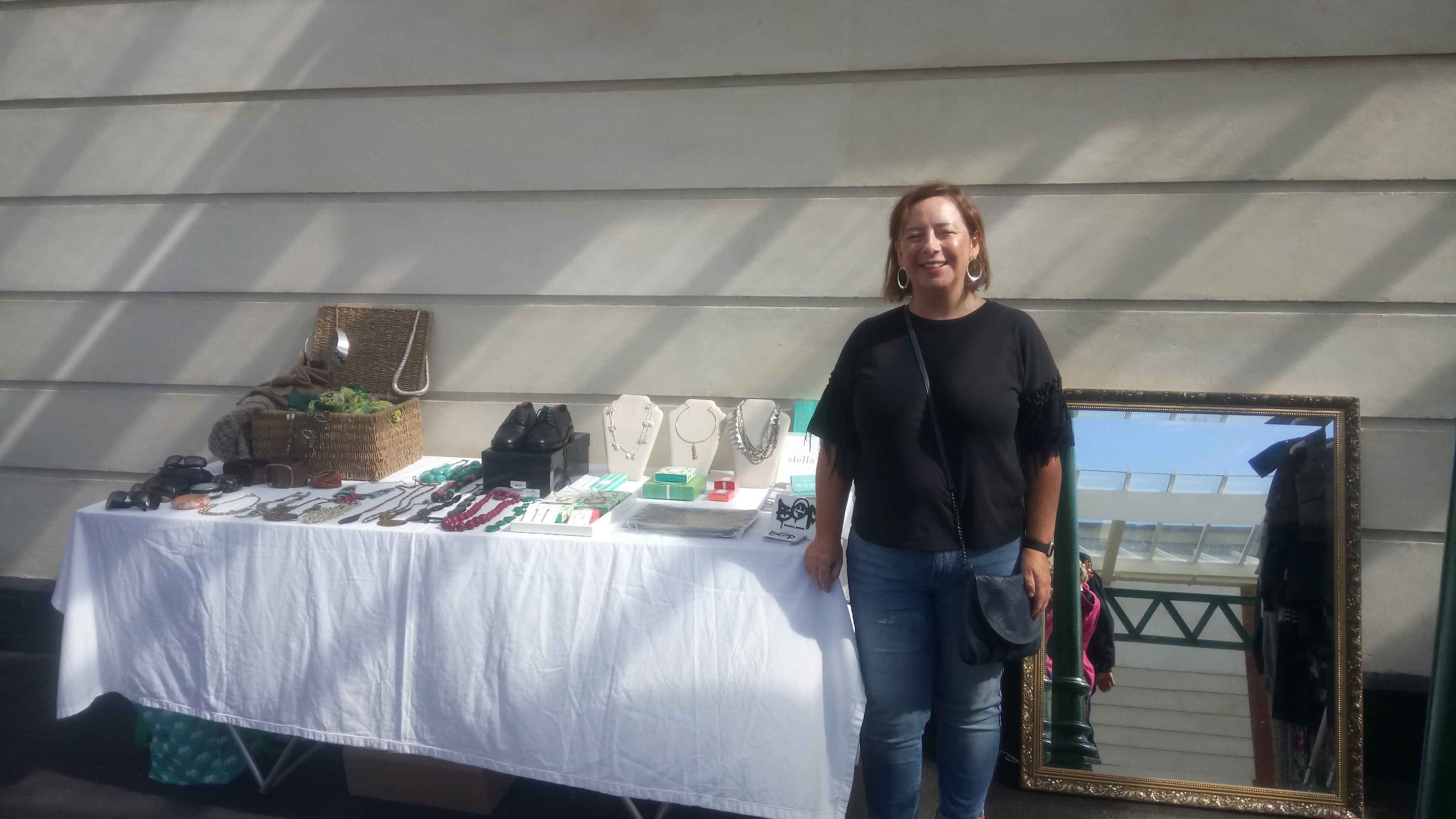 ---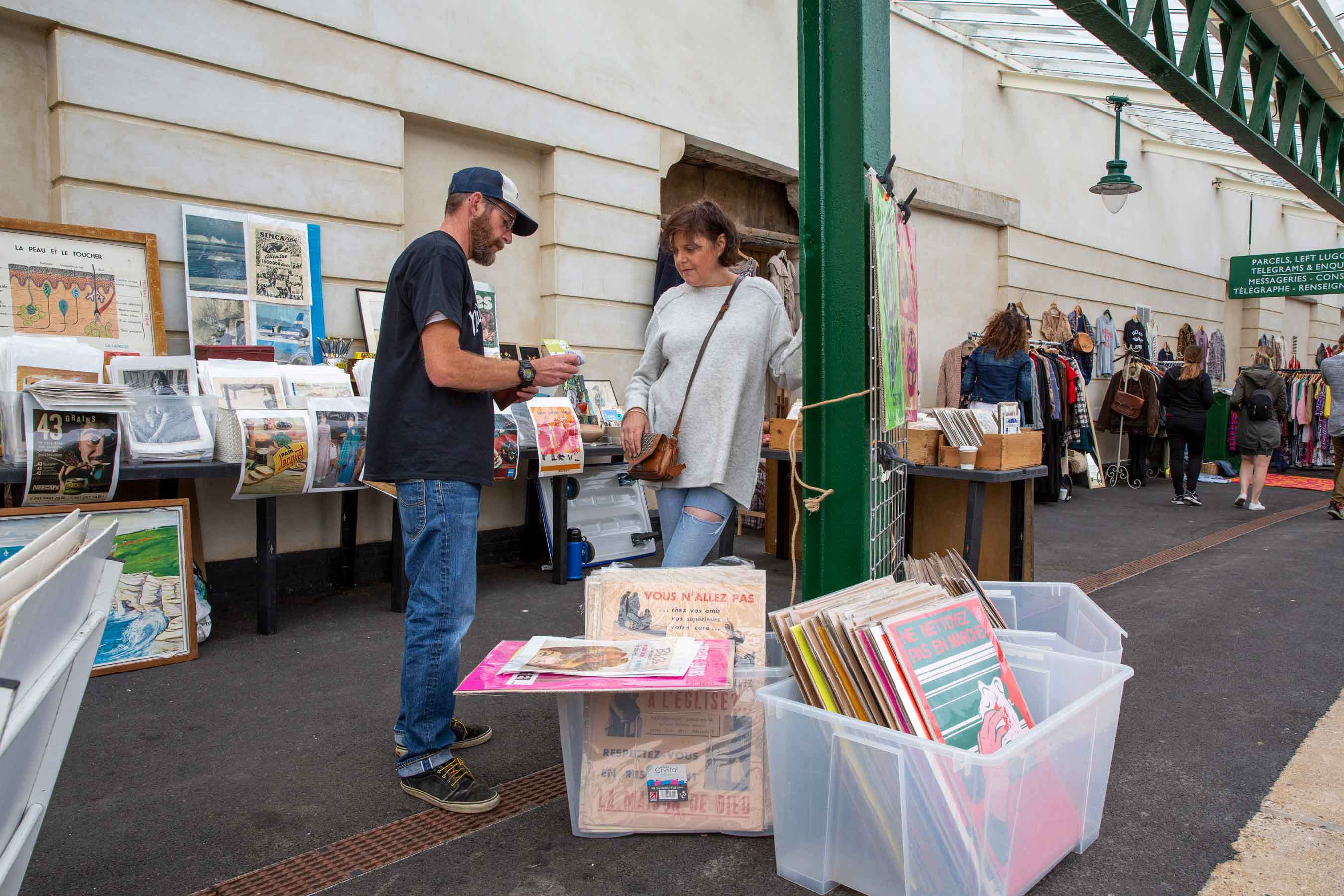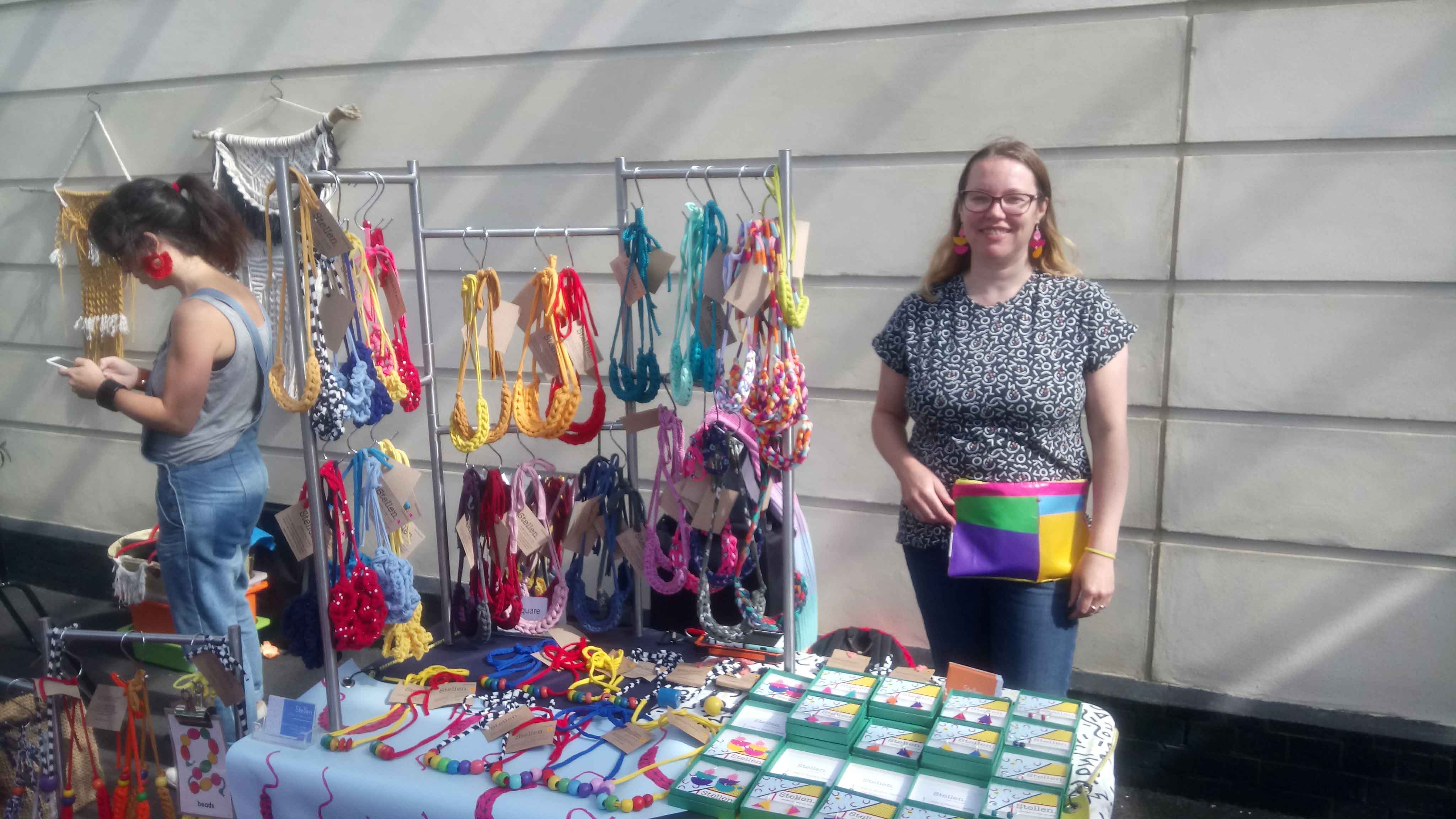 From Vintage to Recycled
Vintage clothes from Bounce Vintage and Butt Vintage and vegan clothing brand Delicious California, are in between smaller stalls of people selling vintage antiques. 
Jane, a garden designer, and Justin, a photographer, have also just recently moved to Folkestone and were downsizing.  They had on sale a wonderful clockwork pedometer, silver broches and a wooden record player.  "Folkestone has that larger, cosmopolitan feel to it – people are ready to share and work together here and it has a mixture of everything that makes the town real."
Next in line is Kate with her brand Stellen.  Jewellery to make you smile!  She makes knitted necklaces from recycled, and repurposed t-shirt material. Using cut-off material from t-shirt manufacturing, that would normally go into landfill, Kate reuses and sells her creations from her stall and online.  She's now branched out to work with the Isle of Wight-based company Wyatt and Jack. They make bags from recycled bouncy castles, deck chairs and inflatables. They also have off-cuts, so Kate uses these to make drop earrings and other items, thus saving these plastics from landfill and filling the ocean.  Kate is also new to the town, having moved here for the creative scene and utilising the high-speed link to London for commuting, but really, just loving living by the sea.