Daughters of Industry – community Pop Up Shop
Daughters Of Industry were born from the need to meet for coffee.  Working creatively can be a lonely business, and Katy Lockey finds it easier to work when there are people watching.  She met with other creative friends and a common thread was noticed.  They were all daughters, all industrious, and a community collective was born – the Daughters Of Industry.  Folkelife wanted to meet the Daughters and see what they have created.
Milk and Moon
Katy Lockey spends a lot of time advising and supporting women with breastfeeding.  From the many conferences she's attended, she noticed the need for a special line in badges.  Always one to love a badge, she started getting creative, and selling them online under Milk and Moon, when not at conferences.  There came a clear need though, to join forces with others, even if it was just to not be lonely working by herself.
Like so many initiatives among the creative people living in Folkestone, tea and coffee meetings have been key to this community group.  Katy, a powerful force of initiative, also leads the Folkestone Women's Forum.
Stellen
Another Kate – there are 4 out of 7 in the Daughters Of Industry – produces jewellery and accessories from recycled plastic. Stellen's recycled plastic comes from worn out bouncy castles and inflatables.  Kate had sold her products at the Folkestone Harbour Marketplace, and was looking to move from Rochester to Folkestone.  Scrolling through #folkestone on the socials, Kate started to reach out to creatives living in the town.  Katy connected and the coffee story began.  With Kate's (Stellen) experience of doing markets, and Katy's (Milk and Moon) experience of Folkestone, a little gem of an idea began.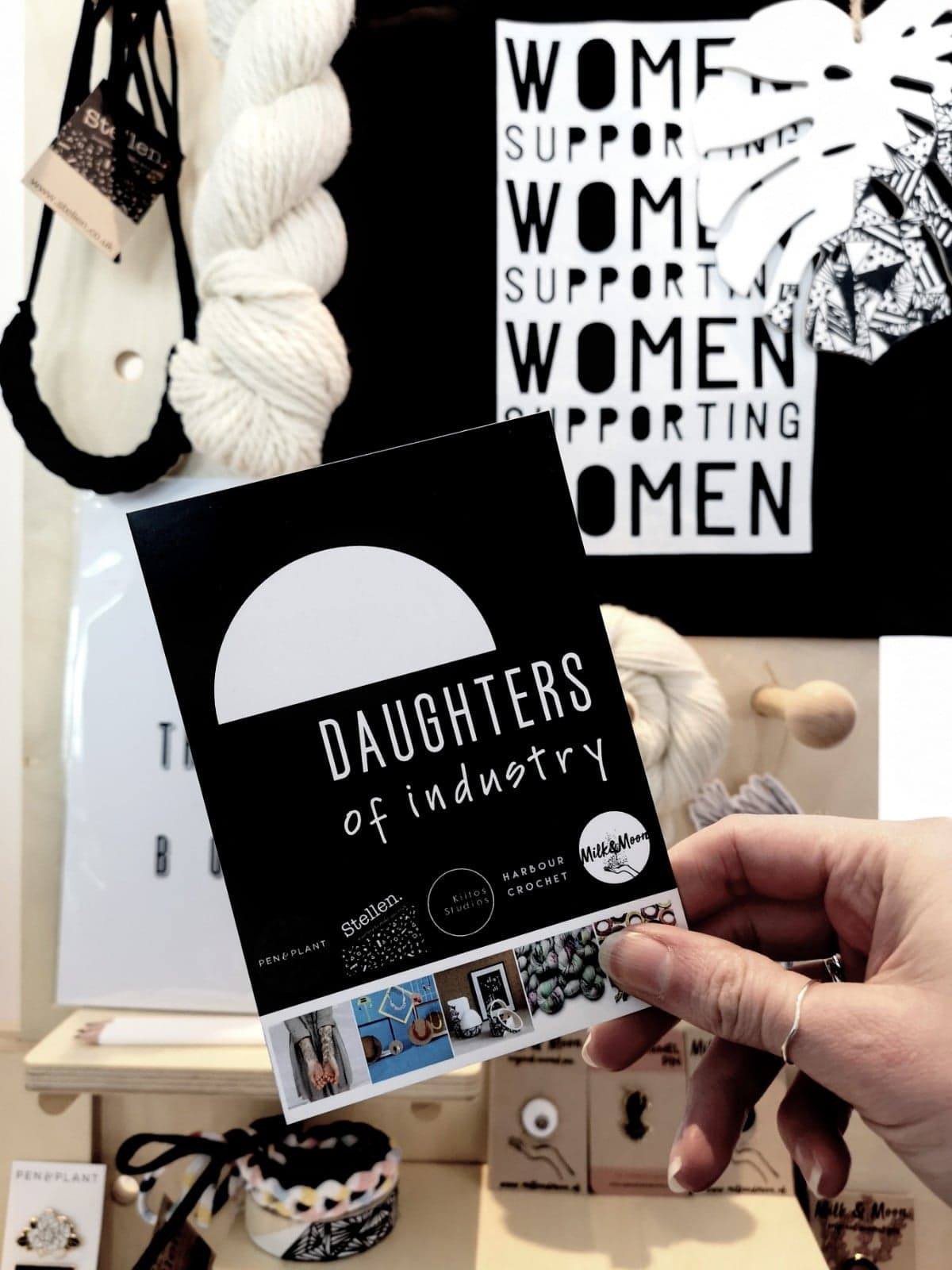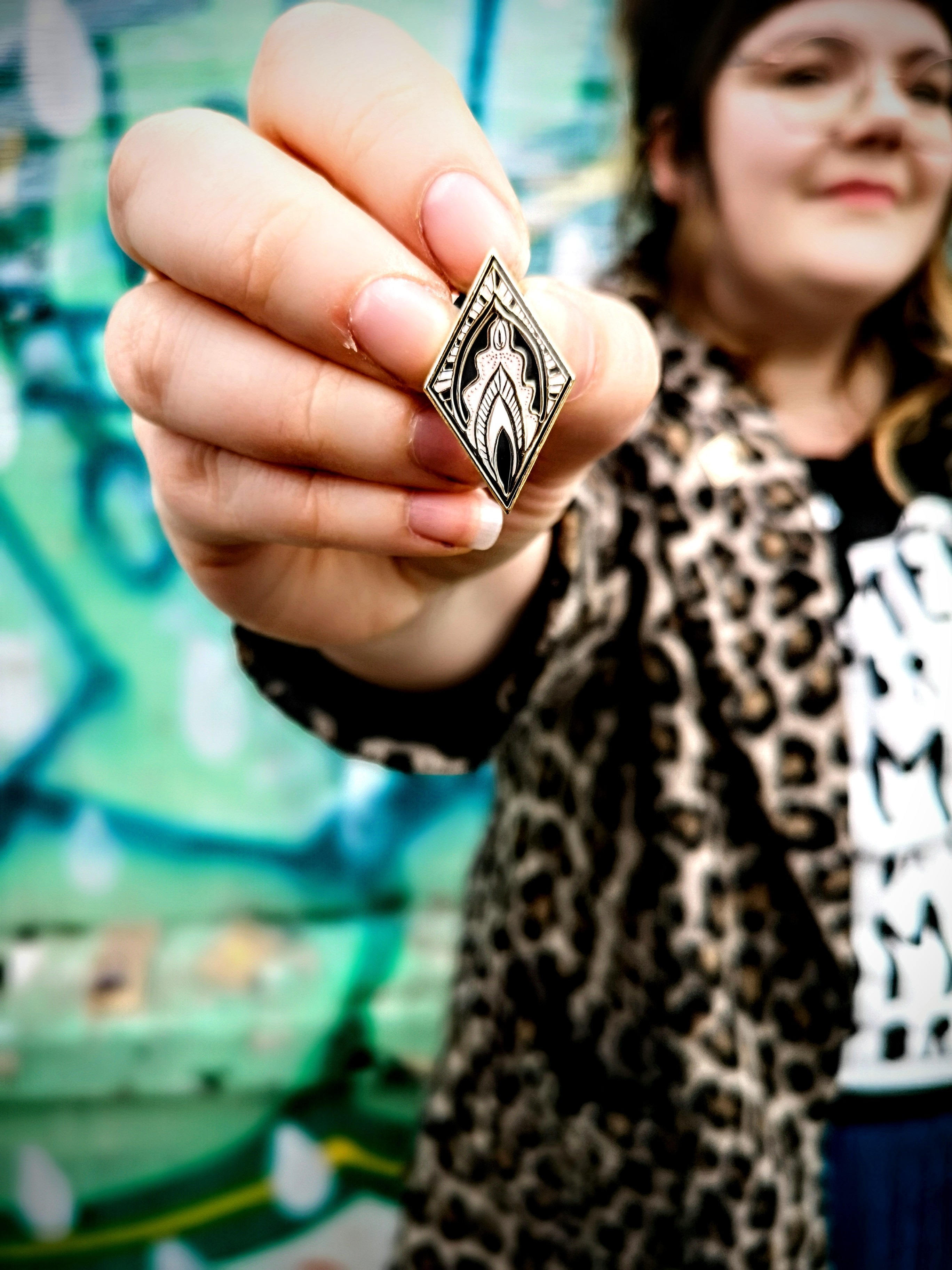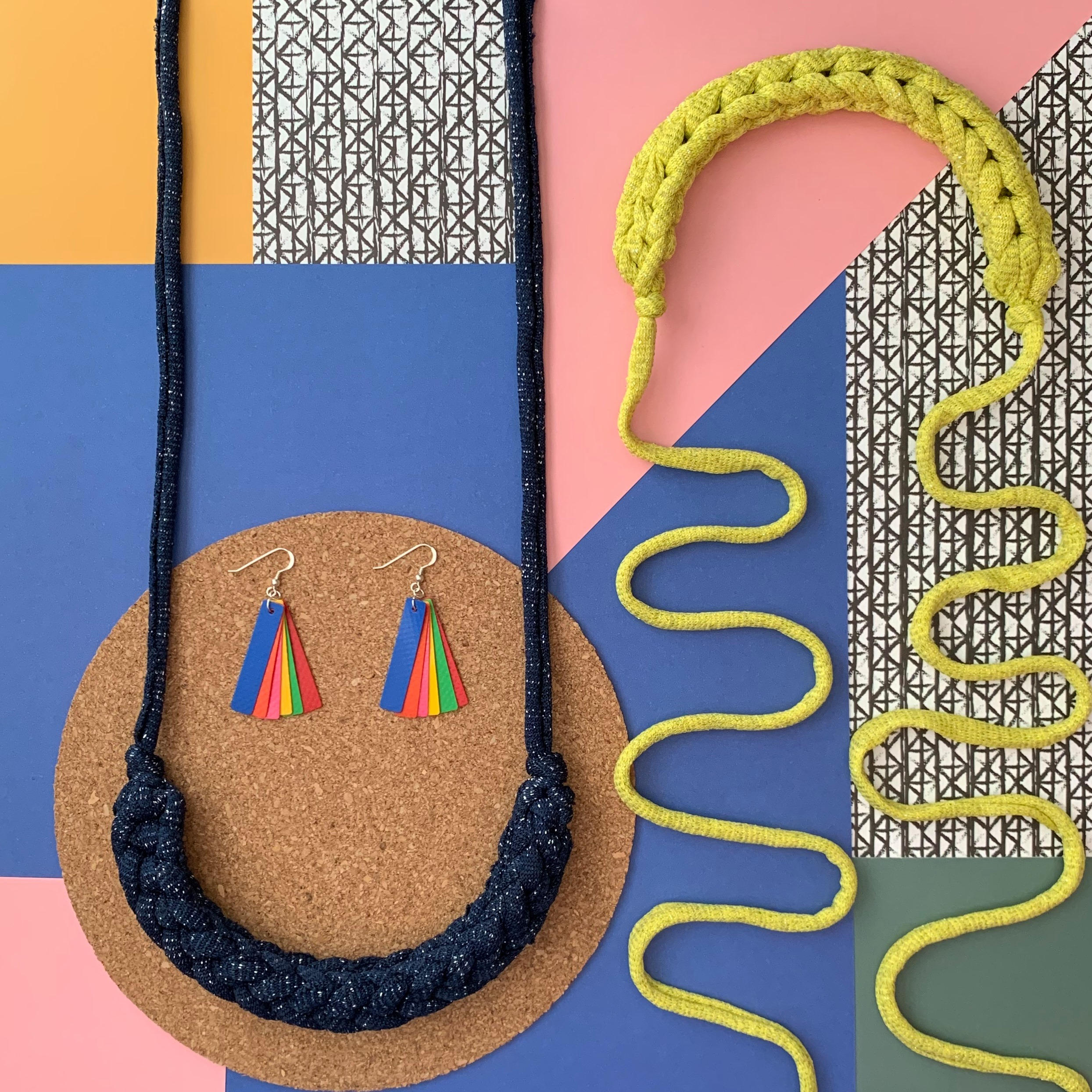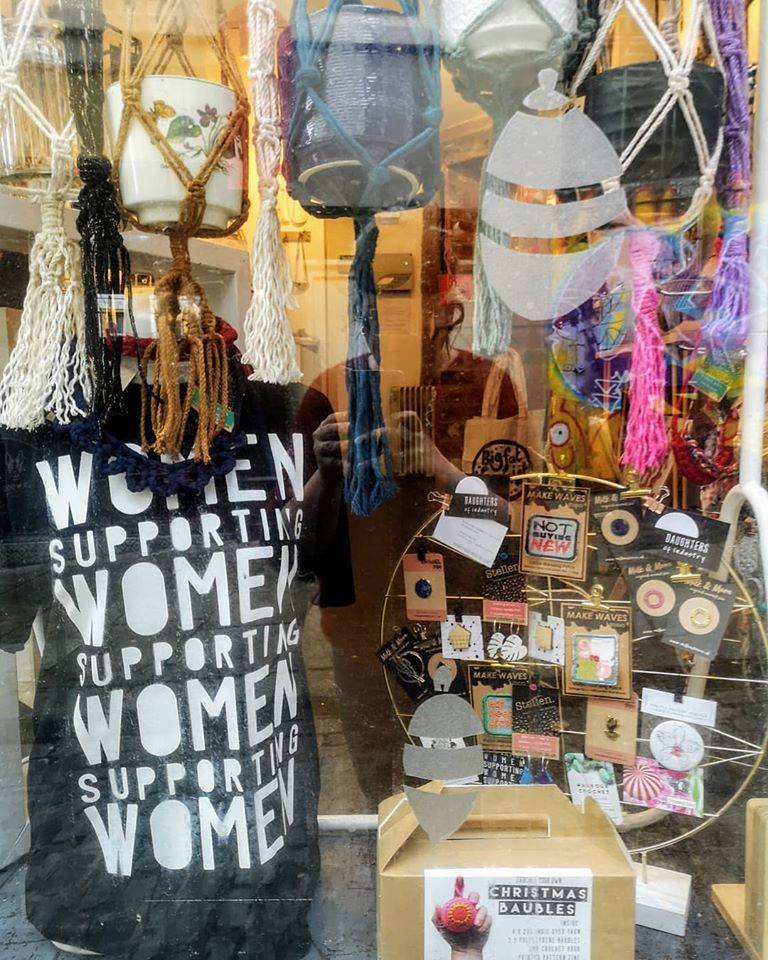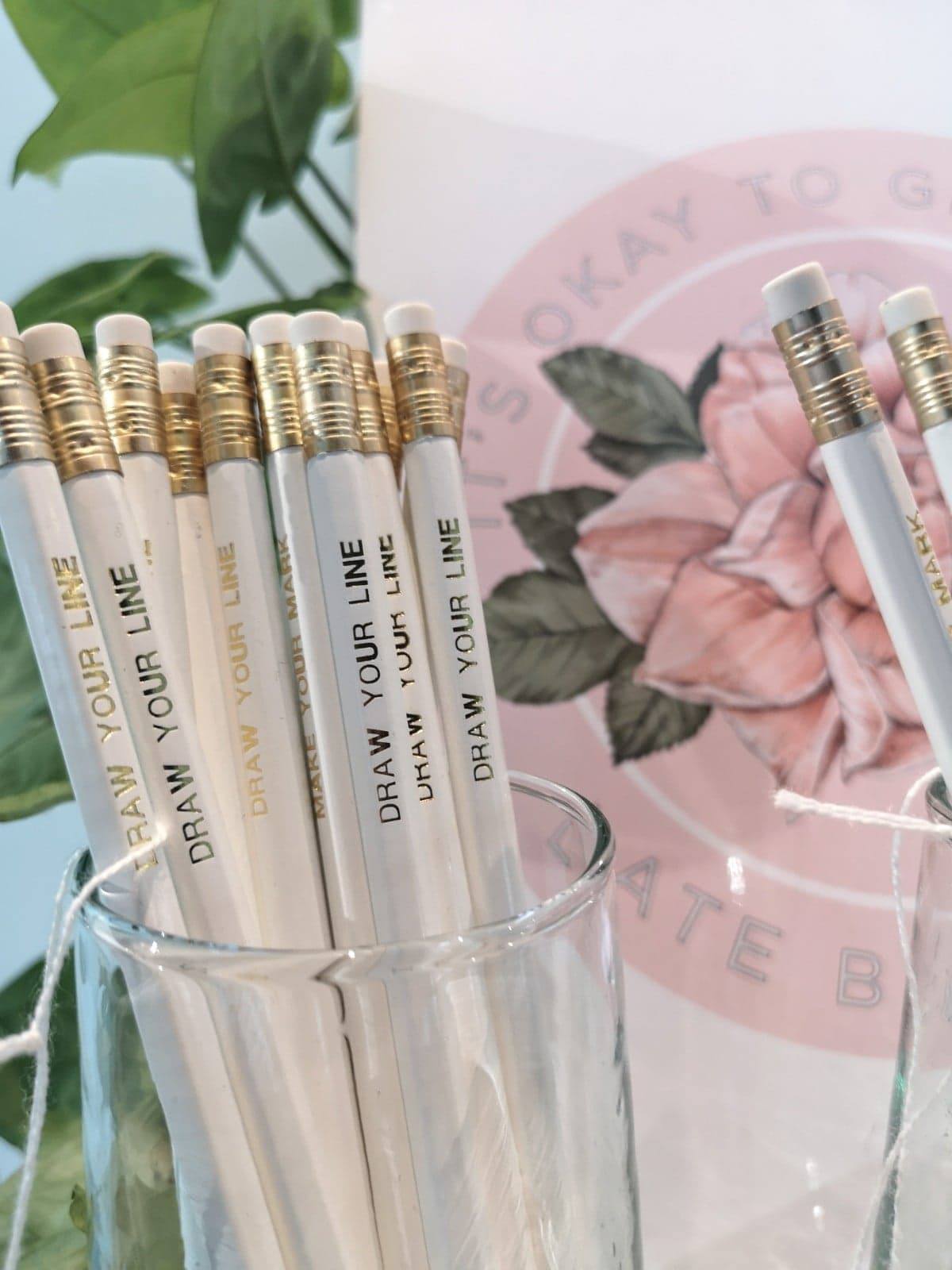 Harbour Crochet
Next to join the band of Kates was Katy's (Milk and Moon) best friend Katy Stevens who had always made the most amazing crocheted items.  Katy started making her own yarn, and like the other two Kates, was facing a business that was expanding and needing more places to sell.  The coffee stops turned into breakfast meetings.  Shared experience of working online and selling on Esty and the realisation that 'what have we done?' could turn into 'what could we do?'  These business breakfasts were good at sharing knowledge, but then someone, probably called Kate or Katy suggested doing a pop up shop.
Katy Lockey, sipping her coffee, said "Having a shop is such a big commitment, and none of us were ready for that.  Having a pop up shop though works really well. It makes sense to share the costs of the shop, share the staffing of it, and share the joy in people finding our products and buying them." 
Pen and Plant
"We decided, in October 2018, that we'd work towards doing our first pop up by 2020.  We booked Eight Squared for 28th November 2019 a year in advance. However… two weeks after we booked it, they had a cancellation, and asked if we'd do 2018 as well!"
The business breakfasts became structured meetings where they were able to organise the pop up shop.  Still with breakfast, obviously!  But the Kates had so much fun with their first pop up, they grew to include another Kate and a few more creatives for 2019.  Victoria Foster runs Pen and Plant and was at university with Katy Lockey.  She's an amazing illustrator with a botanical theme.  Her runaway items are the botanical temporary tattoos.  She's also the first not-called-Kate of the pack.
Make Waves studio
Katy Casey joined the team with Make Waves Studio (and they needed another Kate).  Her products are cloth patches reclaimed from recycled clothing.  She also sells vintage pots which are stunning.  There is a strong environmental theme to the group where reducing waste and being eco-friendly is key to production.
Kiitos Studios
Sarah Carpenter is Kiitos Studios and she creates beautiful ceramic jewellery.  Another link these women have is that every single item is unique and original.  These artists have joined together to share their crafts and thoroughly enjoy meeting customers who will love them as much as they do.
Katy Lockey has also realised that the team have something else in common.  "There are a lot of people – largely women – out there who've had to be creative with their work/life balance.  Usually kids have an impact on a woman's career, and we've found that so many of us have looked at how we'd like to live, and work, and adjusted accordingly.  I find that there are many women I've met through baby groups that I'm connecting with professionally.  We've adapted our skills and have made work, work for us."
joypolloi
Joy Thomas also joined the team as Joypolloi, representing the non-Kate branch of Daughters of Industry.  Her pieces are, as Katy Lockey described "Proper, old-school collage works. Not digitally created, but cutting out and sticking on.  The prints are incredibly witty and are available as cards or pictures."