The Workshop Folkestone – Inspiring Creative Business
Folkestone is fast becoming known as a creative hub.  Many people can work and be supported in the creative industries. One of the main players in this has been The Workshop Folkestone – a venue for office space for people in creative industry jobs.  It's been described as having that 'Google vibe, a Shoreditch away from London'. And who could resist exiting via the slide on your way out to lunch?
Manager James Avery says the success of The Workshop has been flexibility. "We have 26 office spaces and then also free areas for around 24 individual desks. We're practically full, but the space allows for tenants to move around if their business needs change. The high-speed internet is a great selling-point."
A place for small businesses to grow
"Our biggest single office space has a capacity of 12 staff, but we also have one business that's expanded over one floor and currently employs 20 people. There's space for hot-desking if you're a freelancer or individual start-up.  Over the 6 years we've been here, we've seen many of those individuals grow to needing our office space. Currently 10 offices are taken up with people who started using our single desk space."
The term of contract is 6 months, but with this flexibility, there's the opportunity to move around within that term to suit your business needs.
---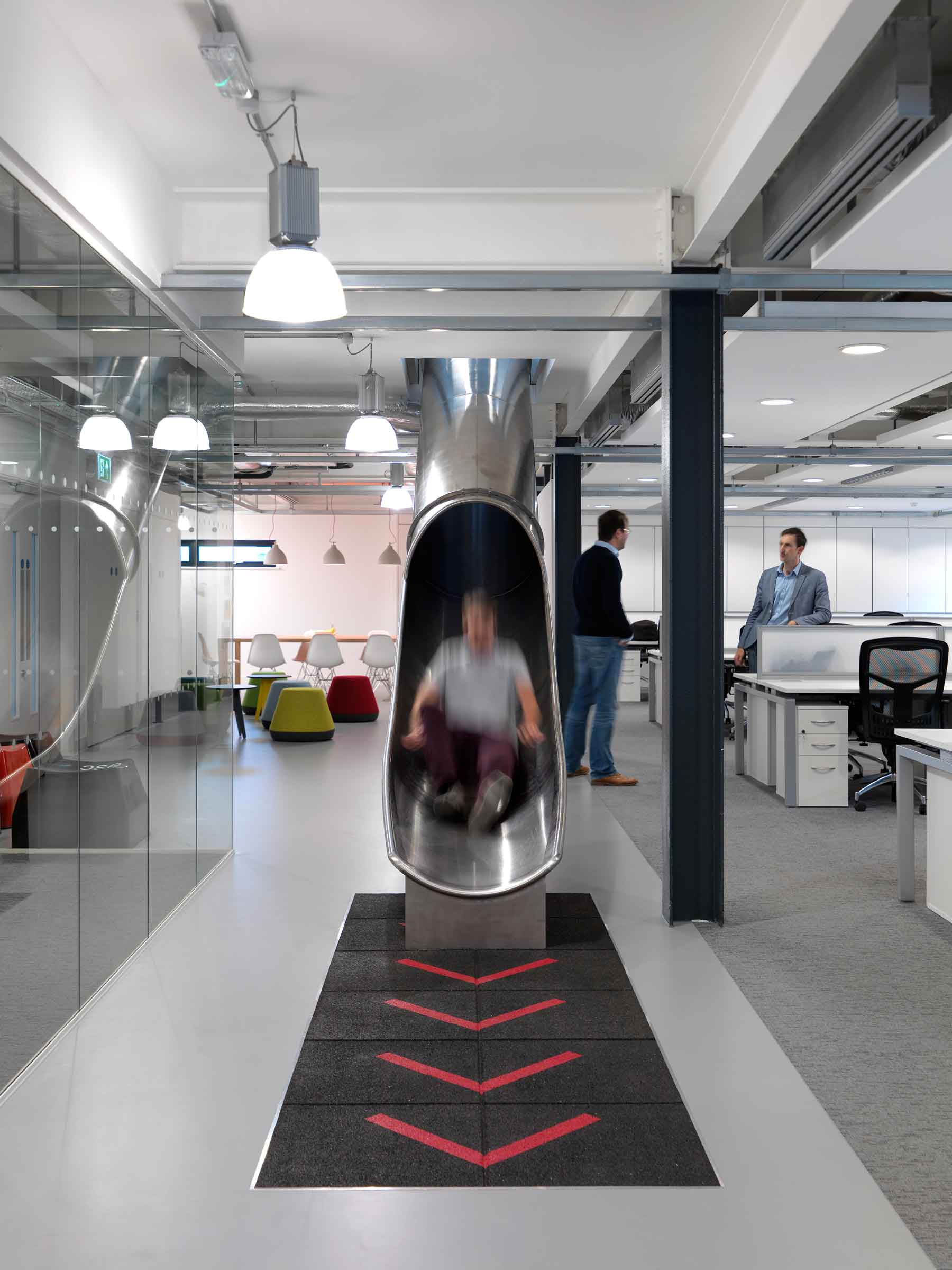 Variety breeds creativity
There are a variety of businesses here in The Workshop.  One animator has just finished a 3 month project based here. The vibe of the building allows for creative conversations, as a result a lot of ideas have been generated by companies working in the building.
Watch out for the Vegan Boys Club clothing brand – "a global, 100% conscious, vegan clothing and lifestyle brand launched in 2018.  We represent and celebrate vegan men who are rising above stereotypes and becoming part of a great new movement.  This will not only change the course of things for humanity and the rest of creation, but also increase our chance of surviving for much longer on this Planet." 
Great Work/life balance
There are financial and legal clients in The Workshop with each business having a creative edge.
New companies grow from this space, take a look at NetAnAgent.com.   If you want to sell or let your house, this company helps you compare all the agents available in your area to find the best deal for you.
Tim Richards, an employee of NetAnAgent says that "Working for this company and in this building has been the best life-move I've made.  It's resulted in me meeting hundreds of people whilst still working for a small company, and that's great.  Because The Workshop is so relaxed, it gives me a great work/life balance."
Live by the sea and work on the Beach…
The Workshop offers fantastic business space for anyone wanting to adjust their work-life balance.  If you live by the sea, why not work by the sea?  Take your lunch on the beach, and have a meeting there too!  
Lisa Highton took over from James Avery as Manager of The Workshop in October 2019.