From Wedding Dresses to Scrubs – THe Robing Room
The Robing Room is a spacious studio based in Digital Glassworks in Folkestone and run by Janet Robinson.  With a history of garment-related skills, Janet designs and creates wedding dresses.  To say that, doesn't give it justice.  Janet does so much more. Winner of the 2020 Bespoke Bridal Studio Of The Year; she's a teacher, a supporter of new business and during the Covid crisis ran the Folkestone Scrubs Hub from The Robing Room.  Her team has made over 300 scrubs, and many more masks, hats and bags for the NHS, local surgeries and care homes.  Folkelife wanted to find out what is next on her list of things to make and do.
"I started working in Folkestone, as an apprentice for Martello Textiles, based on the East Cliff.  The company used to be the London Knitwear Company.  At that time we did everything for Marks and Spencer.  You learned how to do every part of the process, so that you could step in anywhere where you were needed.  I was mostly a designer.  They had an incredibly successful 'sailors' dress and we'd have to come up with a new take on it each year.  The same dress, but different!"
London college of fashion
"I moved up to London, doing the same sort of work for other high street companies.  After I had my family, teaching seemed to fit better with my life.  I got my teaching qualifications and taught pattern making and garment cutting at the London College of Fashion and Arts University Bournemouth."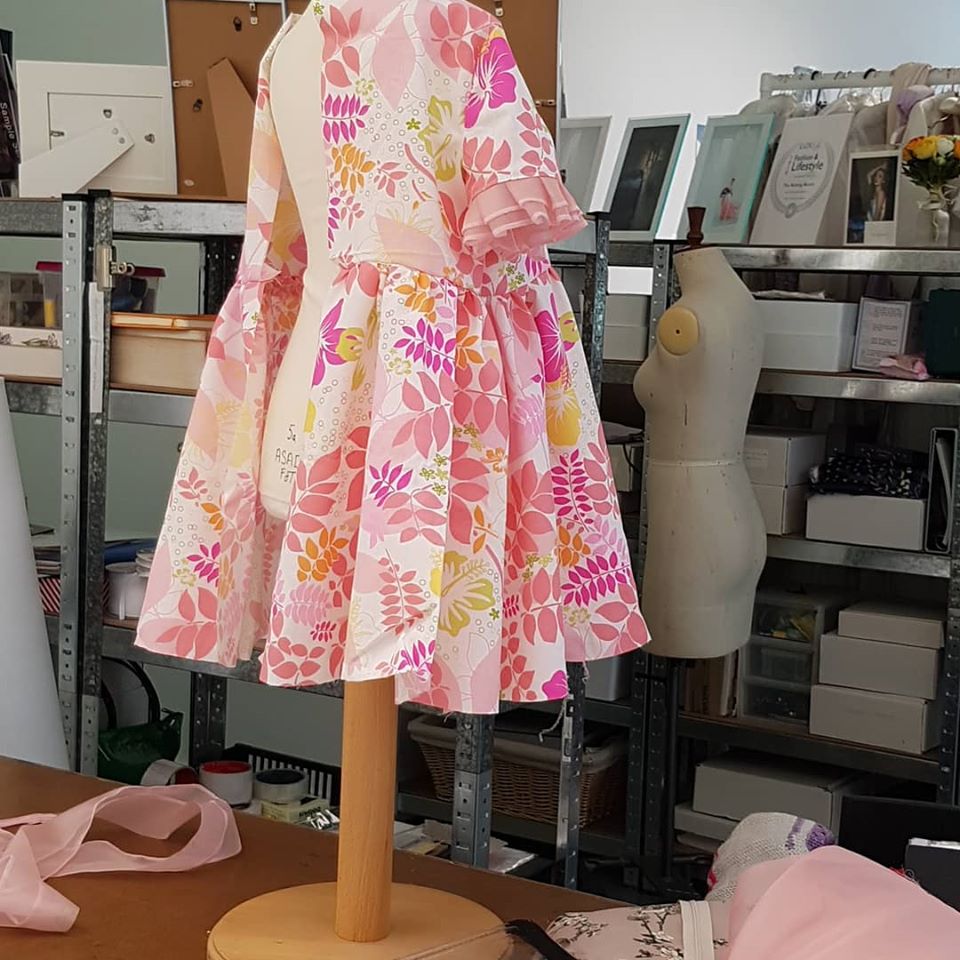 The Move to folkestone
"I taught and did more industry work and then in 2014 set up The Robing Room, but was based in Ashford.  It meant I could keep working for my industry colleagues, and work for myself too which suited me perfectly.  It started with making wedding dresses, but I do so much more.  I cut patterns for Ridley London who make lovely Liberty-print dresses.
"I moved here in 2019 and it suits me perfectly!  Where I was before was quite secluded at night, and you never knew who was around.  Here, based at Digital Glassworks, there are always people around that I know.  I love working here, but I wonder if it's because it's so familiar to me, growing up here and so on.
"Being situated in the Creative Quarter also opens things up for collaboration too.  Charlotte from Moo Like A Monkey is keen to learn how to cut patterns.  She's said how she'd love her own line of clothing.  Helga from Feral Child Vintage on The Old High Street, was one of my students and we've worked well on lots of things including the scrubs."
Folkestone Scrubs for the NHS
"Making the scrubs has got Helga back into designing and making and actually really enjoying it again.  I made a film with Peter Blach about the scrubs activities we've been doing since March 2020.  You'd have thought by June it would have calmed down a bit but not really!  We're making more for care homes now as I think the hospital has what it needs. 
"What has happened though is we've built a community of people around sewing here in Folkestone.  We've come together to do something in a time of crisis, but we've become friends and can support each other.  It's a wonderful team to have access to.  I was thinking that small businesses in the town who wanted to try out prototype patterns and ideas have a bank of people in our group who could make up the pieces, and see how they work.   It wouldn't be difficult to make up a small collection and see if it sells."
sewing lessons
"Now is the time, now that we have some time, to think about how we can go forward with the skills we have.  It's clear that children don't learn sewing, pattern-making and so on at school.  There will be funding somewhere to support lessons that will enable young people to gain these skills, that we've seen are vital when a crisis happens.  It's so relaxing too!  I can't tell you how I've lost myself in sewing, and when things are worrying and stressful, you need activities that will take you away from these things!"
community spirit
"The community support that comes with being in a sewing bee, or hub, is vital too.  It's quite a solitary activity, and yet, the shyest of people have come up my stairs to hand over scrubs and talked away quite happily.  Sometimes, I've been the only person they've seen from one day to the next.  Not only is sewing a vital skill, but the community we've built is vital for us to be happy and support each other.
"It's too early to say what will happen next, but I'm looking forward to making some wonderful new garments with our group, and to teaching the next designers and creators of Folkestone!"