Ben Allen – Gothic Architecture in Plywood
Ben Allen is the creator of The Clearing in The Quarterhouse, Folkestone.  The upstairs bar area was transformed during the 2017 Folkestone Triennial into a  plywood Gothic forest, with an opening through the centre for people to meet, sit and congregate in the 'clearing'.  The beautiful trunks and branches are reflected to infinity by the mirrors at both ends of the room.  Ben's architectural firm have now been asked to re-design the lobby area of the new digital hub – The Glassworks, to allow for hot-desk space and meeting areas. Folkelife went to meet him.
Studio Ben Allen
Ben Allen's company is based in Bethnal Green, East London. Their first involvement with Folkestone was creating The Clearing in the Quarterhouse for the 2017 Triennial.
"We're so close to Folkestone – get the tube from Bethnal Green to Stratford and then to Folkestone. We come down every two weeks.  Once we finished this project – The Clearing – it sort of led on to other projects, so we've been coming down ever since.
"It was at the opening of the Triennial that we really got to have a look around Folkestone.  And that is the best way to see Folkestone!   We'd seen a lot of Tontine Street, which has its own charm, but with the festival atmosphere, glorious weather and so many people on the streets, it was absolutely fantastic. Creative Folkestone has been really supportive, so our involvement here in Folkestone is full of good memories."
Artworks in Folkestone
The Clearing played on the 'pop-up' nature of the bar area wanting to attract people to use the space for meetings and more communal events.  The area has furniture for people to sit on but it's more than that. It is an evolution of the space with furniture that is an artwork!
"Gothic architecture is based on a forest in some ways; the columns are tree trunks, and the vaulting branches.  We wanted to put structures above people's heads so that when you walk into this space it's totally immersive. It helps make this a sensory experience as your head is surrounded by the structures as well as your body and feet.  It is like a forest, and this is the clearing, which is why we called it that."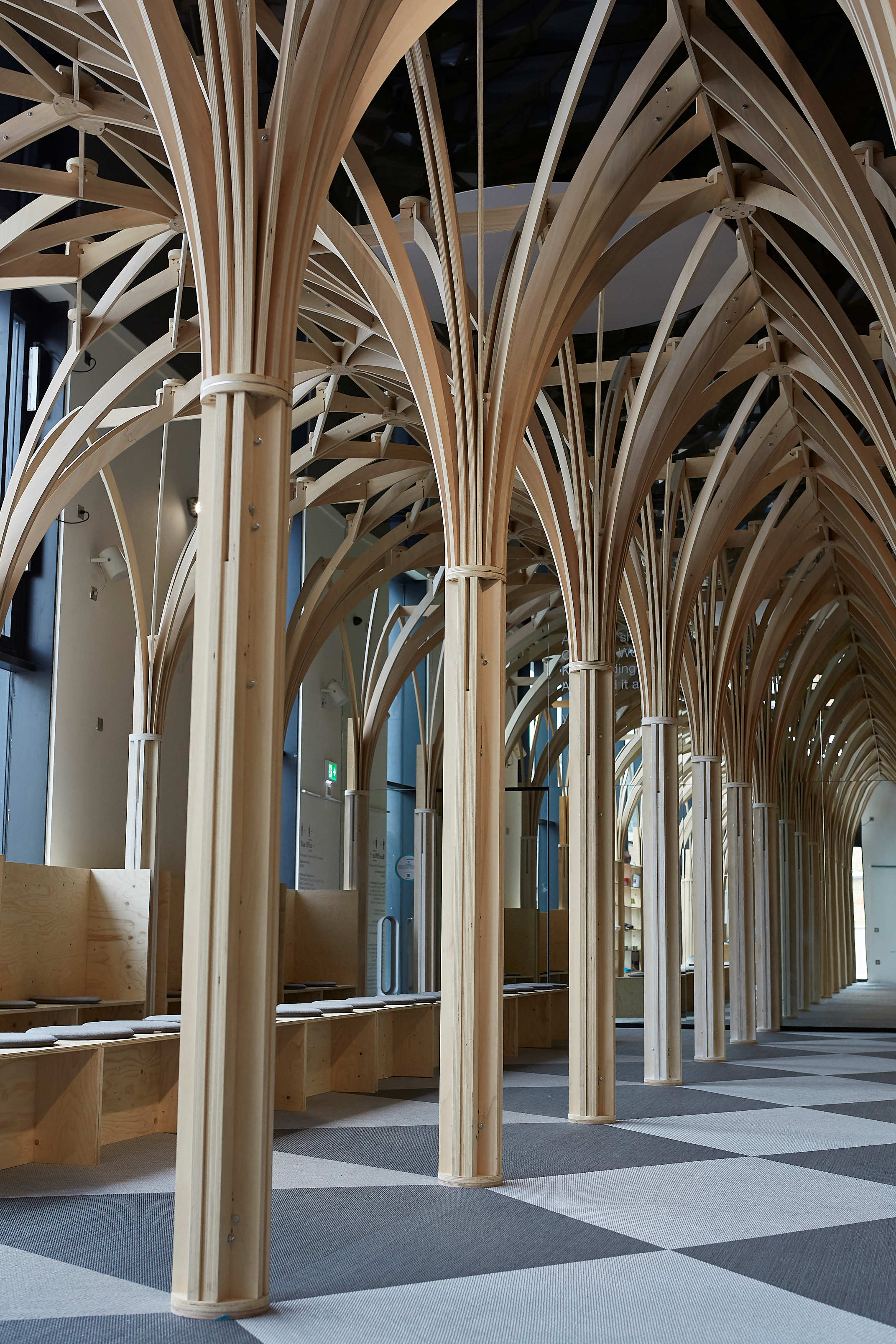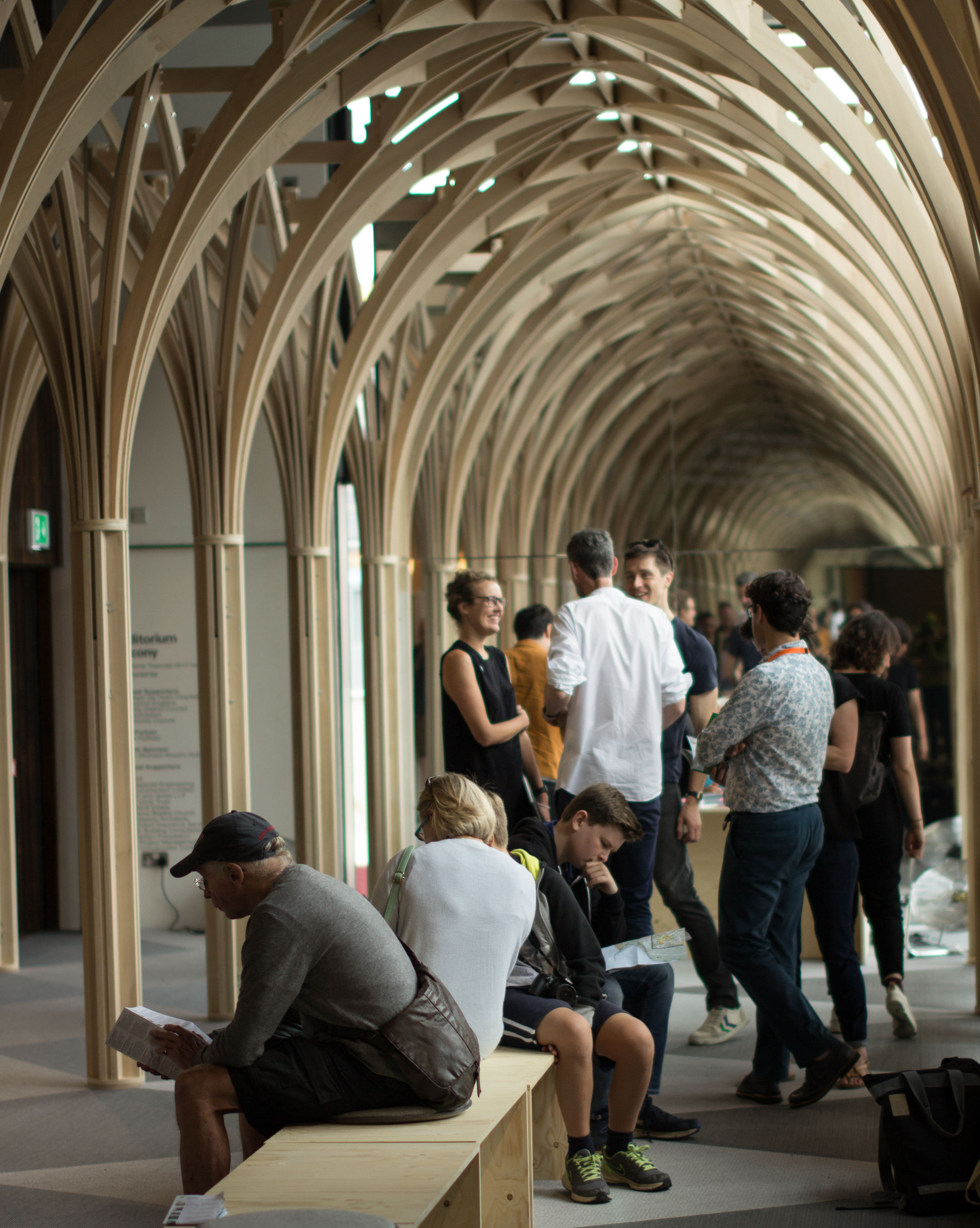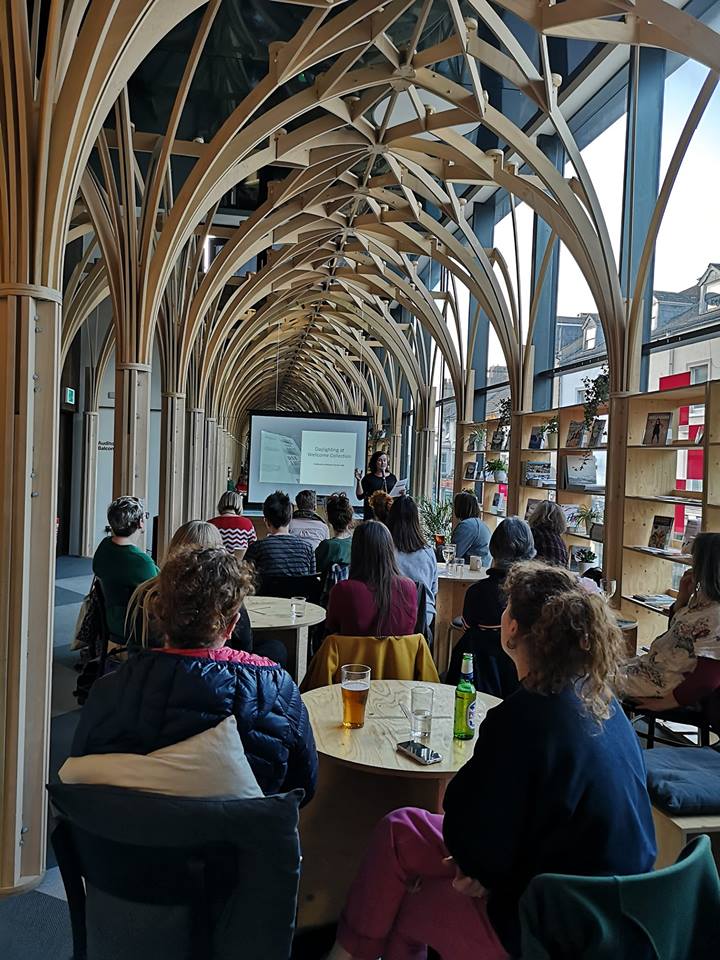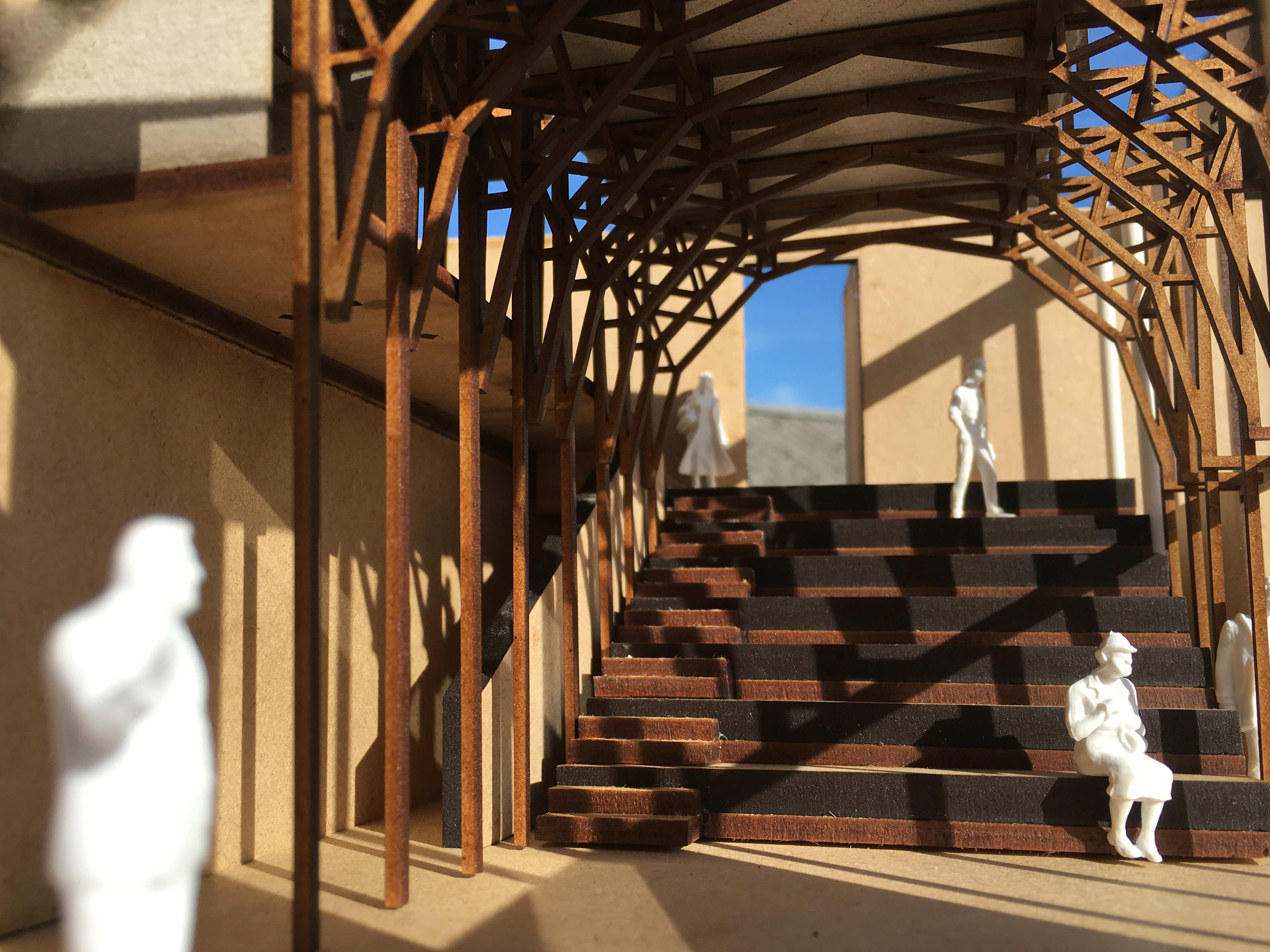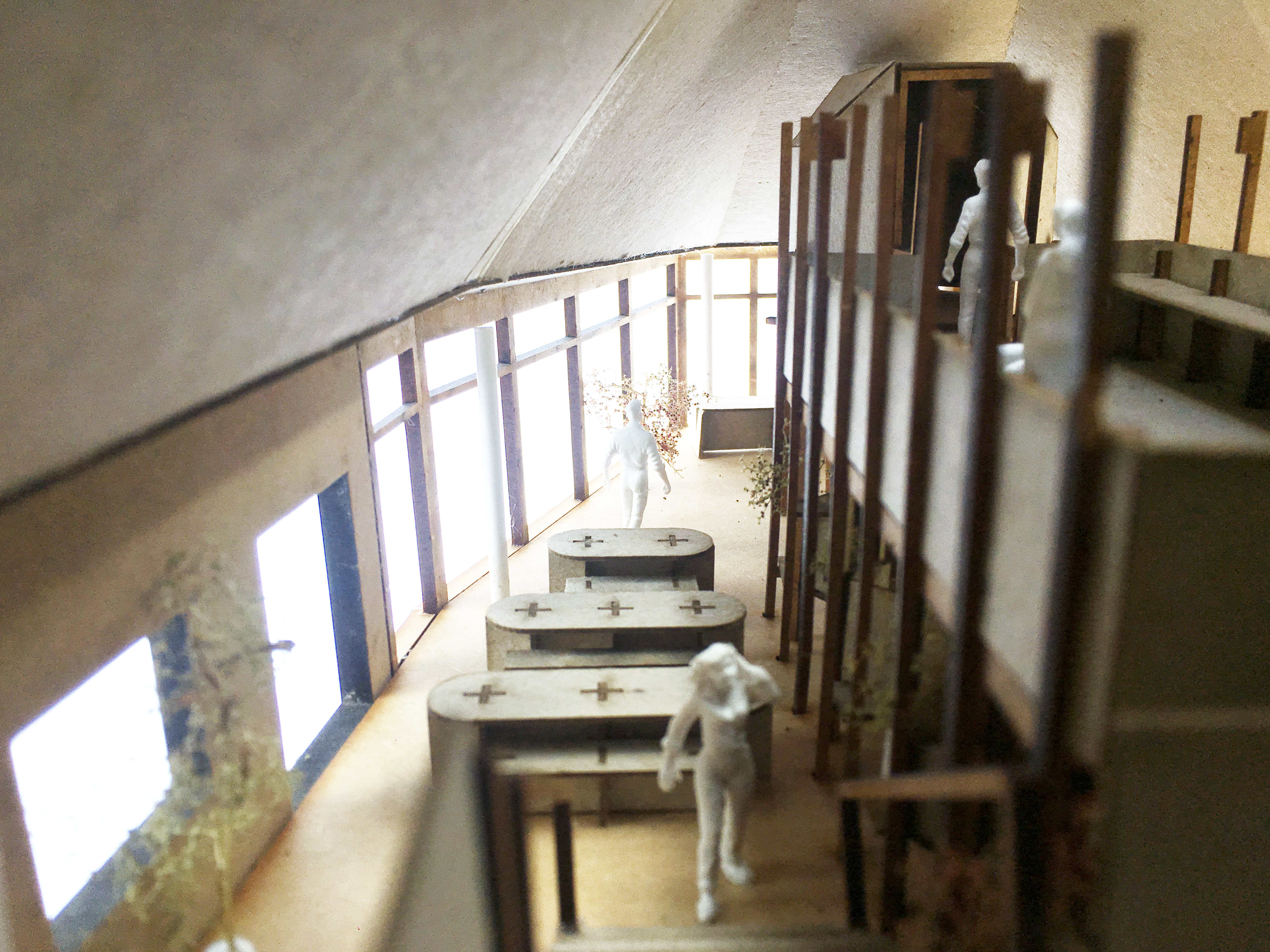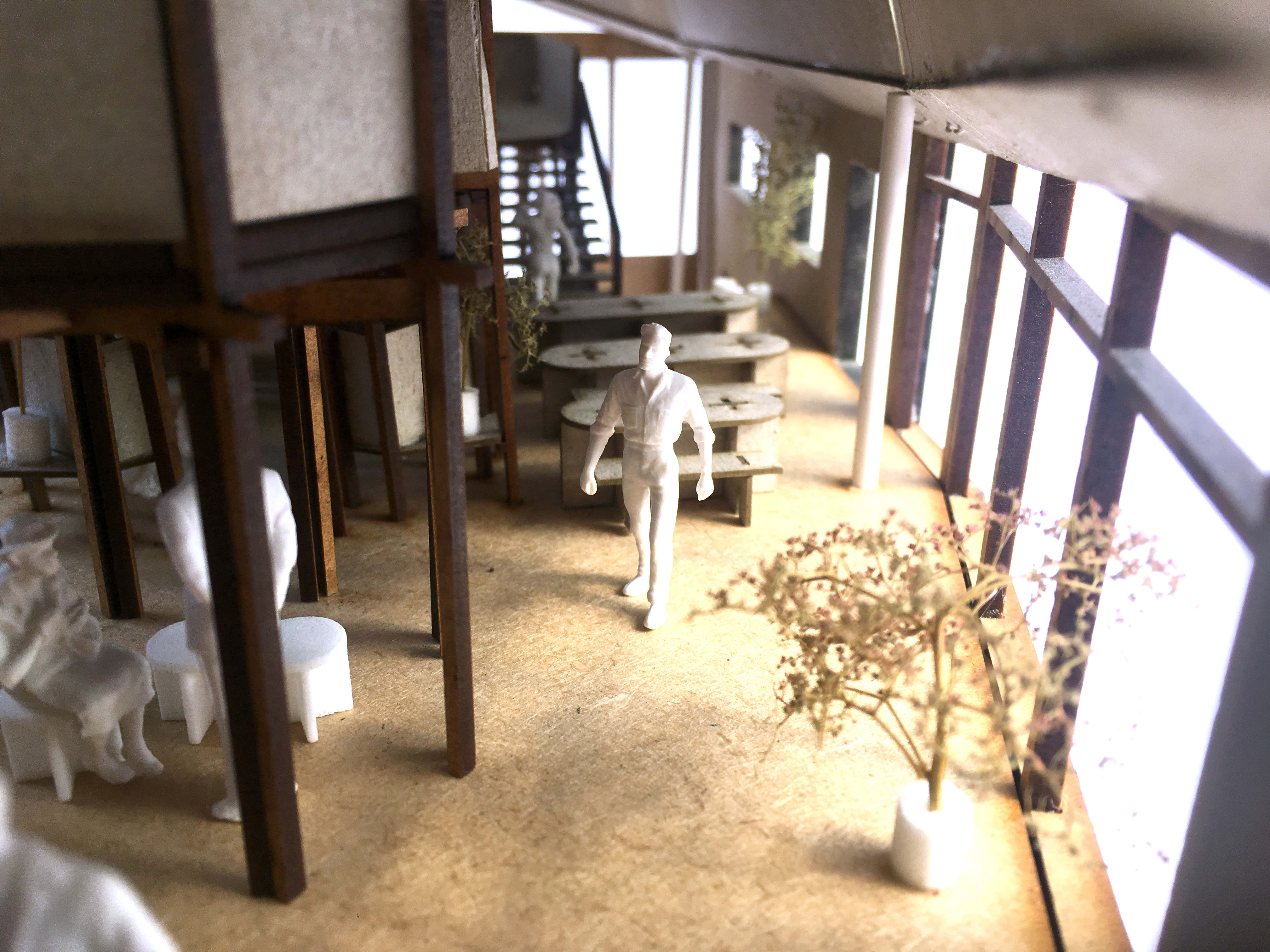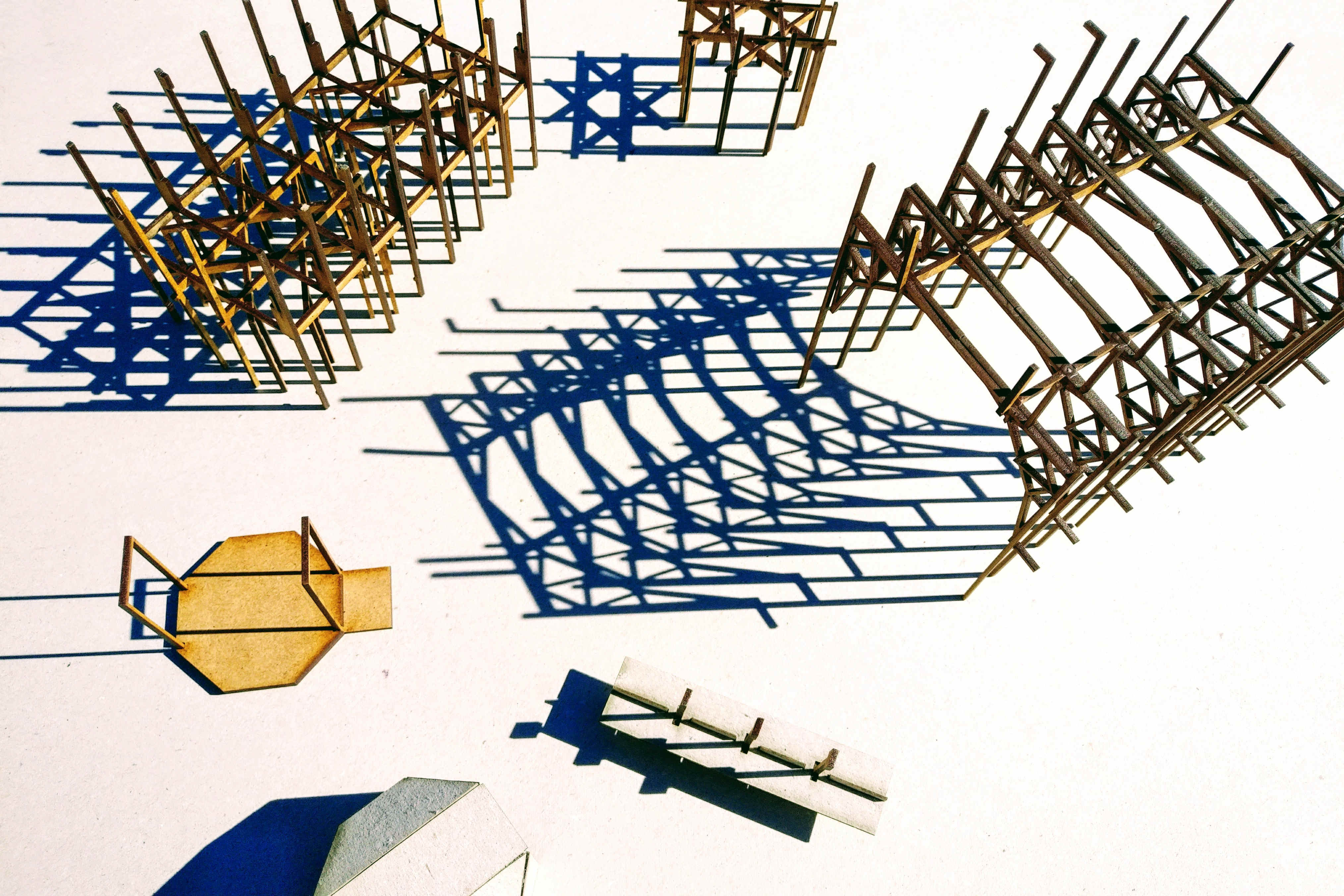 Geometry in art
"We got really excited by the geometry of Gothic aspects.  Some of the guys in my studio were trying to draw the principal British Gothic cathedral roofs.  There are so many different types of Gothic vaults but they have a very simple set of principles. We started to draw more complex ones, which is great fun, and turned this into partly an academic study of Gothic architecture and a recreation of this space.
"The program we use calculates how many pieces of plywood we need depending on our plans.  If we alter the plans, it recalculates, and this makes working like this very efficient.  The structure is a kit, and it only took 3 days to erect.  There are 1500 pieces of plywood here, it would be a shame to see it taken down, so we're really pleased it's part of the permanent collection here."
Digital workspace in Folkestone
Ben Allen and his team have been working on different projects in Folkestone.  They are now creating the public space in The Glassworks, Creative Folkestone's Digital Hub.
"This space has to take live loads – people walking around essentially.  I'm not sure I'd describe it as industrial but it is functional. Again, it's a kit, and is based on a vaulted six-sided shape and inspired by very early Modernism. You get a mixture of classical ideas and wild ideas that allow us to explore a different type of architecture."
"The timber element lends it to having a feeling of it growing in front of you as you wander around the corner.  It creates a much softer aesthetic and we can play with decoration, which many architects seem to shy away from.   The structure is created using many small pieces, which make it easy to build and adds to the decorative aspect of the structure.  They also help give it a sense of scale.  If you look at a glass building, with floor to ceiling panes of glass, it makes it difficult to measure it against things we mentally understand.  Whereas, using lines and definition, we can have a sense of scale that people can understand."
Future Projects
"We've done a study for the offices above the Quarterhouse which will hopefully follow on from our work at the Glassworks.   We're also working on another Gothic vaulted structure on the outskirts of Folkestone in a private barn.  These people are building an annex to their house and want to use it as a residency space as they work in the creative industry.
"Our connections with Folkestone have generated some really exciting projects, which have been fun to work on.  And seeing as Folkestone is so easy to get to, there will be lots more for us to do here."